Whenever you're craving something sweet and fruity, the easy Banana Bread recipe is definitely worth making!
Make a delightful meal for breakfast, desserts, or snacks by making bread with the yummy flavor of bananas. It'll be so much tastier with chocolate chips too.
Today, you will learn how to bake moist, sweet, and absolutely fragrant Banana Bread. From the inside out, it is indeed perfection on a plate!
Pin this recipe on Pinterest to save for later
Bring out the inner baker in you by making a Banana Bread recipe that you would be proud to serve to everyone. Bake it for celebrations and weekends for an experience to remember!
Banana Bread Nutrition
Below are the nutrition facts for one serving of this recipe. The total servings for this banana bread recipe are ten slices.
| | | |
| --- | --- | --- |
| SERVING: 1 (of 10 slices) | Calories: 239kcal | Carbohydrates: 34g |
| Protein: 4g | Fat: 10g | Saturated Fat: 6g |
| Polyunsaturated Fat:1g | Monounsaturated Fat: 3g | Trans Fat: 0.3g |
| Cholesterol: 53mg | Sodium: 171mg | Potassium: 145mg |
| Fiber: 2g | Sugar: 11g | Vitamin A: 295IU |
| Vitamin C:2mg | Calcium: 42mg | Iron: 2mg |
How to Make Easy Banana Bread
With this easy Banana Bread recipe, your bananas will never go to waste again. Let's toss in some chocolate chips to make it creamy, sweet, and heavenly.
Let me tell you everything you need to know about Banana Bread!
"All sorrows are less with this BANANA BREAD RECIPE."
Ingredients
The best pastry dishes always start with the right ingredients. So add these to your grocery list now!
Bananas
Why are bananas some of the best fruits to add to bread?
Bananas have a mildly sweet and milky flavor that makes dishes and drinks tastier. They also have a soft and tender texture that you can easily mix and mash into bread batters.
In this recipe, I suggest using ripe bananas for a guaranteed burst of fruity and creamy flavors. Bananas certainly give a pleasant flavor to bread, desserts, smoothies, and even snacks.
Imagine how many recipes you can do with these bananas! I also suggest using them for drinks like Avocado Banana Milkshake or Strawberry and Banana Milkshake to enjoy with the bread!
Chocolate chips
Don't be afraid of adding chocolate chips to Banana Bread. They add a rich sweet flavor and fudgy quality. Once it melts inside and on top of the bread, you'll be glad that you added them.
Just like bananas, chocolates can be good for you too. In fact, it can help you relax, relieve stress, and improve mental health. You can also use milk chocolate or dark chocolate for the bread.
Flour
In all bread recipes, you will definitely need flour. It gives the shape and form of the bread to get the perfect structure. The flour also makes the bread fluffy and decadent.
You will need the flour to make the bread tender on the inside for a chewy texture. I also use this for Plantain Bread, Fluffy Donuts, and Almond Loaf Cake!
Leavening agents
It won't be a real bread recipe without leavening agents. I suggest using baking powder and baking soda to give the Banana Bread a light and airy quality.
According to Master Class, baking powder is good for bread, cookies, and cakes for the best texture. Meanwhile, baking soda can do wonders for the crumbs of the bread.
Butter
Everything is truly better with butter. It surely adds a custard-like flavor and a buttery fragrance to the dish. The butter can also help with the flaky and golden brown quality of the bread.
Epicurious mentioned that fats like butter can improve the crust and height of the bread. In fact, the butter can even prolong the bread's shelf life.
Eggs
Give the Banana Bread a good layer of moisture with the help of eggs. These can certainly make the bread fluffy and soft yet crisp on the outside for great results.
Your bread will surely have a lighter and puffier quality with eggs in the recipe. I often use these to cook other pastries like Coconut Cake and Plantain Bread too.
Milk
Enrich the overall quality of the Banana Bread with milk. It gives the dish a creamy and mildly sweet taste to complement the bananas.
The crust of the bread will surely have better color and texture. Milk also serves as a binding ingredient to make the best batter for the bread.
Seasoning
Just when you think it can't get better, why not add seasoning to give your Banana Bread a rich flavor? I suggest using sea salt, cinnamon, sugar, and vanilla extract to balance the overall flavors of the bread.
As a result of using these ingredients, you can ensure that you bake an easy Banana Bread recipe. Now, prepare to bake Banana Bread that every family member will undoubtedly love!
Directions
Let's get baking!
Mix the softened butter and cane sugar in a glass bowl until creamy and fluffy.
Add the eggs, milk, and vanilla extract until well-mixed.
Then, add the mashed bananas.
Sieve the dry ingredients into the wet mixture.
Fold them together using a spatula.
Sprinkle chocolate chips on top.
Time to bake!
Line the loaf pan with parchment paper.
Then, pour in the batter.
Garnish it with more chocolate chips on top.
In a preheated oven, bake the bread at 160°C (350º F) for one hour or until completely baked.
Let it cool, slice, and serve!
How did your Banana Bread turn out? Is it as heavenly as you expected it to be? If so, enjoy it with your favorite drinks and make the most of every bite!
Tips
Bananas
Selection
According to The Spruce Eats, go for ripe bananas that are yellow with specs of brown.
They should also feel plump and full.
Avoid bananas with discoloration or bruises.
Storage
Unripe bananas can be stored at room temperature.
Once ripe, place them in the fridge.
Homemade Chocolate
You need cocoa nibs, coconut oil, milk powder, and confectioners' sugar to make your chocolate.
Bake the cocoa nibs in the oven for three minutes at 150°C.
Once cooled, mill them on high speed.
Then, mix the milk cocoa nibs with the milk powder, sugar, and oil.
Mill them together until you achieve a thick texture.
Pour the batter into a chocolate mold. Alternatively, pipe small amounts on a lined tray.
Refrigerate for at least four hours.
Finally, transfer them into resealable bags to store!
I also have a Dark Chocolate recipe that you can try at home!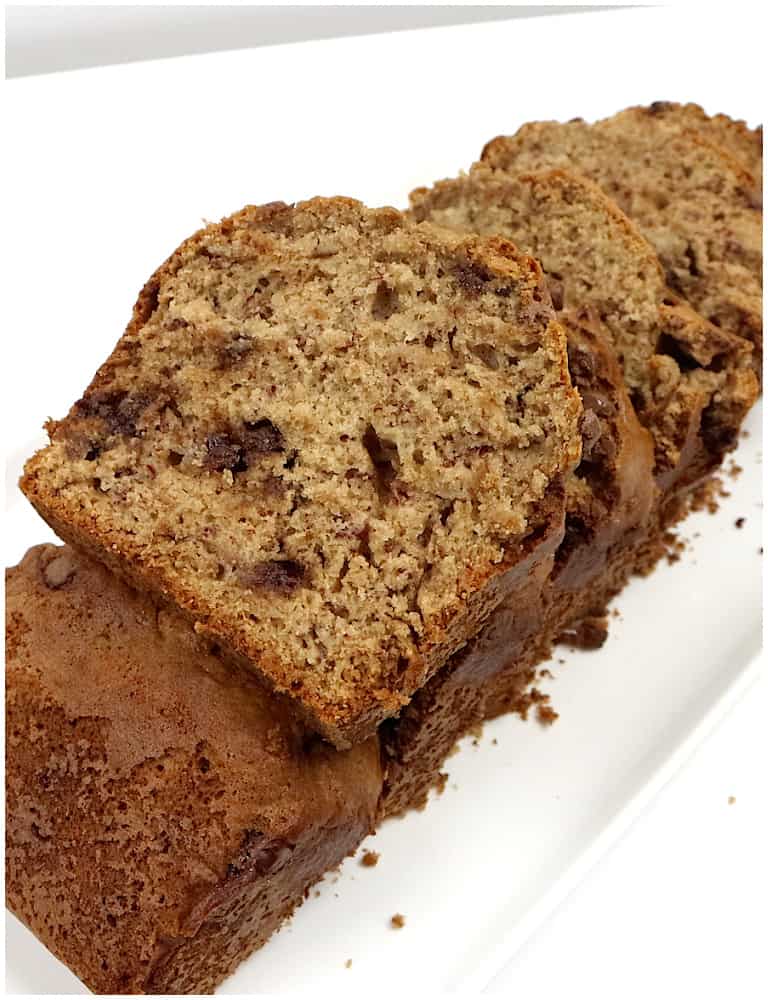 Easy Banana Bread Variations
The best thing about homemade bread is customizing it according to your liking. You can either use chocolates or bananas or both to flavor the batter.
For the chocolate, you can make use of milk chocolate, dark chocolate, or other variants available to you.
For toppings and added ingredients, I also suggest nuts, dried fruits, coffee, avocados, berries, buttermilk, butterscotch, pecans, raisins, oatmeal, and more.
You can also try a gluten-free variant by replacing the flour with almond flour or oat flour. Aside from sugar, sweeteners like maple syrup, honey, and stevia can be used to make the bread tastier.
To make a vegan version, you can switch the eggs with egg substitutes and milk with plant-based milk like Almond Milk.
No-Oven Banana Bread
Steam
If you don't have access to an oven, then you can try this nifty no-oven chocolate banana bread recipe.
Prepare the batter as instructed.
Line the loaf pan with parchment paper.
Then, pour in the batter.
Preheat a pot with an iron stand for 3 minutes on medium heat.
Place the loaf pan inside.
Let it cook on low fire for at least 45 minutes or until done.
Air Fryer Banana Bread
Pour the batter into a round loaf pan.
Then, preheat the air fryer to 165°C for a few minutes.
Air fry the bread for 30 minutes or until cooked.
Recommended Tools
This post contains affiliate links, which means I earn commission income from qualifying purchases at no extra cost to you. Please read the full disclosure for more information.
Visit my shop for more products.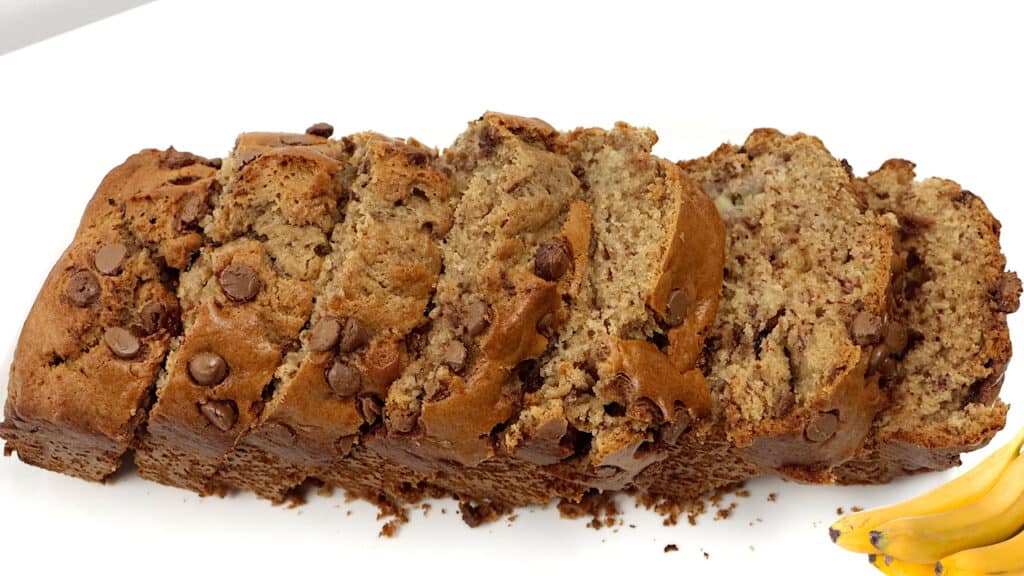 How to Serve Banana Bread
Indeed, Banana Bread can be served at almost any time of the day. It is commonly enjoyed for breakfast or desserts with drinks and juices, such as:
You can also enjoy it with mashed potatoes, vanilla ice cream, salad, granola, peanut butter, green plantain porridge, and other meals. Remember to eat it in moderation to prevent unwanted weight gain.
This dish is also perfect for date nights, family gatherings, and potluck events. Therefore, prepare it with love; you can never go wrong with serving the best chocolate banana bread!
Storage Tips
At room temperature: According to Southern Living, Banana Bread can be kept at room temperature for up to four days.
Frequently Asked Questions
What are the ingredients in banana bread?
For banana bread, you will need ripe bananas, flour, eggs, milk, baking powder, baking soda, seasonings, and butter. You can also add other sweeteners or spices of your choice.
There are many garnish ingredients you can also use. For instance, you may opt for chocolate chips, coconut flakes, nuts, syrup, and more!
How do you keep banana bread soft?
The key to keeping banana bread soft is to store it properly. It is best consumed within a few days. I also don't suggest storing it in the fridge to prevent it from becoming stale.
How do you bake banana bread all the way through?
One of the things you need to remember to bake it perfectly is to preheat your oven to prepare it for baking. Don't open the oven door and wait until the bread is done.
Before removing it from the oven, check the cake for doneness with a cake tester or a toothpick.
What makes banana bread heavy?
There can be many reasons why banana bread is heavy or dense. For instance, you may have used too many bananas, over-mixed the batter, or used the wrong oven temperature.
Easy Banana Bread (with Chocolate Chips)
Cook homemade bread like you've never baked before by trying out this Chocolate Banana Bread recipe for all occasions!
Total Time
1

hour
15

minutes
Ingredients
Dry ingredients
1½

cups

flour

1

tsp

baking powder

½

tsp

baking soda

A

pinch

of sea salt

1

tsp

cinnamon
Wet ingredients
2

bananas

(ripe)

6½

tbsp

salted butter

5

tbsp

cane sugar

2

eggs

2

tbsp

milk

(evaporated or fresh milk)

1

tsp

vanilla extract
Chocolate
3

tbsp

milk chocolate

1

milk chocolate

(for garnish) optional
Instructions
Combine the dry ingredients.

Mix the flour, baking powder, baking soda, salt, and cinnamon in a large bowl. Set this mixture aside.

Prepare the wet ingredients.

Whisk the softened butter and cane sugar in a glass bowl for 5 minutes until you achieve a light, fluffy, and creamy consistency. This step helps with the light and moisture of the cake.

Add the eggs, milk, and vanilla extract. Set it aside.

Add the bananas.

Peel and mash the bananas with a fork or a masher. Add it to the wet ingredients batter. Mix until well combined.

Make the batter.

Sieve the dry ingredients into the wet mixture. Fold them together until well combined. Last but not least, toss in the chocolate chips to evenly distribute them in the batter.

Bake it.

Line the loaf pan, 20cmx10.5cmx7cm (8"x4.5"x3"), with parchment paper or baking paper and pour in the batter. Garnish it with more chocolate chips on top.

In a preheated oven, bake the bread at 160°C for 1 hour or until completely baked. Allow it to cool before serving!
Video
Notes
Remember to use ripe bananas for a mildly sweet taste.

If you don't have access to an oven, cook it on the stove in a pan or in the air fryer.

There are gluten-free and vegan variations of this recipe for dietary concerns.

Mixing the butter and sugar helps with the light and moisture of the bread.
Always use ripe yellow bananas for banana bread. You can also use bananas in black or brown color for sweetness. The darker the banana is, the tastier it will be.
You can use a muffin tin, cupcake molds, or cake tin, and other similar materials as an alternative to a loaf pan.
Nutrition
Serving:
1
(of 10)
Calories:
239
kcal
Carbohydrates:
34
g
Protein:
4
g
Fat:
10
g
Saturated Fat:
6
g
Polyunsaturated Fat:
1
g
Monounsaturated Fat:
3
g
Trans Fat:
0.3
g
Cholesterol:
53
mg
Sodium:
171
mg
Potassium:
145
mg
Fiber:
2
g
Sugar:
11
g
Vitamin A:
295
IU
Vitamin C:
2
mg
Calcium:
42
mg
Iron:
2
mg