There are many ways to make porridge, but the Plantain Porridge is truly one of the best!
Plantain Porridge is a popular Nigerian delicacy where fresh fruits are turned into smooth and thick porridge. It is loaded with sweet and starchy flavors for a satisfying meal.
Aside from how well it tastes, this porridge can also be good for you in so many ways. You will surely enjoy making it for the winter, weekends, and celebrations.
Pin this recipe on Pinterest to save for later
Every spoonful of this Plantain Porridge will make you feel warmth, comfort, and relaxation. Wait until you try it, and you will realize how much you need to add to your diet!
How to Make Plantain Porridge
Isn't it a wonder how fresh fruits can be turned into smooth and runny porridge? Well, all it takes is some steaming and blending for the perfect flavor and texture.
Every time I make Plantain Porridge, my family is just bursting with joy and satisfaction. I'm sure your whole family will love it too!
Ingredients
Make the perfect Plantain Porridge with these ingredients:
Plantains
Have you ever considered making porridge with plantains? Well, this is your sign to try it now.
They have a sweet and starchy flavor that can make the best porridge. Despite the slightly firm texture of the fruit, there's still an easy of getting the right puree consistency.
I suggest using ripe yellow plantains because of their slightly soft texture. They also have the right flavor that you would want to taste in this dish.
You won't imagine how many recipes you can do with plantains. Here are some of the best dishes I make with these fruits:
Cinnamon
Even if the fruits are already flavorful, a little seasoning will make the dish better. In this recipe, I suggest using cinnamon for a woody, spicy, and warm flavor.
It certainly complements the taste of the fruits. Aside from cinnamon, you can use other spices to make the porridge tastier.
You can never go wrong with using these to make Plantain Porridge!
Directions
Remember these steps when you want to make Plantain Porridge:
Peel and slice the plantains with a knife.
Place a steaming basket in the pot.
Then, arrange the slices in the steaming basket.
Steam the fruits for ten minutes or until tender.
Then, set it aside to cool.
Mix water and fruits in a blender.
Season the porridge with cinnamon.
Finally, pour the porridge into a bowl and serve!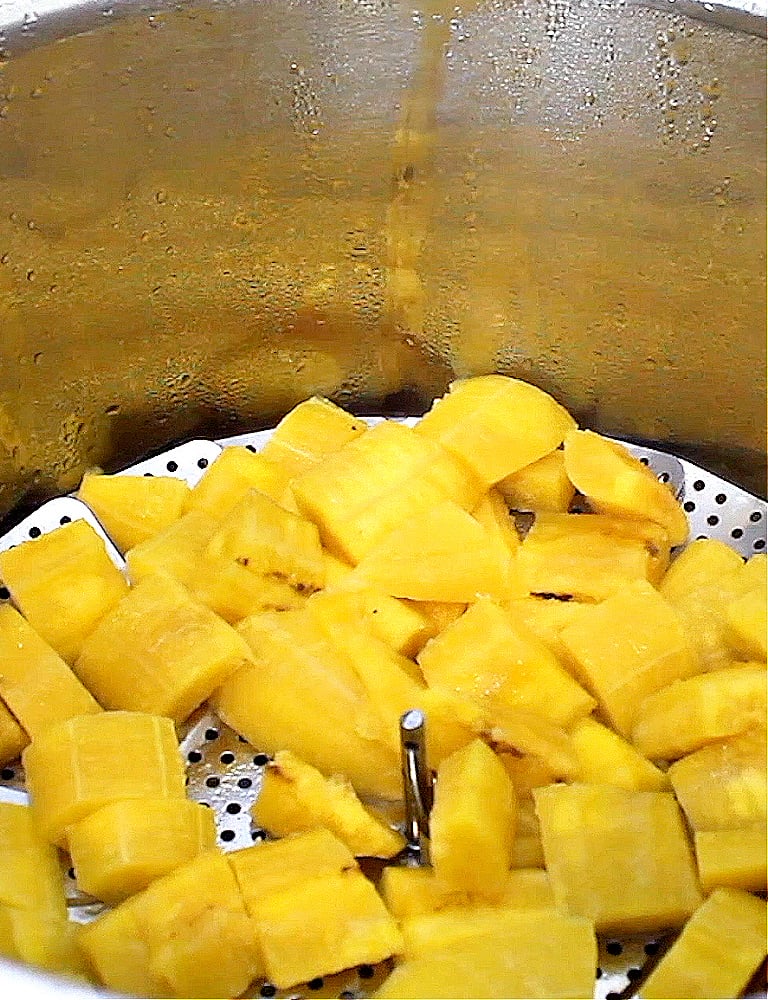 Enjoy a fresh, natural, and delicious porridge! After tasting this, it'll indeed become one of your favorite dishes of all time.
Tips
Buying plantains
Buy ripe plantains with yellow and black colors.
According to Bon Appetit, buy black ones for peak ripeness.
They should also yield to a bit of pressure when squeezed.
Storing plantains
Plantains can last up to a week at room temperature.
To keep it longer, you can refrigerate it instead.
Peel, slice, and let it freeze before transferring it into a freezer bag.
Seal the bag and store it in the freezer for several months.
How to Cook Plantain Without a Steamer
If you don't have a steamer, then use a wire cooling rack or a slotted pie pan instead.
Alternatively, place aluminum foil rolls and a heat-resistant proof inside the pot. Arrange the plantains on the plate and steam a bit of boiling water.
Additionally, you can microwave it with a bit of water in a microwavable bag or container for up to six minutes or until soft. Otherwise, you can boil the fruits to cook.
Plantain Porridge Variations
Aside from this version, you can also try different flavors, such as:
Instead of cinnamon, add other spices like almond milk, vanilla, pepper, and cayenne. Moreover, water can be replaced with milk for a creamier and sweeter quality – this is especially suggested for babies.
No-Blender Plantain Porridge
To substitute a blender, you can mash the steamed plantains with a fork, a potato masher, or a food processor. Then, prepare it in a bowl to thoroughly mix the ingredients.
You might achieve the smoothest quality, but it will taste the same. Manual mashing can give more texture and depth to the dish.
Recommended Tools
This post contains affiliate links, which means I earn commission income from qualifying purchases at no extra cost to you. Please read the full disclosure for more information.
Visit my shop for more products.
How to Serve Plantain Porridge
This porridge can be served at any time of the day, even as a quick drink. Eat this in the morning to energize your body for the day. You can also have it with berries, fruits, bread, and more.
Pour the porridge into a glass to serve. According to Solid Starts, babies can have this dish as early as six months. Limit your porridge intake to one bowl daily.
Here are some of the best dishes to pair with this recipe:
Storage Tips
At room temperature: Eat the Plantain Porridge within two hours to best enjoy the flavors.
Frequently Asked Questions
What is plantain porridge good for?
You can get so many health benefits from plantain porridge. It is a good source of energy for an active lifestyle. The porridge can boost brain function, heart health, immunity, vision, and more!
Is green plantain porridge healthy?
Yes, it is. Just like ripe ones, green and unripe ones are also healthy. Green plantain porridge can promote healthy weight loss, heart health, and better brain function!
What is a plantain fruit?
The plantain fruit looks like a banana, but it is actually starchier than sweet. It is best enjoyed when cooked in different ways. I also suggest steaming, frying, baking, roasting, or air frying them to get the best flavor and texture.
Can I use ripe plantain for porridge?
Yes, you can use ripe plantain for porridge. In fact, it is one of the best fruits to use to make porridge. It will also give you a sweet, smooth, and thick quality to make an excellent dish!
Sweet Plantain Porridge
You can never go wrong with a creamy, healthy, and smooth bowl of Sweet Plantain Porridge. It is absolutely easy to make and even more enjoyable to consume!
Ingredients
1

plantain

(large)

2

cups

water

1

tsp

cinnamon

(optional)
Instructions
Bring water to a boil.

Add water to a large pot and bring to a boil.

Prepare the plantain.

Peel the plantain and slice it into small pieces to cook it faster. You may also remove the seeds if preferred.

Steam the plantain.

Place the steaming basket in the pot and distribute the plantains evenly. Let it cook for at least 10 minutes or until tender. Set it aside to cool.

Blend them.

First, add water, depending on how thick you want it to be. You can use a fresh batch or the one from steamed plantain.

Then, add the fruits and blend until smooth.

Incorporate the cinnamon or other seasoning of your choice.
Video
Notes
If you don't have a steaming basket, pop the plantains in the microwave or boil them instead.

Consume it within 2 hours for the best quality.

Babies can have this as early as six months of age.
Nutrition
Calories:
5
kcal
Carbohydrates:
2
g
Protein:
0.1
g
Fat:
0.02
g
Saturated Fat:
0.01
g
Sodium:
24
mg
Potassium:
9
mg
Fiber:
1
g
Sugar:
0.04
g
Vitamin A:
6
IU
Vitamin C:
0.1
mg
Calcium:
34
mg
Iron:
0.2
mg