When it comes to African side dishes, the Plantain Fufu is truly one of the best!
Plantain Fufu is a popular swallow food that's usually served with smoky and savory soups and stews. It's a healthy African dish that's made of ripe or unripe plantains for a sweet taste.
What better way to enjoy plantains than by turning them into tasty fufu? You will surely have a better dining experience when you add this dish to your menu.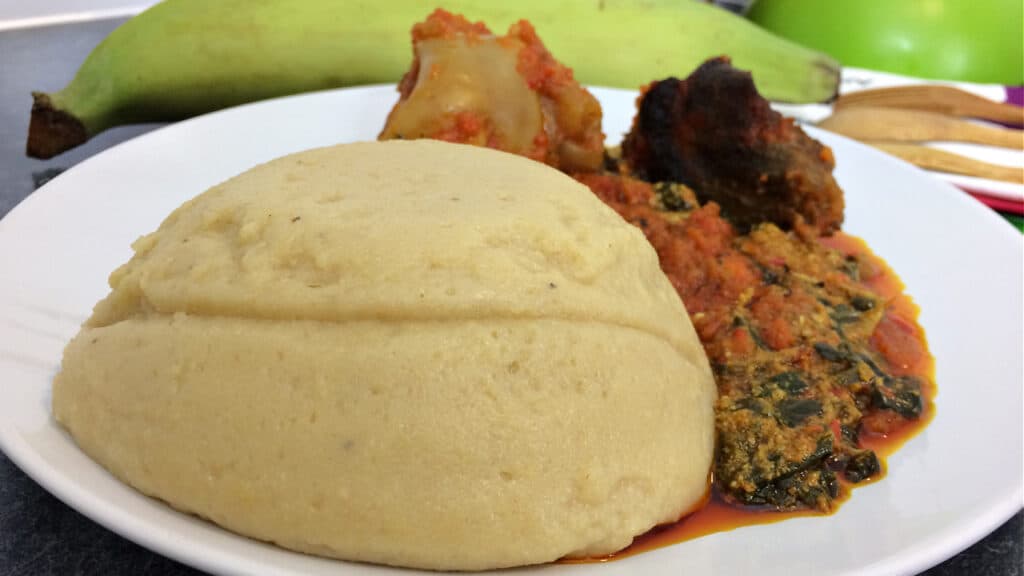 Pin this recipe on Pinterest to save for later
Is this your first time making fufu? Don't worry; it's an easy dish that takes less than an hour to make. Every time your guests will taste it, they will certainly feel at home!
How to Make Plantain Fufu
If you haven't heard of Plantain Fufu before, then this is your chance to learn how to cook it. It's a beginner-friendly recipe that will show you the easiest way to make the fufu.
I'm excited for you to try it! Shall we start with the recipe?
Ingredient
Can you guess what ingredient you will need to make the Plantain Fufu?
Green plantain
Despite how unripe it is, the green plantain remains to be a delicious, healthy, and versatile vegetable that you can use for cooking.
It is widely loved in Africa as a starchy and sweet vegetable that can be steamed, deep-fried, or roasted to bring out more of its flavor and quality.
The green plantain may feel firm, but once you cook it, it can have a heavenly texture you will enjoy. Once you try one green plantain recipe, you won't be able to get enough of them.
You might be surprised how you can turn a simple plantain into an awesome and appetizing dish. I also love using plantains for porridge, baby puree, and chips!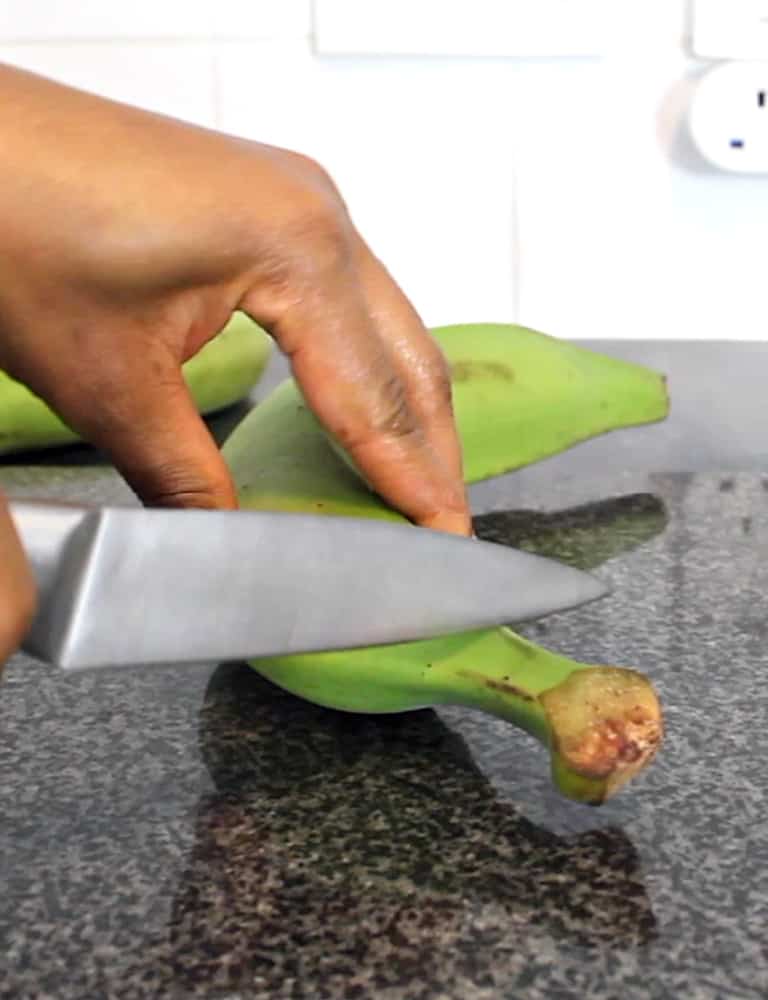 Directions
Here's a step-by-step guide on how you can cook the perfect Plantain Fufu:
Peel and slice the plantains using a knife.
Add the plantain slices to a blender with the water and blend until smooth.
Place a pot over medium heat and gently pour in the blended green plantains.
Then, continuously stir it with a wooden spoon.
Cook it for about 15 minutes.
Cover it with a lid and steam for about two minutes.
Pour it into a wet, greased bowl so it slides out easily.
Leave to cool for about five minutes.
Transfer it onto a plate and serve it with your favorite soups and stews!
When you finish cooking this mesmerizing fufu, you'll find that it has transformed into a wholly new and irresistibly delicious dish!
Tips
Buying plantains
Amigo Foods suggests buying bright green plantains.
Check if the plantains also feel firm to the touch.
You can also smell a mildly sweet scent on the plantain.
Storing plantains
If you tend to use them while unripe, then keep the plantains in the fridge to use within four days.
Alternatively, peel, slice, and store the plantains in freezer bags to last up to several weeks in the freezer.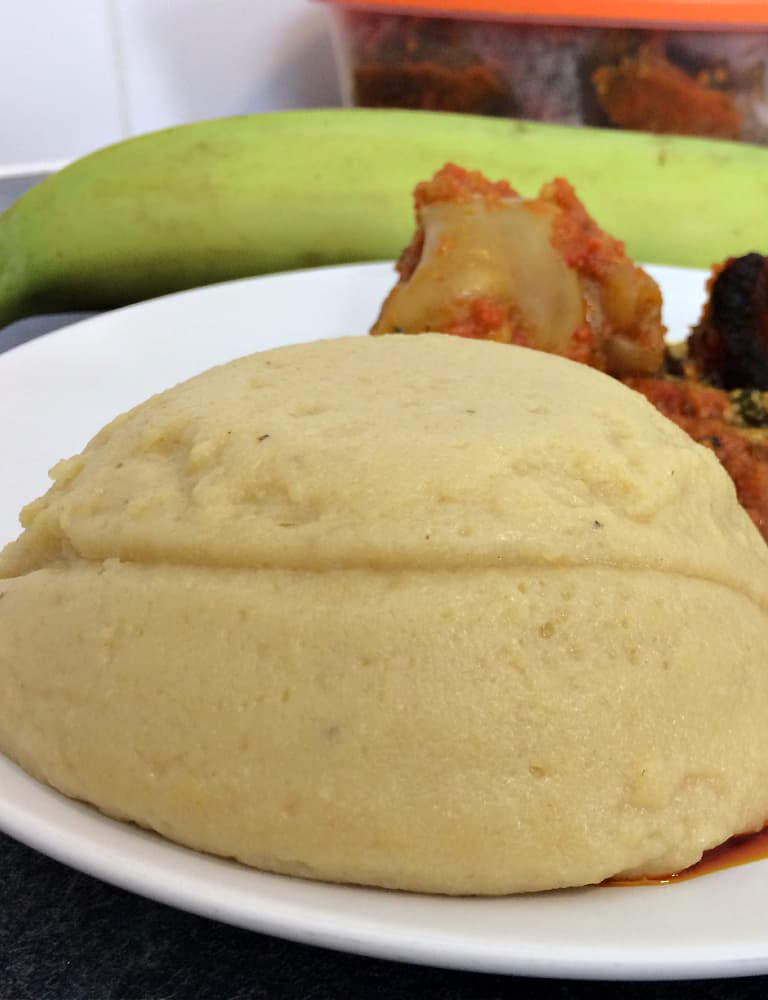 How to Puree the Green Plantain Without a Blender
Plantain Fufu Variations
If you want something new, you can try some of my other recipes: Oatmeal Fufu, Olu Olu Fufu, and Green Banana Fufu. There is no need to worry about the seasoning, but if you want to make it more flavorful, add salt, sugar, or ground black pepper.
Furthermore, you can use Almond Milk or other milk options as alternatives to water. It diversifies the flavor of the fufu and enriches its texture.
Recommended Tools
This post contains affiliate links, which means I earn commission income from qualifying purchases at no extra cost to you. Please read the full disclosure for more information.
Visit my shop for more products.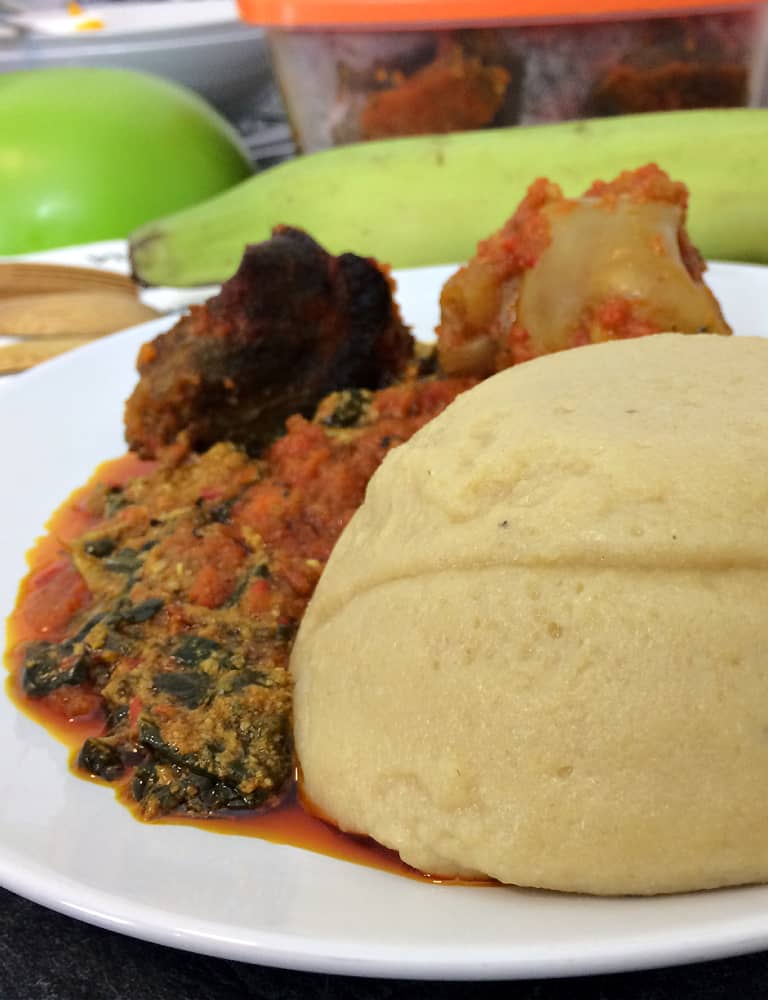 How to Serve Plantain Fufu
What's the best way to enjoy Plantain Fufu? Serve it with your favorite stew or soup side dishes! For instance, you can pair it with:
You can also form it into balls or rolls to make it more appetizing! This may be delicious, but this must be eaten in moderation due to the starch content. Limit your plantain fufu intake to one serving a day.
Storage Tips
At room temperature: Wrap the fufu in cling film and store it in a container to eat within a few hours.
Frequently Asked Questions
What is plantain fufu made of?
This delicious and satisfying dish is made up of just plantains and water! It looks like it has cream, but this is just pure and natural plantains!
What does plantain fufu taste like?
Plantain fufu has a mildly sweet flavor similar to sweet potatoes. Its subtle flavor makes it suitable for soups and stews!
Is Fufu a plantain or yam?
Fufu can be made of plantain or yam. Since both are rich in starch, they can make good ingredients for fufu. However, in Africa, plantains are staple foods for making fufu.
What is plantain fufu in Africa?
In Africa, plantain fufu is a popular swallow food or side dish usually served with soups and stews. It has a thick, sticky, lump-free, and creamy texture with a sweet and starchy flavor.
Plantain Fufu (VIDEO)
Have some fun and satisfaction by making and relishing this amazing Plantain Fufu!
Ingredients
2

green plantains

(unripe plantains)

2

cups

water
Instructions
Prepare the green plantain.

Peel the green plantains and remove the rinds to avoid the bitter taste.

Slice it into small pieces

Puree the plantain.

Add the diced plantain to a blender with the water and blend until smooth.

Cook it.

Place a pot over medium heat and gently pour in the blended green plantains. Stir it with a wooden spoon to prevent it from sticking to the pot.

When you notice lumps forming, press them against the pot to smooth them out. Cook it for about 15 minutes. Cover it with a lid and steam for about 2 minutes.

Serve.

Pour it into a wet glass bowl or greased bowl, so it slides out easily when removing it from the pot. Leave to cool for 3 to 5 minutes.

Transfer it onto a plate and serve it with your favorite soup or stew.
Video
Notes
You can serve this with stews or soups.

Refrigerate or freeze them in plastic wrap to prolong shelf life.

Continuously stir it while it cooks to prevent burning and clumping.
Nutrition
Serving:
1
g
Calories:
437
kcal
Carbohydrates:
114
g
Protein:
5
g
Fat:
1
g
Sodium:
38
mg
Potassium:
1743
mg
Fiber:
6
g
Sugar:
63
g
Vitamin A:
4035
IU
Vitamin C:
66
mg
Calcium:
25
mg
Iron:
2
mg