Fried Green Plantains are the best deep-fried fruit recipes you will ever try. It's a healthy recipe that can be enjoyed as a snack, side dish, or dessert!
Fried green plantains have a crispier, firmer texture and irresistibly delicious taste. It's a popular African, Caribbean, and South American dish paired with almost every meal and sauce. This quick and easy recipe will surely bring the taste of the African, Caribbean, and South American into your home.
Pin this recipe on Pinterest to save for later
Whether you're on a vegan, vegetarian, or gluten-free diet, these Fried Green Plantains will be perfect for you!
How to Make Fried Green Plantains
Prepare yourself for this fun yet simple way of making your Fried Plantains!
Ingredients
Green plantains
Green plantains are starchy sweet, textured fruits perfect for steaming, roasting, baking, and frying. Once you cook this, you will notice how it enriches the flavor.
These are also packed with essential nutrients and vitamins such as potassium and fiber for overall health. Aside from this recipe, you can also cook Plantain Porridge, Steamed Plantains, and Air Fryer Roasted Plantains.
Cooking oil
For cooking oil, always use ones with high smoke points, such as canola, sunflower, or avocado. These oils can retain nutrients and contribute flavor to the dish.
Sea salt
To balance the sweetness of the plantains, season them with a bit of salt. The salt can also extend the shelf life of the dish.
The ingredients may be simple, but the finished product will be extremely delicious and enjoyable! Can you believe it only takes these three ingredients to make Fried Plantains?
Directions
Use a knife to cut off the ends and along the ridges of the green plantain.
Slice them according to your preferred shapes and sizes.
Season them with salt.
Fry them in a frying pan with oil over medium heat.
Toss the plantain slices in the oil using a fork.
Once golden brown, transfer the fried plantains to a tray lined with a kitchen towel. 
See how simple it is to make fried plantains? You have used simple ingredients and transformed them into a top-notch healthy snack or meal! 
Tips
How to Select Green Plantains
Choose green plantains or those with touches of yellow. We will feel firm compared to ripe ones.
Don't worry if you don't smell a sweet aroma because this is normal.
Green plantains may not be as sweet as yellow ones, but they are healthy because the starch has not yet been converted into sugar.
How to Store Green Plantains
Green plantains can be stored at room temperature.
But you can keep them longer by storing them in the fridge or the freezer.
I usually slice the plantains and pre-freeze them in a lined tray.
Once frozen solid, I transfer them into freezer bags to last up to several weeks or months in the freezer.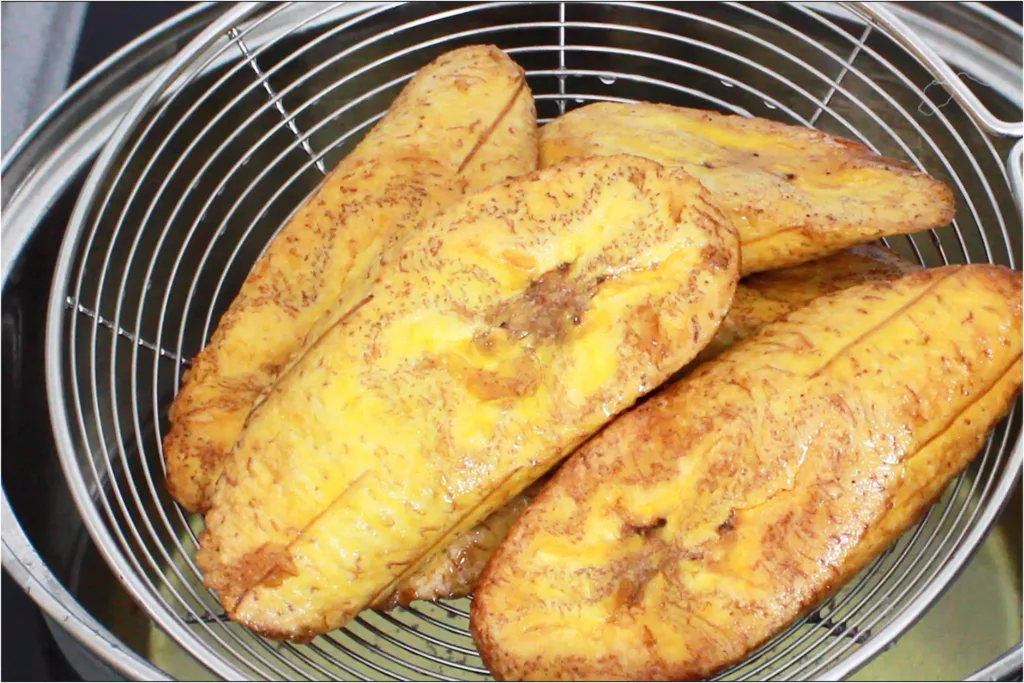 Fried Green Plantains Variations
If you don't have unripe plantains, then you are free to use yellow and black ones for a sweet-tasting dish.
Aside from these lightly seasoned plantains, you can also give them a flaky crust. Coat it in a batter of eggs, plain flour, and bread crumbs like this Extra Crispy Fried Plantain. 
This can also pair well with eggs for an Egg-Fried Plantain recipe. Slice the plantain into strips to make your very own healthy French Fries. Otherwise, cut the plantain into thinner pieces for your very own Plantain Chips. 
You can also fry the plantains in an air fryer for a nutritious option.  In fact, this can also be steamed or roasted for a natural taste!
Recommended Tools
This post contains affiliate links, which means I earn commission income from qualifying purchases at no extra cost to you. Please read the full disclosure for more information.
Visit my shop for more products.
How to Serve Fried Green Plantains
Fried green plantains can be served as appetizers, desserts, or snacks. You can pair it with your favorite dipping sauces, such as ketchup and guacamole. 
It is also enjoyed with a side of any of the following dishes:
Keep your meal healthy by eating these Fried Plantains with any of these homemade drinks and juices: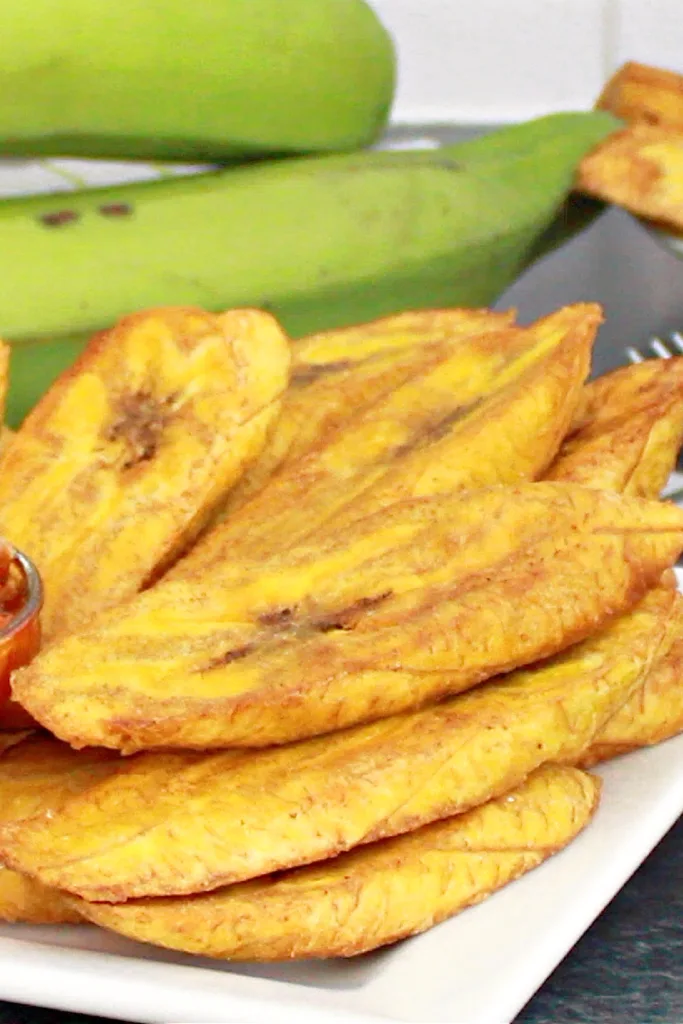 Storage Tips
At room temperature: Consume fried plantains within 4 hours. Extend room-temperature shelf life by putting them in an airtight container.
Frequently Asked Questions
What is the best way to fry plantains?
The best way to fry plantains depends on your diet and preference. For instance, deep fry them for a crunchy and crisp texture. If you want to reduce oily food, then cook it in the air fryer.
Should you boil plantains before frying?
You don't need to boil the plantains for frying. As a matter of fact, you can fry them directly from the freezer for a crunchy and flaky texture.
Are fried plantains good for you?
Yes, they are planting is a great source of potassium, fiber, and vitamins. It also contains fewer calories than other fruits with starch. It is certainly healthier than store-bought chips or junk food.
The fiber content helps with digestion and weight management.
Do fried plantains taste like bananas?
Since plantings are not the same as bananas, there will be differences in flavor. For example, unlike bananas, unripe plantains can give you an early and mildly sweet flavor.
Why are the fried plantains tough?
You may find it difficult to bite the plantains if you have sliced them into thick chunks.
The thinner the slices are, the softer and more tender they will be. Thinly sliced plantains also require less time to cook.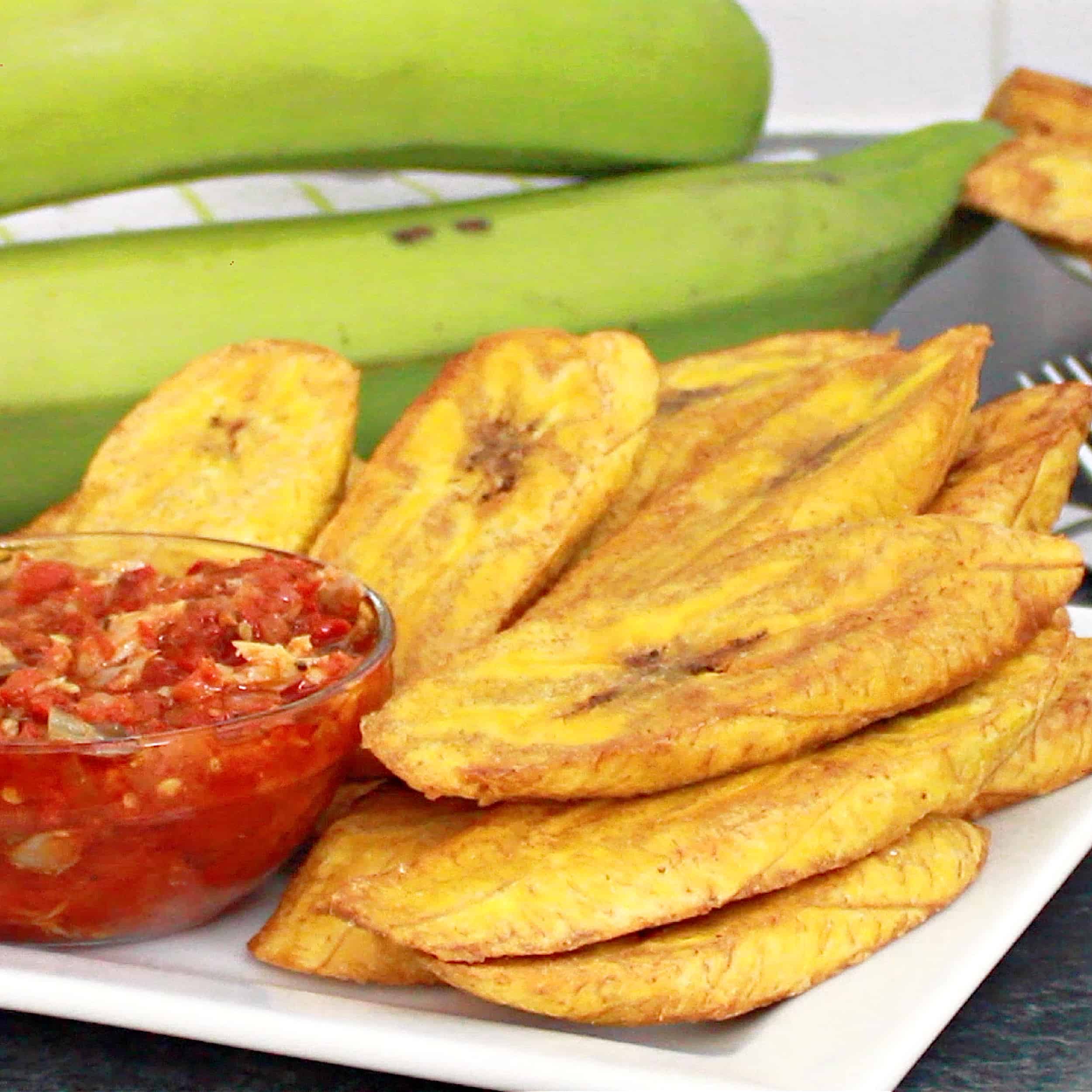 Fried Green Plantains (VIDEO)
Transform an ordinary green plantain into a delectable comfort food!
Ingredients
3

green plantains

(large-sized)

1

pinch

sea salt

Sunflower oil

(enough to deep-fry)
Instructions
Prepare the plantains.
Peel the unripe green plantains by cutting off the ends and along the ridges.

Slice them according to your preferred shapes and sizes.
Fry them.
Fry it in a pot with oil over medium heat.

Do this in batches for proper cooking.

Once golden brown, transfer the fried plantains into a tray lined with a kitchen towel.
Video
Notes
Aside from frying, you can also steam or roast the plantains.

Season it with other spices of your choice.

Serve it with eggs, stew, or other meals you prefer.

Store the plantains in the fridge to slow down the ripening.
Nutrition
Serving:
1
(of 2)
Calories:
408
kcal
Carbohydrates:
99
g
Protein:
3
g
Fat:
0.2
g
Saturated Fat:
0.3
g
Polyunsaturated Fat:
0.1
g
Monounsaturated Fat:
0.1
g
Sodium:
25
mg
Potassium:
1157
mg
Fiber:
6
g
Sugar:
6
g
Vitamin C:
54
mg
Calcium:
5
mg
Iron:
2
mg