With a glass of Cherry Juice, you will certainly feel happy and cheery!
Cherry Juice may not be the most popular drink or juice, but it is definitely a must-try! Its sweet and saccharine flavors simply take your worries away with just one sip.
You might wonder how you can make juice with these small fruits, but it's actually easier than you think. After trying it at home, it instantly became one of my family's favorite slow juicer recipes.
Pin this recipe on Pinterest to save for later
In a few minutes, you can experience how delicious and refreshing Cherry Juice is. It will certainly change your life!
How to Make Cherry Juice
Don't just put cherries on your cake; turn them into yummy, colorful, and hydrating drinks!
Juicing any fruit is made easier with the help of a juicer. The slow juicer will help fully extract all of the juices without pip or seeds from the fruits!
Ingredients
Cherries
What I love most about cherries is how tasteful and colorful they are. Despite their small size, cherries are loaded with sweet, sour, and fruity flavors at every bite.
Even the cherry's bright red color will entice you to add it to your diet. Cherries also have a floral and saccharine aroma that will complement their vibrant color.
These need to be pitted, but the extra effort is worth it. You can use variants like Bing, Lambert, Sweetheart Chelan, Tulare, and more! In fact, some people also prefer black cherries.
These also make great snacks and add-ons for salads, dishes, and desserts, and now, you're about to discover how to transform them into a quenching beverage!
Directions
Here are the steps you need to remember to make Cherry Juice:
Rinse the cherries.
Use a knife to slice around it until you expose the pit.
Then, remove the pit.
Place a fine-mesh sieve on the glass to filter the froth when juicing.
Feed the slices into the juicer until the juice is fully extracted.
Add some ice and drink up!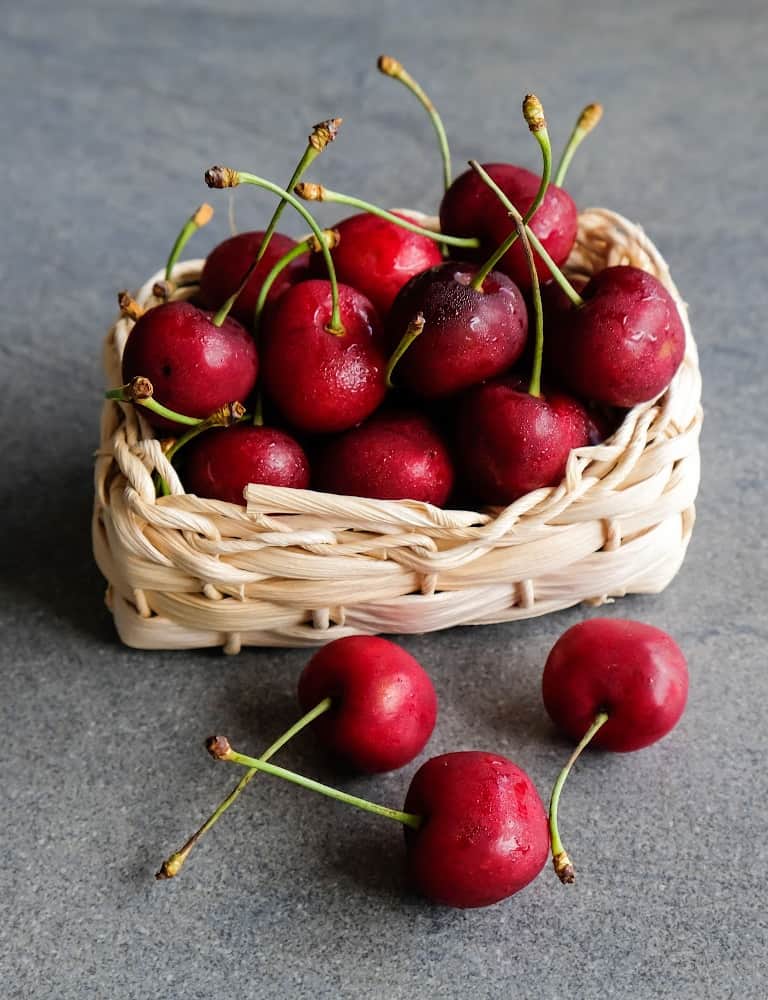 Doesn't it taste delicious on its own? Once you make Cherry Juice for the first time, you'll just find yourself making more of it! It's the drink that you will never truly get enough of.
Tips
Buying cherries
According to the Ohio State University Extension, fresh cherries should be plump and vibrant.
The skin should be smooth and glossy.
Avoid buying shriveled or mushy ones.
Storing cherries
If you plan on eating cherries on the same day, then you can store them on the counter.
Otherwise, it is best to arrange them in a shallow container and refrigerate them loosely.
Do not wash them before storage.
Pitting cherries
There are several methods you can try to pit or deseed a cherry.
One of them is scoring around the cherry in one direction until you can pull the halves apart. Once the pit is exposed, it will be easy to take it out.
On the other hand, you can also crush the cherry by holding the knife flat on its side on the fruit. It is similar to how you peel garlic.
In addition, the pit can be removed with a simple paper pin. Remove the stem and push the paper pin into the cherry until the pit pops out. A skewer can be used as an alternative tool.
There is also even an actual cherry pitter that you can purchase.
Cherry Juice Variations
Heads up for our vegan, gluten-free, dairy-free, vegetarian, and keto foodies! This Cherry Juice is absolutely safe, healthy, and good for you. It doesn't contain any preservatives, additives, or artificial sugar.
To make this drink interesting every time you serve it, mix it with other fruits such as watermelons, plums, apples, ginger, orange, carrots, and more.
Experiment with your favorite variants to come up with a juice recipe of your own!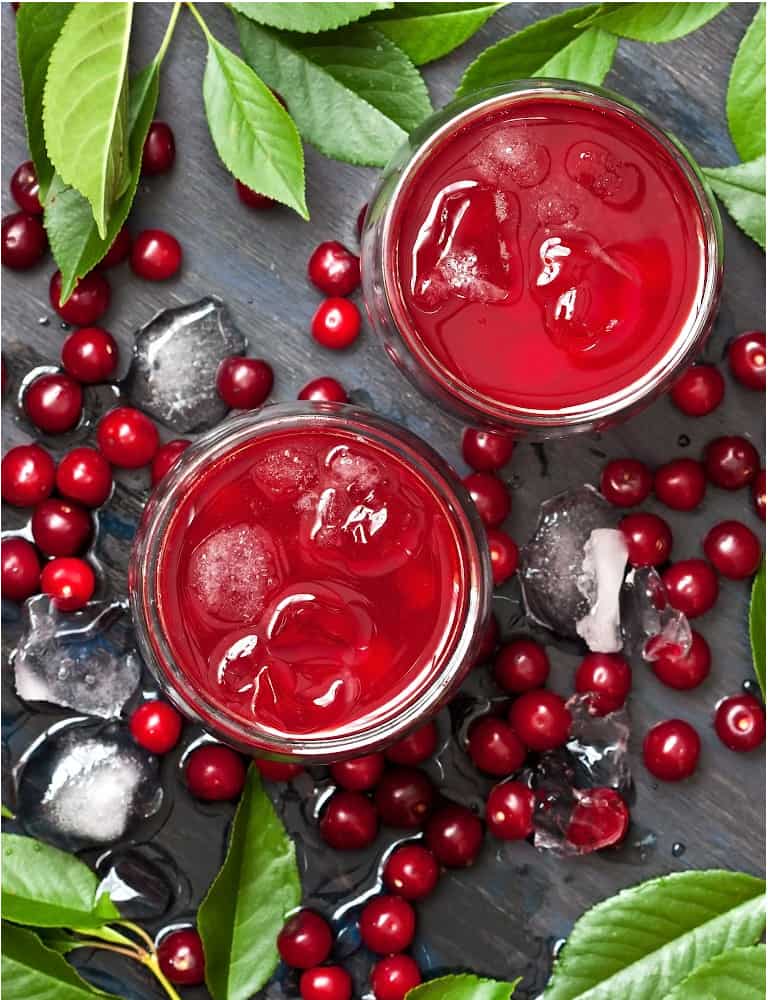 No-Juicer Cherry Juice
Instead of using a slow juicer, you are also free to use a blender or a food processor. Filter it with a fine-mesh sieve, a cheesecloth, or a nut milk bag if you want to achieve a smooth liquid texture.
Another easy way to do this is by using your hands. Push the cherries against a strainer until the juice is fully extracted.
Recommended Tools
This post contains affiliate links, which means I earn commission income from qualifying purchases at no extra cost to you. Please read the full disclosure for more information.
Visit my shop for more products.
How to Serve Cherry Juice
Now that you know the recipe and the tips to make it better when exactly is the best time to serve this refreshing drink?
While there is no specific time to drink this, Sleep Foundation suggests drinking cherry juice after dinner. Cherries contain melatonin which can help you sleep faster and achieve better sleep quality.
However, you can also enjoy it in the morning or in the afternoon for a refreshing drink. You can also use it as a pre-workout or post-workout session to replenish your strength and endurance.
How much cherry juice should you drink every day? The National Institutes of Health suggests drinking up to 16 ounces or two cups of cherry juice daily. Remember that too much of this can also lead to weight gain and indigestion.
It can be served with citrus fruit, herbs, and spices for an extra kick of flavor. You can also add sugar, honey, or maple syrup for a unique quality. You'll surely love it with breakfast, brunch, healthy recipes, and snacks.
You can even use this as an added flavoring agent to dishes and desserts!
Storage Tips
At room temperature: Drink the Cherry Juice within a few hours of making it.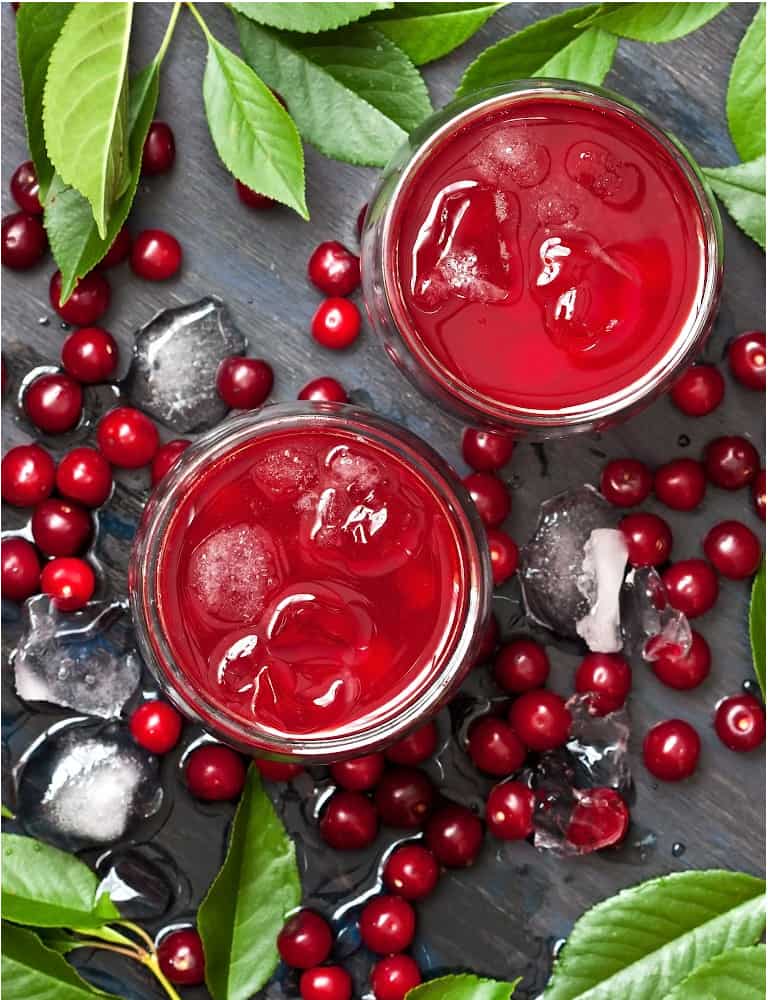 Frequently Asked Questions
What are the benefits of drinking cherry juice?
Drinking cherry juice helps restore your strength and energy, especially after a productive workout session. It also aids in bone health, muscle recovery, pain relief, inflammation, immunity, metabolism, sleep, and cancer prevention.
The sweetness of this drink can also help curb your cravings for sweet foods.
What benefits of drinking cherry juice at night?
Cherry juice at night can help you achieve better sleep quality. You will also enjoy longer sleep for a well-rested evening. In fact, drinking cherry juice at night will help you relax more.
How does cherry juice make you sleepy?
According to WebMD, cherries can increase your body's production of melatonin to help you sleep better. Cherries also have tryptophan to help you rest.
Do cherries help you sleep?
Yes, they do! Cherries have natural nutrients to give you better sleep and rest. They also help relax your muscles to soothe your body at night.
This post may contain general information and does not constitute professional medical advice. Always seek information or advice from a qualified medical professional. Please read the full disclaimer for details.
Tart Cherry Juice (VIDEO)
Kickstart your day with sweet, satisfying, and savory Cherry Juice! This is also a unique beverage that you can enjoy with friends and family.
Ingredients
500

g

fresh cherries

(pitted)
Instructions
Prepare the cherries.

Rinse the cherries. Then, use a knife to slice around it until you can separate the two slices. Remove the pit.

Juice the fruit.

Place a fine-mesh sieve on the glass to filter the froth. Feed the cherry slices into the juicer until the juice is fully extracted.
Video
Notes
Do not wash the cherries before refrigerating them.

Try different methods of pitting cherries.

Use a blender, food processor, or fine-mesh sieve instead of a slow juicer.

Babies can have cherries as early as 6 months of age.
Nutrition
Calories:
315
kcal
Carbohydrates:
80
g
Protein:
5
g
Fat:
1
g
Saturated Fat:
0.2
g
Polyunsaturated Fat:
0.3
g
Monounsaturated Fat:
0.2
g
Potassium:
1110
mg
Fiber:
11
g
Sugar:
64
g
Vitamin A:
320
IU
Vitamin C:
35
mg
Calcium:
65
mg
Iron:
2
mg