Start juicing the healthiest fruits by trying this fresh homemade Apple Juice recipe! Did you know you can do this recipe in less than 5 minutes with a slow juicer?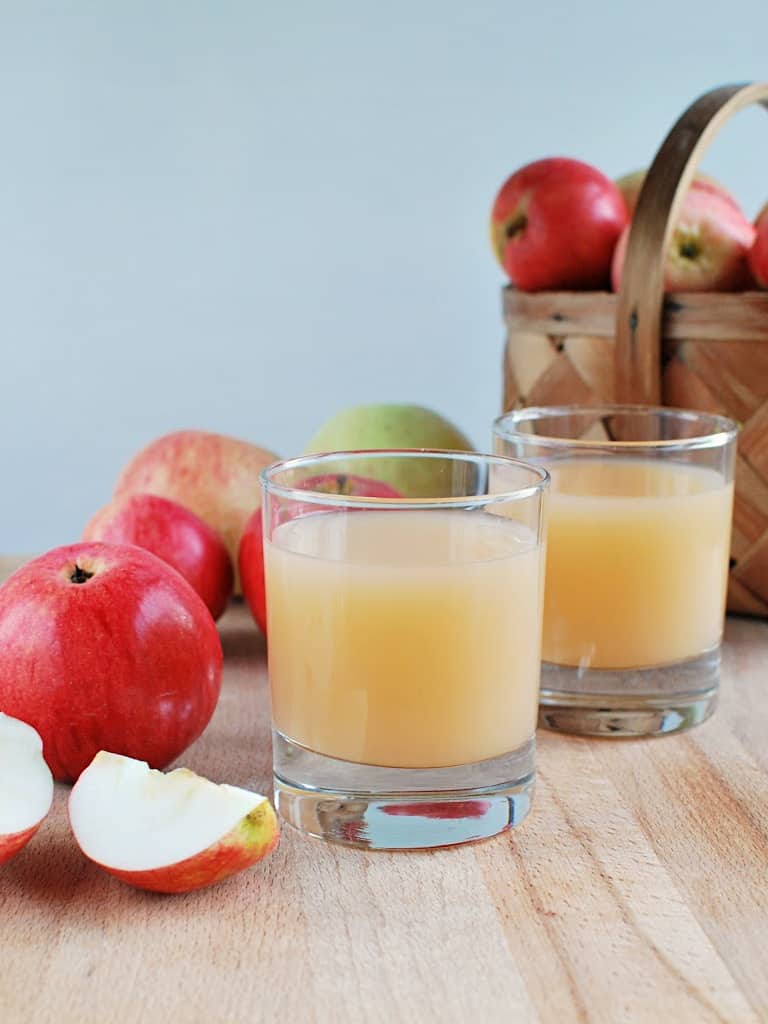 Pin this recipe on Pinterest to save for later
Pair it with your favorite healthy recipes to keep up with your diet. Give it a try; this might even be one of your go-to drinks and juices!
One glass of apple juice a day keeps the doctor away!
How to Make Apple Juice
Making apple juice does not get easier than this Apple Juice recipe!
Ingredient
Apples
There are more than 7,500 variants of apples in the world. But which apples are best for making apple juice?
If you want it to be sweet and saccharine, Minneopa Orchards then suggests using Gala and Golden Delicious apples. Both have the right amount of acid, a honey-like flavor, and a fruity aroma.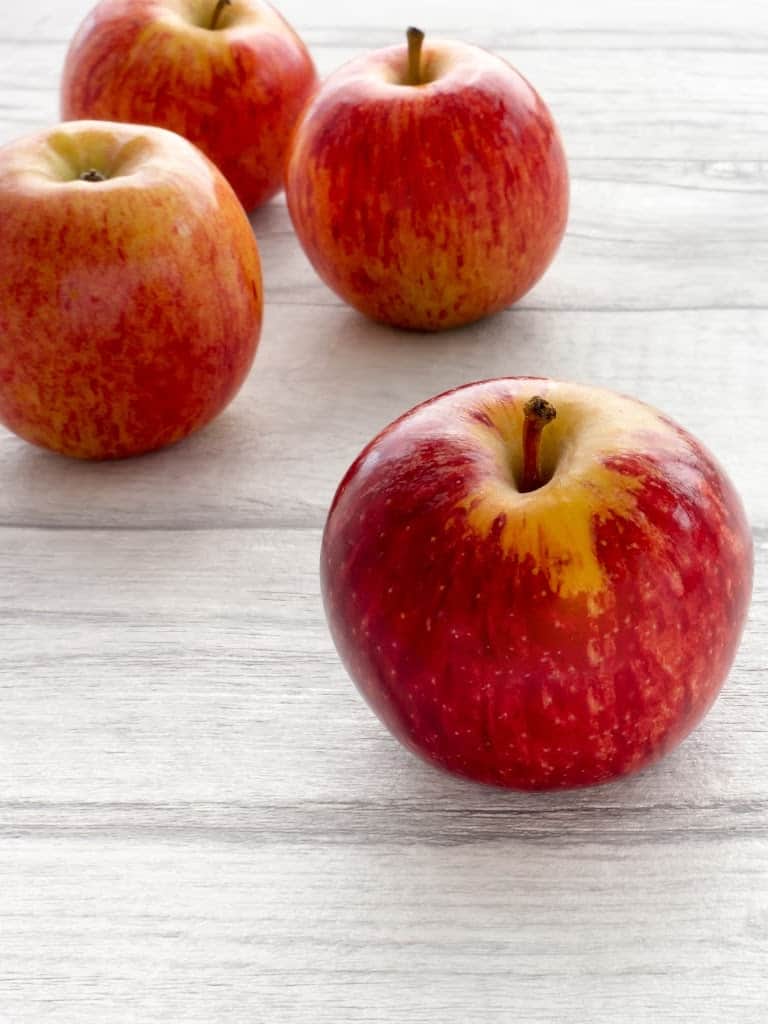 On the other hand, if you love tarty and tangy drinks, go for Braeburn, Pink Lady, and Granny Smith apples. These have the perfect mix of sweet and sour flavors to quench your thirst.
Alternatively, Red Delicious, Honeycrisp, McIntosh, Jazz, and Pacific Rose are excellent options for balanced and flavorful apple juice!
Apples make the best juices because they're helpful for weight loss, heart health, cancer prevention, and more! Are you ready to get started on this Apple Juice recipe?
Directions
Slice the rinsed apples using a knife or apple corer and slicer.
Then, insert fruit slices into the slow juicer.
Once the liquid is fully extracted, transfer the contents into a glass and drink until the last drop!
Isn't it convenient to do this recipe in minutes? Whether it's a busy or relaxing day, this fresh and healthy juice is enough to bring you the comfort and relief that you need!
Tips
Selecting Apples
An apple should be firm to the touch and heavy in weight.
Moreover, it shouldn't have any bruises, soft spots, or cracks.
The skin should be smooth and shiny.
Finally, its stem should be intact and have a sweet and fragrant scent.
Storing Apples
Place them in a mesh bag and refrigerate them for several weeks.
Wash them only before consuming or using them.
Also, constantly check them for signs of spoilage.
Preparing Apples
You can use an apple corer and slicer to slice and remove the core.
Alternatively, use a knife to carve around the core and chop the fruit into pieces.
To prolong the shelf life of sliced apples, toss them into lemon juice.
Put sliced apples in resealable bags and refrigerate or freeze them for up to 5 days.
How to Juice Apples Without a Juicer
You can also steam the apples until they are soft and tender. Use a strainer or nut milk bag to filter the juice. Push down the pulp with a spoon to extract all of the juices.
In addition, apples can be converted into a drink with a blender or food processor. Always strain it if you prefer a smoother texture.
Apple Juice Variations
Since it's homemade, you're assured that it is organic, sugar-free, and preservative-free. Furthermore, you can combine different varieties of apples of your choice for diverse flavors.
This juice can be paired with the following:
Moreover, if you love smoothies, you can use a blender to combine apples with your favorite ingredients!
You can opt for a pinch of cinnamon or cardamom for spices and herbs to tone down the sweetness.
If you want to add leafy greens, then go for spinach or kale for added nutritional value and freshness. Lemon or Orange Juice can also be added to extend shelf life and flavor.
Recommended Tools
This post contains affiliate links, which means I earn commission income from qualifying purchases at no extra cost to you. Please read the full disclosure for more information.
Visit my shop for more products.
How to Serve Apple Juice
Fresh apple juice can be served directly from the juicer for maximum benefits. For a revitalizing and cooling drink, add some ice and herbs!
According to Amerisleep, apple juice is best served in the morning and before breakfast. It is also recommended as a pre or post-workout beverage to replenish your energy.
Note that this drink is not suggested for evening consumption because it can keep you awake and increase your blood sugar.
Additionally, it is best paired with healthy recipes such as:
Meanwhile, you can also prepare Apple Puree for your baby!
Storage Tips
At room temperature: Freshly made apple juice is best consumed within 2 hours.
Frequently Asked Questions
What is apple juice good for?
According to Everyday Health, apple juice benefits gut health, heart health, and weight loss. Moreover, it helps regulate your cholesterol and blood sugar levels. It also aids in digestion because of its high fiber content.
This beverage also promotes better brain function by enhancing memory and focus. Its water content also keeps you fresh and hydrated throughout the day.
Are there side effects to drinking too much apple juice?
Yes, there are. An article by Live Strong shares that consuming too much apple juice can lead to diarrhea and flatulence. It can also increase sugar levels which may eventually lead to weight gain.
Should you juice the apple seeds?
No, apple seeds are not suitable for juicing because they contain amygdalin. It is a harmful component that can trigger cyanide poisoning inside your body.
Make sure to core and deseed the apple before juicing.
How can you prevent the apple juice from browning?
To slow down the browning, squeeze some lemon juice into the drink.
How much apple juice should you drink every day?
The American Academy of Pediatrics recommends the following consumption limits for infants, children, and adults.
| | |
| --- | --- |
| Age | Amount |
| 1 to 3 | ½ cup |
| 4 to 6 | ¾ cup |
| 7 and above | 1 cup |
This post may contain general information and does not constitute professional medical advice. Always seek information or advice from a qualified medical professional. Please read the full disclaimer for details.
Homemade Apple Juice
Feel fresher, healthier, and more robust with a glass of this natural and diet-friendly Homemade Apple Juice! Let this drink make your day sweeter!
Ingredients
4

gala apples

(medium-sized)
Instructions
Prepare the apples.

Rinse and slice the apples into pieces. You also have the option to peel them. Do not forget to remove the core.

Juice the apples.

Feed the apple slices into the slow juicer. Once the liquid is fully extracted, transfer contents into a glass or container, and you have yourself an all-natural, fresh, and homemade apple juice!
Video
Nutrition
Serving:
1
(of 2)
Calories:
189
kcal
Carbohydrates:
50
g
Protein:
1
g
Fat:
1
g
Saturated Fat:
1
g
Polyunsaturated Fat:
1
g
Monounsaturated Fat:
1
g
Sodium:
4
mg
Potassium:
389
mg
Fiber:
9
g
Sugar:
38
g
Vitamin A:
197
IU
Vitamin C:
17
mg
Calcium:
22
mg
Iron:
1
mg