Beet Juice is one of the most refreshing and appetizing drinks and juices to pair with your healthy meals! It has a vibrant color, rich flavor, and heavenly texture to leave you want more.
Pin this recipe on Pinterest to save for later
If you love juicing, you will surely enjoy this beverage. It is perfect for summer or celebrations to keep you revitalized throughout the day!
How to Make Beetroot Juice
Take your juicer out of the storage and let's use it to make beetroot juice in no time!
Ingredient
Beetroots
According to the American Heart Association, one of the proven benefits of beetroot is its ability to significantly reduce and maintain blood pressure.
Normal blood pressure also comes with heart health to prevent cancer, heart attacks, and stroke. It can also improve physical activity, digestion, and immunity.
Aside from using it for juicing, you can also incorporate it into homemade snacks such as Beetroot Chin Chin for a nutritious and fun snack!
Raw beetroot usually tastes bitter, earthy, and a little bit sweet. It may not be everyone's cup of tea but even just a glass of beetroot juice can leave you feeling energized, refreshed, and revitalized.
Directions for Making Beet Juice
Rinse the beetroots over running water.
Use a knife to slice the bottom and top of the beetroots before cutting them into small pieces.
Place a fine-mesh strainer on top of the glass to filter the juice.
Slowly put the beetroot slices in the slow juicer and wait for the juices to be released.
Pour contents into a glass and serve!
Can you believe that it's that easy to enjoy a glass of beetroot juice? Let this recipe be your first step toward a healthier lifestyle!
Tips for Making Beetroot Juice
How to Choose Beetroots
For great quality beetroot juice, make it a point to purchase the best beetroots as well.
Beetroots for juicing should be small to medium in size with bright green leaves.
Refrain from buying beetroots with wilting leaves if you won't be needing beetroots right away.
It must be firm to the touch. Soft spots can indicate rotten insides of the beetroot.
The best beetroots also have unblemished and unbruised skin.
If you want your beetroot juice to be sweet, go for ones that are smaller because large beetroots can be bitter and earthy to the taste.
How to Store Beetroots
Don't wash the beetroots before storage because this can lead to rotting. Cut the leaves from the beetroot but make sure that you leave an inch of the stem to prevent bleeding of the beetroot.
You can keep the beetroot leaves in a resealable bag in the fridge and use them for other dishes. As for the beetroot, place them in a cool and dry place to last up to three weeks. Check the beetroots from time to time to ensure that there are no rotten beetroots.
If there are rotten, mushy, or smelly beetroots in the pile, then discard them immediately to prevent spoilage of the other beetroots.
Beet Juice Variations
Beetroot juice can be mixed with other fruits or vegetables of your choice. For instance, it can be combined with any of the following ingredients for enhanced flavor and quality:
Aside from using a juicer, you can also use a blender or food processor to achieve a frothy consistency. Remember to peel the skin for a smoother texture.
Recommended Tools
This post contains affiliate links, which means I earn commission income from qualifying purchases at no extra cost to you. Please read the full disclosure for more information.
How to Serve Beet Juice
It is suggested to serve beetroot juice immediately after making it because the longer it is left exposed, the more nutrients it loses and the more vulnerable it is to contamination and bacteria.
Beetroot juice can also be served with ice for a perfect thirst-quenching drink for summer. For food pairings, here are some options that I enjoy with my beet juice:
This beverage can also be served with lemon, chia seeds, ginger, cucumber, mint, parsley, and other fruits or herbs for extra flavorful results!
Storage Tips for Beet Juice
At room temperature: As a general rule, if the beetroot juice has been left at room temperature for longer than 2 hours, dispose of it for safety and health.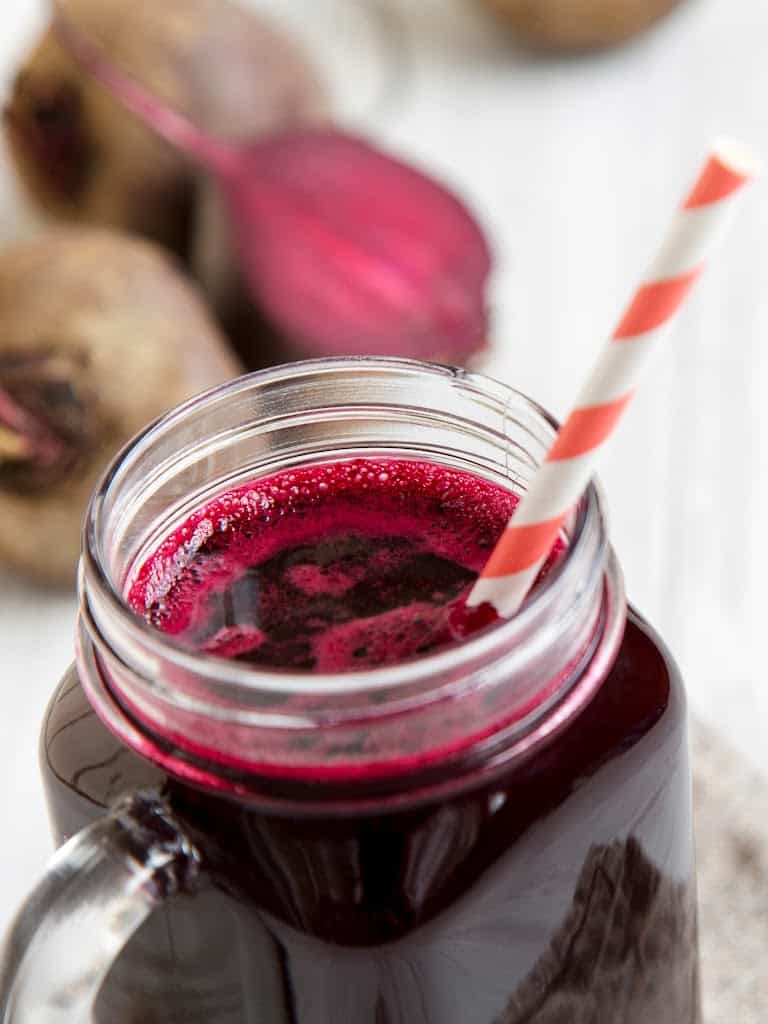 Frequently Asked Questions
What is beetroot juice good for?
Beetroot juice can help with stamina, blood pressure, immunity, energy, and overall health. It is also a great pre or post-workout drink to keep your bones and muscles healthy and strong!
Is it okay to drink beet juice every day?
Yes, it is! Medicine Net recommends consuming a cup of beet juice daily for proper nutrition.
Who should not drink beet juice?
Beet juice is not recommended for people with skin allergies and diabetics.
This post may contain general information and does not constitute professional medical advice. Always seek information or advice from a qualified medical professional. Please read the full disclaimer for details.
Beetroot Juice
The Beetroot Juice recipe is truly a life-changing recipe for people who want to improve overall health. Imagine how one ingredient can nourish your body.
Ingredients
3

beetroots

(medium-sized)
Instructions
Wash and cut the beetroots.

Thoroughly wash and rinse the beetroots to remove possible pesticide residue. There is no need to peel the beetroots.

Slice the bottom and top of the beetroots before cutting them into small pieces.

Gradually feed the sliced beetroots into the slow juicer.

Place a fine-mesh strainer on top of the glass where the juice will be extracted to filter the juice.

Slowly put the beetroot slices in the slow juicer and wait for the juices to be released.
Video
Notes
Beetroot juice is best consumed immediately after juicing.

Refrain

from leaving it at room temperature for longer than 2 hours.

Add some ice to make it a refreshing cold summer drink.
Nutrition
Serving:
150
ml
Calories:
53
kcal
Carbohydrates:
12
g
Protein:
2
g
Fat:
1
g
Saturated Fat:
1
g
Polyunsaturated Fat:
1
g
Monounsaturated Fat:
1
g
Sodium:
96
mg
Potassium:
400
mg
Fiber:
3
g
Sugar:
8
g
Vitamin A:
41
IU
Vitamin C:
6
mg
Calcium:
20
mg
Iron:
1
mg