With Beet Juice, you will surely feel like you can beat anything!
Have you considered using beetroot for juicing before? Its deep red color and sweet and earthy taste truly make it perfect for homemade juice.
Aside from its flavor, beet juice is also good for you in many ways. In making this juice, you are taking care of your body and mind too.
Pin this recipe on Pinterest to save for later
If you love juicing, then you will surely enjoy this beverage. It is perfect for summer or celebrations to everyone happy and healthy!
How to Make Beet Juice
Power up your slow juicer, and let's use it to make Beet Juice in no time! Get ready to experience the sweet and tasty goodness of this juice within minutes.
Ingredient
Beets
Are beets fruits or vegetables?
You're right; beets or beetroots are vegetables! They are known for their deep and rich red or purple color. When it comes to flavor, beets have a sweet and earthy taste.
Whether raw or cooked, beets add good quality to food. For instance, you can use it raw for your salads and smoothies. Meanwhile, beets can also be cooked in stir-fries and soups.
Aside from turning beets into juices, I also love using them for Beetroot Chin Chin. Indeed, you will never run out of beet recipes to try; let me know what dish or drink you like best!
Now, let's go to the fun part – making the Beet Juice!
Directions
Check out how easy it is to make Beet Juice in your juicer.
Rinse the beetroots over running water.
Use a knife to slice the bottom and top of the beetroot.
Then, chop it into smaller pieces.
Place a fine-mesh strainer on top of the glass to filter the juice.
Insert the beetroot slices into the slow juicer until fully extracted.
Pour contents into a glass and serve!
Can you believe that it's that simple to enjoy a glass of beet juice? Give it a try, and tell me how you find the taste and texture. Don't forget to share it with your family and friends!
Tips
Buying beets
Buy small to medium beets with green leaves.
Also, don't buy beets with wilting leaves.
Go for beets that feel firm to the touch without soft spots.
Storing beets
Don't wash the beetroots before storage because this can lead to rotting.
Cut the leaves from the beetroot.
You can also keep the beetroot leaves in a resealable bag in the fridge and use them for other dishes.
Place the beets in a cool and dry place to last up to three weeks.
Discard rotten, mushy, or smelly beetroots in a pile.
Beet Juice Variations
Beetroot juice can be mixed with other fruits or vegegies of your choice. For instance, it can be mixed with any of the following ingredients for enhanced flavor and quality:
Aside from using a juicer, you can also use a blender or food processor to get a smoothie texture. Remember to peel the skin for a smoother texture.
Recommended Tools
This post contains affiliate links, which means I earn commission income from qualifying purchases at no extra cost to you. Please read the full disclosure for more information.
Visit my shop for more products.
How to Serve Beet Juice
It is suggested to serve beetroot juice immediately after making it. The longer it is left at room temperature, the more nutrients and flavor it loses.
Beet juice can also be served with ice for a perfect summer drink. For food pairings, here are some options that I enjoy with my beet juice:
This beverage can also be served with lemon, chia seeds, ginger, cucumber, mint, parsley, and other fruits or herbs for extra flavorful results!
Storage Tips
At room temperature: Don't leave beet juice at room temperature longer than two hours.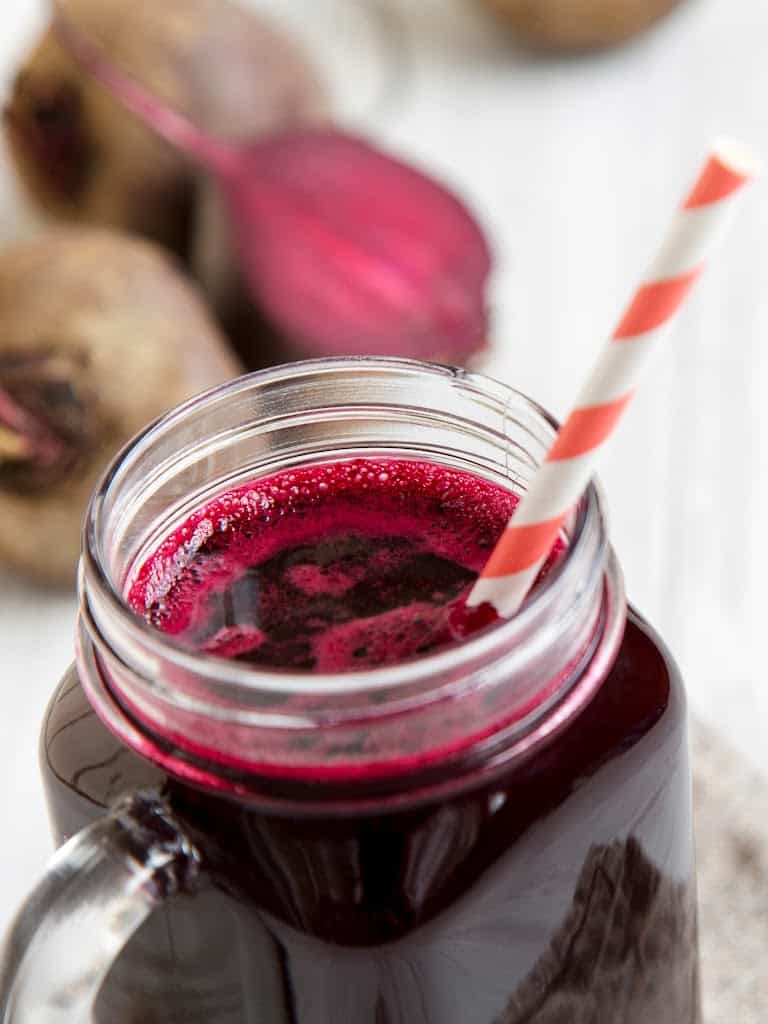 Frequently Asked Questions
What is beet juice good for?
Beetroot juice can help with stamina, blood pressure, immunity, energy, and overall health. It is also a great pre or post-workout drink to keep your bones and muscles healthy and strong!
Is it okay to drink beet juice every day?
As long as you limit your intake to one cup of beet juice per day, it's okay to drink it daily. Balance it with healthy recipes for a proper diet.
Is beet juice very good for you?
Of course it is! The sweet and earthy taste will curb your sweet cravings and satisfy your appetite. Beet juice is also good for your heart, brain, eyes, skin, blood pressure, immunity, endurance, and overall health.
Get ready to be surprised at how this juice can change your life!
What is the healthiest beet juice?
The healthiest beet juice is homemade, fresh, and organic beet juice. You may buy these in grocery stores but nothing beets an all-natural drink.
Moreover, you can mix it with other fruits and veggies to make it better for your health. By making your own beet juice, you can ensure that you are getting maximum nutrients from beets.
This post may contain general information and does not constitute professional medical advice. Always seek information or advice from a qualified medical professional. Please read the full disclaimer for details.
Beetroot Juice (VIDEO)
The Beetroot Juice recipe is truly a life-changing recipe for people who want to improve overall health. Imagine how one ingredient can nourish your body.
Ingredients
3

beetroots

(medium-sized)
Instructions
Wash and cut the beetroots.

Thoroughly wash and rinse the beetroots to remove possible pesticide residue. There is no need to peel the beetroots.

Slice the bottom and top of the beetroots before cutting them into small pieces.

Gradually feed the sliced beetroots into the slow juicer.

Place a fine-mesh strainer on top of the glass where the juice will be extracted to filter the juice.

Slowly put the beetroot slices in the slow juicer and wait for the juices to be released.
Video
Notes
Beetroot juice is best consumed immediately after juicing.

Refrain

from leaving it at room temperature for longer than 2 hours.

Add some ice to make it a refreshing cold summer drink.
Nutrition
Serving:
150
ml
Calories:
53
kcal
Carbohydrates:
12
g
Protein:
2
g
Fat:
1
g
Saturated Fat:
1
g
Polyunsaturated Fat:
1
g
Monounsaturated Fat:
1
g
Sodium:
96
mg
Potassium:
400
mg
Fiber:
3
g
Sugar:
8
g
Vitamin A:
41
IU
Vitamin C:
6
mg
Calcium:
20
mg
Iron:
1
mg