Granola is one of the most popular breakfast recipes because it's nutritious, appetizing, and versatile. It can be prepared in many ways, making it suitable for numerous diets!
Pin this recipe on Pinterest to save for later
Time to get your homemade healthy granola recipe on!
How to Make Healthy Granola
Whether on a fitness journey or just testing new recipes, this granola recipe is definitely a must-try treat.
Ingredients
Whole Grain
These have a nutty and earthy flavor, and once it is transformed into granola, they'll radiate a wide array of sweetness, crunchiness, and a tad bit of saltiness.
Moreover, these can enhance your immunity, cleanse your gut, clear your skin, control your blood sugar, and help manage weight!
Nuts
Both almond and cashew nuts are excellent nut options. Also, almonds contain antioxidants that are good for heart health and brain function.
On the other hand, cashew nuts can help with bone health and clear eyesight. Use leftover cashews and almonds for Cashew Butter and Chocolate Almond Milk!
Pumpkin seeds
Pumpkin seeds are salty and nutty in flavor with a crunchy texture that makes them perfect for a granola recipe.
Incorporating this into your diet can help your body fight cancer, improve prostate health, and boost your heart health.
Seasoning
Sea salt, cinnamon, and nutmeg are spices and seasonings used for this recipe. These condiments greatly complement and intensify the combined flavors of the other ingredients.
Dried Fruits
Banana chips
These banana chips are extra tasty and sweet because of added sugar. They are rich in phosphorus, magnesium, iron, vitamin A, and potassium. Thus, it can improve your eyesight and regulate your blood pressure.
Dried mangoes
Similar to banana chips, dried mangoes are sweet and flavorful. It adds a chewy quality to the granola. These are excellent for fighting off stress and boosting your energy! Its fiber content can improve your digestion and heart.
Coconut flakes
Coconut flakes retain the fruit's natural flavor with a bit of sugared quality. It can stabilize your cholesterol levels, repair damaged cells, and improve your metabolism!
Dried goji berries
When it comes to flavor, dried goji berries can be sweet, sour, and savory. These are soft and chewy when consumed.
Dried cranberries can improve your stamina, relax your muscles, and relieve you from constipation.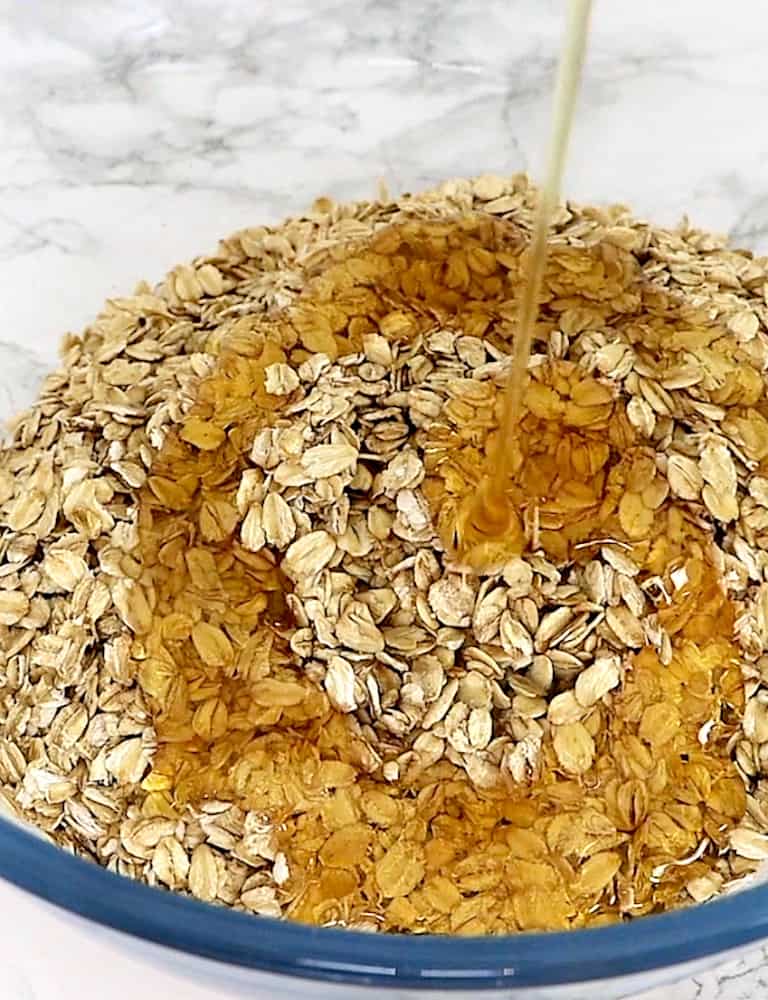 Wet Ingredients
Raw honey
This is a must-add ingredient because it gives the granola a touch of caramel, citrus, and fruity flavor. Its fragrance can also make the granola more appetizing. Raw honey has been proven to improve wound healing and digestion and soothe a sore throat.
Virgin olive oil
Virgin olive oil may taste pungent, peppery, and sometimes bitter. It has powerful anti-inflammatory properties that can fight against diseases. It improves heart health, weight management, and skin.
Vanilla extract
Vanilla extract adds a sugary sweet flavor to the recipe. Its scent can even contribute a floral-like fragrance. Even two teaspoons of vanilla extract can add tremendous taste to your dish.
I can already guarantee that this will be your next favorite go-to food from the list of ingredients alone!
Directions
Moving on to the fun part, let's make your granola!
Mix the ingredients in a bowl using a spatula.
Transfer contents to a lined baking tray and spread evenly.
Preheat the oven to 250°F or 120°C before baking the granola at 150°C for 10 minutes.
Take the granola out of the oven, mix them, and spread them evenly again.
After 10 minutes in the oven, take the granola out of the oven and stir it together.
Compress the granola with a spatula.
Bake for another 10 to 15 minutes. Allow the granola to cool, then break it into clusters.
Add in the other dry ingredients for nutrition and flavor.
This recipe is perfect if you're on a diet, always on the go, or even turning over a new leaf for a healthier "you" this year!
Tips for Making Healthy Granola
How to Instantly Improve Granola
How do you like your granola so far? If you want to improve it, then here are some tips I can share!
First, use good quality oil. Since oil is a must-have ingredient for any granola recipe, use the healthiest and best quality oil in your pantry. Olive oil is an excellent choice but you can also use sunflower oil or coconut oil as nutritious alternatives.
Then, mixing according to a specific order of ingredients is key to better-tasting granola. There are various ways of mixing granola but flavor-wise, the best way to do it is to combine the dry ingredients that need to be baked and the wet ingredients to infuse the dry ingredients with the aroma and flavor.
Next, add the mix-ins once the granola is baked. You may have noticed that we only added some of the dry ingredients after the baking process. Simultaneously baking them with granola can lead to undesirable changes in taste and texture.
Finally, use egg whites for bigger clusters. Some people want to have less clustered and almost cereal-style granola, but if you want big chunks for snacking, you can mix in an egg white in the first step of this recipe.
Variations
Granola can also be an additional ingredient in chocolate bars, cookies, and cakes.
You can also include pecan and pepitas, walnuts, pistachios, macadamia nuts, and more.
If you don't have virgin olive oil, then you can use coconut oil instead. For instance, in place of honey, incorporate maple syrup for sweetness.
Meanwhile, seasoning can also include cinnamon, cocoa powder, and coconut sugar.
For consistency and a nutty flavor, add peanut butter or cashew butter.
You can also make other kinds of granola, such as Peanut Butter Granola and Granola Bars!
Recommended Tools
Spatula:

Mix and compress the granola with a spatula.

Baking tray: Let the ingredients cook in a baking tray for even baking.
Bowl: Mix the ingredients in a deep and large bowl.
Oven: Bake the granola in the oven to make them crisp and crunchy.
This post contains affiliate links, which means I earn commission income from qualifying purchases at no extra cost to you. Please read the full disclosure for more information.
How to Serve Healthy Granola
Granola is not just a snack; you can also eat it for breakfast, brunch, lunch, and dinner!
You can stir the granola in Greek-style yogurt. What could go wrong with combining two healthy options, right?
You can make granola with evaporated milk and garnish it with chocolate chips for a sweeter treat. Yum! This is a great way to encourage kids to start eating healthy!
To serve it in a fun manner, you can mix it in with Vanilla Ice Cream and more berries! Check out the following healthy recipes to pair with granola:
Storage Tips for Granola
If you made granola in large batches and you're afraid it'll go bad easily, don't worry because there are several ways you can store it!
Frequently Asked Questions
Is granola healthier than oats?
Granola is healthier than oats because of its added dried fruits and nuts! It can be a richer source of fiber if you add other healthy ingredients of your choice.
Is it healthy to eat granola?
Of course it is! Granola is made of the best ingredients with flavor and nutrients for your taste palette and body. This homemade recipe also ensures that you make this dish with organic ad preservative-free ingredients!
Moreover, granola can be eaten in several ways with healthy recipes.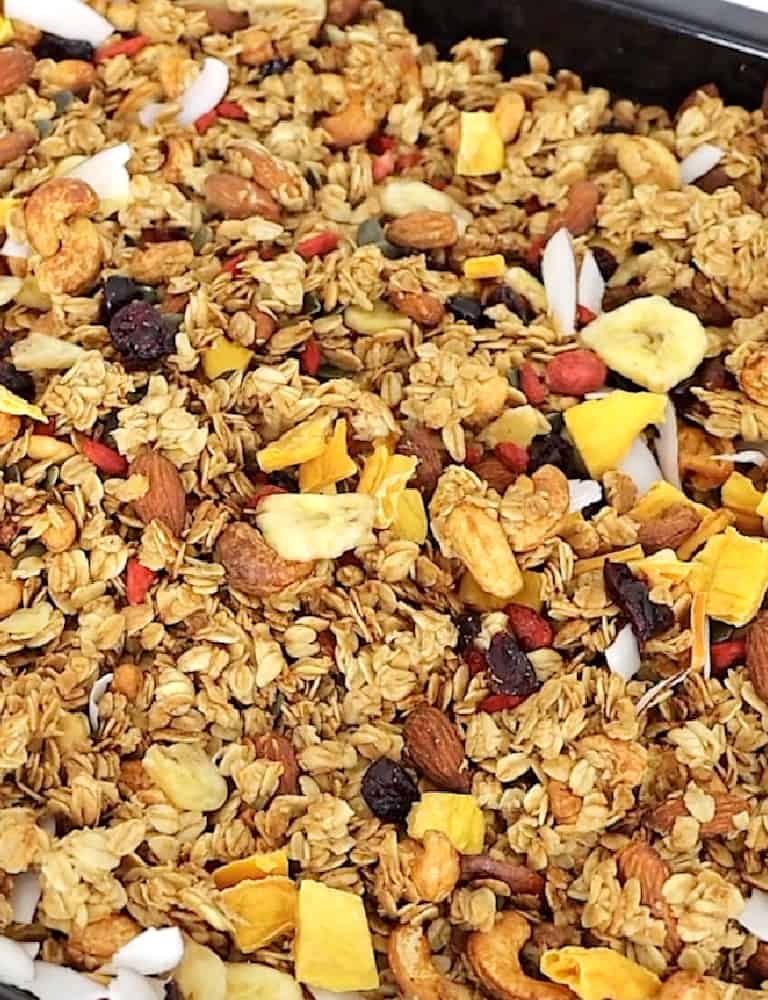 Is granola for weight loss or weight gain?
Weight loss additives like granola are perfect for breakfast and snack time. If you're planning to eat it for breakfast, then you can sprinkle a few teaspoons on top of Greek yogurt. It can also add fiber to your nutritious oatmeal.
Another tip to use granola effectively is not to live on it. You can still eat other dishes in moderation because snacking on granola all day will leave you craving more food.
Moreover, stick to your workout routine to burn calories and stay fit. While granola is healthy, there should also be a physical activity to utilize your energy.
This post may contain general information and does not constitute professional medical advice. Always seek information or advice from a qualified medical professional. Please read the full disclaimer for details.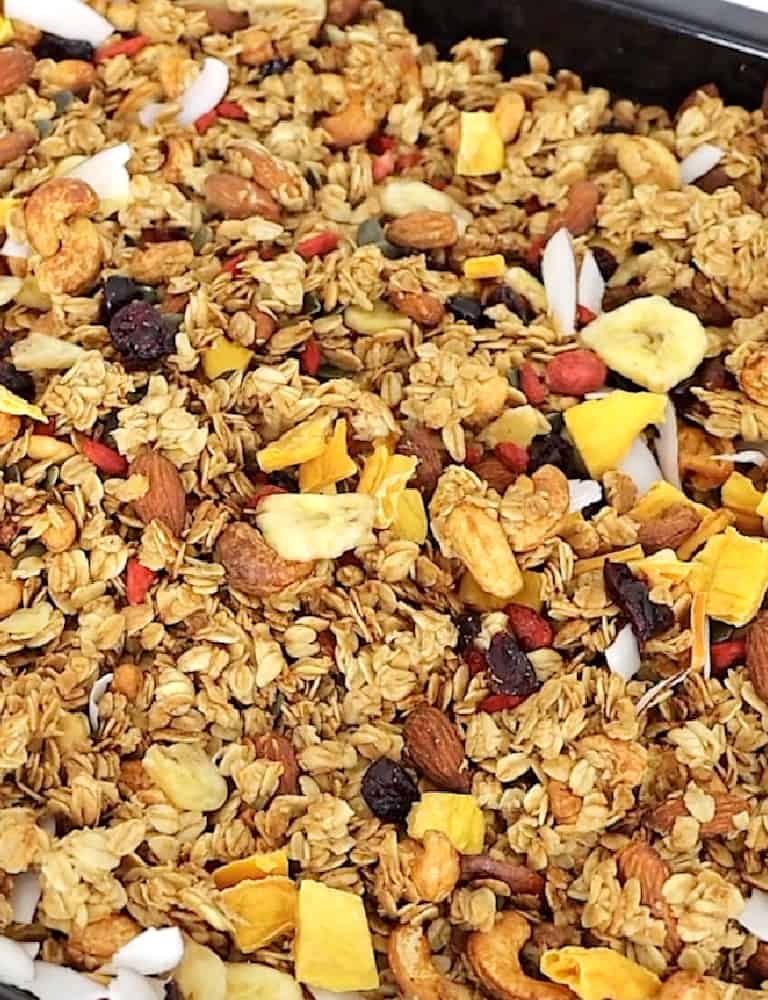 Homemade Granola
Loaded with nutritional benefits and flavor, this Healthy Homemade Granola Recipe will surely make you go "Ooh la la!"
Ingredients
Nuts and Seeds
160

g

cashews

160

g

almond nuts

40

g

pumpkin seeds
Dried fruits
30

g

banana chips

65

g

dried mango

20

g

coconut flakes

30

g

dried goji berries

70

g

dried cranberries
Spices and seasoning
2

g

sea salt

5

g

cinnamon

5

g

nutmeg
Sweetener and flavoring
125

ml

raw honey

125

ml

virgin olive oil

(light)

10

ml

vanilla extract
Instructions
Mix the ingredients in a bowl.

Make sure that the bowl is deep enough to allow you to incorporate them properly. You can use a spatula, a wooden spoon, or a ladle to mix them until combined.

Spread the ingredients evenly on a baking tray.

For lining your baking tray, you can use parchment paper with extra hanging over the sides that you can fold at the edges. Fold the parchment paper inside according to the size of the tray.

Bake it.

In this recipe, preheat the oven to 250°F or 120°C before baking the granola at 150°C for 10 minutes.

Take the granola out of the oven, mix , and spread evenly again.

After 10 minutes in the oven, carefully remove the granola from the oven and stir it together. Compress the granola with a spatula for extra crunchy granola clusters.

Bake it again.

Baking it for the second time will add the crispiness and the granola clusters. Keep the temperature at 150°C for best results.

Allow the granola to cool then break into clusters.

I can recommend leaving the granola to cool for at least 45 minutes before breaking it apart or into clusters with a spatula or a spoon.

Add the remaining ingredients to the granola and mix together.

Once the granola is cooled and clustered, you can now add in the other dry ingredients for nutrition and flavor.

Enjoy!
Video
Notes
If you're on a gluten-free diet, use Certified Gluten-Free Oats as a substitute.

In case you have a nut allergy, feel free to replace the nuts with seeds and other dried fruits.

Evenly spread the mixture on the lined baking tray so that every ingredient is baked properly.
Baking it for the second time will add crispiness and granola clusters. Keep the temperature at 150°C for best results.
I recommend leaving the granola to cool for at least 45 minutes before breaking it apart or into clusters with a spatula or a spoon.
You can opt for certified gluten-free oats and replace some of the spices with pumpkin pie spice. Add in some nuts and chocolate chips, and you have yourself a gluten-free granola recipe!
Enjoy no-oven granola by cooking the ingredients in a large skillet on a medium to high heat stove. Mix constantly to avoid burning.
Nutrition
Serving:
100
(of 1kg)
Calories:
641
kcal
Carbohydrates:
74
g
Protein:
15
g
Fat:
34
g
Saturated Fat:
7
g
Polyunsaturated Fat:
7
g
Monounsaturated Fat:
19
g
Trans Fat:
1
g
Sodium:
86
mg
Potassium:
496
mg
Fiber:
10
g
Sugar:
27
g
Vitamin A:
689
IU
Vitamin C:
2
mg
Calcium:
91
mg
Iron:
5
mg