Enjoy every minute of your breakfast time with a healthy, delicious, and crunchy Granola recipe!
What makes Granola one of the best foods in the morning? Well, it's an all-in-one meal that's complete with grains, nuts, seeds, and dried fruits!
There are many ways of making it, and in this recipe, I will show you how to make the best baked Granola recipe. Get ready to experience how filling this dish is.
Pin this recipe on Pinterest to save for later
Once you try this Granola recipe, it will surely be one of your favorite healthy recipes. You won't believe how fun and incredible they are to eat!
How to Make Granola
Instead of buying granola in stores, why not make a Granola recipe that has all of your favorite toppings in it? Don't worry; it's easy to make – you won't even break a sweat.
Cook it in the morning to make everyone's day better!
Ingredients
These are everything you will need for the best Granole recipe you will ever make:
Whole grains
Every Granola recipe starts with healthy and yummy whole grains. These have a nutty and earthy flavor that will taste even better with natural sweeteners, seeds, and dried fruits.
The whole grains will also give a crunchy and crispy texture that will make it a real "granola." Once baked, the grains will have a toasted quality that improves the quality of the dish.
In this recipe, I suggest using jumbo oats for a satisfying meal in the morning. You can also use barley, wheat, kamut, rolled oats, quinoa, and more.
According to Healthline, whole grains are rich in fiber, protein, and vitamins. These grains are known to be good for the heart, weight, and energy.
Nuts
Any granola recipe will certainly taste better with nuts. I love using almonds and cashews because of how nutty, sweet, smoky, and buttery they taste.
Nuts will also give the dish a chewy texture for a pleasant experience. Use cashews and almonds for Cashew Butter and Chocolate Almond Milk!
Pumpkin seeds
Whenever I make granola, my go-to seeds are always pumpkin seeds. They have a salty and nutty in flavor with a crunchy texture that goes well in this recipe.
These seeds may be small, but they are still loaded with lots of health benefits. BBC Good Food found that pumpkin seeds can have good effects on your heart, bladder, and blood sugar levels.
Seasoning
Even if you already have nuts, seeds, and dried fruits, you will still need spices for the granola. I suggest using sea salt, cinnamon, vanilla extract, and nutmeg for the best flavors.
These can help balance the sweet, nutty, and salty flavors of the food for a delicious meal.
Banana chips
Can't decide on what dried fruits to use for the Granola recipe? You should definitely try banana chips. These have a mildly sweet and milky flavor and a slightly crunchy texture.
According to the Clinical Nutrition Center, banana chips are excellent sources of different nutrients. They will certainly promote overall health!
Dried mangoes
When it comes to dried fruits, don't forget to add dried mangoes. They have a sweet and tarty flavor that tastes well with banana chips.
These are excellent for fighting off stress and boosting your energy! Its fiber content can also improve your digestion and heart.
Coconut flakes
If you want to intensify the nutty flavors of the Granola, then I definitely suggest adding coconut flakes. These also add a pop of color to the dish for an inviting look.
Livestrong mentioned that coconut flakes are good for more energy. As an alternative, you can try adding desiccated coconuts for an equally delicious flavor.
Dried berries
Remember to add your dried berries. I like using dried goji berries and cranberries because of their savory, sour, and sweet flavor. These berries also give the dish a soft and chewy texture.
When it comes to flavor, these berries can be sweet, sour, and savory. These are soft and chewy when eaten. In fact, they can improve your stamina, relax your muscles, and relieve you from constipation.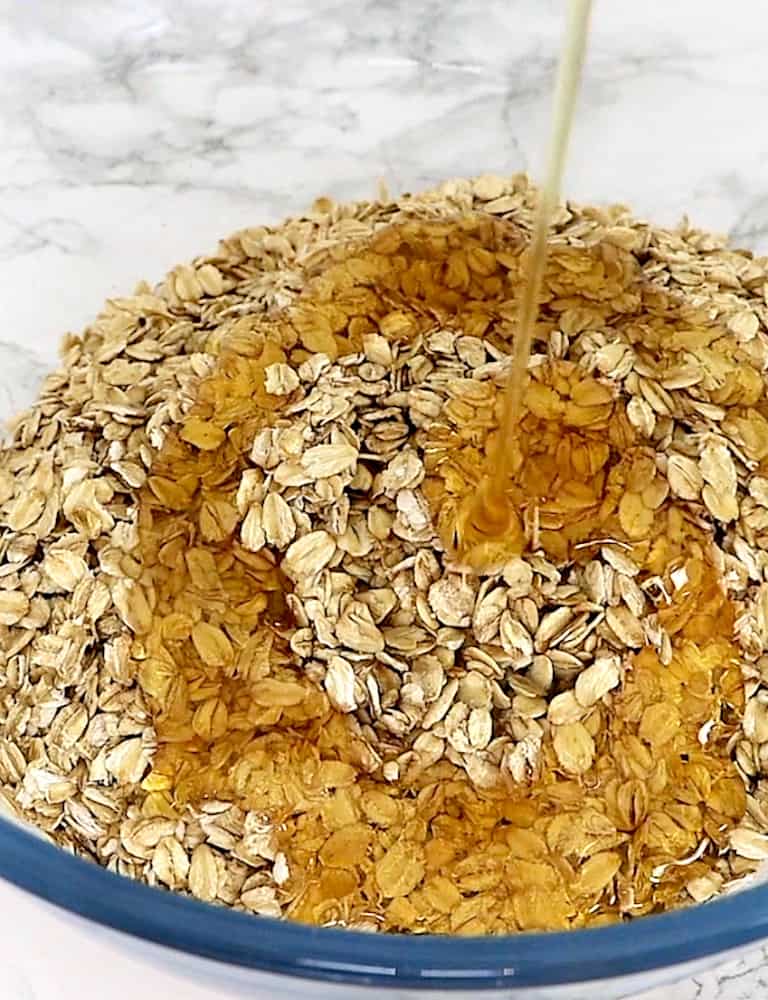 Raw honey
Give your granola a richer flavor with a natural sweetener, raw honey. It has a caramel, citrus, and fruity flavor that will make you feel warm and comfortable whenever you taste it.
The granola will surely be healthier with good quality sweetener. It's not just tasty, but healthy too. Medical News Today found that raw honey can help relieve cough, constipation, and wounds.
Virgin olive oil
Can you believe that virgin olive oil can make the granola better? The oil may have a pungent, peppery, and bitter taste, but it absolutely gives the dish a richer flavor.
Once you bake the granola, the virgin olive gives a toasted and warm quality. It's the perfect fat option to add to your granola recipe.
I can already guarantee that this will be your next favorite go-to food from the list of ingredients alone!
Directions
Moving on to the fun part, let's make your granola!
Mix everything together in a bowl using a spatula.
Evenly spread the contents on a lined baking tray.
Preheat the oven to 250°F or 120°C.
Bake the granola at 150°C for ten minutes.
Take the granola out of the oven, mix them, and spread them evenly again.
After ten minutes in the oven, take the granola out of the oven and stir it again.
Compress the granola with a spatula.
Bake for another ten to 15 minutes.
Let it cool at room temperature.
Break it into clusters.
Your granola is ready to serve!
This recipe is perfect if you're on a diet, always on the go, or even turning over a new leaf for a healthier "you" this year!
Tips
How to Instantly Improve Granola
How do you like your granola so far? If you want to improve it, then here are some tips I can share!
First, use good-quality oil. Since oil is needed for any granola recipe, use the best quality oil in your pantry. Olive oil is an excellent choice, but you can also use sunflower oil or coconut oil.
Then, mixing according to a specific order of ingredients is key to better-tasting granola. The best way to do it is to mix the dry and wet ingredients that need to be baked to infuse the food with aroma and flavor.
Next, add the mix-ins once the granola is baked. You may have noticed that we only added some of the dry ingredients after the baking process. Simultaneously baking them with granola can lead to undesirable changes in taste and texture.
Finally, use egg whites for bigger clusters. Some people want to have less clustered and almost cereal-style granola, but if you want big chunks for snacking, you can mix in an egg white in the first step of this recipe.
Granola Recipe Variations
The great thing about making a granola recipe at home is you can add any flavor you want!
Use your preferred whole grains, such as barley, quinoa, and wheat. You can also include pecan and pepitas, walnuts, pistachios, macadamia nuts, and more.
If you don't have virgin olive oil, then you can use coconut oil instead. For instance, in place of honey, add maple syrup for sweetness.
Meanwhile, seasoning can also include cinnamon, cocoa powder, mixed herbs, and coconut sugar. For texture and a nutty flavor, add peanut butter or cashew butter.
You can also make other kinds of granola, such as Peanut Butter Granola and Granola Bars!
Recommended Tools
Spatula:

Mix the granola with a spatula.

Baking tray: Spread the granola on a baking tray.
Bowl: Mix everything in a bowl.
Oven: Bake the granola in the oven to make them crisp and crunchy.
This post contains affiliate links, which means I earn commission income from qualifying purchases at no extra cost to you. Please read the full disclosure for more information.
Visit my shop for more products.
How to Serve Granola
Granola is not just a snack; you can also eat it for breakfast, brunch, lunch, and dinner!
You can stir the granola in Greek-style yogurt. What could go wrong with mixing two healthy options, right?
You can make granola with milk and garnish it with chocolate chips for a sweeter treat. Yum! This is a great way to get kids started on eating healthy.
To serve it in a fun manner, you can mix it in with Vanilla Ice Cream and more berries! Check out the following healthy recipes to pair with granola:
Storage Tips
At room temperature: Pour the granola into a container or a resealable bag, and you can use it for up to six months.
Frequently Asked Questions
What is granola made of?
A classic granola recipe is made of whole grains of any kind, nuts, seeds, dried fruits, fat, sweeteners, and seasoning. You can use almost any variety of ingredients you want!
Is granola healthier than oats?
Is homemade granola healthier?
Of course, it is! Granola is made of the best ingredients with flavor and nutrients for your taste palette and body.
This homemade recipe also ensures that you make this dish with organic ad preservative-free ingredients! Moreover, granola can be eaten in several ways with healthy recipes.
What is granola, and how is it made?
Granola is an all-in-one meal with grains, dried fruits, sweeteners, nuts, seeds, fat, and seasoning. It is usually served for breakfast because of its filling effect.
There are many ways to make it. You can just mix the ingredients in a bowl and enjoy it as it is. I suggest baking it for a crispy and toasted quality.
Is granola good for high blood pressure?
Yes, granola is good for regulating high blood pressure. With the fiber, you can get from grains, nuts, seeds, and dried fruits, you can guarantee that you are getting better high blood pressure levels.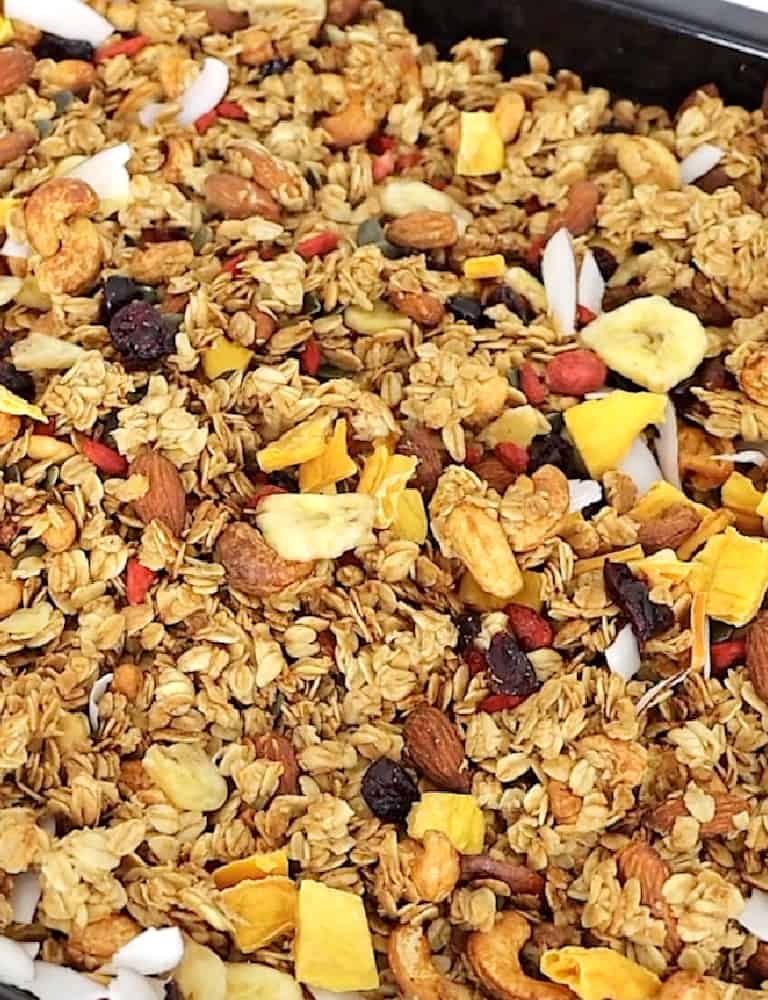 This post may contain general information and does not constitute professional medical advice. Always seek information or advice from a qualified medical professional. Please read the full disclaimer for details.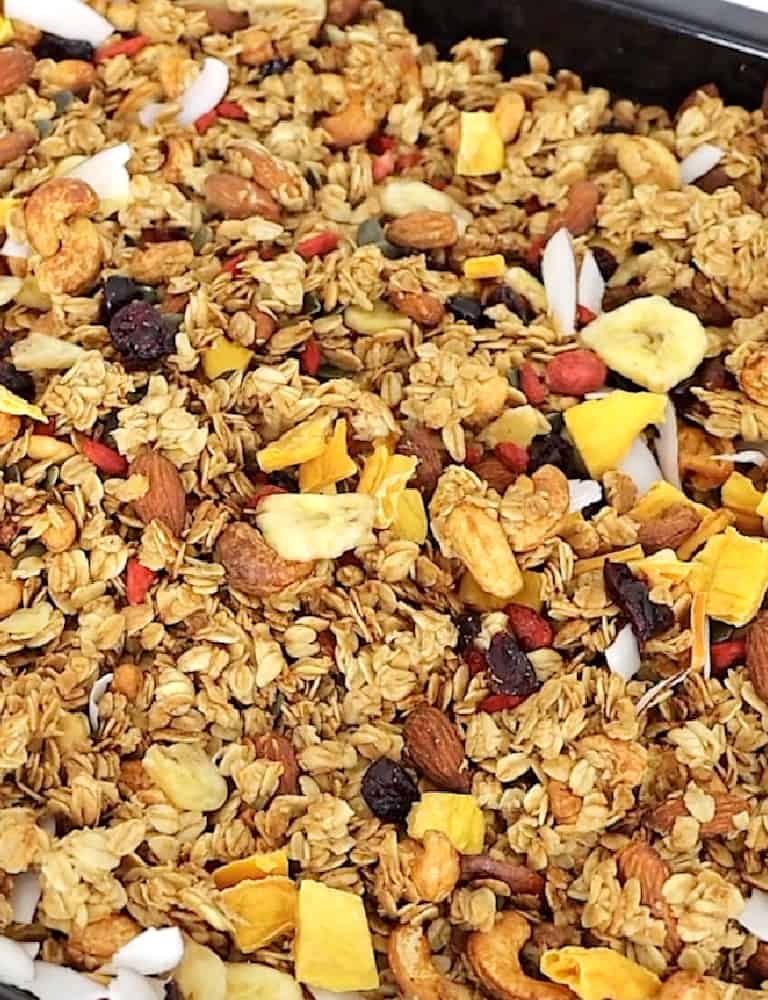 Homemade Granola
Loaded with nutritional benefits and flavor, this Healthy Homemade Granola Recipe will surely make you go "Ooh la la!"
Ingredients
Nuts and Seeds
160

g

cashews

160

g

almond nuts

40

g

pumpkin seeds
Dried fruits
30

g

banana chips

65

g

dried mango

20

g

coconut flakes

30

g

dried goji berries

70

g

dried cranberries
Spices and seasoning
2

g

sea salt

5

g

cinnamon

5

g

nutmeg
Sweetener and flavoring
125

ml

raw honey

125

ml

virgin olive oil

(light)

10

ml

vanilla extract
Instructions
Mix the ingredients in a bowl.

Make sure that the bowl is deep enough to allow you to incorporate them properly. You can use a spatula, a wooden spoon, or a ladle to mix them until combined.

Spread the ingredients evenly on a baking tray.

For lining your baking tray, you can use parchment paper with extra hanging over the sides that you can fold at the edges. Fold the parchment paper inside according to the size of the tray.

Bake it.

In this recipe, preheat the oven to 250°F or 120°C before baking the granola at 150°C for 10 minutes.

Take the granola out of the oven, mix , and spread evenly again.

After 10 minutes in the oven, carefully remove the granola from the oven and stir it together. Compress the granola with a spatula for extra crunchy granola clusters.

Bake it again.

Baking it for the second time will add the crispiness and the granola clusters. Keep the temperature at 150°C for best results.

Allow the granola to cool then break into clusters.

I can recommend leaving the granola to cool for at least 45 minutes before breaking it apart or into clusters with a spatula or a spoon.

Add the remaining ingredients to the granola and mix together.

Once the granola is cooled and clustered, you can now add in the other dry ingredients for nutrition and flavor.

Enjoy!
Video
Notes
If you're on a gluten-free diet, use Certified Gluten-Free Oats as a substitute.

In case you have a nut allergy, feel free to replace the nuts with seeds and other dried fruits.

Evenly spread the mixture on the lined baking tray so that every ingredient is baked properly.
Baking it for the second time will add crispiness and granola clusters. Keep the temperature at 150°C for best results.
I recommend leaving the granola to cool for at least 45 minutes before breaking it apart or into clusters with a spatula or a spoon.
You can opt for certified gluten-free oats and replace some of the spices with pumpkin pie spice. Add in some nuts and chocolate chips, and you have yourself a gluten-free granola recipe!
Enjoy no-oven granola by cooking the ingredients in a large skillet on a medium to high heat stove. Mix constantly to avoid burning.
Nutrition
Serving:
100
(of 1kg)
Calories:
641
kcal
Carbohydrates:
74
g
Protein:
15
g
Fat:
34
g
Saturated Fat:
7
g
Polyunsaturated Fat:
7
g
Monounsaturated Fat:
19
g
Trans Fat:
1
g
Sodium:
86
mg
Potassium:
496
mg
Fiber:
10
g
Sugar:
27
g
Vitamin A:
689
IU
Vitamin C:
2
mg
Calcium:
91
mg
Iron:
5
mg