Enjoy your day better with a glass of the perfect Beetroot Apple Juice!
Get into the habit of juicing with fruits and vegetables because these juices and drinks are 100% good for you. Why not start with beetroot and apples in one recipe?
You will surely love the mix of sweet, earthy, and tarty flavors from fresh apples and vibrantly red beetroot. Most importantly, the juice is loaded with health benefits for you!
Pin this recipe on Pinterest to save for later
If you haven't tried this combination before, then this is your sign to make Beetroot Apple Juice. I'm certain that you will relish every sip of this drink until the last drop!
How to Make Beetroot Apple Juice
Start a new and improved lifestyle by making this Beetroot Apple Juice. Not only is it easy to make, but it also keeps you hydrated, nourished, and energized.
Dare yourself to make this drink and see how it can change your life!
Ingredients
Can you guess what you will be needing for the Beetroot Apple Juice recipe?
Beetroots
When it comes to juicing with vegetables, beetroot is one of the options. It has a sweet and earthy flavor that goes well with almost any fruit and vegetable.
The beetroot also has a rich red color that makes the drink absolutely mouthwatering. You can expect that the juice will have a smooth and thick texture.
With this juice recipe, no beetroot will ever go to waste! You can also make baby food, smoothies, and Chin Chin to go with this awesome juice recipe.
Apples
You know what they say, an apple a day keeps the doctor away. These are some of the best fruits you can use for juicing. Sweet, tarty, and juicy apples are so easy to juice.
I suggest using gala apples for fruit juices because of their sweet, floral, and almost vanilla-like flavor. It can effectively balance the earthiness and bitterness of the beetroot.
I love satisfying my family's apple cravings with Apple Juice and Dried Apple Slices. No matter how you use them, apples are surely going to be good for your health and appetite!
Using these ingredients keeps the recipe all-natural, fresh, and organic – qualities that should be present in power juices! Nothing beats the freshness and nutrients of a thirst-quenching drink!
Directions
Let me teach you the easiest way to make Beetroot Apple Juice.
Rinse the beetroots and apples.
Use a knife to cut off the beetroot's root and stem.
Then, slice the beetroot into thin strips.
Use an apple corer or a knife to chop the apple.
Feed the fruit slices into the juicer.
Filter it with a sieve for a fine texture.
Transfer the juice into a glass to enjoy every sip!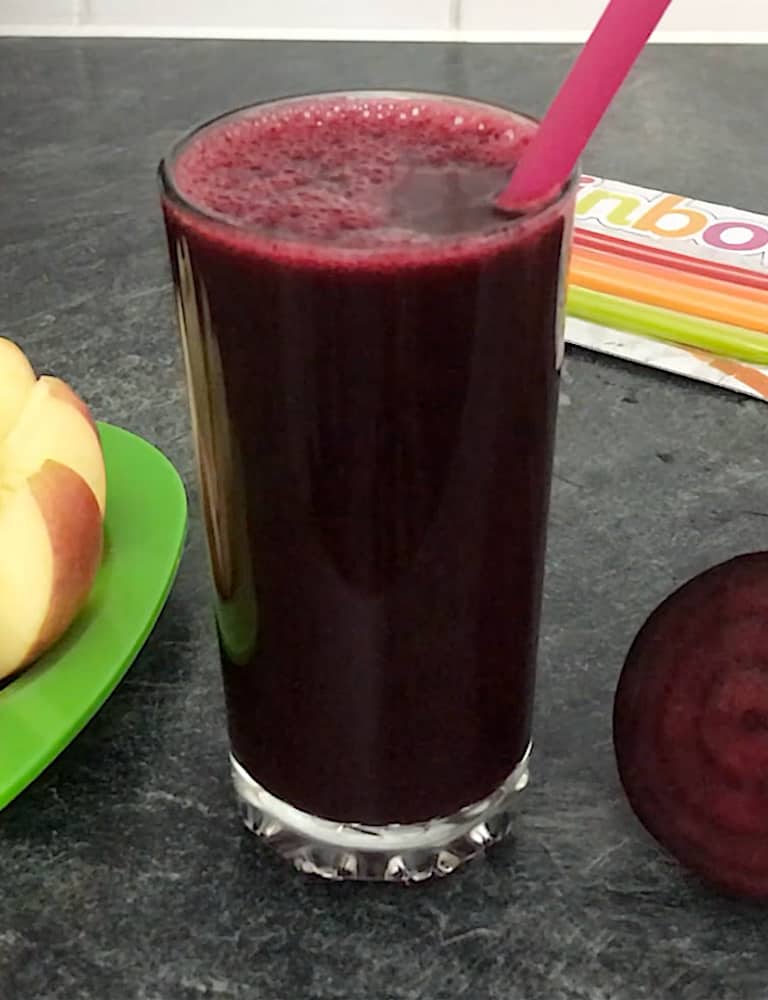 Take your first sip and tell me what you think! Why not drink Beetroot Apple Juice regularly and see how it can transform you into the best version of yourself?
Tips
Beetroots
Buying beetroots
According to The Spruce Eats, beetroots should have a deep maroon color.
They should also feel firm to the touch.
The root must also be attached for freshness.
Small beetroots tend to be sweeter than larger ones.
Storing beetroots
Loosely wrap the unwashed beetroots in paper towels and place them in the crisper drawer for up to three weeks.
Trim off an inch of the root because trimming too much can cause it to bleed.
Apples
Buying apples
Fresh apples do not have bruises or soft spots.
They should also have a sweet and fragrant aroma.
To check for ripeness, flick it near the stem.
If it emits a hollow sound, then it might be too ripe.
Storing apples
Apples are best stored in the crisper drawer for up to three weeks.
If you plan on using them within three days, then you can place them on the counter.
Beetroot Apple Juice Variations
Beetroot Apple Juice is 100% vegan, gluten-free, and lactose-free! House Grail suggests apple variants such as Winesaps, Braeburn, Honeycrisp, Fuji, and Granny Smith.
Meanwhile, the best alternatives for beetroots include carrots, spinach, and parsnips because of their earthy flavors. You can even mix and match the fruits for your preferred juice flavor!
Moreover, you can make a single-ingredient juice like this Beetroot Juice or other combinations such as:
For more juice pairings, I suggest using Clementine Juice, Pineapple Juice, and Apple Juice! These will surely bring out more flavor in your juice recipes.
No-Juicer Beetroot Apple Juice
You can peel and blend the ingredients to achieve a smoothie-like texture. Alternatively, peel the beetroots and apples and grate them. Then, squeeze them into a sieve to get all the juices.
A food processor is also an alternative appliance you can use.
Recommended Tools
This post contains affiliate links, which means I earn commission income from qualifying purchases at no extra cost to you. Please read the full disclosure for more information.
Visit my shop for more products.
How to Serve Beetroot Apple Juice
An article by All About Juicing suggests drinking fresh fruit juices in the morning and on an empty stomach. You can still drink your morning coffee but drink the juice at least one hour before.
It can be enjoyed at any time, but it is best for the first half of the day for the best health benefits. You can have it at room temperature or iced for a refreshing drink.
You can also garnish it with a celery stalk, a lemon, lime, agave, mint, parsley, and more! Add sweet basil or chia seeds to the fruit juice for more health benefits.
Here are some dishes that will taste amazing with this juice:
Storage Tips
At room temperature: The USDA suggests drinking fruit juices within two hours.
Frequently Asked Questions
Are beetroot and apple juice good for you?
Of course, it is! Since these are natural and organic ingredients, you can ensure that they have not been processed or loaded with preservatives. Regular consumption of this drink also gives you plenty of health benefits.
For instance, it can regulate blood pressure, protect the heart, increase stamina, improve brain function, promote weight management, prevent cancer, reduce bad cholesterol, hydrates the body, and more!
Can we mix apple and beetroot?
Yes, they can be mixed together. Both are tasty, nutritious, and colorful fruits infused with plenty of flavors for a satisfying experience!
What are the benefits of drinking apple and beetroot?
Regular consumption of beetroot juice is helpful for maintaining the proper level of blood pressure. It also increases stamina, immunity, and physical strength.
How to make apple beetroot juice?
The easiest way to make Apple Beetroot Juice is with a slow juicer. Just peel and chop the beetroot and apples. Then, juice them in a juicer, food processor, or blender until smooth and thick.
This post may contain general information and does not constitute professional medical advice. Always seek information or advice from a qualified medical professional. Please read the full disclaimer for details.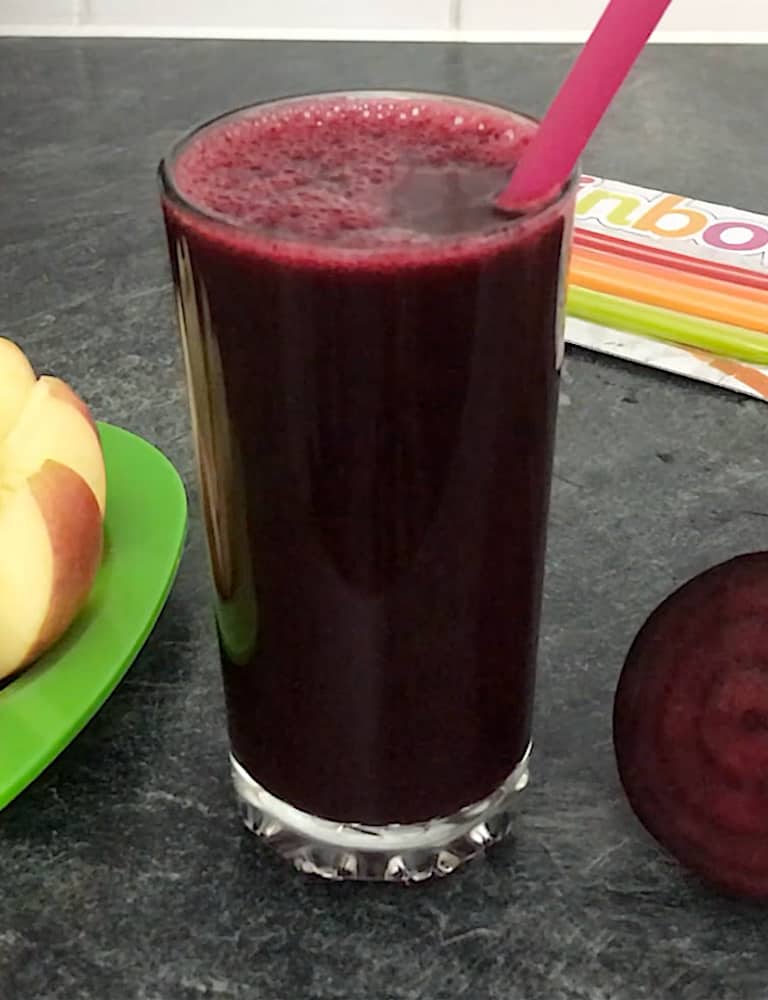 Beetroot Apple Juice
Live a better lifestyle by making this refreshing and hydrating Beetroot Apple Juice! Be healthier and happier with this two-step juice drink!
Ingredients
3

beetroot

(raw)

4

royal gala apple
Instructions
Prepare the ingredients.

Scrub and thoroughly rinse the beetroots. Run and rub the gala apples over running water. Rinsing helps eliminate any impurities or substances that may have been used on the fruits.

Cut off the beetroot's root and stem. Slice it in half and chop it into thin strips.

Use an apple corer or a knife to remove the core and slice the apple into pieces.

Juice them.

Place a glass or a measuring jug at the spout of the slow juicer. Feed the pieces of the fruits into the machine.

For a more delicate texture, filter it with a fine-mesh sieve before drinking or storing.
Video
Notes
Always check the juice for freshness before consuming.

Refrigerate or freeze the juice to prolong shelf life.

For babies aged under one-year-old, stick to breast milk, formula milk, or fresh fruit purees.
Nutrition
Serving:
1
(of 3)
Calories:
161
kcal
Carbohydrates:
41
g
Protein:
2
g
Fat:
1
g
Saturated Fat:
1
g
Polyunsaturated Fat:
1
g
Monounsaturated Fat:
1
g
Sodium:
66
mg
Potassium:
526
mg
Fiber:
8
g
Sugar:
31
g
Vitamin A:
158
IU
Vitamin C:
15
mg
Calcium:
28
mg
Iron:
1
mg