Make your weekends and occasions more fun by making a fruity, sweet, and delicious Zobo Drink!
It's no surprise that this drink is popular in Nigeria. Aside from the rich flavor it gives, it also has lots of health benefits that can help you live a better lifestyle.
The Zobo Drink is traditionally made of flowers, seeds, and herbs, but let's make it more interesting with hibiscus flowers, fruits, and the best herbs and spices.
Pin this recipe on Pinterest to save for later
From its deep red color alone, you can already tell that you're in for a refreshing and satisfying drink. Wait until you taste it. You will surely finish it until the last drop!
How to Make the Zobo Drink
Aside from its flavor, I love how easy it is to make such a comforting Zobo Drink. With the help of a slow juicer, you can make this drink without much effort.
Using fresh fruits, quality dried flowers, and the right seasonings, the best Zobo Drink recipe is right around the corner!
Ingredients
Make an extraordinary Zobo Drink using these ingredients:
Hibiscus flowers
When it comes to making Zobo Drink, you can't skip dried hibiscus flowers. They give the drink a sweet and sour flavor that simply makes the drink irresistible.
The rich red color of the drink also comes from the natural color of the flowers. Hibiscus flowers also have a fruity and floral scent that adds excellent quality to the drink.
You will probably enjoy the flavor of hibiscus flowers, so remember to use any leftovers for Hibiscus Tea to go with your breakfast meals!
Pineapples
Your Zobo Drink will certainly taste a lot better with pineapples. They have a tarty and sour flavor that will pair well with the natural taste of dried hibiscus flowers.
The vibrant yellow color of the pineapples can also give the drink a rich color. Even the sweet scent of these pineapples can take the drink to the next level.
I especially love these pineapples when making a Fruit Smoothie, Pineapple Juice, and Fruit Popsicles!
Oranges
The Zobo Drink recipe will not be complete without oranges. Their citrusy sweet flavor adds a touch of acidity for a truly refreshing drink.
I also suggest using seedless oranges to avoid the bitter taste that comes with the orange seeds. These are great for juicing because they are naturally pulpy and juicy on their own.
Whenever I have leftover oranges, I use them to prepare Orange Juice for my family and friends!
Ginger
With all of the sweet fruits used, you need to balance them out with the spice and warmth you can get from ginger. It will also give a cooling effect that gets better every time you drink the juice.
You can experience ginger's goodness in other drinks and juices, such as Pineapple-Ginger Juice and Apple, Carrot, and Ginger Juice!
Herbs
Just when you think it can't get better, you can use star anise, cloves, and hot pepper to give the Zobo Drink a more intense flavor.
These herbs will surely add a minty and zesty quality that will taste amazing with the sweet and spicy ingredients.
Once you have everything ready, you are one step closer to making the best Zobo Drink you will ever experience!
Directions
Here's how you can make the best version of the Zobo Drink:
Slice the oranges into quarters using a knife.
Peel and slice the pineapple into thin pieces.
Use a spoon to peel the ginger.
Insert the oranges, pineapple, and ginger into the slow juicer.
Stir in the dried hibiscus flowers, star anise, cloves, and hot pepper.
Let the mixture infuse for an hour.
Pour the contents into a glass and serve with your favorite dishes!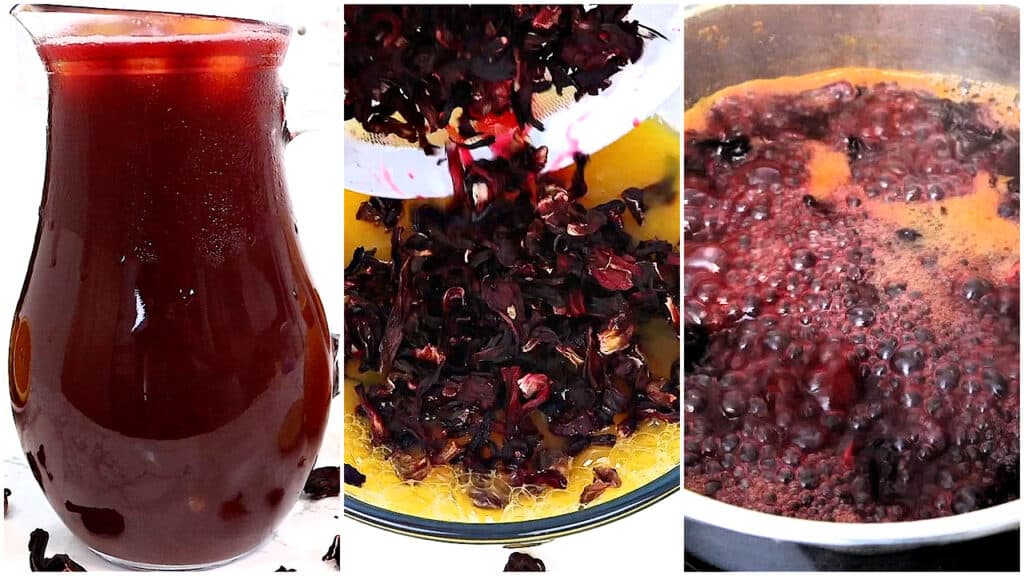 When properly prepared, this Zobo Drink will definitely be a delight to enjoy! Not only is it refreshing and sweet, but it is also good for your body and lifestyle!
Tips
Pineapples
Buying pineapples
Healthy Family Project suggests buying pineapples with green leaves.
Check if the shell is firm.
Go for pineapples that feel heavy for their size.
You should also smell a sweet scent near the crown.
Storing pineapples
Use room temperature pineapples within two days.
You can also store them in the fridge to last up to five days.
Keep sliced pineapples in the fridge for a week.
In fact, you can freeze them for up to six months.
Oranges
Buying oranges
I suggest buying oranges that feel heavy and slightly firm.
The skin should feel smooth and fine.
You can use Valencia, Navel, tangerines, and Blood oranges to make the drink.
Storing oranges
Oranges kept at room temperature are best used within two days.
According to All Recipes, oranges can last up to a month in the fridge.
Zobo Drink Variations
Nothing beats the old-fashioned version of the Zobo Drink. However, you can always try new experiences using cucumber, beetroot, mangoes, clementines, grapes, lemons, and other fruits.
Don't forget the dried hibiscus flowers because they are the most important part of the drink. You can add sweeteners like honey, maple syrup, or sugar for a richer flavor.
Meanwhile, you can season the drink with spices such as turmeric, cinnamon sticks, lime, and more. If you want to enjoy the fruits individually, then you can make fresh Pineapple Juice, Orange Juice, or Hibiscus Tea!
Recommended Tools
This post contains affiliate links, which means I earn commission income from qualifying purchases at no extra cost to you. Please read the full disclosure for more information.
Visit my shop for more products.
How to Serve the Zobo Drink
Zobo drink can be at least an hour after infusing. The longer it infuses, the more flavorful and healthier it will be. It can be served at room temperature or as a chilled drink with pineapple ice cubes.
It can serve as refreshments at parties, events, lunches, or other occasions. The Zobo drink will surely be like a breath of fresh air from the common drinks served at events.
You will appreciate this drink better if you pair it with any of the dishes below:
Storage Tips
At room temperature: I suggest drinking the Zobo Drink within two hours.
Frequently Asked Questions
What is Zobo Drink made from?
It is made of fresh fruit juices, herbs, and hibiscus flowers. You can customize the fruits used as long as they work well together. These ingredients can help achieve its vibrant color, aromatic fragrance, and delicious flavor.
What is Zobo Drink good for?
The Zobo Drink is one of the healthiest drinks because the recipe uses all-natural ingredients without sugar or artificial sweeteners! It's freshness and organic components will allow your body to absorb nutrients and vitamins.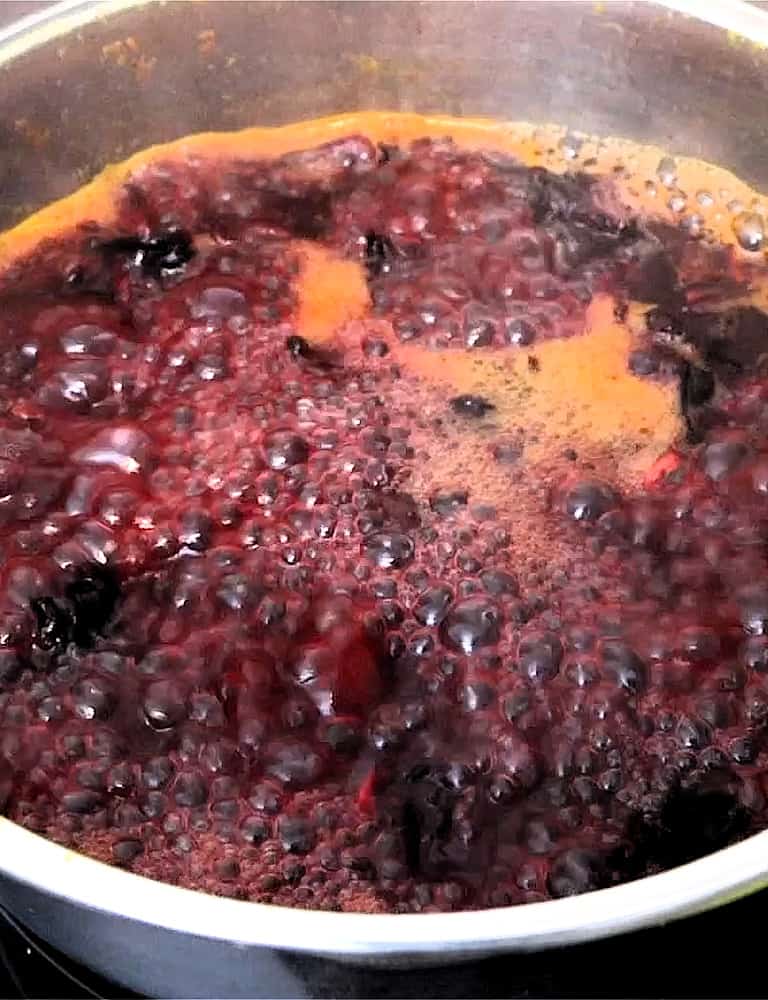 What is a Zobo Drink called in English?
It is called Zobo Drink in Nigeria but in English, you may know this drink as Hibiscus Tea because of the dried hibiscus flowers used. There can be different versions of the hibiscus tea too!
Is Zobo Drink alcoholic?
No, it is not. The Zobo Drink is a non-alcoholic drink infused with the fresh and sweet goodness of hibiscus flowers, pineapples, oranges, ginger, and herbs.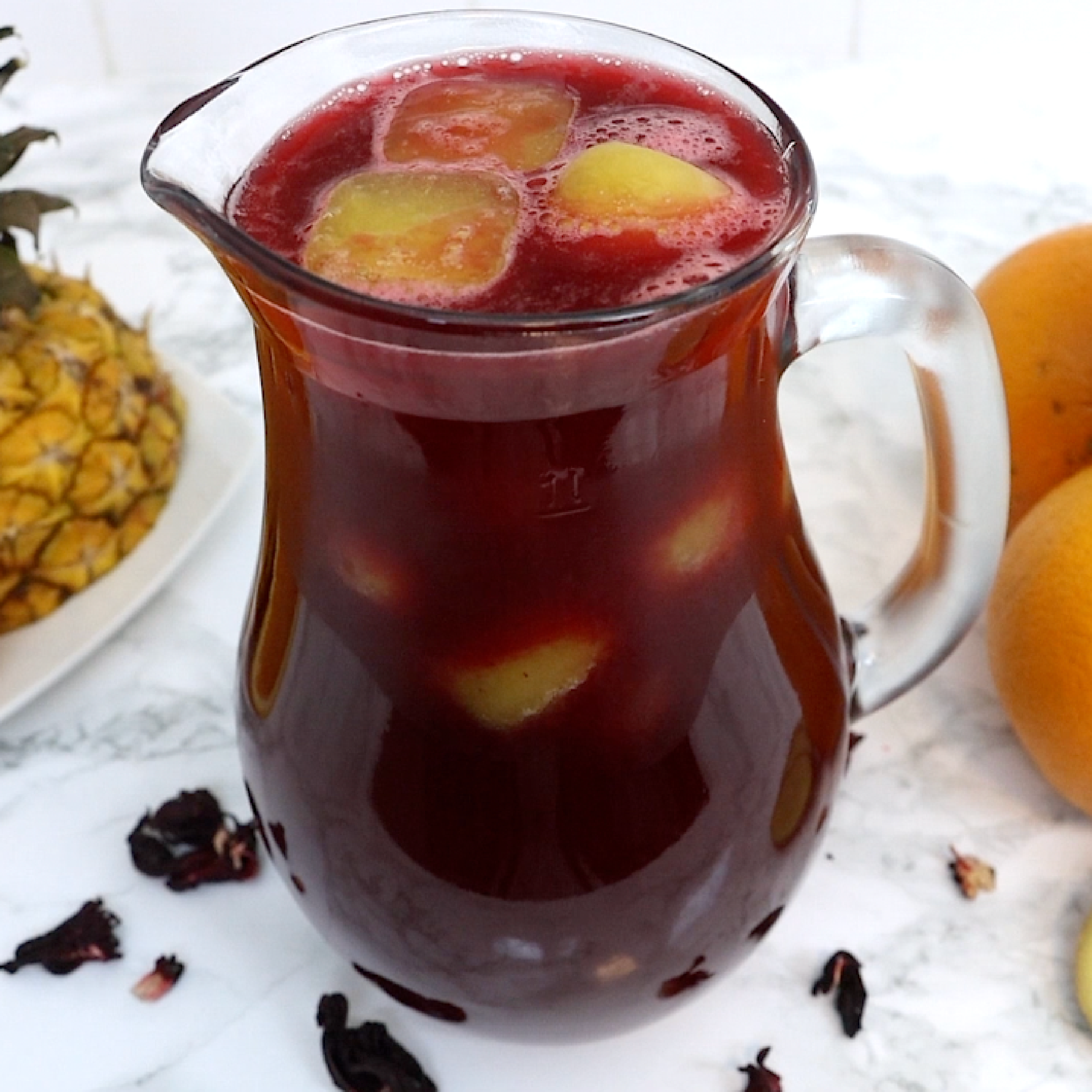 Zobo Drink – Naturally Sweet (VIDEO)
For a sweet and healthy take on refreshing drinks, you should definitely try out this Zobo Drink recipe. The ingredients are natural, fresh, and nutritious! No sugar or artificial sweeteners are needed!
Ingredients
550

ml

pineapple juice

(fresh 900g pineapple flesh)

450

ml

orange juice

(fresh 800g pineapple flesh)

30

ml

fresh ginger

(90g ginger)

50

g

hibiscus flower

3

star anise

(whole/crushed)

7

whole cloves

(whole/crushed)

¼

tsp

hot chili powder

(optional)
Instructions
Slice the oranges into quarters using a knife.

Peel and slice the pineapple into thin pieces.

Use a spoon to peel the ginger.

Insert the oranges, pineapple, and ginger into the slow juicer.

Then, pour the juice into a bowl and stir with a spatula.

Stir in the dried hibiscus flowers, star anise, cloves, and hot pepper.

Let the mixture infuse for an hour.

Pour the contents into a glass and serve with your favorite dishes!
Video
Notes
Remember that the Zobo Drink is not recommended for babies and pregnant women.

Purchase quality fresh fruits to make the drink more flavorful and healthier.

Store it in the fridge or freezer for longer shelf life.

You cook the Zobo Drink for a richer flavor.
Nutrition
Serving:
1
(of 5)
Calories:
106
kcal
Carbohydrates:
25
g
Protein:
1
g
Fat:
1
g
Saturated Fat:
1
g
Polyunsaturated Fat:
1
g
Monounsaturated Fat:
1
g
Sodium:
6
mg
Potassium:
357
mg
Fiber:
1
g
Sugar:
19
g
Vitamin A:
256
IU
Vitamin C:
58
mg
Calcium:
32
mg
Iron:
1
mg