Detoxify, hydrate, and energize your body and mind with Pineapple Juice Cleanse!
Every sip of this juice is bursting with sweet tarty flavors and an aroma that just keeps you wanting more. With fresh pineapples, ginger, and oranges, you can make one of the best drinks in no time!
You will surely put your slow juicer to good use with this drink. Always include drinks in your healthy recipes for a complete meal every day!
Pin this recipe on Pinterest to save for later
Not only is the Pineapple Juice Cleanse delicious, but it is also aromatic and ultimately refreshing. It's certainly the perfect drink for weekends, summer days, and celebrations!
How to Make Pineapple Juice Cleanse
Making any juice recipe is made easier with the help of a slow juicer. In fifteen minutes, you can prepare a life-changing drink that you can share with your loved ones.
Whatever diet you're on, you need to try the Pineapple Juice Cleanse recipe!
Ingredients
What do you need to make the best Pineapple Juice Cleanse ever?
Pineapple
Whenever I think about tropical summer, I always think about pineapples. Their sweet and tarty flavor makes them excellent fruits for juices and smoothies.
Pineapples also have a fragrant aroma that will make them an appetizing drink. The flesh has a soft, juicy, and vibrant yellow quality for easy and fun juicing.
When it comes to eating fresh fruits, pineapples are some of the best ones to prepare. Aside from turning it into juice, you can also use it to make Fruit Popsicles, Zobo Drink, and more!
Orange
Enrich the flavor of the Pineapple Juice Cleanse by adding sweet, pulpy, and saccharine oranges. These fruits are already easy to juice, but they certainly taste better with pineapples.
Relish more of the yummy goodness of Orange Juice in a revitalizing drink. Its bright orange color also goes well with the yellow juice from pineapples.
Just like pineapples, oranges are also great for fresh fruit snacking. You can even use the orange zest for your favorite baked goods, desserts, and smoothies.
Ginger
There is no better way to balance the sweetness of pineapples and oranges is to use ginger. The ginger will add a spicy, peppery, and pungent flavor to the juice.
You will love the cooling effect of the ginger once you juice it. Unlike fruits, ginger can be tricky to peel, so it's a good thing you're using a slow juicer.
Incorporating ginger in juices is one of the best ways to use it. I also turn them into Lemon Ginger Ice Cubes to make my family's favorite cold drinks instantly better!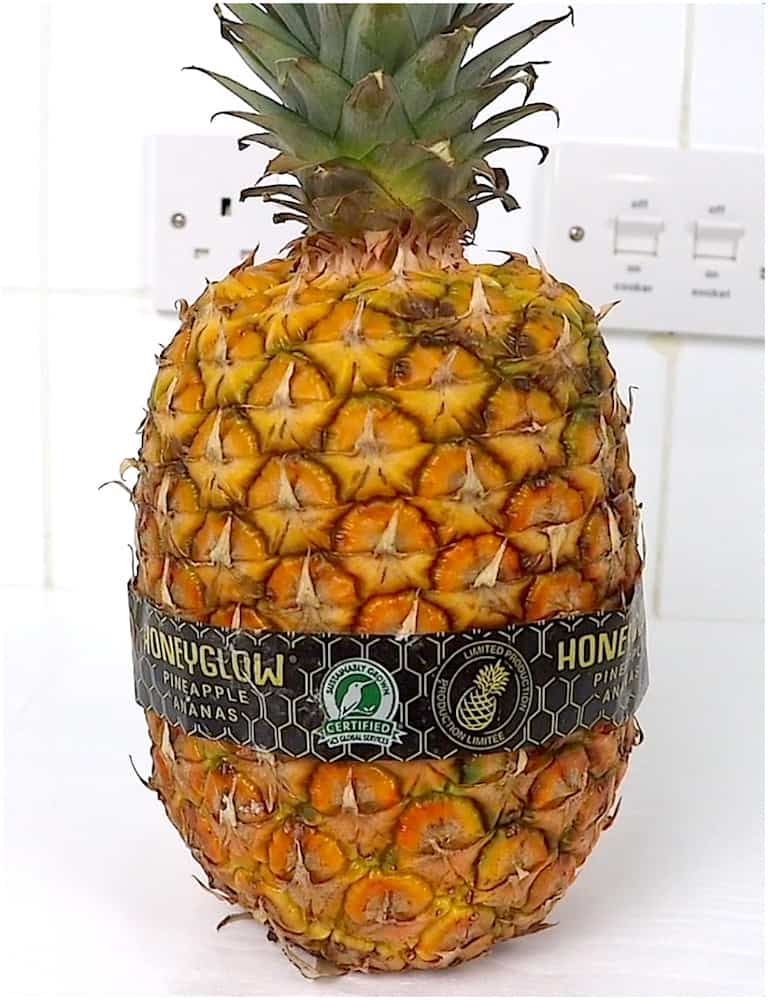 Therefore, there is no doubt that the ingredients are healthy, natural, and delicious! Have you ever considered combining them for a deliciously refreshing juice? Let's make one now!
Directions
This is how easy it is to make the Pineapple Juice Cleanse:
Take a sip and let me know if you loved it as much as I did. It's the easiest, quickest, and most convenient way of making juices. Try it once, and you'll always crave it!
Tips
Pineapple
Buying pineapples
Healthy Family Project suggests buying pineapples that feel firm.
The leaves of the fruit should also be in a healthy green color.
It should also feel heavy for its size.
Storing pineapples
According to Live Eat Learn, uncut pineapples can last up to three days at room temperature.
They can also be refrigerated in warm areas of your fridge.
Sliced pineapples can be refrigerated in containers for up to four days or frozen in a freezer bag for up to several weeks.
Preparing pineapples
Slice the bottom and top parts of the pineapple.
Mount it on a cutting board, run your knife downward to remove the skin,
Cut it into your preferred size.
Orange
Buying oranges
Oranges should feel heavy for their size without discoloration or soft spots.
According to Real Simple, oranges should have a thin and bright orange color.
The skin should feel soft and fine in texture.
Storing oranges
Oranges can easily be kept at room temperature,
MasterClass also suggests storing it in the fridge for a month.
Once sliced, keep the orange in the fridge and use it within a week.
Ginger
Buying ginger
The Kitchn suggests buying ginger with shiny and rigid skin.
Ginger should also be free from blemishes or holes.
Storing ginger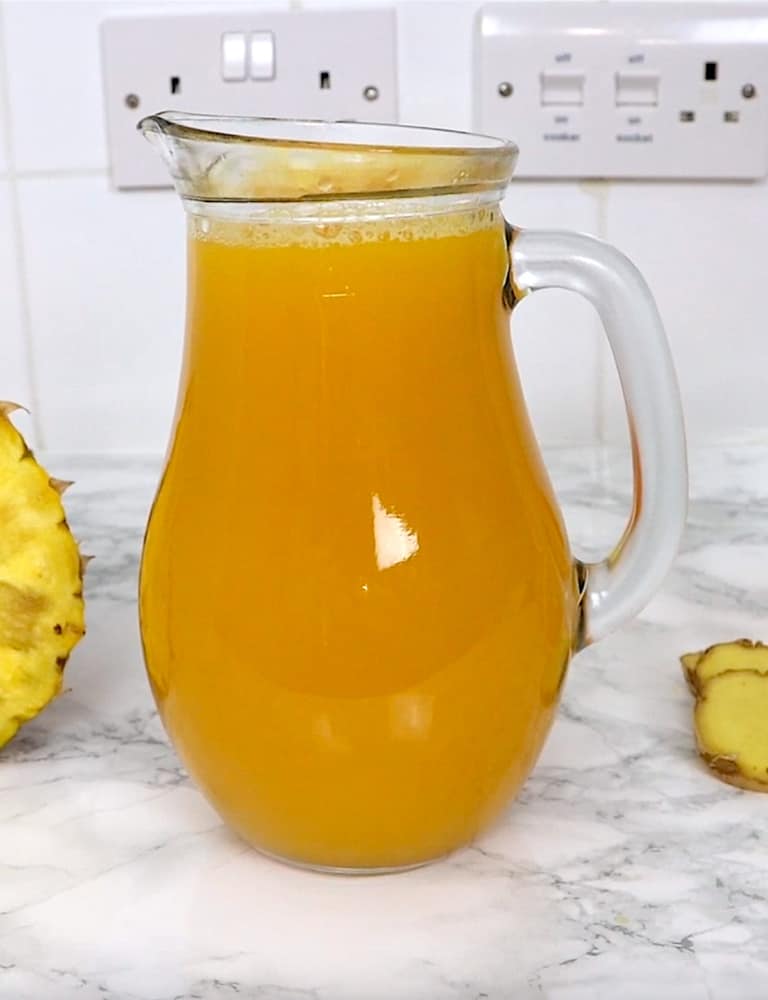 Pineapple Juice Cleanse Variations
The Pineapple Juice Cleanse is completely vegan, gluten-free, and dairy-free! You can use the ingredients altogether or do a combination of two. You may also opt for a single-ingredient juice.
Now, here are other fruit combinations you can do with pineapples:
Gardenuity suggested adding herbs and spices to make your juices taste better. You can add basil, mint, rosemary, thyme, and more!
No-Juicer Pineapple Juice Cleanse
If you don't have a slow juicer, then slice the fruits into smaller pieces, add water, and blend them until smooth. Strain the contents with a fine-mesh sieve to extract the juice.
Recommended Tools
This post contains affiliate links, which means I earn commission income from qualifying purchases at no extra cost to you. Please read the full disclosure for more information.
Visit my shop for more products.
How to Serve Pineapple Juice Cleanse
In an article published in All About Juicing, fruit juices are best enjoyed in the morning and on an empty stomach. What better way to start your day than energizing and detoxing your body with the Pineapple Juice Cleanse?
It also pairs well with salads and other fruits and vegetables served as meals. Moreover, this juice can be a great pre-workout and post-workout drink to replenish your bones and strength.
For food to serve with this drink, I suggest the following recipes:
Storage Tips Juice
At room temperature: Drink the Pineapple Juice Cleanse within two to four hours for the best flavor.
Frequently Asked Questions
Is pineapple juice a good detox?
Pineapple juice is a good detox drink because it has lots of vitamins to promote gut health and digestion. This juice is rich in bromelain to boost metabolism to cleanse your body.
What are the benefits of drinking pineapple cleanse?
Pineapples can boost the immune system, helps to boost metabolism, strengthen bones, burn fat, and reduce stress. Additionally, drinking pineapple juice can boost your immunity and digestion to nourish your body.
Is pineapple a cleansing fruit?
When it comes to cleansing fruits, the pineapple is on top of the list. With its bromelain content, it's guaranteed to boost your metabolism and improve your gut health.
Is pineapple juice good for losing belly fat?
Of course! Since pineapple juice boosts metabolism, it will help burn fat effectively. With a good exercise routine and balanced diet, you can lose weight with this juice!
Pineapple Juice Cleanse with Ginger & Orange (VIDEO)
Experience the power of natural juce cleanse with this refreshing, healthy, and delicious Pineapplr Ginger Orange Juice recipe. It energizes your body, and boost your metabolism!
Ingredients
900

g

pineapple

(1 large, peeled).

80

g

ginger

(peeled) as much/little as you prefer.

800

g

orange

(6 medium-sized, peeled).
Instructions
Use a knife to slice and peel the orange and pineapple.

Peel the ginger using a spoon.

Then, insert the fruit slices into the slow juicer.

Once done, transfer into a pitcher and drink up!
Video
Notes
If you don't have a slow juicer, you can use a blender and filter the juice instead.
Buy ripe pineapples and oranges for a sweet flavor.
Easily peel the ginger with a spoon.
Nutrition
Serving:
1
(of 6 glasses)
Calories:
148
kcal
Carbohydrates:
38
g
Protein:
2
g
Fat:
1
g
Saturated Fat:
1
g
Polyunsaturated Fat:
1
g
Monounsaturated Fat:
1
g
Sodium:
3
mg
Potassium:
460
mg
Fiber:
6
g
Sugar:
27
g
Vitamin A:
387
IU
Vitamin C:
143
mg
Calcium:
75
mg
Iron:
1
mg