Indulge in the rich sweetness of the juice cleanse recipe made with Pineapple, Ginger, and Orange Juice to stay hydrated, energized, and detox your body.
Pin this recipe on Pinterest to save for later
Relish the pleasant fragrance, the flavorful taste, and the smooth texture of this healthy fruit juice to complete your day!
How to Make Pineapple Juice Cleanse
This refreshing juice recipe boosts your metabolism, alkalizes, and cleanses your body effortlessly in a natural way.
Ingredients
Pineapple
The pineapple is an all-in-one fruit with antioxidants, vitamins, and minerals! Consuming pineapples can also fight bacterial infections, strengthen bones, and lessen inflammation.
When it comes to flavor, the pineapple has a tropical, vibrant, and sweet taste. It has a smooth texture and a juicy and tender appearance. Moreover, pineapples are excellent ingredients for healthy juices!
Orange
Immunity, eye health, and digestion in one fruit? Have an orange! Further, it gives you your daily dose of vitamin C, fiber, and calcium to energize you for the day. Oranges have also been known to reduce stress.
Oranges are sweet or sour fruits rich in juices, making them perfect for this recipe. Additionally, always go for natural oranges to avoid processed orange juices that harm your health.
Ginger
Ginger naturally has antibacterial and antiviral properties to protect you from diseases. Further, it can relieve pain, nausea, and inflammation. Ginger can also help with weight loss two teaspoons of ginger contain only four calories!
It is also a mix of spicy, pungent, and peppery flavors. Due to its shape may look like it's difficult to peel, but you can actually just use a spoon to peel it! In fact, adding ginger can enhance the balance and sweetness of the juice.
Therefore, there is no doubt that the ingredients are healthy, natural, and delicious! Have you ever considered combining them for a deliciously refreshing juice? Let's make one now!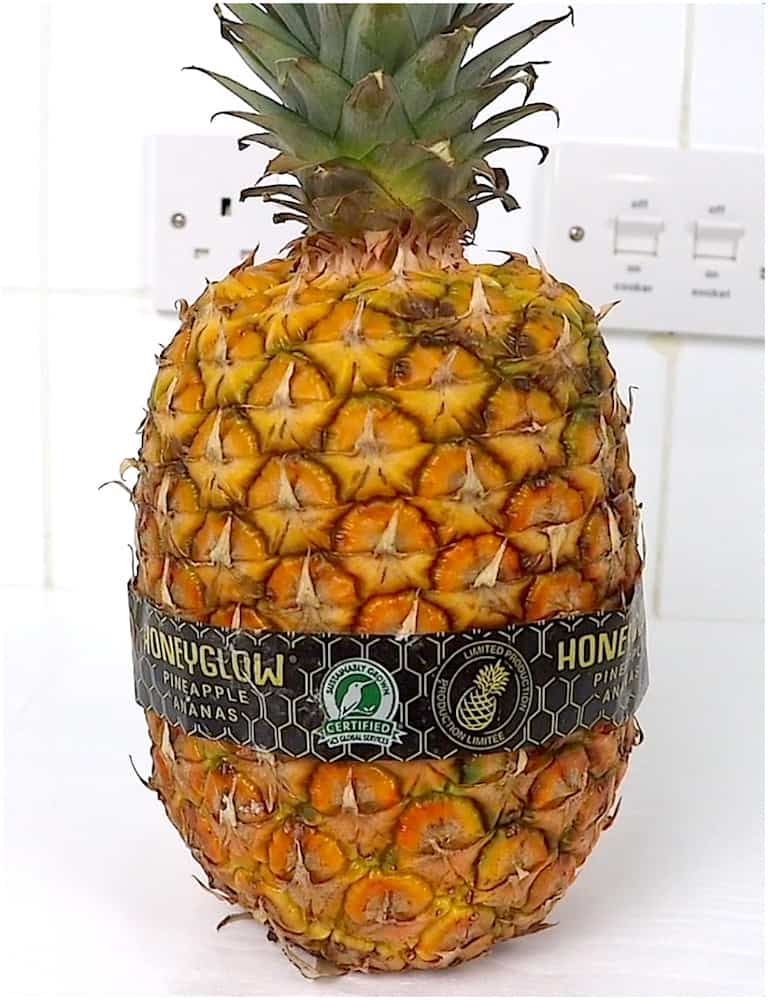 Directions
Use a knife to slice the orange into quarters to peel off the skin easily.
Then, peel and cut the pineapple into rectangular chunks.
Remove the skin of the ginger by using a spoon against it.
Insert the fruit slices into the slow juicer.
Once done, transfer into a pitcher and drink up!
Can you believe that you can do this recipe in just two steps? A nutritious, yummy, and satisfying drink has never been this easy!
Tips
How to Select, Store, and Prepare Fruits
Pineapple
Selection. Fresh pineapples are always better than canned pineapples. The leaves should be dark green. The pineapple should also feel heavy for its size. The skin must be free from dark and soft spots for freshness.
Storage. According to Live Eat Learn, uncut pineapples can last up to 3 days at room temperature. They can also be refrigerated in warm areas of your fridge.
Sliced pineapples can be refrigerated in airtight containers for up to four days or frozen in a freezer bag for up to several weeks. Then, prevent browning by tossing them in lemon juice.
Preparation. Slice the bottom and top parts of the pineapple. Mount it on a chopping board, run your knife downward to remove the skin, and cut it into your preferred size.
Orange
Selection. Oranges should feel heavy for their size without discoloration or soft spots. The skin should feel soft and fine in texture.
Storage. Store whole oranges at room temperature for up to a week and refrigerate for up to 3 weeks. Sliced oranges should be placed into airtight containers to last up to a week in the fridge and up to several months in the freezer.
Preparation. Slice the orange into quarters and peel off the skin using your hands.
Ginger
Selection. The skin should be soft with a spicy and pungent scent. Ginger should also be free from blemishes or holes.
Storage. Unpeeled ginger can be stored in airtight containers or plastic bags for up to 2 months in the fridge and up to 1 week at room temperature. Meanwhile, place sliced ginger in containers or resealable bags to last up to a week in the fridge and several months in the freezer.
Preparation. Use a spoon to scrape off the skin of the ginger. In case it cannot fit into your slow feeder, slice it into pieces.
How to Make Pineapple Juice Without a Juicer
If you don't have a slow juicer, slice the fruits into smaller pieces, add water, and blend them until smooth. Strain the contents with a fine-mesh sieve to extract the juice.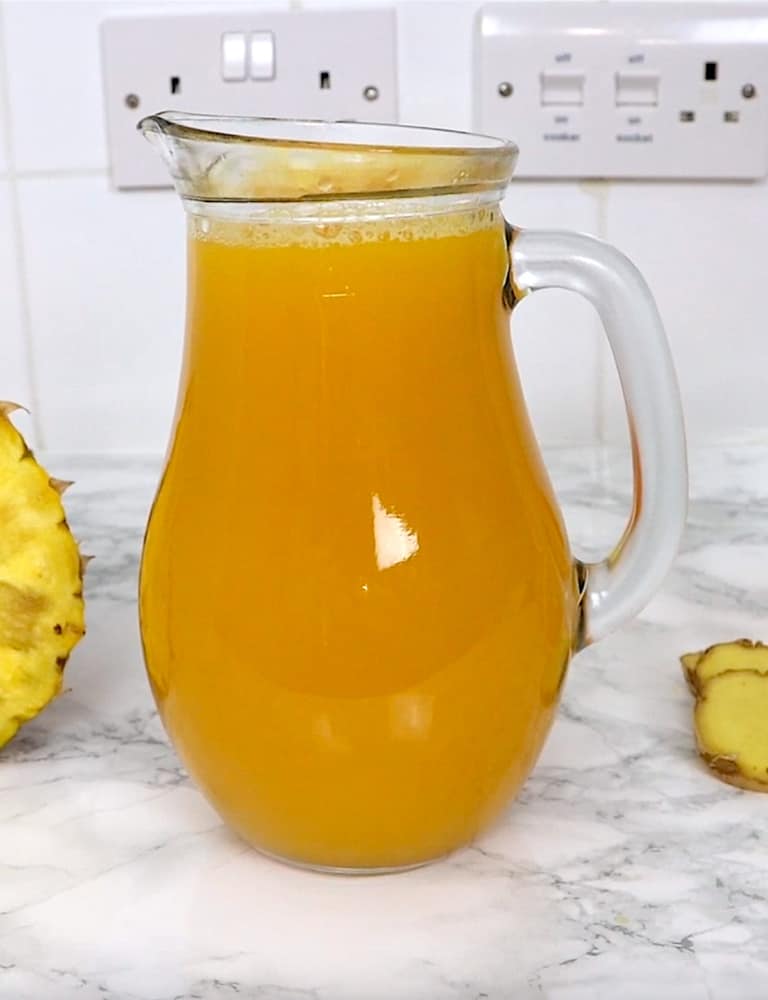 Variations
This beverage is completely vegan, gluten-free, and dairy-free! You can use the ingredients altogether or do a combination of two. You may also opt for a single-ingredient juice.
Now, here are other fruit combinations you can do with pineapples:
Recommended Tools
This post contains affiliate links, which means I earn commission income from qualifying purchases at no extra cost to you. Please read the full disclosure for more information.
How to Serve Pineapple Juice Cleanse
In an article published in All About Juicing, fruit juices are best consumed in the morning and on an empty stomach. What better way to start your day than energizing and detoxing your body?
It also pairs well with salads and other fruits and vegetables served as meals. Moreover, this Pineapple Orange Ginger Juice can be a great pre-workout and post-workout drink to replenish your bones and strength.
For food to serve with this drink, I suggest the following recipes:
Storage Tips Juice
At room temperature: Fresh fruit juices should be stored at room temperature for up to 4 hours only.
Frequently Asked Questions
What are the benefits of drinking pineapple juice?
Pineapples can boost the immune system, helps to boost metabolism, strengthen bones, burn fat and reduce stress. Additionally, drinking pineapple juice can boost your immunity and digestion to nourish your body.
Is it OK to drink pineapple juice every day?
Yes, you can drink pineapple juice daily as long as you consume it in moderation. Limit your juice intake to a glass a day.
Is it good to drink pineapple juice?
Of course! Pineapple juice is one of the best drinks to start a healthy lifestyle. It's also tasty and nutritious, which can help you avoid any sugary cravings.
Juice Cleanse: Pineapple Orange and Ginger Juice
Experience the power of natural juce cleanse with this refreshing, healthy, and delicious Pineapplr Ginger Orange Juice recipe. It energizes your body, and boost your metabolism!
Ingredients
800

g

orange

(6 medium-sized, peeled).

900

g

pineapple

(1 large, peeled).

80

g

ginger

(peeled) as much/little as you prefer.
Instructions
Prepare the fruits.

First, slice the orange into quarters to easily peel off the skin. Then, peel and cut the pineapple into rectangular chunks. Remove the skin of the ginger by using a spoon against it.

Put the sliced ingredients in clean glass bowls.

Feed the fruits into the slow juicer.

Place a glass jug at the mouth of the slow juicer to catch the juice. Slowly insert the fruits slices into the slow juicer. It will appear yellow and vibrant in color. You may also smell a sweet fragrance from the juice.

Once done, transfer into a pitcher and drink up!
Video
Nutrition
Serving:
1
(of 6 glasses)
Calories:
148
kcal
Carbohydrates:
38
g
Protein:
2
g
Fat:
1
g
Saturated Fat:
1
g
Polyunsaturated Fat:
1
g
Monounsaturated Fat:
1
g
Sodium:
3
mg
Potassium:
460
mg
Fiber:
6
g
Sugar:
27
g
Vitamin A:
387
IU
Vitamin C:
143
mg
Calcium:
75
mg
Iron:
1
mg