Enjoy a healthy and happy lifestyle by adding Pineapple Ginger Juice to your diet!
No matter what time of the day it is, this juice recipe is my go-to drink of all time. It has the perfect balance of sweet, sour, and spicy flour for a filling and cooling experience.
In this recipe, I will teach you how to make my family's favorite healthy drink recipe so you can serve it in your own home. Get ready to relish the incredible quality of the Pineapple Ginger Juice!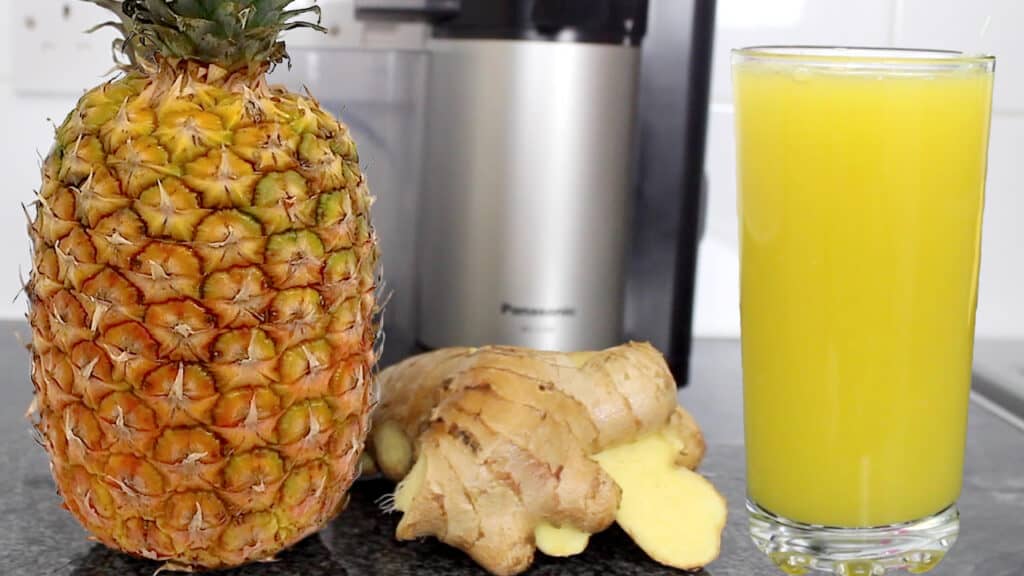 Pin this recipe on Pinterest to save for later
With the help of your slow juicer, you can easily make the most out of pineapples and ginger. You'd be surprised to know that these can actually make the best combination!
How to Make Pineapple Ginger Juice
Nothing beats the goodness of homemade juice drinks. The Pineapple Ginger Juice is an easy, quick, and simple recipe that you can make in just minutes!
In this guide, I will tell you everything you need to know about this drink and more!
Ingredients
Have you guessed the two ingredients you will need to make this drink?
Pineapple
It's no surprise that the pineapple is one of the best fruits for juicing. The fruit has a naturally sweet, sour, and tarty flavor that pairs well with herbs, spices, and aromatics.
Pineapple also has soft, juicy, and pulpy flesh that makes it easy to juice, mash, and blend. Even its bright yellow color and tropical aroma make any recipe appetizing.
In case you're craving something sweet, you should consider snacking on pineapples. Otherwise, turn them into juices, smoothies, or popsicles for refreshing quality.
Ginger
Aside from adding ginger to your dishes, it can also be a good aromatic for your favorite beverages. The ginger can make the juice spicy and peppery for a balanced taste.
Have you also noticed the cooling effect it has on your drinks? It has a cleansing feeling whenever you drink it. I can assure you that it will go well with the pineapples.
You can mix ginger into almost any fruit drink you want. In fact, I suggest using them to make Lemon Ginger Ice Cubes for your favorite cold drinks.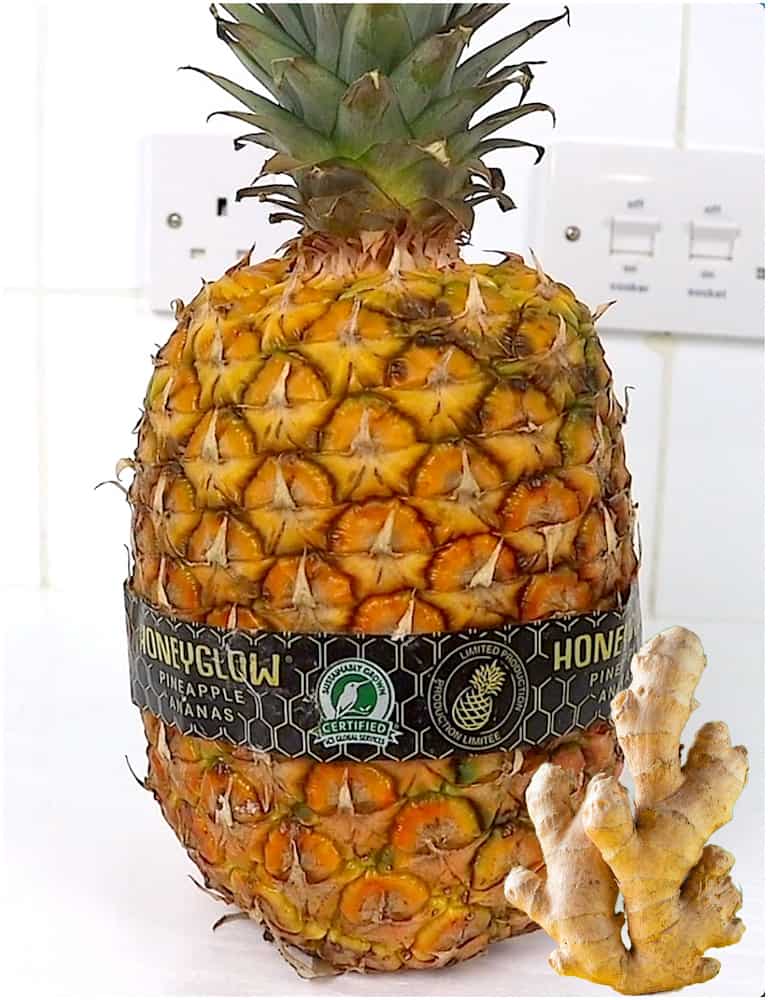 With these two ingredients, you can relish the tasty quality of Pineapple Ginger Juice. Imagine how exciting your meals will be with this combination!
Directions
Now, let's get to the fun part – making the Pineapple Ginger Juice!
Peel the pineapple and slice it into pieces using a knife.
Scrape off the skin of the ginger with a spoon.
Then, finely chop the ginger.
Feed the slices into the slow juicer.
Transfer the pineapple ginger juice into a glass.
Enjoy it until the last sip!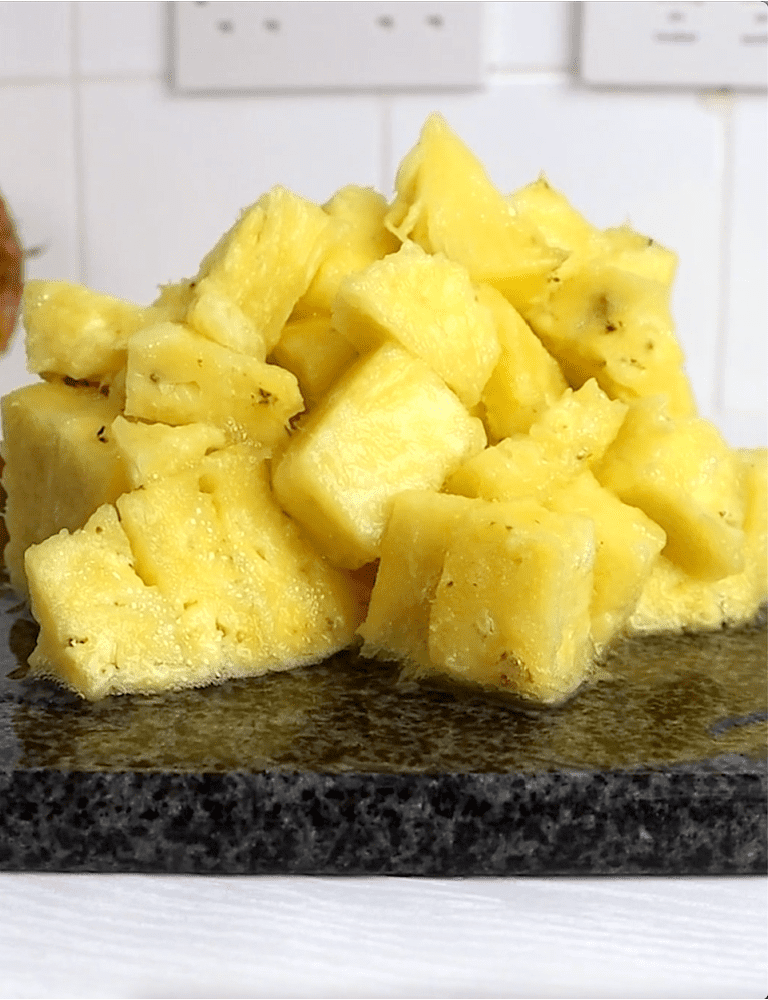 Doesn't it taste incredibly delicious? The combination is simply heavenly in all aspects. Each sip is packed with savor and nutrients you'll drink to the last drop!
Tips
Pineapples
Buying pineapples
According to Healthline, the pineapple should have bright green leaves.
It should be firm yet soft when touched with pressure.
You should also smell a sweet fragrance at the base of the fruit.
They should also feel heavy for their size.
Storing pineapple
You can keep the pineapple at room temperature for three days.
Masterclass suggests storing the pineapple in the fridge for three more days.
Place sliced pineapples in containers or resealable bags to last up to a week.
Preparing pineapple
Mount the pineapple on a flat surface.
Hold it tightly by the stem and use the knife to peel it downward.
Then, slice the bottom off.
Cut the fruit until you have your preferred slices.
Ginger
Buying ginger
An article in Epicurious suggests buying ginger that's firm to the touch.
The ginger should also feel heavy for its size.
Check if the skin is smooth.
Storing ginger
Ginger can last up to a week at room temperature.
It can also be refrigerated in a resealable bag for up to three weeks.
Pineapple Ginger Juice Variations
Both pineapples and ginger can be combined with other fruits, vegetables, herbs, and spices to revitalize a beverage. You can mix it with the following:
Remember to use fresh ingredients to avoid the sugar and preservatives of canned juices. Make your combination with fruits and vegetables too!
Did you love the pineapple and ginger combination? You will also enjoy the following juice recipes:
No-Juicer Pineapple Ginger Juice
If you don't have a slow juicer, then you can always use a blender or food processor to do the trick.
Alternatively, the ingredients can also be grated with a grater, and the contents can be filtered with cheesecloth, a sieve, or a nut milk bag.
Recommended Tools
This post contains affiliate links, which means I earn commission income from qualifying purchases at no extra cost to you. Please read the full disclosure for more information.
Visit my shop for more products.
How to Serve Pineapple Ginger Juice
Pineapple Ginger Juice can be served straight from the slow juicer into a glass. Ice cubes can also be added to make it extra refreshing on a hot day. You can incorporate cardamom, thyme, sage, and more for herbs and spices.
When is the best time to drink pineapple ginger juice? Healthy Recipes 101 suggests drinking this in the morning after a breakfast meal. It'll help your body absorb the nutrients without the side effects of discomfort and acidity.
To complete your meal, there are some of the best recipes that can go with this drink:
Storage Tips
At room temperature: Drink the Pineapple Ginger Juice within two hours.
Frequently Asked Questions
What are the benefits of drinking pineapple and ginger juice?
This drink is rich in vitamins and antioxidants to improve digestion for weight loss. It's also a great source of fiber to help you feel full for a longer period of time. The beverage's detoxifying properties are powerful and truly effective.
Ginger also contributes benefits for cold and flu, nausea, stomach pain, cancer prevention, and more. While the drink is generally sweet, it is still low in calories if consumed in moderation.
Do pineapple and ginger burn belly fat?
Of course. In fact, the juice's anti-inflammatory properties are effective in promoting better digestion. If consumed appropriately, then it can reduce bloating and promote weight loss!
What can be mixed with pineapple juice?
There are plenty of fruits, veggies, herbs, and spices you can make with pineapple juice. The best options include oranges, strawberries, apples, mangoes, papayas, leafy greens, and zucchini!
You can also add seasonings such as sweeteners, sugar, honey, maple syrup, mint, basil, rosemary, and other herbs to make the drink tastier.
Can I have pineapple and ginger on an empty stomach?
I suggest drinking pineapple and ginger during or after your first meal of the day. Consuming it on an empty stomach can increase your acidity and cause discomfort.
This post may contain general information and does not constitute professional medical advice. Always seek information or advice from a qualified medical professional. Please read the full disclaimer for details.
Pineapple and Ginger for Weight Loss Juice (VIDEO)
This Pineapple Ginger Juice is naturally sweet, nutritious, 100% pure, healthy, tasty, and refreshing. You'll be hooked before you take your first sip – seriously easy and fun to make.
Ingredients
1.3

kg

ripe pineapple

(1 medium-sized and fresh)

20

g

ginger
Instructions
Peel the pineapple and slice it into pieces using a knife.

Scrape off the skin of the ginger with a spoon.

Then, finely chop the ginger.

Feed the slices into the slow juicer.

Transfer the pineapple ginger juice into a glass.

Enjoy it until the last sip!
Video
Notes
Store the ingredients properly to make quality juice.

It's best consumed immediately or within 5 days if refrigerated.

It is not suitable for babies, but it's recommended to start with Pineapple Puree Baby Food.
Nutrition
Serving:
1
(of 3)
Calories:
80
kcal
Carbohydrates:
19
g
Protein:
1
g
Fat:
1
g
Saturated Fat:
1
g
Polyunsaturated Fat:
1
g
Monounsaturated Fat:
1
g
Sodium:
3
mg
Potassium:
195
mg
Fiber:
1
g
Sugar:
15
g
Vitamin A:
7
IU
Vitamin C:
15
mg
Calcium:
19
mg
Iron:
1
mg