No pomegranate will go to waste with this Pomegranate Juice recipe without a juicer!
From now on, you won't need a juicer to get the vibrant color and yummy goodness of these fruits. It may sound hard to do, but it's actually an easy juicing recipe you can try.
With this one-ingredient drink, you can enjoy more of your healthy meals for your diet. You can also serve it to your family during weekends and celebrations.
Pin this recipe on Pinterest to save for later
The pomegranate juice recipe is definitely one of my favorite juicer recipes. I just love how sweet, hydrating, and rich it is. I'm sure you'll enjoy it as much as I do!
How to Make Pomegranate Juice
Can you believe that you can make a satisfying drink from a fruit that's full of seeds? In this recipe, I will share with you my pomegranate juice recipe without a juicer.
Don't worry; it's an easy and simple hack that you can do in less than 30 minutes!
Ingredients
Pomegranates
There are plenty of reasons why pomegranates are some of my favorite fruits. Pomegranates also have a vibrant peel outside and an even richer red color on the inside that will give the juice the best color.
They may be small, but these fruits are loaded with amazing flavors. Pomegranates have a sweet, tarty, and pleasant flavor that will make the perfect juice.
Although they look complicated to prepare, you can easily learn how to cut a pomegranate open. Once you master how to prepare it, making the pomegranate juice recipe will be effortless!
There are plenty of ways to enjoy pomegranates. You can also use it as a garnish or topping to add flavor and color. Use it to enrich the dipping sauce or marinades.
It is also an amazing fruit for oatmeal, granola bars, and cereal for adding vibrant color to your morning meal. Above all, turn the pomegranate into one of the best fruit drinks!
Get your juice on because we're about to make a delicious Pomegranate Juice recipe!
Directions
How can you make the pomegranate juice recipe without a juicer?
Rinse the pomegranates.
Cut the top end open and slice the ridges with a knife.
Trim the top until the arils are exposed.
Then, separate the fruit into sections.
Use your thumbs to detach and remove the arils.
Pulse the arils in the blender until smooth.
Sieve the contents to filter the juice.
Pour the juice into a glass to enjoy every sip!
Don't you just love how sweet, rich, and fruity it is? From the color alone, you can already tell that it's going to be a drink to remember!
Tips
Buying pomegranates
Bon Appetit suggests buying firm pomegranates that feel heavy for their size.
The larger they are, the juicier they will be.
The rind should also be in pink or red color for ripeness.
Storing pomegranates
Keep the pomegranates at room temperature for a few days.
Storing them in the fridge can make them last up to two months.
Once you get the arils, you can keep them in the fridge for a week.
MasterClass also suggests storing the pomegranate seeds in the freezer for a year.
Preparing pomegranates
Use a knife to cut an opening on top of the fruit.
Then, slice into the rinds to section the pomegranate.
Peel off the sections until the arils are exposed.
For a clear and vivid tutorial, here is a guide on how I deseed a pomegranate:
Pomegranate Juice Recipe Variations
This pomegranate juice recipe is 101% natural, vegan, gluten-free, vegetarian, keto-friendly, and dairy-free! It is perfectly delicious on its own because of its naturally sweet, sour, tarty, earthy, and fragrant quality.
Furthermore, it pairs well with other tropical fruits and vegetables such as pineapples, beetroot, strawberries, and more! You can also intensify its flavors with mint, ginger, or cardamom.
Produce Made Simple suggests mixing pomegranates with any of the following fruits:
Strawberries
Apples
Coconuts
Pears
Mangoes
Citrus fruits
Pineapples
If you want to add nutritional value, then add seeds such as sabja seeds, sweet basil seeds, and chia seeds. Make it a juice of your own!
Alternative Ways to Juice Pomegranates
Aside from a juicer and a blender, you can also use a food processor or a food mill.
Alternatively, roll the fruit on a flat surface while applying pressure as you roll. Then, slice the fruit to pour the juices into a glass.
Manual juicing becomes especially handy if you don't have a knife to cut the pomegranate.
Recommended Tools
This post contains affiliate links, which means I earn commission income from qualifying purchases at no extra cost to you. Please read the full disclosure for more information.
Visit my shop for more products.
How to Serve Pomegranate Juice
The great thing about fruit juice is that you can serve it with any dish you want. Pomegranate Juice is one of the best juice flavors you can serve to your guests to give them a new experience!
When is the best time to drink pomegranate juice?
Juicer Hack suggests drinking it in the morning on an empty stomach or before or after a workout. It'll keep you full, hydrated, and energized!
Enjoy a glass of Pomegranate Juice with:
Storage Tips
At room temperature: According to the FDA, fruit drinks like pomegranate juices are best to drink within two hours.
Frequently Asked Questions
What fruit mixes well with pomegranate?
An article by The Devil Wears Salad mentioned that pomegranates pair well with lemon, grapefruit, lychee, pineapple, mango, and orange.
What can we add to pomegranate juice?
Make your pomegranate juice recipe more interesting by mixing it with other fruit juices like Pineapple Juice, Orange Juice, or Apple Ginger Juice.
You can also mix in seeds, herbs, or spices to add flavor and aroma. I enjoy serving the juice with lemon ice cubes for a cold and refreshing drink.
What is the best way to drink pomegranate juice?
According to Healthify Me, pomegranate juice is best served in the morning to help you stay hydrated and energized. In fact, you can drink it on an empty stomach too.
How do you make pomegranate juice from fruit?
There are many ways to make pomegranate juice from fresh fruits. You can use a slow juicer, blender, or food processor to extract the juices.
As a last resort, you can roll the pomegranates on a surface. Then, slice the fruit to squeeze out the juices to drink!
This post may contain general information and does not constitute professional medical advice. Always seek information or advice from a qualified medical professional. Please read the full disclaimer for details.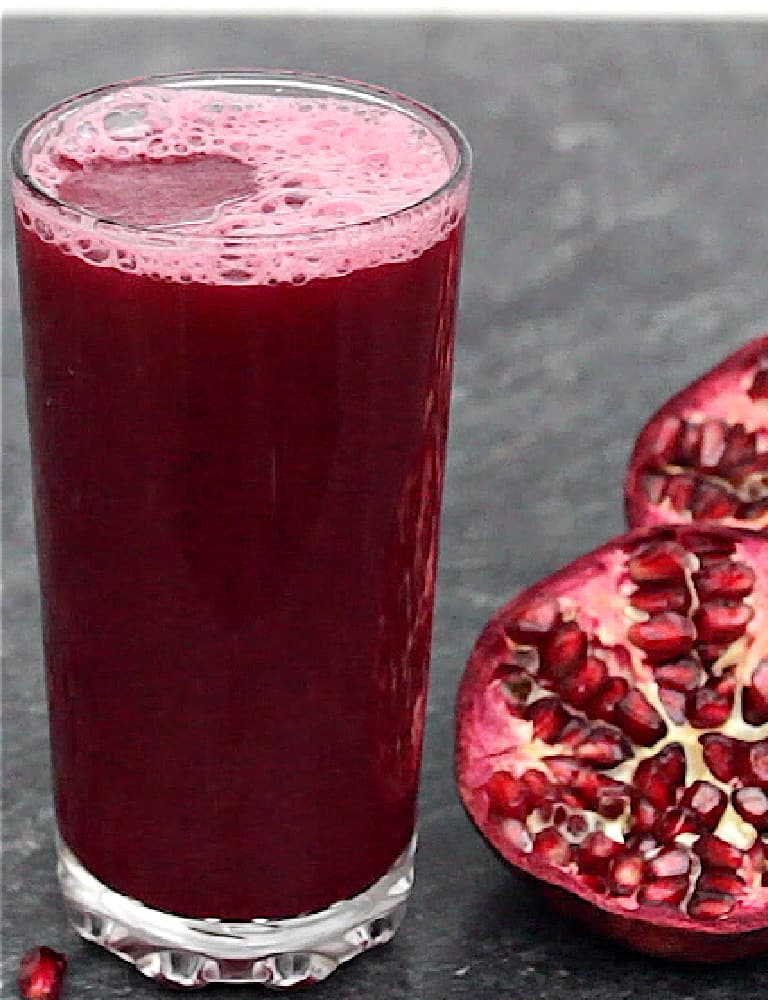 Pomegranate Juice
Keep it fresh, simple, healthy, and delicious with this stellar pomegranate juice. It only takes two steps, one ingredient, and no juicer!
Ingredients
4

pomegranates

(medium-sized)
Instructions
Cut the top end open and slice the ridges with a knife.

Trim the top until the arils are exposed.

Then, separate the pomegranate into segments.

Use your thumbs to detach and dislodge the arils.

Pulse the arils in the blender until smooth.

Sieve the contents to filter the juice.

Pour the juice into a glass to enjoy every sip!
Video
Notes
To juice, you can use a juicer, blender, a food processor, a food mill, or simply your hands.

Limit your daily intake to up to 12 ounces every day.

Drink it in the morning or before or after a workout.
Nutrition
Serving:
1
(of 2)
Calories:
468
kcal
Carbohydrates:
105
g
Protein:
9
g
Fat:
7
g
Saturated Fat:
1
g
Polyunsaturated Fat:
0.4
g
Monounsaturated Fat:
1
g
Sodium:
17
mg
Potassium:
1331
mg
Fiber:
23
g
Sugar:
77
g
Vitamin C:
58
mg
Calcium:
56
mg
Iron:
2
mg