Are you familiar with pomegranates?
Pomegranate is a large orange fruit with brownish-yellow to red skin that can be divided into sections with seeds and juicy pulp. With this guide, preparing this wonder fruit will be so easy!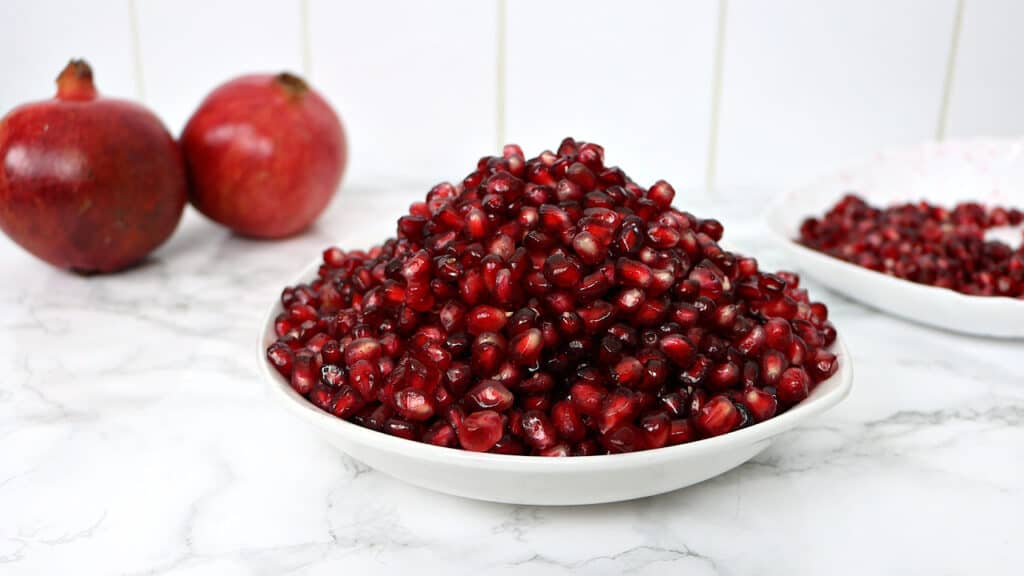 Pin this recipe on Pinterest to save for later
They can be used in juices, smoothies, snacks, and more! To use it, you must learn how to deseed it properly.
Pomegranate
If you bought yours from the grocery, you might notice that it has a red, smooth, and leathery texture to its skin. Its color alone is appetizing, and I usually combine its flavor with other fruits, such as pineapples!
Its inflammatory properties have been proven to battle cancer, diabetes, heart disease, and obesity. They are also excellent sources of nitrates that improve physical performance.
This is a genuinely delectable and nutritious fruit you can incorporate into your diet and routine. Now, to the fun part, let's deseed a pomegranate!
Directions to Deseed a Pomegranate
Rinse the pomegranate.
On your chopping board, use your knife to score three to five shallow incisions on top of the fruit without cutting too deep.
Slice the body of the fruit to create sections without cutting in too deep.
Use a plate or bowl to catch the seeds as you dislodge them.
Pull the scored sides of the pomegranate to expose the seed pods.
Gently push the arils away from (not against) the mesocarp to deseed properly.
Using these in your dishes can make a tremendous difference, and now that you know how to deseed them, you're one step closer to making tastier and healthier food!
Tips
How to Choose a Ripe Pomegranate
Ripe pomegranates are hexagonal with flattened and angular sides. Heavy ones are ripe because they contain a lot of tarts and sweet juice.
If you use them for dishes and baking, select heavy and smooth pomegranates.
On the other hand, pomegranates are also used for garnish, and for this purpose, choose ones that are less ripe because the seeds are firm and will remain intact until consumption.
If you're going to buy them at a grocery store, then pay attention to the texture of the skin.
Smooth-skinned pomegranates are most likely ripe.
How to Preserve Pomegranate Arils
Never throw away the arils because this is where the tangy juice is contained.
Put the seeds in an airtight container or resealable bag in the fridge.
The longer you store them, the sweeter the taste will be.
They can last up to 5 days in the refrigerator.
The arils can also be frozen for longer storage. Spread them in a sheet pan lined with parchment or waxed paper and allow them to freeze for up to 2 hours.
If the seeds are frozen, transfer them into a resealable bag or an airtight container. These can last up to several months in the freezer.
Discard bruised and unpleasant-smelling ones.
Pomegranate Variations
There are several kinds of pomegranates that you can try or grow at home. Some of them differ in color; nevertheless, they are simply delicious and enticing!
For instance, angel red variants are usually available from late summer to fall and are very juicy. On the other hand, the golden globe variant has a golden blush color with red-pink arils.
For juicing purposes, I recommend using angel red, golden globe, ariana, parfianka, pink satin, and sweet pomegranates!
Recommended Tools
Knife: Open and score the pomegranate with a knife.
Cutting board: Prepare it on a cutting board.
Bowl: Dislodge the seeds over a plate.
This post contains affiliate links, which means I earn commission income from qualifying purchases at no extra cost to you. Please read the full disclosure for more information.
Visit my shop for more products.
How to Use and Serve Pomegranates
There are several ways you can serve pomegranates. It can be in the form of a dish, pastry, or even a drink.
Aside from Pomegranate Juice and Smoothies, you can use the seeds for salad bowls, sorbets, molasses, cakes, relish, dressings, and more.
Also, you can put some in your oatmeal or yogurt for added flavor. It also works well with toasts such as avocado toasts. In fact, after discarding the skin, you can already eat the fresh arils!
Storage Tips
An interesting fact about pomegranates is that once picked, they stop ripening, giving them a longer shelf-life than other fruits. However, store them in a well-ventilated and dry area to keep them fresh and plump.
At room temperature: You can distribute them on shelves or hang them by tying strings to their stem. Ensure that you store stems away from direct sunlight to prevent spoiling.
Since pomegranates are seasonal fruits, you would want to ensure that you always have them in stock.
Frequently Asked Questions
What are the benefits of eating pomegranates?
According to Healthline, the nutrients of pomegranates can aid in reducing inflammation, preventing cancer, enhancing brain activity, and improving digestion!
What happens if we eat pomegranates daily?
Regular consumption of pomegranates can help with immunity, blood sugar, digestion, skin health, brain function, and more!
Is pomegranate a superfood?
Yes, pomegranates are definitely superfoods primarily because of their polyphenol content. Polyphenol is a powerful antioxidant that can help the human body function efficiently!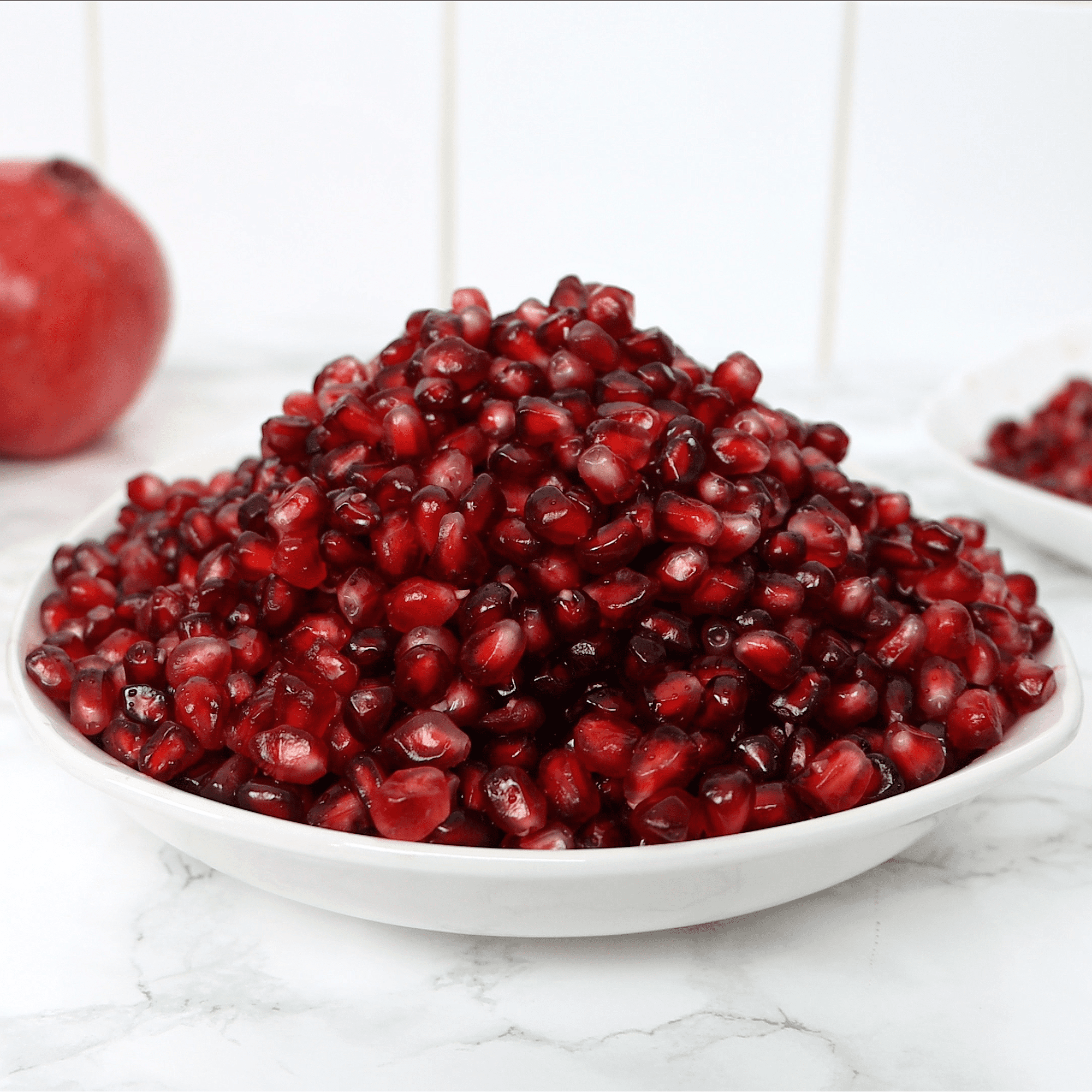 How to Cut a Pomegranate
Master the skill of deseeding a pomegranate by following this comprehensive and easy guide!
Ingredients
4

pomegranates

(medium-sized)
Instructions
Rinse the pomegranate.

Run the fruit over running water and gently rub theskin to get rid of any dust or bacteria on the fruit.

Make 3 incisions on top of the fruit to remove thetop.

On your chopping board, use your knife to scorethree to five incisions on top of the fruit without cutting too deep. If scoredproperly, you will notice that you can easily remove the top of the fruit.

Score the sides (ridges).

Slice the body of the fruit to create sectionswithout cutting in too deep. It's similar to marking the skin of the fruitwithout having to slice it.

Separate the ridges into segments.

For this step, use a plate or bowl for when theseeds will fall off. Pull the scored sides of the pomegranate to expose theseed pods.

Dislodge the arils.

In deseeding the pomegranate, you can use yourfingers to easily pop them out of the pods. Gently push the arils away from(not against) the mesocarp to properly deseed.
Video
Notes
From the seeds, you can easily make your own Pomegranate Juice!
Purchase the freshest pomegranates you can find. Refrigerate or freeze the seeds for long-term storage.
If appropriately scored, you will notice that you can easily remove the top of the fruit.
In deseeding the pomegranate, you can easily use your fingers to pop them out of the pods.