This is your sign to add more fruits to your diet, starting with vibrant, delicious, and healthy pomegranates!
Have you ever wondered how you can prepare it easily and properly, even if it's full of seeds or arils inside? Don't worry; it's simpler than it looks.
With this guide, you'll be cutting these like a pro! You'll get the most out of these fruits without wasting any of the yummy juices and arils.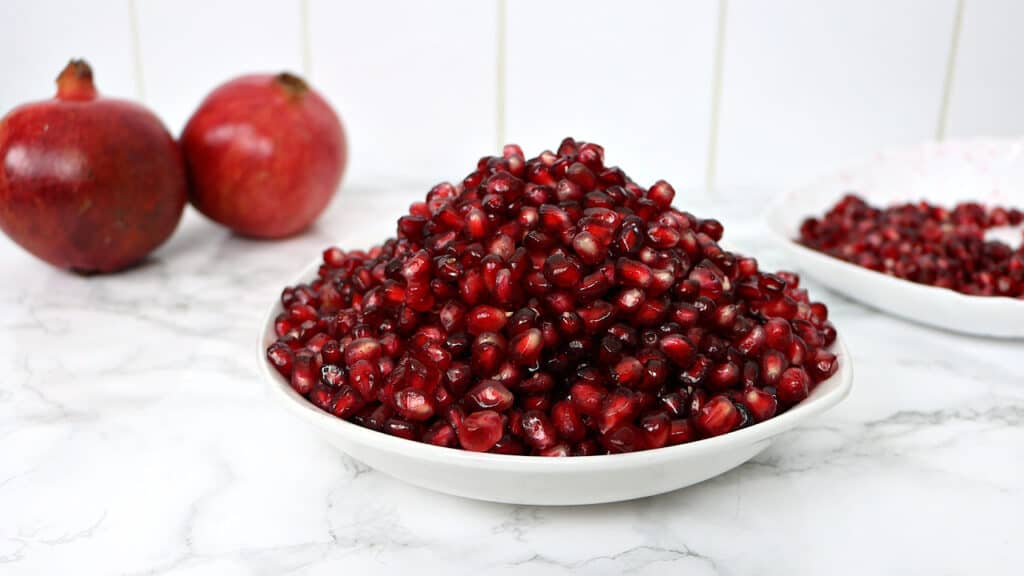 Pin this recipe on Pinterest to save for later
There are many ways to enjoy these sweet fruits. You can add them to juices, smoothies, snacks, desserts, baked goods, and more. But first, let me show you how to cut pomegranates perfectly!
Ingredients
Pomegranates
Don't you just love how beautiful and delicious pomegranates are? They have a rich red color from the skin to the arils inside that can give your food and drinks an incredible shade.
When it comes to flavor, these are absolutely sweet and tarty with a hint of citrus taste. Even the sour and tropical aroma will remind you of a fun summer day.
According to Good Tasting Meals, the average pomegranate has about 600 arils inside! The arils have a crunchy and crisp texture that can become thick and smooth when made into a drink.
This is a juicy, healthy, and remarkable fruit you can add to your diet and routine. Now, to the fun part, let's cut a pomegranate!
Directions
These are the steps you need to remember when cutting pomegranates:
Rinse the pomegranates.
Use a knife to make three to five shallow cuts on top to expose the arils.
Remove the top part of the fruits.
Slice along the ridges of the fruits.
Open each section and scrape off the arils with your hands.
Place the arils in a bowl and use them however you like!
Using these in your dishes can make a great difference, and now that you know how to cut them, you're one step closer to making tastier and better food!
Tips
Buying pomegranates
Bon Appetit suggests buying pomegranates that feel firm and heavy.
Go for large ones for more arils inside.
Check if they are also free from soft spots.
Storing pomegranates
Keep the pomegranates at room temperature for up to two weeks.
According to Masterclass, you can store them in the fridge for two months.
Keep these fruits away from sunlight to last longer.
Storing pomegranate arils
Put the seeds in a container or resealable bag in the fridge.
The longer you store them, the sweeter the taste will be.
They can last up to five days in the fridge.
You can also freeze the arils for up to several months.
Pomegranate Variations
There are several kinds of pomegranates that you can try or grow at home. Some of them differ in color; nevertheless, they are simply delicious and inviting!
For instance, angel red variants are usually available from late summer to fall and are very juicy. On the other hand, the golden globe variant has a golden blush color with red-pink arils.
For juicing purposes, I suggest using angel red, golden globe, ariana, parfianka, pink satin, and sweet varieties!
Recommended Tools
Knife: Open and score the pomegranate with a knife.
Cutting board: Prepare it on a cutting board.
Bowl: Dislodge the seeds over a plate.
This post contains affiliate links, which means I earn commission income from qualifying purchases at no extra cost to you. Please read the full disclosure for more information.
Visit my shop for more products.
How to Use and Serve Pomegranates
There are many ways you can serve pomegranates. It can be in the form of a dish, pastry, or even a drink.
Aside from Pomegranate Juice and Smoothies, you can use the seeds for salad bowls, sorbets, cakes, relish, dressings, and more.
Also, you can put some in your oatmeal or yogurt for added flavor. It also works well with toasts such as avocado toasts. In fact, after discarding the skin, you can already eat the fresh arils!
Use a blender or food processor to turn the seeds into a yummy drink or seasoning for your recipes. I also suggest using a slow juicer to get most of the juice out.
What's your favorite way of enjoying these fruits?
Storage Tips
At room temperature: According to Just Agric, pomegranate seeds can last up to three days at room temperature.
Frequently Asked Questions
What are the benefits of pomegranate?
According to Healthline, the nutrients of pomegranates can aid in reducing inflammation, preventing cancer, enhancing brain activity, and improving digestion!
They can also be good for metabolism, immunity, energy, and physical activity.
Which country fruit is pomegranate?
These pomegranates are usually produced in the Middle East and South Asia. Nowadays, it is also widely produced in different parts of the United States.
Is a pomegranate a vegetable or a fruit?
The pomegranate is a fruit! In fact, according to Kew, pomegranate is a kind of berry with one ovary and seeds inside.
Is the pomegranate the queen of fruits?
It is one of the oldest fruits to have ever been discovered. Perhaps it can be called the queen of fruits because of how vibrantly red and delicious sweet it is!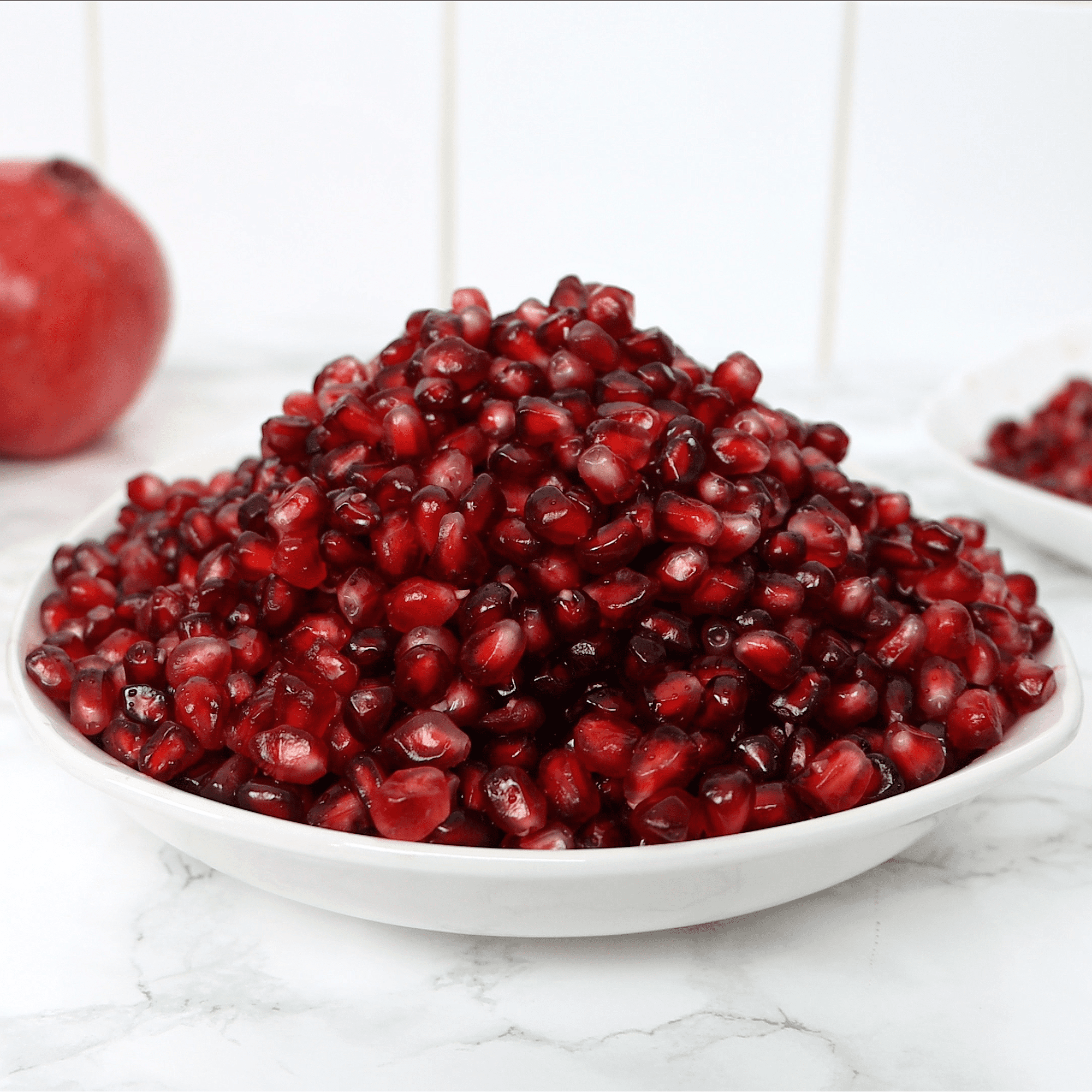 How to Cut a Pomegranate
Master the skill of deseeding a pomegranate by following this comprehensive and easy guide!
Ingredients
4

pomegranates

(medium-sized)
Instructions
Use a knife to make three to five shallow cuts on top to expose the arils.

Remove the top part of the fruits.

Slice along the ridges of the pomegranates.

Open each section and scrape off the arils with your hands.

Place the arils in a bowl and use them however you like!
Video
Notes
From the seeds, you can easily make your own Pomegranate Juice!
Purchase the freshest pomegranates you can find. Refrigerate or freeze the seeds for long-term storage.
If appropriately scored, you will notice that you can easily remove the top of the fruit.
In deseeding the pomegranate, you can easily use your fingers to pop them out of the pods.