When it comes to fruit juice combinations, the Pineapple Pomegranate Juice is definitely a must-try!
Every sip has the perfect sweet, sour, and tarty flavor that can make you feel like you're on a summer vacation. It is certainly one of the best drinks to serve for celebrations and occasions.
With the help of your slow juicer, you can surely get all of the juicy goodness from fresh fruits. Juicing has never been this easy and quick.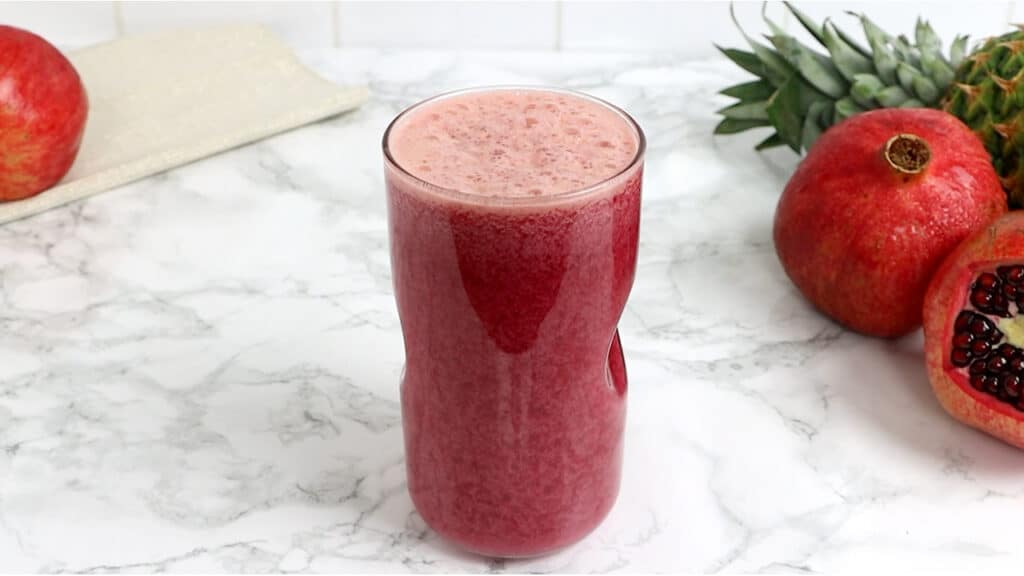 Pin this recipe on Pinterest to save for later
Aside from how delicious it is, the Pineapple Pomegranate Juice is surely loaded with health benefits for you. I can't wait for you to try this awesome juice recipe!
How to Make Pineapple Pomegranate Juice
Did you know that you can make Pineapple Pomegranate Juice in just five minutes? Power up your slow juicer because it will certainly help you save time and effort in any juice recipe.
Prepare yourself to experience the incredibly delicious Pineapple Pomegranate Juice!
Ingredients
You can probably guess what fruits you will need for this juice.
Pineapple
Did you know that a pineapple is a berry, not a pine or apple? Its vibrant yellow color represents how sweet, tarty, and sour it is. This fruit is also tender and juicy – perfect for juicing.
A pineapple truly reminds you of summer, doesn't it? Its filling and energizing effect can absolutely make your day better.
Aside from juicing them, you can also enjoy these as fresh fruits. Pineapples will also go well with your favorite healthy recipes, from desserts, smoothies, or freezer-friendly treats.
Pomegranate
What better fruit to pair with pineapples than equally sweet and tarty pomegranates? Once you learn how to cut pomegranates, you can easily use the arils or seeds for your juice recipes.
Their rich red color will definitely enrich the color of the pineapples. Even the sweet scent of pomegranates takes the juice to the next level.
If you've been thinking about how to enjoy pomegranate seeds, then I suggest juicing them for this recipe to get maximum flavor. You can even turn them into a juice of its own.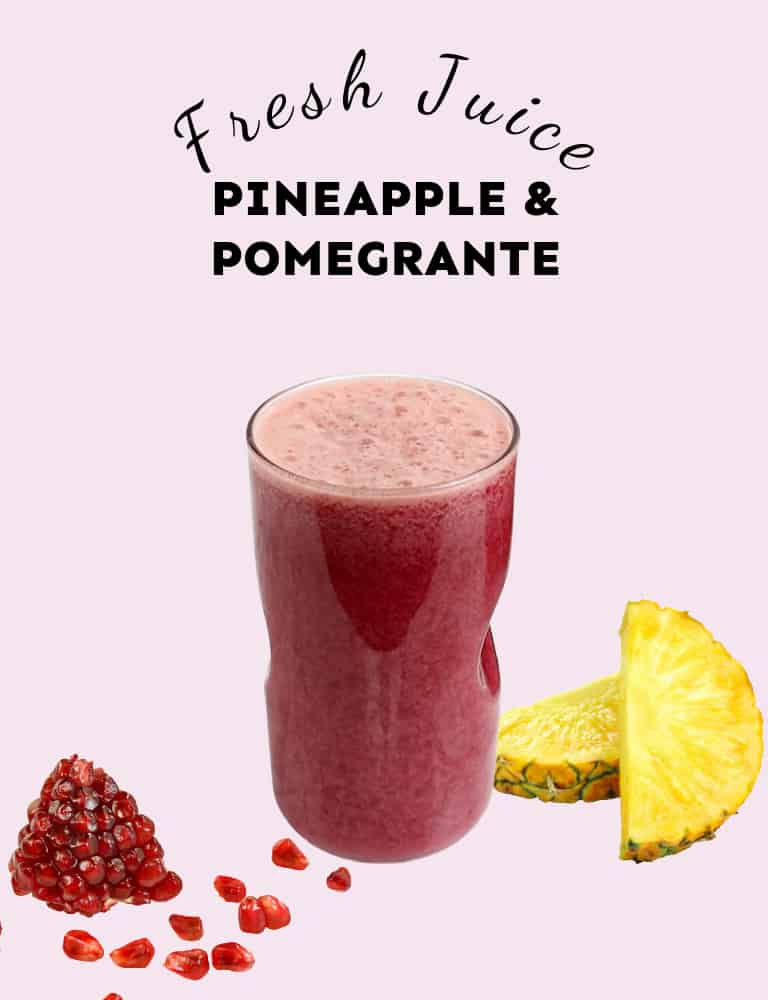 These are simple fruits, but you won't believe the excellent health benefits they have in store for you. If you want to take a step toward a healthier lifestyle, then start by making this Pineapple Pomegranate Juice!
Directions
This is how easy it is to make Pineapple Pomegranate Juice: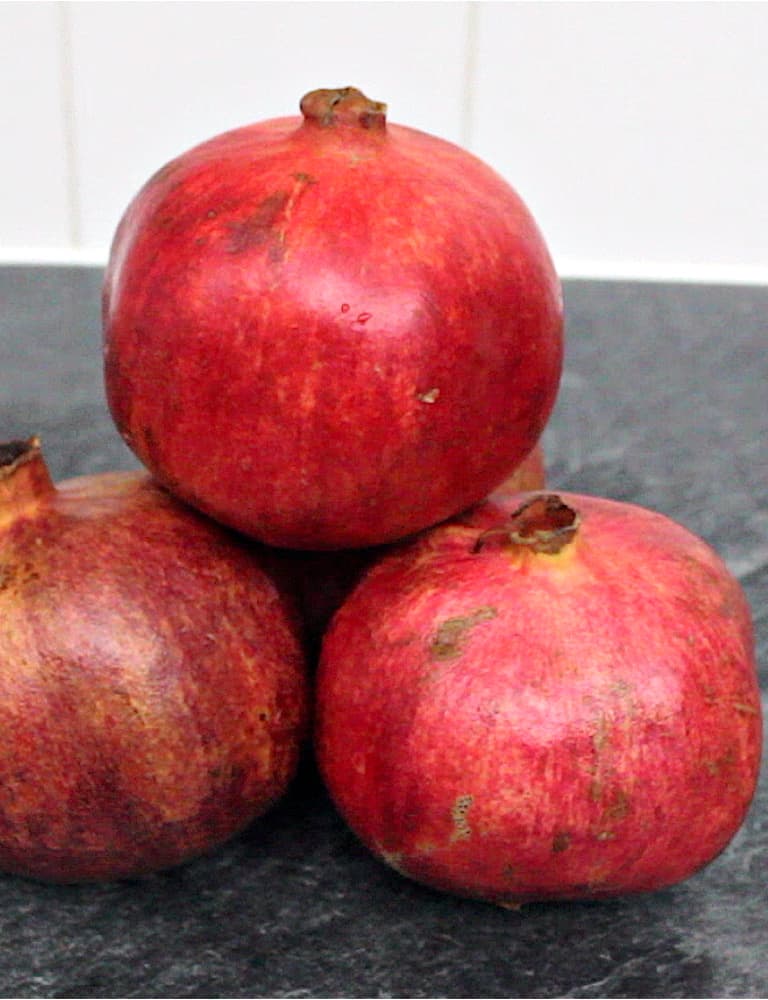 Becoming healthy doesn't get easier than that. Sometimes, it only takes two fruits and two steps to live another day to the fullest!
Tips
Pineapples
Buying pineapples
Healthy Family Project suggests buying fresh pineapples with green leaves.
Check if the shell is firm.
You should also smell a sweet scent near the bottom of the fruit.
Storing pineapples
Pineapples can last up to three days at room temperature.
Eating Well suggests storing sliced pineapples in a container in the fridge for four days.
You can also freeze them for a few weeks.
Preparing pineapples
Twist off the stem or cut off both ends of the pineapple.
Then, mount it on a cutting board to peel with a knife.
Slice it in half and into smaller slices.
Pomegranates
Buying pomegranates
In an article from MasterClass, ripe pomegranates should have a rounded-square shape.
The skin should also be smooth without bruises or soft spots.
The heavier they are, the more juice and seeds it has.
Storing pomegranates
Soil Born Farms suggests storing pomegranates in an area away from sunlight.
You can keep them in the fridge for weeks.
Meanwhile, pomegranate seeds can be stored in bags in the fridge for five in the fridge or three months in the freezer.
Preparing pomegranates
Remove the top part of the pomegranate.
Then, section it along the ridges.
Extract the seeds with your fingers.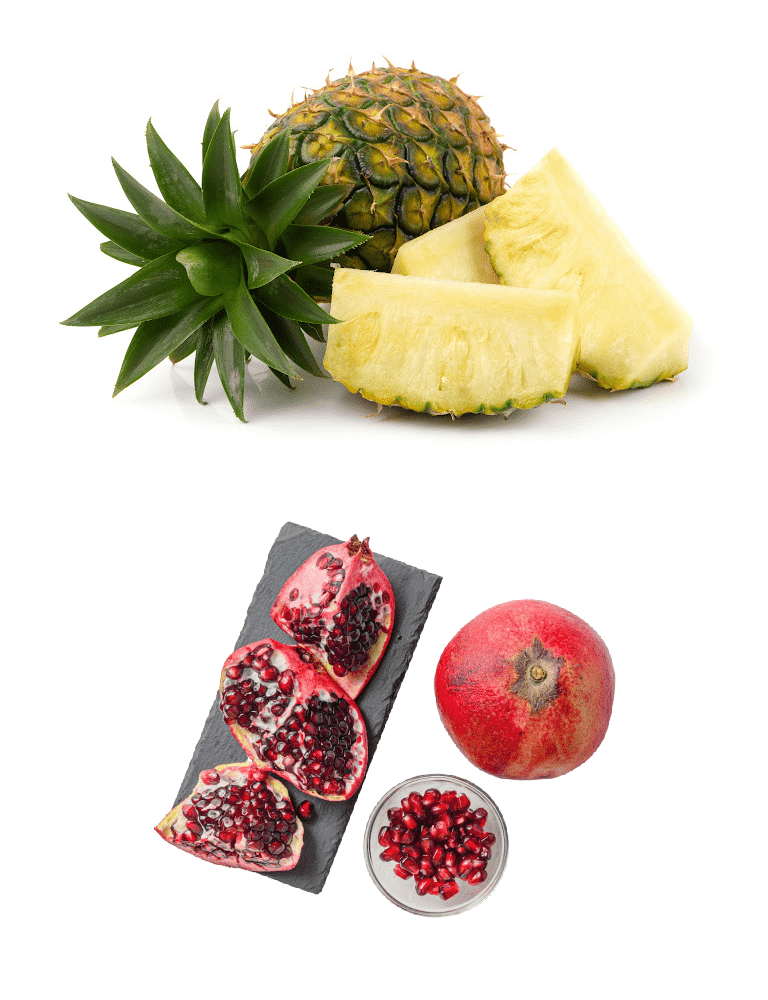 Pineapple Pomegranate Juice Variations
There are so many ways to make your Pineapple Pomegranate Juice fun and exciting. You may add other fruits, such as mangoes, papayas, berries, and apples.
Season it with cardamom, cinnamon, honey, mint, or other tropical fruits to give it an extra kick of flavor! Pineapples and pomegranates can also be mixed with other fruits or veggies like:
If you want to add a creamy and nutty quality to fruit juices, then add a bit of coconut milk or almond milk. The milk will surely go well with the sweet fruits in this recipe.
No-Juicer Pineapple Pomegranate Juice
Not having a juicer is not an excuse not to do this recipe because you can do it by hand and using basic kitchen tools!
You can use a blender to mix the fruits as an alternative to a juicer. Filter the contents for a smooth texture. Instead of using a blender, here's how you can prepare the fruits:
Pineapples
Peel and slice the pineapples as you usually would.
Then, grate the slices with the grater.
Filter it to set aside the juice and the pulp.
Pomegranates
Roll the pomegranates on a hard surface with pressure.
Make a small opening on the fruit.
Squeeze out the juices into a glass.
Then, cut it into sections to get the seeds.
Puree the seeds with a hand blender, or mortar, pestle, or other tools.
Filter it for a finer texture.
Recommended Tools
This post contains affiliate links, which means I earn commission income from qualifying purchases at no extra cost to you. Please read the full disclosure for more information.
Visit my shop for more products.
How to Serve Pineapple Pomegranate Juice
According to JuicerNet, fruity drinks are best enjoyed during the first half of your day to fuel you with energy and stamina. You can also turn it into a smoothie by adding a bit of ice.
Serving it with a salad or other fruits for variety and added benefits is also suggested. Moreover, this drink can be a refreshment to restore strength.
This is also highly suggested for large occasions and family events to introduce a healthy yet delicious juice to kids and adults!
Here are some recipes you will surely enjoy with this drink:
Limit fresh fruit juice intake to a glass per day for a balanced diet. Please don't use it to replace meals; use it as a supplement! It can curb your cravings.
Storage Tips
At room temperature: Drink the Pineapple Pomegranate Juice within two hours.
You can let the juice cubes thaw in the fridge or at room temperature. Alternatively, blend them immediately for a smoothie-like texture.
Frequently Asked Questions
Can we drink pineapple and pomegranate together?
Pineapples and pomegranates make a great combination of juices and smoothies. They are brightly colored, fragrant, and flavorful!
What is pomegranate and pineapple juice good for?
This fruit drink is 101% guaranteed to be healthy! It's not just for physical health but for mental and emotional health. Healthline's article states that adding fresh fruit drinks can also help you fight against anxiety and depression.
It can promote heart health, improve memory and focus, increase energy levels, better digestion, prevent cancer, boost immunity, and more! Your life will never be the same without this drink!
Who should not drink pomegranate juice?
According to Mount Sinai, pomegranate juice is not suggested for people with diabetes or diarrhea. Moreover, pregnant women should drink it with caution, especially the rind.
Is pomegranate juice good for female fertility?
An article by The Ribbon Box suggests that pomegranates have powerful antioxidants that can have good effects on fertility for people.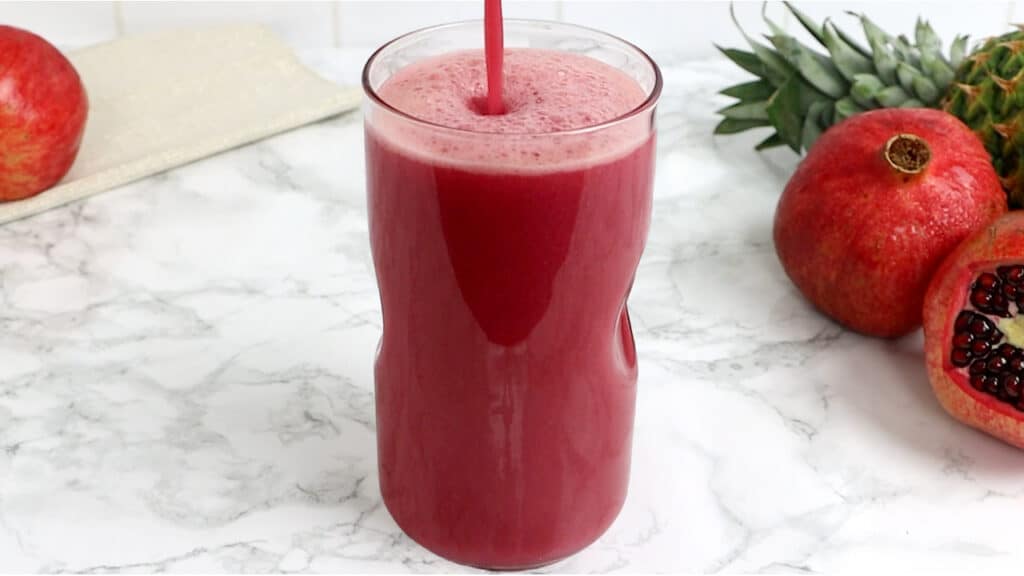 Pineapple and Pomegranate Juice
Do you want to brighten your day? The Pineapple and Pomegranate Juice recipe await!
Ingredients
1

pineapple

(small-sized)

3

pomegranates

(medium-sized)
Instructions
Use a knife to peel and slice the pineapples.

Open the pomegranates to extract the arils.

Then, insert the pineapple slices and seeds into a slow juicer.

Filter the contents with a sieve for a smooth texture.

Serve the juice in a pitcher or glass to enjoy!
Video
Notes
Store the fruits properly to preserve freshness.

Consume the juice within 2 hours and during the first half of your day for maximum nutrient absorption.

This is not suitable for babies.
Nutrition
Serving:
1
(of 4)
Calories:
289
kcal
Carbohydrates:
69
g
Protein:
5
g
Fat:
3
g
Saturated Fat:
0.3
g
Polyunsaturated Fat:
0.3
g
Monounsaturated Fat:
0.2
g
Sodium:
9
mg
Potassium:
746
mg
Fiber:
12
g
Sugar:
51
g
Vitamin A:
131
IU
Vitamin C:
130
mg
Calcium:
51
mg
Iron:
1
mg