Watermelon cubes are practical, creative, and healthy fruit hacks you can do for the summer. They're easy to eat because you get to save a lot of time.
Instead of preparing watermelons the same way, why not turn them into cubes, right? You deserve only the best fruits to take care of yourself!
This recipe is certainly perfect for vegan, vegetarian, and keto drinks, juices, and dishes for every occasion!
Pin this recipe on Pinterest to save for later
With just a few simple tools and a few tricks, you can create these cubes. You will surely impress your friends and family with this quick hack.
So, join us on this journey and learn how to easily make watermelon cubes today.
How to Make Watermelon Cubes
Not only is this a recipe on its own, but it's also an excellent storage hack for watermelons!
Nutritional Facts
When serving the watermelon cubes in a cup, be guided by these nutritional facts:
| | |
| --- | --- |
| Nutrient | Amount |
| Energy/calories | 45-47 |
| Fiber | 0.6 grams |
| Vitamin C | 12.5 grams |
| Choline | 6.3 |
| Carbohydrates | 12 |
| Lycopene | 6,980 |
| Beta carotene | 467 |
| Potassium | 172 |
| Phosphorus | 17 |
With these nutrients, you can be assured that you will be loaded with energy throughout the day. In fact, watermelons can improve your skin and hair. It can even boost your immunity!
Top 10 Health Benefits of Watermelon
Watermelon is a juicy fruit with tough and thick skin and red, moist, and soft flesh inside. It is mildly sweet and fresh to give it a refreshing quality. This has light green and sometimes dark green stripes.
The flesh should be crispy and not slimy or mushy regarding texture. Moreover, this should have a slightly grassy and neutral smell. It also has seeds that you can easily remove or juice.
Did you know that watermelon is 91% water? It is also extremely low in calories and fat! Below are the top ten health benefits you can gain from this wonder fruit.
Boosts immunity.
Eating this fruit can help your body fight against health problems and diseases. Moreover, it can keep you strong and active!
Promotes hydration.
Since it has plenty of water, you satisfy your cravings and your thirst at the same time. While it is not an alternative to water, it is still an excellent source of hydration.
Improves digestion.
The watermelon's fiber and water content are good for your stomach. In addition, it even improves metabolism to help with weight loss.
Relaxes the muscles.
If you love working out, then I suggest eating watermelon cubes as workout treats. It relaxes muscles for better physical activity.
Prevents cancer.
According to Healthline, this fruit helps prevent different types of cancer. It also prevents the growth and spread of cancer cells.
Regulates blood pressure.
American Journal of Hypertension's study showed that watermelons help with blood pressure. In addition, this fruit is suggested for people who want to maintain it.
Enhances brain activity.
It is good for your brain and nerves. Furthermore, it can work wonders for memory, focus, and learning! You might also consider these as snacks for the day.
Helps with weight loss.
This fruit's water content and delicious quality can also lessen your craving for sweet treats. Additionally, it can keep you full for a long time!
Protects the skin.
Regularly eating this fruit can shield your skin from sun damage. Snacking on this fruit also gives you more fun under the sun on your next beach trip!
Supports kidneys.
Watermelons are certainly good for regulating the flow and release of urine from the body. They also help with better kidney function!
What are you waiting for? Buy your watermelons and experience their life-changing benefits for a better, longer, and happier life!
Directions
Learn this nifty technique to make convenient and easy watermelon cubes.
Use a knife to slice the watermelon in half.
Then, slice it again into round pieces.
Place the watermelon circle on a cutting board and carve out the skin.
Cut it into strips and then into cubes.
Place a plate on top and turn it over.
Finally, remove the skin, and you've got yourself some cubes!
You can also prepare it in different slices, shapes, and sizes. Add these watermelon cubes to your favorite dishes, desserts, snacks, and breakfast meals for a stellar experience!
Tips
Buying Watermelons
The watermelons should be oval or round without soft spots or bumps.
In addition, those that feel heavy for their size are likely to be juicier and sweeter.
Then, buy ones with an orange spot for full flavors.
The stripes should be dark and deep green. Dull-looking ones are also likely to be ripe.
Real Simple suggests buying ones with dry and brown stems.
Also, they are usually in season between May to September.
Storing Watermelons
Unripe watermelons can be left at room temperature to ripen.
Once ripe, transfer it into the fridge to extend its shelf life.
On the other hand, sliced pineapples should be stored in airtight containers or resealable bags to freeze or refrigerate.
Watermelon Variations
There are lots of watermelon variations you can choose from. The kinds you should buy depend largely on how you want to use them.
For seedless ones, go for Crimson, King of Hearts, Nova, and Millionaire because they tend to have fewer seeds. This is especially suggested if you plan on feeding it to children.
Meanwhile, if you plan on feeding a crowd, then I suggest large watermelons like Jubilee, Black Diamond, and Allsweet. On the other hand, use Sugar Babies to serve fewer people.
Regardless of how you intend to use them, buy fresh ones for the complete experience!
Recommended Tools
Knife: Slice the watermelon using a knife.
Cutting board: Carve out the skin and cut it into cubes on a chopping board.
Plate: Turn the fruit on a plate to serve.
This post contains affiliate links, which means I earn commission income from qualifying purchases at no extra cost to you. Please read the full disclosure for more information.
Visit my shop for more products.
How to Use and Serve Watermelon Cubes
According to Indian Express, watermelons are best eaten between 10:00 AM to noon. It is not suggested for evening snacking because it may cause stomachaches and poor sleep.
These cubes are also great for juices, salads, salsa, relish, desserts, smoothies, popsicles, and more! Moreover, below are some of the recipes you will surely want to try out:
In an article by WebMD, babies aged six months can eat watermelons. However, check if the slices are free from seeds. It can even be turned into a baby food puree!
Storage Tips
At room temperature: Eat room temperature watermelon cubes within two hours.
Frequently Asked Questions
How do you make cubed watermelon?
You can easily make cubed watermelons just by slicing them. Cut it in half, then slice it into round pieces. Carve out the skin before slicing it into cubes or squares!
How long do watermelon cubes last?
Refrigerate watermelon cubes can last up to five days and last longer in the freezer. Keep them in the freezer to enjoy them for weeks or months!
What is the best way to dice a watermelon?
Watermelons can be prepared in plenty of ways. You can slice them into triangles, cubes, large strips, and more! It's always easier to slice it in half first.
How do you keep a cubed watermelon fresh?
You can keep a cubed watermelon fresh by freezing it. In fact, you can eat it straight from the freezer for a cold snack!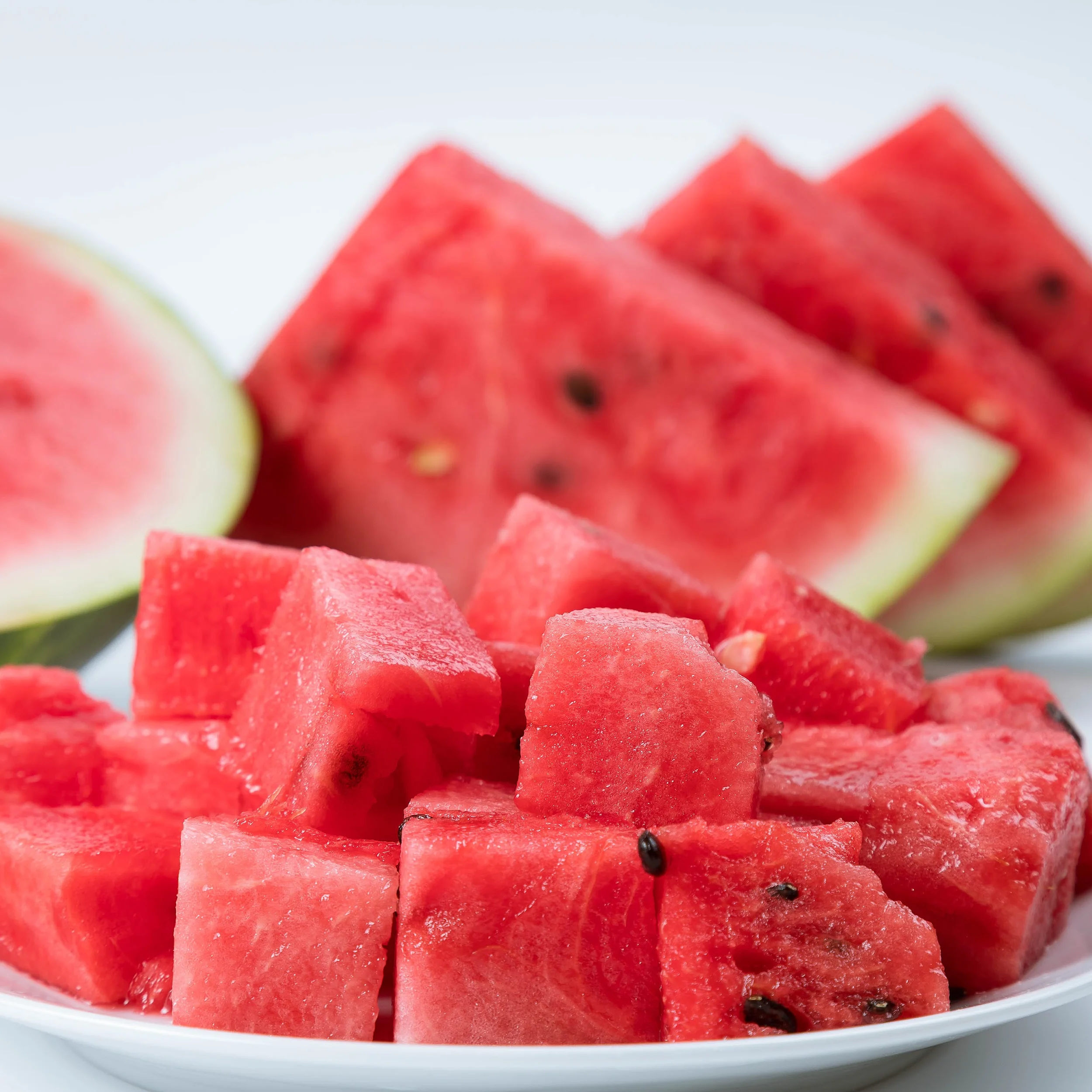 Watermelon Cubes (With Video)
Have you ever heard the phrase "measure twice, cut once?" Well, when it comes to cutting watermelon cubes, those words have never been more true. So, get ready to reclaim the fruit bowl and make your next party a smash hit!
Ingredients
1

watermelon

(large-sized)
Instructions
Slice the watermelon in half. Then, slice it again for a circular watermelon slice. Place the watermelon circle on a chopping board and carve out the skin.

Cut it into strips and then into cubes. Place a plate on top and turn it over. Remove the skin, and you've got yourself some watermelon cubes!
Video
Notes
Select your watermelons depending on how you intend to use them.
Store sliced watermelons in plastic bags or airtight containers.
Nutrition
Serving:
1
(of 10)
Calories:
135
kcal
Carbohydrates:
34
g
Protein:
3
g
Fat:
1
g
Saturated Fat:
0.1
g
Polyunsaturated Fat:
0.2
g
Monounsaturated Fat:
0.2
g
Sodium:
5
mg
Potassium:
504
mg
Fiber:
2
g
Sugar:
28
g
Vitamin A:
2561
IU
Vitamin C:
36
mg
Calcium:
32
mg
Iron:
1
mg