Savor the hydrating, nourishing, and delicious quality of Watermelon Juice until the last sip!
I've juiced plenty of fruits before, but watermelon is always one of the easiest ones to juice. It's simple, quick, and absolutely effortless.
Aside from its mildly sweet flavor, you will also gain lots of health benefits from this juice. Once you try it, you will realize how amazing this drink is.
Pin this recipe on Pinterest to save for later
Watermelon Juice is one of the healthy recipes that you will love during the summer, on weekends, or for breakfast. Power up your slow juicer because you'll surely need it!
How to Make Watermelon Juice
How easy is it to make Watermelon Juice at home? Well, you only need ten minutes to prepare it. It's the perfect drink to make even if you have a busy day ahead.
You can serve it for the entire family to love and enjoy!
Ingredient
Watermelons
Did you know that watermelon is considered as the "fruit of summer"? With its gorgeous pink rind and touches of green on the skin. Even the seeds will give you a summer vibe!
It has a mildly sweet, fruity, and slightly sour flavor that just tastes delicious no matter what. The watermelon also has a fragrance that just makes you crave more.
Why is it called a watermelon? It's because 92% of this fruit is water! Whenever you drink it, you can ensure that you will feel happy and healthy.
Aside from turning watermelons into juice, you can also enjoy them as fresh fruits. There are many fruits you can pair with it for a fun experience.
This is your sign to start adding watermelons to your diet. Every watermelon recipe is absolutely a must-try. Start with this Watermelon Juice recipe to discover how it can change your life!
Directions
Grab the freshest watermelon you can find and juice it with me!
Rinse the watermelon.
Use a knife to cut the fruit in half.
Slice it into thin pieces.
Peel off the skin by slicing it vertically.
Feed the fruit slices into the slow juicer.
Serve the juice in a glass, and enjoy!
This will probably be the freshest Watermelon Juice you will ever taste, and it surely won't disappoint! It's amazing how juicing can turn a large fruit into a handy drink, right?
Tips
Buying watermelons
Real Simple suggests buying watermelons with consistent dark green and yellow stripes.
The watermelon skin should feel a bit waxy and look shiny.
It is best to buy ones with brown stems attached.
The watermelon should feel heavy for its size.
Storing watermelons
Room-temperature watermelon can last up to ten days.
According to The Spruce Eats, watermelons can also be refrigerated for up to two weeks.
If the watermelon has been sliced, then wrap it in cling film or foil and use it within five days.
The fruit slices can also be stored in freezer bags for up to several weeks.
Watermelon Juice Variations
While the Watermelon Juice is already delicious on its own, you can still improve it. You can mix it with other fruits and herbs like pineapples, cherries, apples, grapes, oranges, carrots, and ginger.
Aside from the juice form, you can also convert it into a smoothie or slushie by blending frozen watermelon slices. This fruit is also great for making popsicles!
It is completely fresh, natural, vegan, gluten-free, vegetarian, and preservative-free!
No-Juicer Watermelon Juice
You can also make this juice using a blender or food processor to blend the watermelon slices and filter them with a sieve to get more juice.
Mash the watermelon slices with a knife or fork and chop finely to extract the juices. In fact, you also try making the juice with a grater.
Recommended Tools
Slow juicer: Make the watermelon juice using a slow juicer.
Knife: Peel and slice the watermelon with a knife.
Glass: Pour and serve the juice in a glass.
This post contains affiliate links, which means I earn commission income from qualifying purchases at no extra cost to you. Please read the full disclosure for more information.
Visit my shop for more products.
How to Serve Watermelon Juice
According to Food, the best time to drink watermelon juice is at noon to allow your body to process it better. Avoid drinking it after 7:00 in the evening.
Tata 1mg also suggests a cup of this drink for people with hyperacidity before eating.
Can you serve it to babies? Yes, it can. In an article by GK Food Diary, babies can have watermelons as early as 6 to 8 months. Make sure to remove the seeds and mash the slices.
It can be enjoyed with ice, lime, or maple syrup for added sweetness. You can have it with any dish, especially fruit salad, vegetable wrap, granola, and more!
Storage Tips
At room temperature: Drink the Watermelon Juice within a few hours.
Frequently Asked Questions
What is watermelon juice good for?
Watermelon Juice is guaranteed to be good for your heart, eyes, skin, brain, immunity, energy, bones, muscles, and overall health. It also promotes proper weight management.
You can get lots of energy from this juice. It also has good effects on your endurance and physical activity for an active and healthy lifestyle.
How to make juice watermelon?
Make watermelon juice by peeling and slicing the watermelon into thin slices. Then, feed them into a slow juicer. You can also use a blender, food processor, or grater to make the juice.
How long is watermelon juice good for?
It depends on how you store it. Drink watermelon juice within a few hours at room temperature. It can last longer in the fridge or freezer.
Is it OK to juice watermelon?
Of course! It's one of the easiest fruits to juice because of how watery, delicious, and hydrating it is. The watermelon is also loaded with lots of nutrients for your health.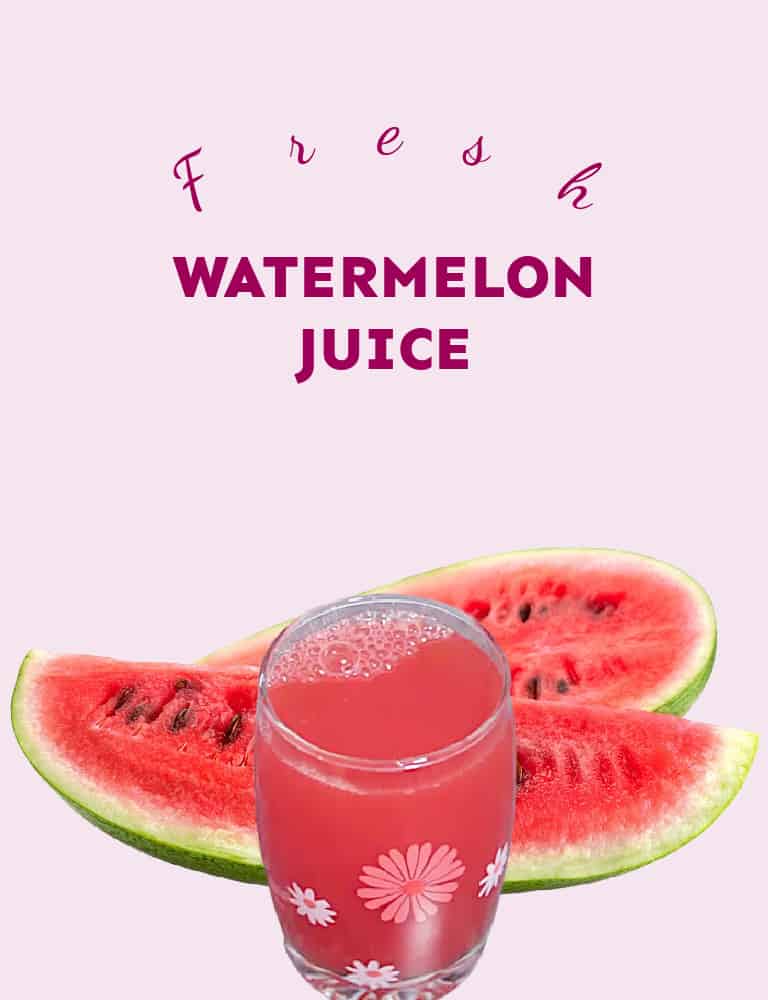 Watermelon Juice
Watermelon juice is one of the best ways to consume a watermelon. It's handy, convenient, and easy!
Ingredients
1/4

watermelon

(small-sized)
Instructions
Use a knife to cut the fruit in half.

Slice the watermelon into thin pieces.

Peel off the skin by slicing it vertically.

Feed the watermelon slices into the slow juicer.

Serve the watermelon juice in a glass, and enjoy!
Video
Notes
Store the remaining half of the watermelon in the fridge to use for later.

Limit your juice consumption to 1 cup a day.

There is no need to remove the seeds.
Nutrition
Calories:
338
kcal
Carbohydrates:
85
g
Protein:
7
g
Fat:
2
g
Saturated Fat:
0.2
g
Polyunsaturated Fat:
1
g
Monounsaturated Fat:
0.4
g
Sodium:
11
mg
Potassium:
1260
mg
Fiber:
5
g
Sugar:
70
g
Vitamin A:
6401
IU
Vitamin C:
91
mg
Calcium:
79
mg
Iron:
3
mg