Now is the perfect time to make Fruit Popsicles – sweet, refreshing, and colorful desserts or snacks for any occasion!
Every member of your family can enjoy these cold treats. It's a freezer-friendly dish that you will especially love in the summer. Using fresh fruits, you can make these yummy popsicles.
Not only will these satisfy your taste buds, but they will also give you lots of health benefits. After trying these, you will surely add Fruit Popsicles to your favorite healthy recipes!
Pin this recipe on Pinterest to save for later
It can even be an unforgettable bonding experience with your family and friends over the weekend or for celebrations!
This article will provide all you need to know to make the perfect fruit popsicle from scratch, including a list of ingredients, step-by-step instructions, and helpful tips for adding your own unique flavor.
So let's get started and explore the wonderful world of homemade fruit popsicles!
How to Make Fruit Popsicles
Always start with fresh fruits to give the popsicles the best flavor. You will also need a blender or food processor to get the right consistency in just minutes.
Make some space in your freezer because you might find yourself making more of these Fruit Popsicles!
Ingredients
In these Fruit Popsicles, you will need this fantastic trio for the best mix of flavors.
Mangoes
Give the popsicles a touch of tropical vibes with ripe and fresh mangoes. Their sweet and sour flavor will make every bite absolutely delicious.
With the vibrant yellow color of mangoes, you can ensure that they'll make the popsicles appetizing. Mangoes are also easy to puree because they are already silk and soft.
You can eat raw ripe, or unripe mangoes for healthy snacks. Aside from using them for popsicles, you can also convert them into smoothies, juices, and more!
Strawberries
When it comes to popsicles, strawberries are some of my favorite fruits to use. They're naturally sweet, sour, and tangy – perfect for a burst of flavor.
These fruits are also juicy and pulpy to give the smoothies a good texture. Moreover, strawberries have a fragrant aroma and bright color to leave everyone craving more.
I always buy strawberries because my kids love strawberry-flavored foods like Strawberry Ice Cream Bars, Strawberry Banana Milkshake, and Strawberry Jam!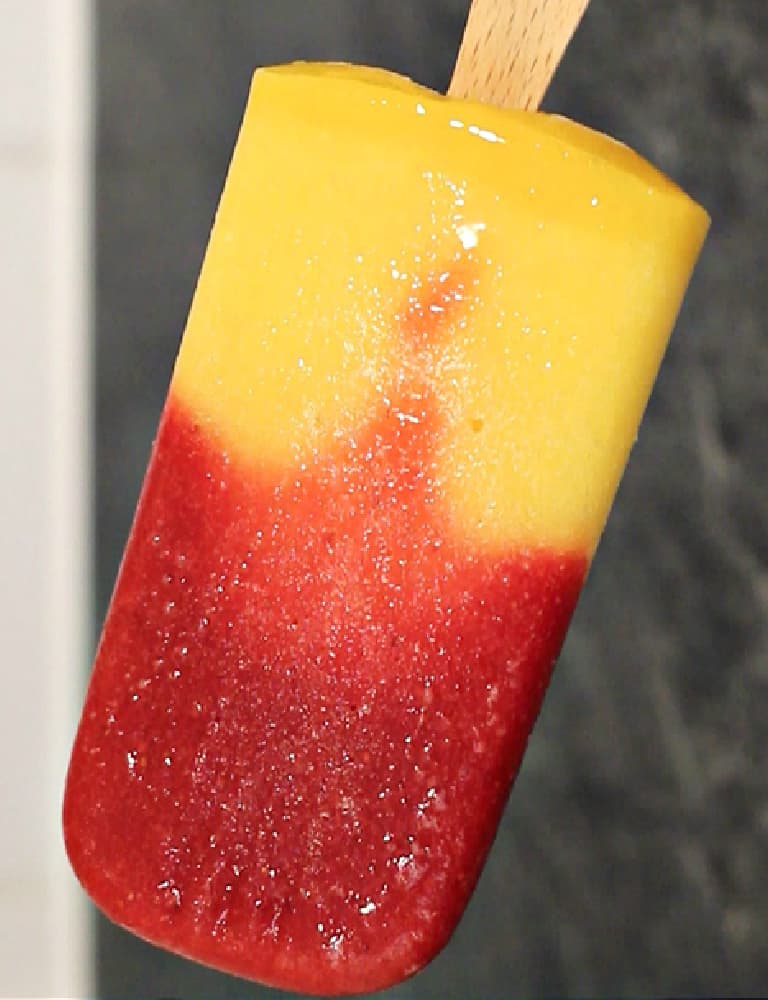 Pineapples
Don't forget to add pineapples for a tangy and tarty flavor for the popsicles. Just like mangoes, pineapples have citrus flavors that will make you feel like you're on vacation.
The yellow color of the pineapples can also add an appealing effect to the popsicles. Moreover, these are easy to blend or puree for easy freezing.
You may have already used pineapples for juicing, but wait until you use them for popsicles. Now, you can use pineapples for another recipe instead of Pineapple Juice!
Can you already taste how delicious the combination will be? Believe me; mangoes, strawberries, and pineapples will make the best Fruit Popsicles!
Directions
Let's go to the fun part – making the Fruit Popsicles.
Peel and slice the ingredients with a knife.
Use a blender or food processor to puree the fruits individually.
Pour the purees into the popsicle molds.
Allow the popsicles to freeze for about four to eight hours or overnight.
Whenever you're craving something cold and sweet, take them out of the popsicle molds and enjoy!
Yes, it only takes simple steps to make these delicious treats. You can eat them on a hot day, after dinner, or even after a workout. It's good for kids, adults, and even pets!
Tips
Mangoes
Buying mangoes
The Food Tribune suggests buying mangoes that are plump and a bit soft.
Ripe mangoes are yellow in color, and if you see touches of brown or speckles, it is totally normal.
Avoid thin and wrinkled mangoes because these may have a different taste already.
You should also smell a sweet fragrance near the stem.
Storing mangoes
If you bought unripe mangoes, then let them ripen at room temperature.
You can also place them in a paper bag to fasten ripening.
For ripe mangoes, store them in the fridge to slow the ripening.
You can store them for up to five days in the fridge.
Alternatively, for peeled and chopped mangoes, put them in a container in the fridge for six months.
Strawberries
Buying strawberries
Buy strawberries with have red shining skin and fresh green caps.
They are easily noticeable because they can stand out even in color.
The strawberries don't need to be big, but they should be plump to the touch.
Storing strawberries
The Food Network suggests storing the strawberries without washing them.
Don't remove the stems of the strawberries.
Arrange them in a container in a single layer only.
Meanwhile, The Kitchn suggests soaking the strawberries in a water and vinegar mixture before drying and storing them.
Pineapples
Buying pineapples
According to Healthy Family Projects, you should buy pineapples with green leaves.
Check if the shells feel firm too.
Smell the bottom of the pineapples for a sweet fragrance.
Storing pineapples
You can store pineapples at room temperature for three days.
Once peeled and chopped, place them in a container in the fridge to last for at least a week.
How to Cut a Pineapple
While it is fairly easy to slice mangoes and strawberries, it's not always the case for pineapples, especially if you have the fruit itself.
First, cut off the top and bottom of the pineapple on a cutting board.
Then, use a knife to slice in a downward motion from the top of the fruit to expose the flesh and remove the skin.
When cutting, slice as close to the eyes of the pineapple as possible.
Continue cutting it into halves until you have pineapple chunks.
How to Make Popsicles Without Popsicle Molds
Aside from using popsicle molds, you can also freeze the fruit purees in plastic cups, small baking tins, ice cube trays, and even unused yogurt containers.
How to Puree Fruits Without a Blender
While it's best to use a blender or food processor to make the fruit purees, you can also use a masher to do the job.
Also, you can put the chopped fruits in a resealable bag and gently pound them with a rolling pin to release the juices and puree the flesh.
You can also do it using a mortar and pestle but do so in smaller batches.
Fruit Popsicles Variations
The great thing about homemade popsicles is you can make them with any fruit that you prefer. For instance, you can make a Zobo-inspired popsicle with an extract from pineapples, oranges, ginger, and hibiscus flower.
Alternatively, you can puree bananas, peaches, berries, cantaloupe, plums, and more! To make it creamy, you can add condensed milk or yogurt. It can even be seasoned with honey or any other syrup of your choice.
Aside from mangoes, strawberries, and pineapples, you can also use watermelons, apples, berries, cantaloupes, grapes, bananas, oranges, melons, kiwi, and more!
Instead of strawberries, you can also use strawberry jam for more flavor and color in your popsicles. Don't forget to be creative with these treats!
Check out these fruit juice combinations that will also make good popsicle flavors:
Recommended Tools
This post contains affiliate links, which means I earn commission income from qualifying purchases at no extra cost to you. Please read the full disclosure for more information.
Visit my shop for more products.
How to Serve Fruit Popsicles
One of the best things about these Fun Homemade Fruit Popsicles is that they are easy to serve. Just dip the popsicle molds in lukewarm water to easily slide out the popsicles.
If you're serving popsicles at a party, then feel free to serve them with a bowl of melted chocolate for a dip. You can also place the popsicle down on a bowl or glass.
Keep them cold and fresh by putting them in an ice-filled bowl. For more insulation, wrap each popsicle in foil.
Storage Tips
At room temperature: Fruit popsicles can only be stored at room temperature when it's time to serve.
Frequently Asked Questions
Is fruit popsicle healthy?
Yes, the fruit popsicle is healthy because it is made of 100% fruit. You just need to blend or puree them to freeze easily. These popsicles are also homemade to make the recipe organic and healthy.
How to make ice popsicles at home?
Start off by buying fresh ingredients; I suggest fruits that are sweet, juicy, and pulpy. Peel and chop the fruits. Then, blend them in a blender or food processor.
Pour the contents into popsicle molds to freeze for several hours or overnight. The great thing about making these at home is that you can make any flavor you want!
How do you make soft freeze popsicles?
You can soft-freeze the popsicles by adding yogurt or milk. The moisture will help prevent freezing the mixture until solid. I suggest doing this for kid-friendly snacks.
Is it OK to eat popsicles every day?
You can eat popsicles every day as long as they are homemade and made from fresh fruits. However, store-bought popsicles are not for everyday snacking because of their sugar content.
This post may contain general information and does not constitute professional medical advice. Always seek information or advice from a qualified medical professional. Please read the full disclaimer for details.
Fruit Popsicle
Popsicles are perfect for any occasion and for guests of all ages. These Fun Homemade Fruit Popsicles are nutritious, freshening, and enjoyable too!
Total Time
4

hours
10

minutes
Ingredients
1

mango

(peeled and sliced)

½

pineapple

(peeled and sliced)

6

strawberries

(large-sized)
Instructions
Peel and slice the ingredients with a knife.

Use a blender or food processor to puree the fruits individually.

Pour the purees into the popsicle molds.

Allow the popsicles to freeze for about four to eight hours or overnight.

Whenever you're craving something cold and sweet, take them out of the popsicle molds and enjoy!
Video
Notes
In place of a blender or food processor, use a grinder or masher to puree the fruits.
There are plenty of other fruits that you can utilize to make popsicles.
Babies can have fruit popsicles as early as 6 months old with adult supervision.
Don't combine the pureed fruits in one bowl or container immediately because you will be assembling them for the popsicles later.
You may sweeten the purees with maple syrup or any sweetener of your choice.
Pour one fruit puree after another for a gradient appearance. You may also incorporate small fruit chunks for more texture and flavor.
Popsicle molds usually come with lids and plastic lolly sticks but you can also use wooden lolly sticks as an alternative.
Note that you must insert the lolly sticks only halfway through the mold.
When you want to take them out to serve, dip the popsicle mold in lukewarm water so that the popsicles can easily slip out.
Nutrition
Serving:
1
(of 6)
Calories:
62
kcal
Carbohydrates:
16
g
Protein:
1
g
Fat:
1
g
Saturated Fat:
1
g
Polyunsaturated Fat:
1
g
Monounsaturated Fat:
1
g
Sodium:
1
mg
Potassium:
159
mg
Fiber:
2
g
Sugar:
13
g
Vitamin A:
418
IU
Vitamin C:
56
mg
Calcium:
16
mg
Iron:
1
mg