Today is your lucky day because I will teach you how to make creamy, sweet, and smooth Frozen Yogurt with just two ingredients!
Prepared to be amazed by how easy it is to make it at home. It is the perfect freezer-friendly snack or dessert, especially on hot summer days, celebrations, or weekends.
You don't even need a blender or food processor to get tasty Frozen Yogurt. Five minutes is all you need to make it, and you can relish it for the following weeks!
Pin this recipe on Pinterest to save for later
This dessert is also known as Fan Yogo in Nigeria and Ghana – a perfect companion to buns, bofrot, chin chin, Gala, and more. Get ready to experience the best Frozen Yogurt on your first try!
How to Make Frozen Yogurt
With this recipe, you won't have to buy your frozen yogurt in supermarkets because you'll be able to make it in your own home! Using two ingredients, you can make yummy and hearty Frozen Yogurt!
Ingredients
Here are the two ingredients you will need to make the Frozen Yogurt:
Yogurt
Did you know that yogurt is made by fermenting milk with a yogurt culture?
On its own, yogurt tastes like a mix of sweet and sour flavors. It is also known for its creamy, smooth, and thick consistency that makes it easy to mix into different ingredients.
Nowadays, yogurt comes in many flavors, but you can use plain yogurt for this recipe. Aside from its rich flavor and texture, the yogurt also boasts lots of health benefits.
Yogurt is easy to add to your daily diet. You can mix it with berries, nuts, and cereal for a filling breakfast. It also makes a good ingredient for smoothies, overnight oats, salads, and even baked food.
Condensed milk
Enjoy the milky-sweet goodness of frozen yogurt with condensed milk. It will give the frozen yogurt a thick and smooth consistency even after it is frozen.
You can use condensed milk for drinks, pastries, sauces, desserts, and more! However, make sure to use it in moderation to prevent weight gain and other adverse effects.
I have used it for freezer-friendly recipes such as Vanilla Ice Cream; it has produced incredible quality.
Can you already taste and experience how rich, delicious, and gratifying Frozen Yogurt is? Wait until you try it, and you will surely find yourself making it more often!
Directions
Just when you think it can't get any easier, follow these three steps for the Frozen Yogurt recipe!
Mix the yogurt and condensed milk with a spatula in a measuring jug or a glass bowl.
Then, pour the contents into ice cube trays or popsicle molds.
Let them freeze for several hours or until frozen solid.
It's a convenient treat because you can simply pop them out of the molds when you're craving something sweet. Taste it and let me know if you love it too!
Tips
Yogurt
With a yogurt maker
Can you make yogurt at home? Yes, you can! Get five and a half cups of milk and one packet of yogurt starter. Here's how:
Let it cool at room temperature.
Then, pour a cup of milk into a bowl.
Mix the yogurt starter in the bowl.
Once fully combined, stir the yogurt mixture starter into the rest of the milk.
Pour the contents into the yogurt maker.
Set the yogurt maker to about seven to nine hours.
Finally, put the yogurt in the fridge to store!
Without a yogurt maker
In case you want to do the oven method, you need two cups of milk and two tablespoons of live culture.
Heat the milk on the stove until the temperature reaches 80°C.
Pour the milk into jars and let them cool at 40°C.
Then, stir in the live culture.
Maintain the temperature at 40°C for two hours to twenty-four hours.
Keep the yogurt in the fridge to thicken.
As an alternative to homemade yogurt, you can use store-bought yogurt for a quick recipe.
How to Store Yoghurt and Condensed Milk
Yogurt
Once opened, seal the container with aluminum foil to prevent contamination and spoilage.
You can also transfer it into a container to refrigerate for two weeks.
Alternatively, freeze the yogurt to last up to a month.
Condensed milk
Store opened condensed milk in a container and refrigerate for several weeks.
You can also freeze it to last up to 3 months.
Let it thaw in the fridge overnight before use.
Ice Cube Tray Substitutes
Did you use all of your ice cube trays? Don't worry; there are substitutes you can use to make Frozen Yoghurt! For instance, pour the contents into trays to achieve similar results.
Utilize cups, empty containers, silicone molds, egg cartons, and other makeshift materials you can recycle.
Frozen Yogurt Variations
Aside from this sweet delight, you can also mix them with fresh fruits such as mangoes, pineapples, strawberries, bananas, and other fruits you prefer.
In fact, you can try adding small chunks of fruit to add variety and texture to the dessert. For a pump of flavor, add honey, vanilla extract, heavy cream, and other sweeteners of your choice.
Aside from classic yogurt, you can also use other yogurt flavors to make Frozen Yogurt. It's great for adding colors for fun party servings.
Recommended Tools
This post contains affiliate links, which means I earn commission income from qualifying purchases at no extra cost to you. Please read the full disclosure for more information.
Visit my shop for more products.
How to Serve Frozen Yogurt
You can eat this at any time of the day, especially if you just want to taste something sweet yet healthy.
Sleep Ovation also suggests enjoying this in the evening to prevent late-night cravings and snacking. You can serve it on a stick or in cups or bowls.
These can make some of the best food pairings:
In an article by Women's Health, half a cup or four ounces of frozen yogurt is sufficient for daily intake. Remember to eat it in moderation because it still contains sugar from the condensed milk.
Did you know that you can also use yogurt as an egg substitute for baking?
Storage Tips
At room temperature: Eat the Frozen Yogurt within two hours.
Frequently Asked Questions
Is frozen yogurt healthy or unhealthy?
Frozen yogurt is healthy as long as you eat it in moderation and with healthy ingredients. It's good for your gut, digestion, immunity, brain, mood, bones, teeth, and overall health.
If you eat it in excess, then it can be unhealthy for you. Eating too much of this can cause weight gain and even diabetes.
Is frozen yogurt healthier than ice cream?
Generally, frozen yogurt is healthier than ice cream. The latter is made from whipped milk with added sugar, whereas yogurt is cultured milk with an option to add sweeteners. Frozen yogurt is also lower in fat and calories.
Is frozen yogurt just frozen Greek yogurt?
Frozen yogurt is different from frozen Green yogurt because you usually mix it with a sweetener or thickener. On the other hand, you can simply freeze Green yogurt without added ingredients.
What is frozen yogurt vs ice cream?
The base ingredient for ice cream is heavy cream, while the main ingredient in frozen yogurt is the yogurt itself. The yogurt is made of cultured milk with probiotics in contrast to the cream from ice cream.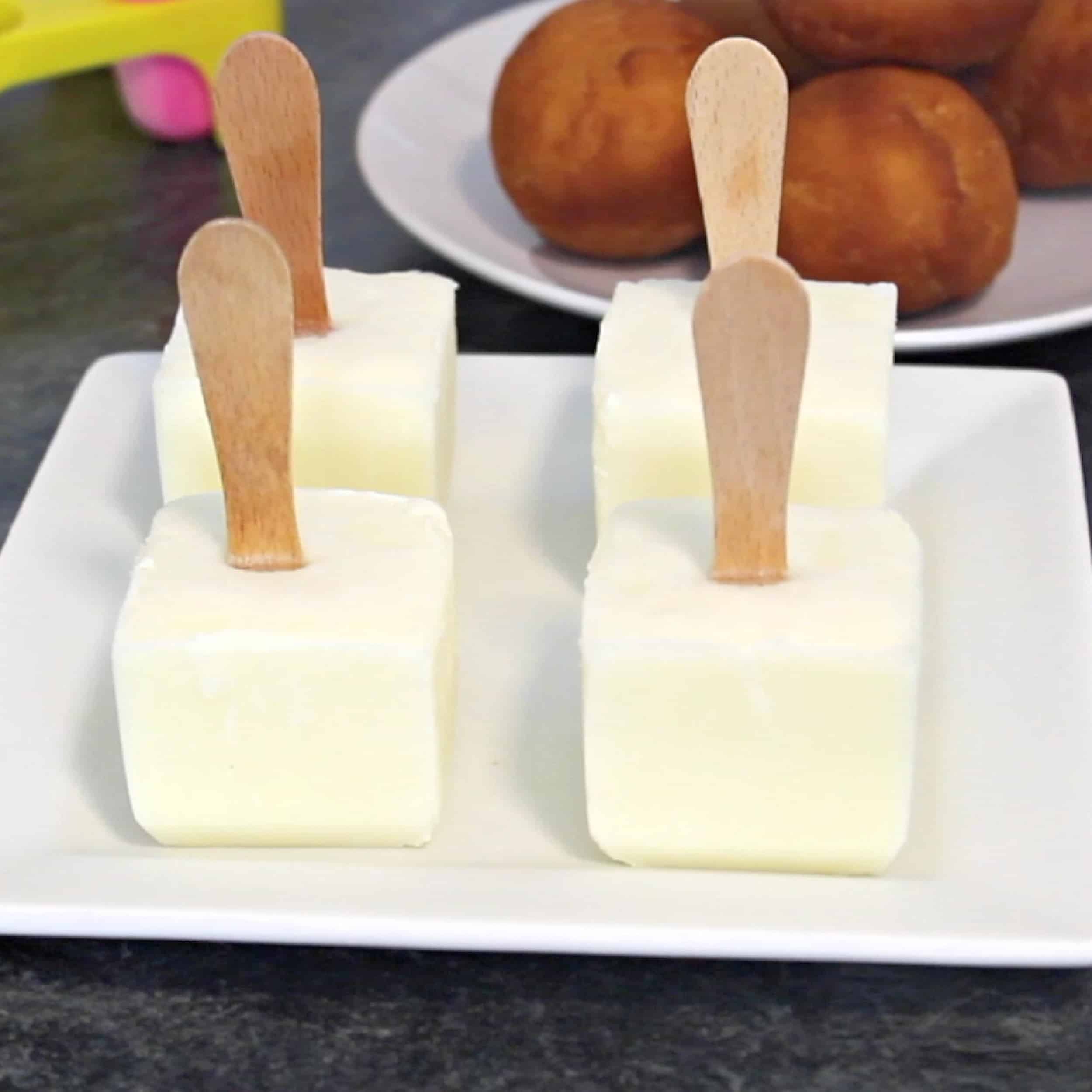 Best Frozen Yogurt (VIDEO)
Craving for something cold, sweet, creamy, milky, healthy, and satistfying? Give this Frozen Yoghurt recipe a try!
Ingredients
400

ml

yogurt

200

ml

condensed milk
Instructions
Mix the yogurt and condensed milk with a spatula in a measuring jug or a glass bowl.

Then, pour the contents into ice cube trays or popsicle molds.

Let them freeze for several hours or until frozen solid.
Video
Notes
To make it healthier, add fruit chunks of your choice.

Incorporate natural sweeteners like honey, maple syrup, and vanilla extract to make it richer in flavor.

Refrigerate or freeze the yogurt and condensed milk to extend shelf life.
Nutrition
Serving:
1
(of 8)
Calories:
135
kcal
Carbohydrates:
20
g
Protein:
4
g
Fat:
4
g
Saturated Fat:
3
g
Polyunsaturated Fat:
0.2
g
Monounsaturated Fat:
1
g
Cholesterol:
18
mg
Sodium:
65
mg
Potassium:
200
mg
Sugar:
20
g
Vitamin A:
138
IU
Vitamin C:
1
mg
Calcium:
154
mg
Iron:
0.1
mg