Take a break from the classic cake flavors and dare yourself to make this absolutely satisfying, nutty, and soft Almond Loaf Cake! It'll surely be one of your favorite dishes for baked goods, desserts, or snacks.
We've all been there: You're busy, short on time, and in need of a delicious treat that is simple to make. Enter: almond loaf. A dense, slightly sweet, and nutty bread that is nothing short of amazing.
Pin this recipe on Pinterest to save for laterPin it!
It is unique and rich in quality that your family and friends will always remember the experience!
In this article, we'll explore just how easy it is to make the perfect almond loaf, the best accompaniments to serve with it, and tips to make it even more delicious. Table of Contents
How to Make Almond Loaf Cake
Baking a cake can sound intimidating but let this three-step recipe prove you wrong. It's a straightforward recipe that you can easily follow along with! This can even be therapeutic.
It doesn't take much skill to craft a stunning almond loa often; the ingredients you need to make it are already in your kitchen. Shall we begin baking the most phenomenal almond cake ever?
Ingredients
Are you looking forward to making the best and easiest Almond Loaf Cake? Here's a list of everything you will need:
Almonds
In this recipe, we need to kinds of almonds: ground almonds for the cake batter and almonds flakes for the garnish.
Why should you use almonds for cakes? First, they are absolutely flavorful, with the perfect mix of sweetness and bitterness. Almonds also have a crispy and chewy texture that you can easily grind or chop for the cake batter and garnish.
The natural color of almonds will also give the cake a stunning golden brown color. Aside from their flavor, you should also take a look at their health benefits.
You will never run out of ways to use almonds. For instance, you can use it as a topper for your oatmeal, bread, desserts, and even stews.
Here are some of the best recipes to make with almonds:
Plain flour
In every cake recipe, you will need plain flour. It supports the structure and texture of the cake from the inside out. This also gives the cake a dense yet airy texture inside.
Since plain flour has gluten, there are plenty of alternatives you can try. In fact, you can use almond flour, coconut flour, or oat flour to give the cake light crumbs.
Put your leftover plain flour to good use by cooking the following dishes:
Cane sugar
The Sugar Association was not mistaken when it said that sugar helps keep the cake moist, tender, and soft. It also gives the cake a sweeter taste to balance the bitter flavor of the almonds.
Did you know that sugar also has leavening properties to give the cake the proper rise? Once it melts into the cake, the sugar will caramelize for a golden brown effect on the loaf.
I also use cane sugar for my Easy Banana Bread, Coconut Chin Chin, and Vanilla Cake recipes. How do you usually use your cane sugar?
Baking powder
Whatever happens, don't forget about the baking powder. It's a powerful leavening agent which causes the bread to rise for the perfect structure.
The baking powder also gives the cake a light and fluffy texture that will make it absolutely enjoyable. However, Joy of Baking does not suggest using too much baking powder because it can cause a bitter taste and sunken cake.
Aside from using it in cakes, you can also use baking powder to cook Pancakes, Nigerian Coconut Buns, and Coconut Egg Rolls. In fact, you can mix it with plain flour to make self-rising flour too!
Eggs
There's a reason why you need to use eggs for cakes. They have a leavening effect that will help the flour and baking powder function better.
According to Food Above Gold, eggs are also emulsifiers to bind the ingredients properly. Since eggs are mostly water, they also give the cake the best texture.
Don't worry; there are egg substitutes you can use as alternatives.
Salted butter
You can use either salted butter or unsalted butter, but I especially suggest the salted version to act as a preservative. It is also good for the cake's texture and flavor.
Instead of using it for cake recipes, you can also use salted butter as a spread for bread. It also goes well with pasta and vegetable recipes for a rich aroma and flavor.
Sea salt
Just when you think the almond cake can't get better, add sea salt to enhance the flavor of the dish further. It balances the taste of the cake to prevent it from becoming too sweet.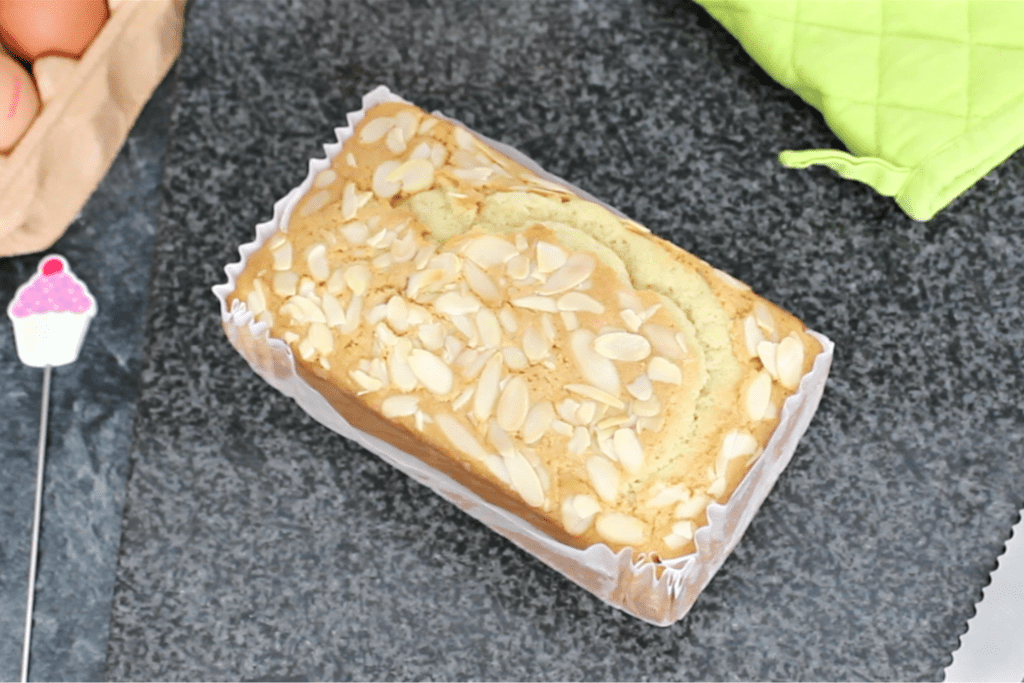 With this recipe, making your own almond cake has never been easier! If you have these ingredients in stock, you can bake this dessert whenever you want!
Directions
Come and bake the Almond Loaf Cake with me!
Whip the eggs and cane sugar in a bowl using a hand mixer for ten minutes.
Filter the plain flour, baking powder, and salt into the wet mixture with a sieve.
Then, add the ground almonds.
Fold the batter using a spatula until well combined.
Melt the butter in a small bowl and add some batter.
Use a spatula to fold all of the dry ingredients together.
Line a loaf or baking pan with parchment paper.
Transfer the batter to the pan.
Sprinkle flaked almonds or other toppings of your choice.
Preheat the oven to 150°C for 10 minutes.
Bake it at 150°C for 45 minutes or until completely cooked.
Once done, let it cool and enjoy until the last bite!
Before taking the cake out of the tray, insert a cake tester or skewer in the center; if it comes out clean, it is ready!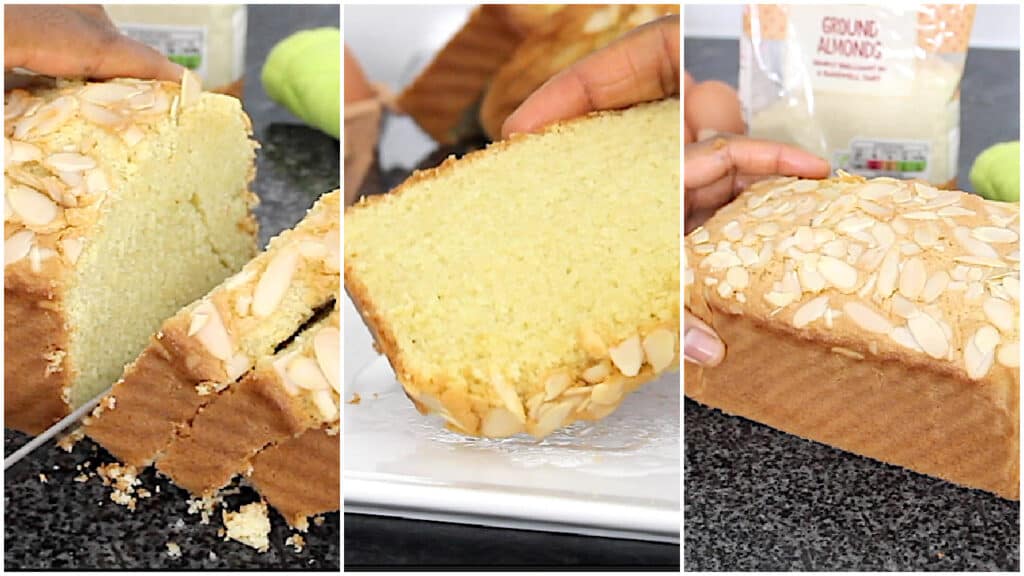 Isn't this the easiest almond bread recipe you have made? And it only takes simple steps to make it! You're not just baking; you're also having fun in the process.
Let me know how your almond cake turned out!
Tips
How to Make Ground Almonds
If you can't find ground almonds in the grocery store, then make it at home!
Almond Loaf Cake Variations
To make this recipe gluten-free, you can use almond flour, oat flour, or other gluten-free flour for the batter. Meanwhile, replace the butter with olive oil or a vegan butter stick for a dairy-free recipe.
No-Oven Almond Loaf Cake
Do you want to bake a cake but don't have access to an oven? Well, that is nothing to worry about because you can check out these alternative ways to bake the cake!
Steam
Boil water in the steamer.
Grease the loaf pan with butter before pouring in the batter.
Cover it with aluminum foil.
Then, let it bake in the steamer for about 25 minutes or until cooked to the center.
Microwave
Use a microwavable container as your tray.
Then, grease it before transferring the batter.
Let it cook until done, and check for doneness before taking it out.
Pressure Cooker
Preheat the pressure cooker for at least 5 minutes.
Place the loaf pan inside and cover the cooker with the lid.
Make sure to remove the gasket and whistle.
Cook the cake for about 40 minutes.
Stovetop
Cover the tray with aluminum foil.
Let it cook for about 30 minutes or until cooked thoroughly.
Air Fryer
Preheat the air fryer to 180°C for ten minutes.
Place the baking tray inside.
Cook it in the air fryer for about 25 minutes or until done.
See? There are plenty of ways to bake a cake! Don't miss out on this decadent almond cake, and try these methods!
Recommended Tools
This post contains affiliate links, which means I earn commission income from qualifying purchases at no extra cost to you. Please read the full disclosure for more information.
Visit my shop for more products.
How to Serve Almond Loaf Cake
This delicacy is best served for breakfast, dessert, or snack time. Almond cake is also perfect for picnics and lunches with family and friends. For added decoration, you can top it off with powdered sugar or more almond flakes on top.
For side dishes, you may go for whipped cream, berries, or any jam of your choice. Furthermore, you can also bake these in cupcake trays for individual serving at tea parties or events.
Limit your almond loaf intake to a maximum of two regular-sized slices per day. They may be healthy, but if consumed in excess, they can also cause unwanted weight gain.
Balance your cake servings with savory and spicy dishes for a burst of flavor. Check out these drinks that will taste best with this cake:
Storage Tips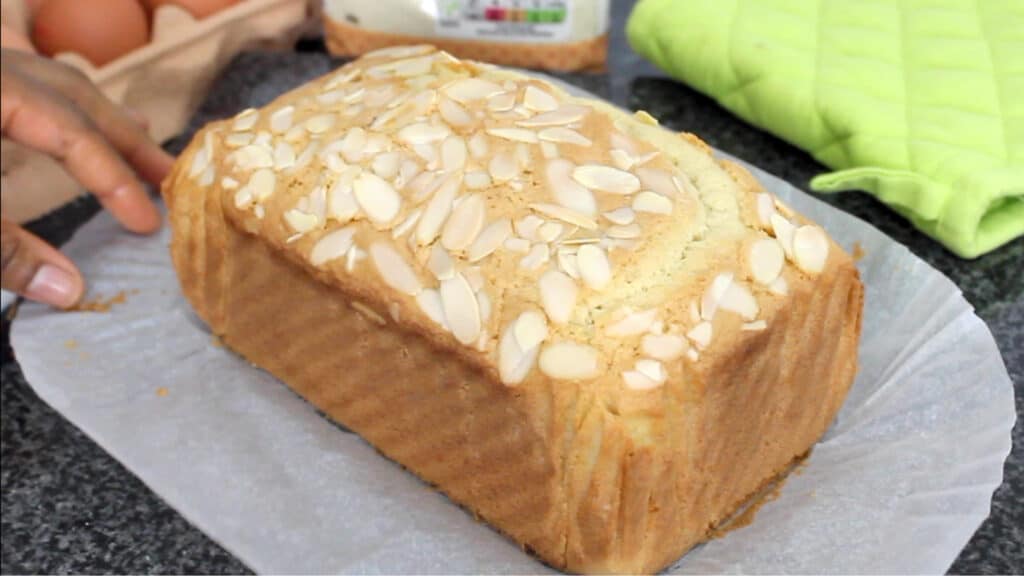 Frequently Asked Questions
Is almond flour good for cakes?
Yes, almond flour is good for cakes, especially for gluten-free cakes. It's an organic and natural flour that you can make at home with almonds.
This flour even adds a nutty and mildly sweet taste to baked goods. In fact, almond flour may give the cake a golden brown appearance.
What is almond cake definition?
Almond Cake is just like regular cake but infused with the sweet, nutty, and bitter goodness of almonds. In this recipe, you need almond flour for the batter and almond flakes for the garnish.
What does almond do in baking?
Using almonds is a great way of adding flavor and texture to baked goods. They can be used as garnish or flavoring agents for cakes, breads, pancakes, cupcakes, and more.
Is marzipan just almond paste?
Marzipan and almond paste are similar, but marzipan is made of ground almonds and sweeteners. On the other hand, almond paste doesn't need sweeteners.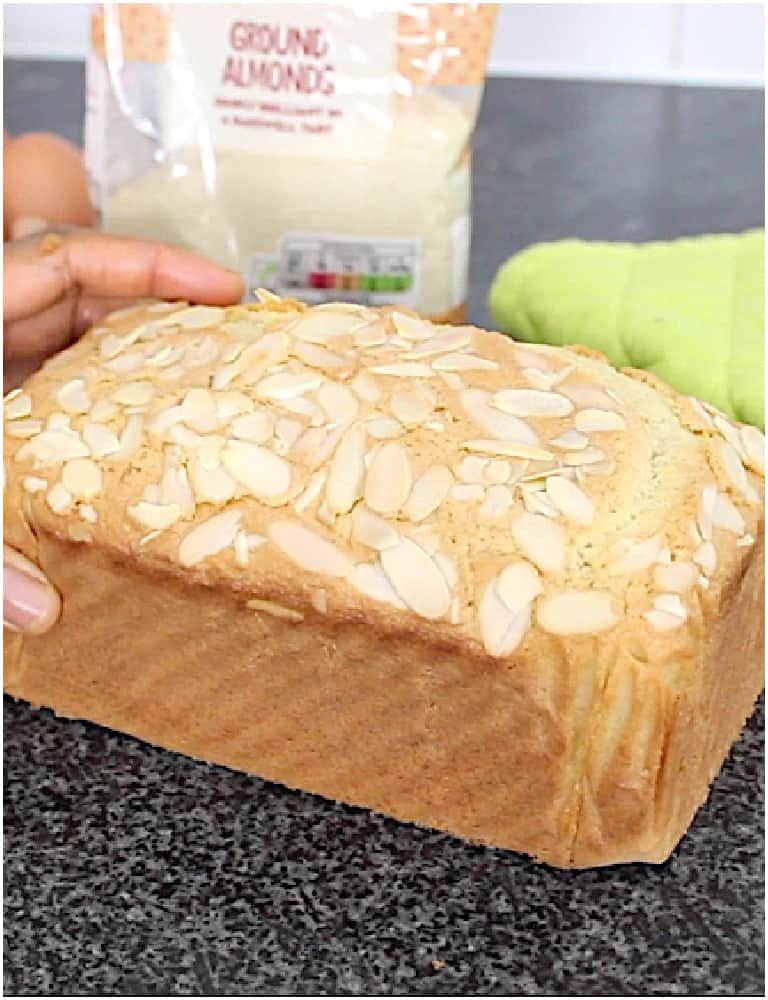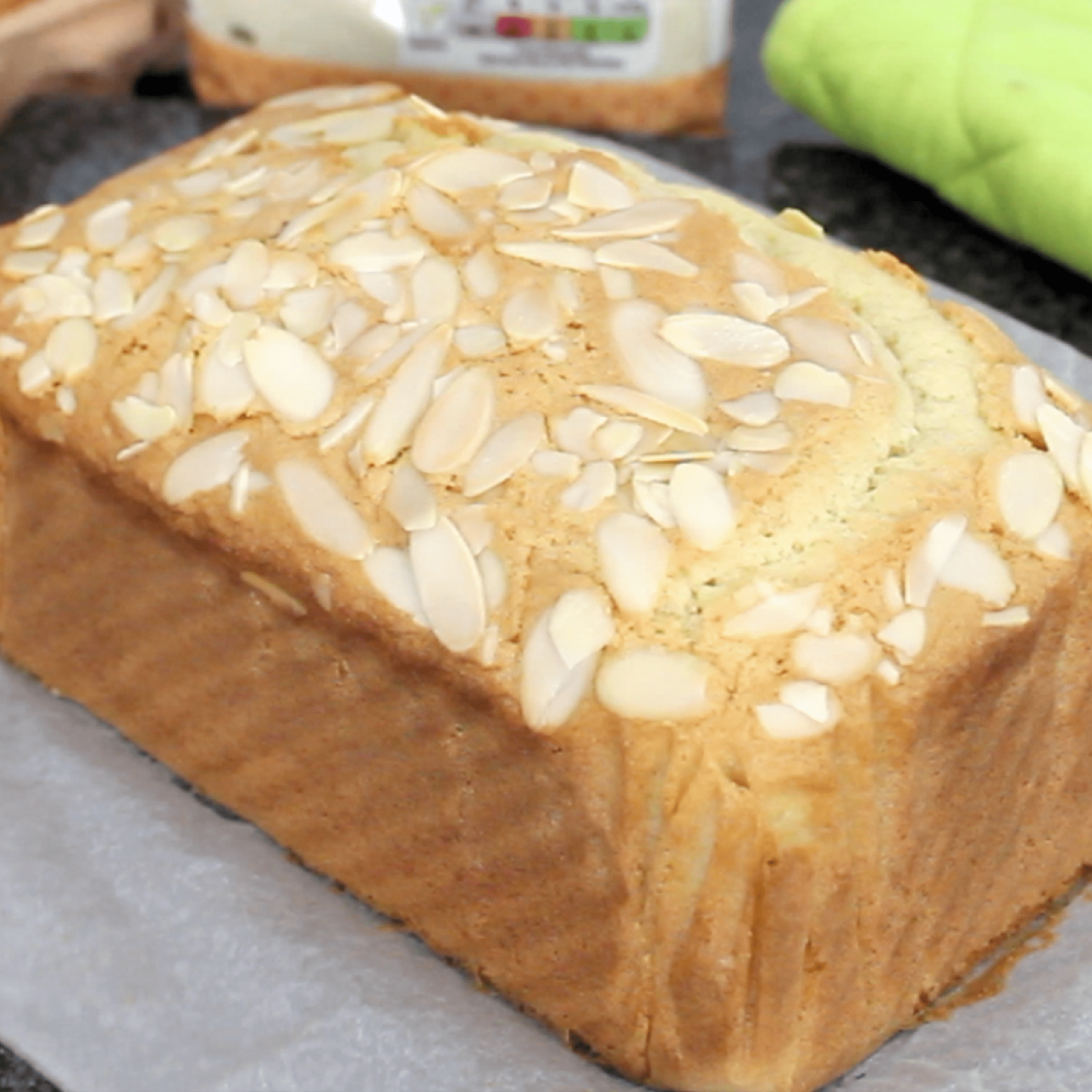 Moist Almond Loaf Cake (VIDEO)
Do you crave a delicious and healthy treat? You can look no further than this freshly-baked almond loaf cake. This easy-to-make snack is nutritious; its nutty flavor and tantalizing aroma make mouths water.
Ingredients
4

eggs

(medium-sized)

80

g

ground almond

125

g

cane sugar

150

g

plain flour

(all-purpose flour)

½

tsp

baking powder

A

pinch

sea salt

150

g

butter

(salted)

1

tbsp

almond flake

(for garnish)
Instructions
Make the cake batter. 
Start by mixing the eggs and cane sugar in a bowl. Use a hand mixer to whip them for about 10 minutes or until you achieve a smooth consistency. 

Sieve the plain flour, baking powder, and salt into the wet mixture. Do this gradually in 2 batches.

Add the ground almonds and fold until well combined.

Melt the butter in a small bowl and add some batter. Mix them completely and add them to the batter. Use a spatula to fold all of the dry ingredients together. 
Prepare the batter for baking.
Preheat the oven to 150°C for 10 minutes. 

Line a loaf or baking pan with parchment paper.

Transfer the batter to the pan. Sprinkle flaked almonds or other toppings of your choice. 
Bake the cake.
Place the baking pan in the oven and bake at 150°C for 45 minutes or until well baked.

Before taking the cake out of the tray, insert a cake tester or skewer in the center; if it comes out clean, the cake is ready! 
Video
Notes
In case you don't have an oven, bake the cake in a steamer, pressure cooker, microwave, or over a stovetop.

Make your own ground almonds for a healthier cake. 

Before baking, ensure that you have preheated the oven. 
Pay attention to how thick or thin the batter is. You can add in more flour if it is too runny but do this gradually to prevent dryness.
If you notice this during the baking process, you can extend baking to 10 to 15 minutes more.
Nutrition
Serving:
1
(of 10)
Calories:
191
kcal
Carbohydrates:
27
g
Protein:
6
g
Fat:
7
g
Saturated Fat:
1
g
Polyunsaturated Fat:
1
g
Monounsaturated Fat:
1
g
Trans Fat:
0.01
g
Cholesterol:
67
mg
Sodium:
62
mg
Potassium:
72
mg
Fiber:
1
g
Sugar:
14
g
Vitamin A:
120
IU
Calcium:
62
mg
Iron:
1
mg