Peanut Butter Banana Milkshake is a creamy, nutty, and sweet drink. You will certainly this to your favorite blender recipes! It's also perfect for serving breakfast, snacks, and desserts.
Everyone will surely love it for celebrations and weekends!
Pin this recipe on Pinterest to save for later
Drink this with your healthy recipes to make your day!
How to Make Peanut Butter Banana Milkshake
Make this drink using a blender for a simple yet amazing drink! In fact, it only takes five minutes to make.
Ingredients
Peanut butter
Peanut butter is usually used as a sandwich spread but it will taste great in a milkshake. It also improves texture and a salty, sweet, and nutty flavor for the best quality.
According to Food NDTV, peanut butter helps with weight loss, heart health, and strong bones. I also suggest making Peanut Butter at home for an good option.
Moreover, I love using peanut butter for Peanut Butter Granola Bars and Overnight Oats!
Bananas
Bananas have a mildly sweet flavor and soft texture. Additionally, these are one of the best fruits to add to these drinks. They certainly pair well with the milk. It is also easy to blend without steaming!
Bananas are good for your stomach, skin, and immunity. This recipe also uses ripe bananas for a sweet taste. Moreover, they have an amazing smell to make the drink better!
If you love bananas, then I suggest making Banana Fufu, Avocado Banana Milkshake, and Banana Bread.
Milk
Indeed, this is not a milkshake without milk! It also mixes the peanut butter and banana for great taste and smooth texture.
In addition, this recipe uses a mix of fresh milk and evaporated milk. You can use dairy or dairy-free alternatives, such as almond milk or chocolate almond milk.
This Peanut Butter Banana Bilkshake will surely be everyone's favorite. It's also perfect for a fun day, parties, and workouts.
Give it a try, I can guarantee you won't regret it! It's light, creamy, naturally sweet, nutty, and tasty.
Directions
Peanut Butter Banana Milkshake does not get easier than this!
Prepare
Peel and slice the banana with a knife.
Make the peanut butter.
Blend
Add the fresh milk, banana slices, peanut butter, and evaporated milk in a blender.
Blend until smooth.
Transfer contents into a glass and serve!
Can you believe you can get this Peanut Butter Banana Milkshake in five minutes? Enjoy how creamy and sweet it is at every sip!
Tips
Get the best quality Peanut Butter Banana Milkshake by using these tips.
Bananas
Selection
Buy ripe bananas with yellow and brown or black skin.
They should feel firm yet slightly tender.
Check the bananas for any foul odor or soft spots.
Storage
Keep unripe bananas at room temperature to ripen over several days.
For ripe bananas, store them in the fridge to extend their shelf life.
Peeled and sliced bananas are best wrapped in cling film or placed in airtight containers for days.
Peanut Butter
For Peanut Butter Recipe:
Once cooled, rub the peanuts between your palms to peel.
Then, use a blow dryer to separate the skin from the peanuts.
Put the peanuts in the food processor and blend until smooth.
Store it in a jar for future use.
Peanut Butter Banana Milkshake Variations
Make different Peanut Butter Banana Milkshake versions by adding other ingredients such as yogurt, honey, vanilla ice cream, and more.
For garnish, I suggest using cocoa powder, vanilla extract, white chocolate sauce, caramel sauce, syrup, and other condiments.
If you don't want bananas in your milkshake, then you can also try adding mixed berries, oats, and other frozen fruits. You can also replace peanut butter with vanilla ice cream, yogurt, and more.
You may love to make these recipes:
No-Blender Milkshake
In case you don't have a blender, you can simply mash the bananas and peanut butter into the milk. Use a wooden spoon, fork, or whisk to mash and mix.
Recommended Tools
Blender: Make the milkshake in a blender for a smooth texture.
Glass: Serve the drink in a glass.
Knife: Peel and slice the banana with a knife.
This post contains affiliate links, which means I earn commission income from qualifying purchases at no extra cost to you. Please read the full disclosure for more information.
How to Serve Peanut Butter Banana Milkshake
You can serve Peanut Butter Banana Milkshake for breakfast and snacks. You can also drink it a few hours before dinner as an alternative for desserts.
Limit your intake to several glasses of this milkshake every week. Balance it with dishes with fruits and vegetables for a proper meal!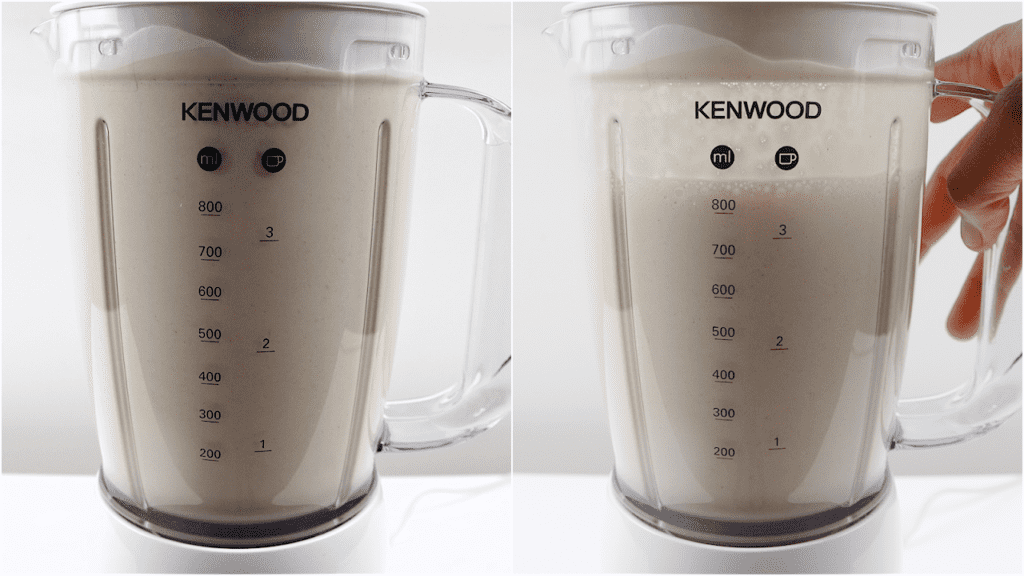 These are some of the dishes you can serve with the drink for breakfast:
Make the milkshake as healthy as you want to improve your health, mood, and life!
Storage Tips
At room temperature: Drink the Peanut Butter Banana Milkshake within two hours.
Frequently Asked Questions
Does banana go well with peanut butter?
Yes, bananas and peanut butter go well together because of the combination of the sweet, salty, and nutty flavors. Moreover, the smooth and rich texture of both food works perfectly together.
Can we eat peanut butter with milk and banana?
Peanut butter, milk, and bananas are good combinations for drinks. They give a sweet and nutty taste and a smooth texture.
It is especially delicious after a workout session. Moreover, they are great to energize your body and relieve muscle pain.
Is banana and peanut butter good protein?
Of course! Banana and peanut butter are rich in protein. They help curb your sweet cravings, relieve sore muscles, and restore energy!
Is banana and milk a good combination?
Yes, bananas and milk is a good combination. They're good for your body and mind. Moreover, the mixture of flavors is absolutely delicious!
Peanut Butter Banana Milkshake
Make the best milkshake recipe by preparing this Peanut Butter Banana Milkshake drink!
Ingredients
1 ½

cups

fresh milk

1

banana

(ripe, large)

2

tbsp

peanut butter

(see note 3)

¼

cup

evaporated milk

(optional) see note 5
Instructions
Prepare the ingredients.

Peel and slice the banana into pieces. You can also make peanut butter by roasting, peeling, and blending the peanuts.

Blend.

Combine the fresh milk, banana slices, peanut butter, and evaporated milk and blend until smooth. Once content with the consistency, transfer contents into a glass and serve!
Video
Notes
Freeze the bananas for a cold milkshake.

You can easily make peanut butter at home.
You can add roasted peanuts instead of peanut butter.

If you don't have a blender, mash the ingredients with a wooden spoon, whisk, or other similar kitchen tools.

Evaporated milk is optional, but it adds a creamy consistency and richness to this milkshake recipe.
Nutrition
Calories:
201
kcal
Carbohydrates:
19
g
Protein:
8
g
Fat:
11
g
Saturated Fat:
4
g
Polyunsaturated Fat:
2
g
Monounsaturated Fat:
4
g
Cholesterol:
21
mg
Sodium:
115
mg
Potassium:
449
mg
Fiber:
2
g
Sugar:
14
g
Vitamin A:
274
IU
Vitamin C:
4
mg
Calcium:
213
mg
Iron:
0.3
mg