Avocado Banana Milkshake Recipe in minutes with no sugar! Enjoy the creamiest milkshake by preparing smooth, thick, and yummy Avocado Banana Milkshake!
It's the perfect breakfast drink on a busy day because it's easy, healthy, creamy, and satisfying.
Pin this recipe on Pinterest to save for later
Making juices, smoothies, and milkshakes is indeed one of the best ways to use your fruits!
How to Make Avocado Banana Milkshake
After this drink, you'll surely add this recipe to your favorite milkshakes.
Ingredients
Can you believe that it only takes three ingredients to prepare this drink?
Avocado
What makes avocados good for milkshakes is that they naturally have a soft, creamy, and buttery texture. It tastes like a mix of mildly sweet, nutty, and earthy.
Adding avocados to your diet is great for your heart, vision, bones, stomach, and immunity. Aside from using these for milkshakes, they can also be added to salads, toast, toppings, smoothies, desserts, and more!
I especially love using these in Guacamole, Breakfast Wraps, and Green Smoothie.
Banana
Like avocados, bananas have a soft and tender texture that's perfect for drinks. They have sweet and floral flavors that pair well with other fruits. These fruits also have a certain smell that will leave you wanting more.
Bananas are also good for your heart, stomach, energy, and overall health. You can use them for smoothies, bread, popsicles, oats, desserts, baked goods, and other recipes.
You'll enjoy these bananas in Peanut Butter Banana Milkshake, Banana Bread, and Overnight Oats!
Milk
The secret to an extra creamy milkshake is milk! There are plenty of milk flavors that you can use, such as whole, skim, and even dairy-free milk. However, note that it is not suggested to use heavy cream because it can cause clumps.
There are even times that I use Almond Milk or Chocolate Almond Milk for extra flavor and nutrition!
Can you taste and relish this milkshake's creamy, sweet, and nutty flavor?
Directions
Let's start making delicious, healthy, and easy Avocado Banana Milkshake!
Peel the banana and chop it with a knife.
Remove the skin and pit of the avocado and slice it in half.
Use one half for the milkshake and store the other half.
Then, put the bananas and avocado in the blender.
Pour in the milk. Blend until smooth.
Finally, pour the contents into a glass cup and enjoy!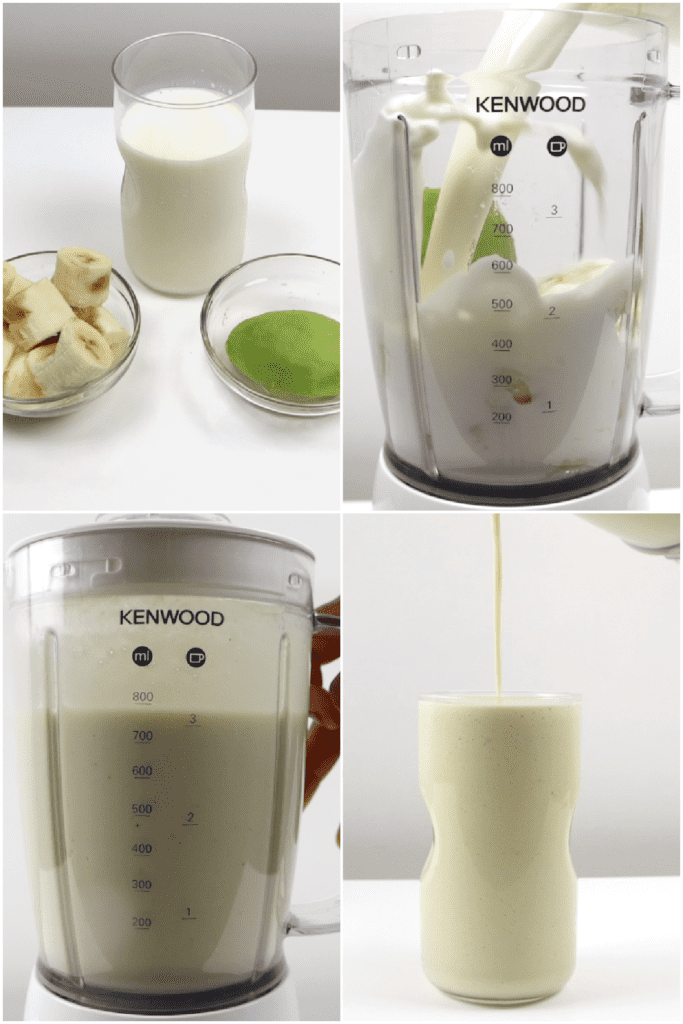 This milkshake is so tasty and comforting that it's certainly going to put you in a better mood. Most importantly, this beverage will surely have lots of health benefits in store for you!
Tips
Buying and storing avocado
Selection. Buy avocados that feel heavy for their size with a slightly tender texture. Moreover, do not buy ones with loose pits.
Storage. You can buy unripe avocados if you don't intend to use them for a few days. Keep ripe ones in the fridge and use them immediately. Once peeled and sliced, store them in freezer bags to store.
Buying and storing bananas
Selection. Bananas with brown or black specks are ripe that are great for milkshakes. They should also feel plump to the touch. Then, discard bananas with bruises and soft spots.
Storage. Unripe bananas can ripen at room temperature. Once ripe, place them in the fridge to keep for a longer time. You can also freeze them in a freezer bag once frozen.
How to Make Avocado Banana Milkshake Without a Blender
Since bananas and avocados are soft fruits, you can easily mash them with a spoon, fork, masher, food processor, mortar and pestle, knife, or other tools.
Avocado Banana MilkshakeVariations
Avocados can also be paired with other fruits, such as mangoes, strawberries, and pineapples. On the other hand, bananas blend well with oranges, apples, pears, and blueberries. You can also blend the fruits individually.
For milk options, I suggest using Almond Milk for more flavor, but you can also use evaporated milk or whole milk for that extra creamy texture. Additionally, you can mix it with Vanilla Ice Cream or Frozen Yogurt for a thicker texture.
Recommended Tools
Blender: Make the milkshake using a blender.
Knife: Peel and chop the avocado and banana with a knife.
Glass cup: Serve the drink in a glass cup.
This post contains affiliate links, which means I earn commission income from qualifying purchases at no extra cost to you. Please read the full disclosure for more information.
Visit my shop for more products.
How to Serve Avocado Banana Milkshake
Avocado Banana Milkshake can be enjoyed with breakfast meals, snacks, or desserts! It's also the best drink to make if you're craving sweet, creamy, and filling. Here are some of the best dishes to eat with this drink:
Storage Tips
At room temperature: It is best to drink Avocado Banana Milkshake within two hours of making it.
Frequently Asked Questions
Is it okay to mix bananas and avocados?
Yes, it is! Avocados and bananas can make the best combination for milkshakes because they're both soft, creamy, and tasty.
Do avocado and banana go together in a smoothie?
This fruit duo is perfect for smoothies and milkshakes because of its texture and taste. They're easy to blend or mash to achieve a velvety texture.
Are avocados, bananas, and milk good for you?
Of course! With the health benefits of these fruits, you will surely improve your overall health. It also helps curb your cravings for sugary drinks and desserts.
Can I mix avocado with milk?
Yes, you can mix avocado with milk. They both have a milky and mildly sweet flavor that goes well together. Moreover, both are healthy for your body!
Avocado Banana Milkshake
Get ready to experience the creamy goodness of the best Avocado Banana Milkshake in town!
Ingredients
½

avocado

1½

cup

milk

1

ripe banana

(large-sized)
Instructions
Prepare the fruits.

Peel the banana and chop it with a knife. Remove the skin and pit of the avocado and slice it into half. Use one half for the milkshake and store the other half.

Blend.

Put the bananas and avocado in the blender and pour in the milk. Blend until smooth.

Drink.

Pour the contents into a glass cup and enjoy!
Video
Notes
If you don't have a blender, you can use a food processor, masher, fork, or knife to achieve the same consistency.

The milkshake can be frozen and thawed in the fridge for at least 30 minutes before serving.

You can add vanilla extract and any sweetener of your choice.
Nutrition
Serving:
1
(of 2)
Calories:
243
kcal
Carbohydrates:
26
g
Protein:
8
g
Fat:
13
g
Saturated Fat:
5
g
Polyunsaturated Fat:
1
g
Monounsaturated Fat:
6
g
Cholesterol:
22
mg
Sodium:
74
mg
Potassium:
729
mg
Fiber:
5
g
Sugar:
16
g
Vitamin A:
408
IU
Vitamin C:
10
mg
Calcium:
234
mg
Iron:
0.4
mg