Want to make your own oat flour at home? It's easier than you think! Making oat flour is the perfect solution for health-conscious home bakers looking for a gluten-free alternative to traditional all-purpose flour.
Oat flour is a multipurpose condiment that you can use for many dishes and drinks for almost any occasion. It is a fine powder used as a thickener for baking and cooking.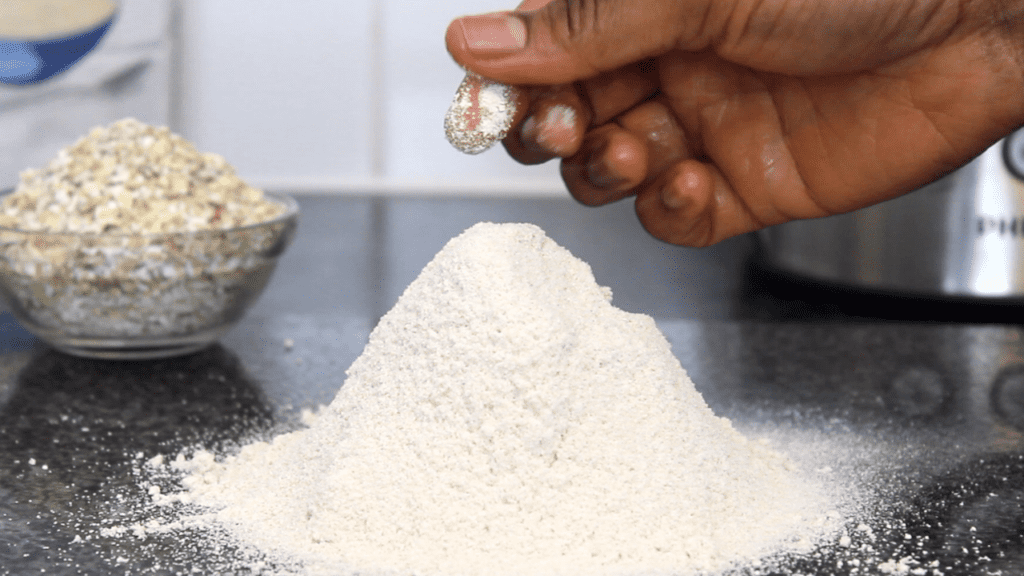 Pin this recipe on Pinterest to save for later
Oat powder is good for you and can also be used in making all kinds of delicious baked goods. This article will discuss everything you need to know about oat flour, from how to make it to the recipes you can use it for.
If you don't have this in stock, then do not worry because you can make it home!
How to Make Oat Flour
Plus, you'll find an easy-to-follow recipe for making your oat flour. So whether you want to save money on groceries or are simply looking for healthier recipes, this article will show you how to make your oat flour at home.
You can get high-quality oat powder with just one ingredient, two steps, and a few minutes.
Health Benefits of Oat Flour
It supports weight loss
Oat flour is rich in vitamins to aid in metabolism. It can be a great ingredient for diet meals to help you maintain your preferred weight.
Blood sugar control
According to a research study, this powder can be used by diabetics in their dishes. It has also been found to improve hyperglycemia too.
Good for your heart
With healthy cholesterol levels, this condiment can help enhance your heart health in the long run. In fact, the flour's fiber content will reduce the risk of getting heart complications.
Achieve better skin
Look and feel younger by gaining the benefits of oat flour for your skin. Moreover, this powder can help prevent skin problems to give you glowing skin from head to toe!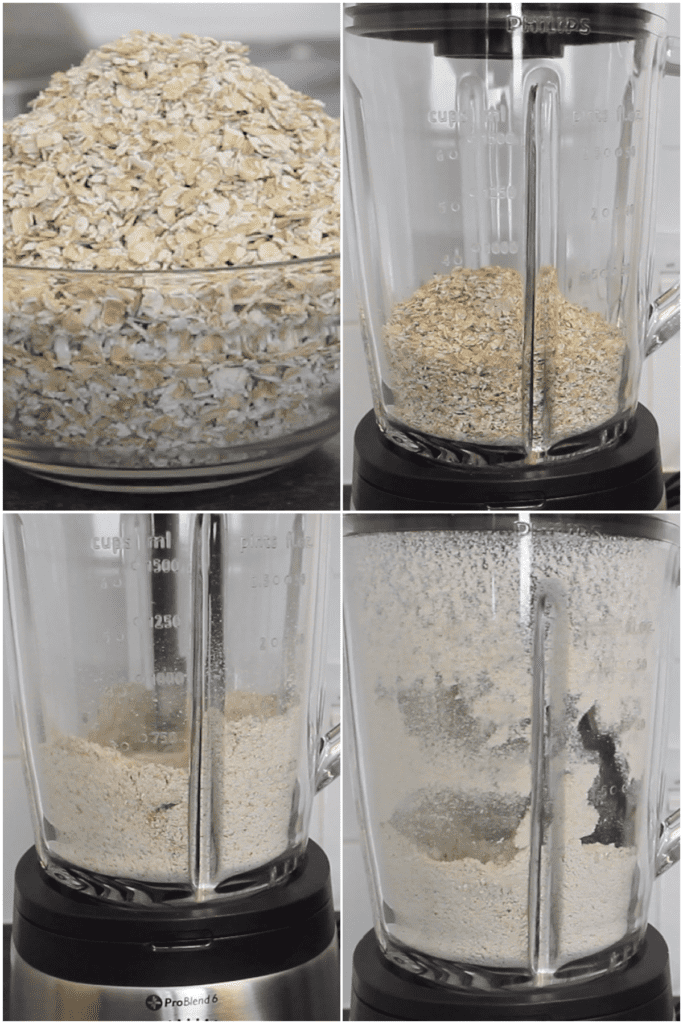 Ingredient
Rolled Oats
Because of their fiber and protein content, you probably know rolled oats as a weight-loss ingredient. These are also energy-boosting food rich in vitamins for a balanced diet.
They have a firm texture and nutty flavor that softens easily when cooked. I often use them to make Oats Breakfast Smoothies and Granola Bars for consistency and taste.
According to BBC Good Food, oats do not contain gluten so you can use them for vegan or gluten-free meals. The great thing about rolled oats is that they are always available in grocery stores.
Let us take rolled oats to a new level by converting them into flour!
Directions
Making oat flour has never been easier. After learning this hack, you won't ever have to buy oat flour again.
Pour the rolled oats into a blender.
Blend on low or medium speed until you achieve a fine powder consistency.
Then, sieve the flour with a fine-mesh sieve.
Store the contents in a resealable bag or airtight container!
Trust me; you can learn this even on your first try. Make sure to use quality rolled oats for amazing flavor and texture. Now, leftover rolled oats will never go to waste!
Tips
Buying rolled oats
Rolled oats are readily available in packages all-year round in grocery stores.
Choose your preferred brand and variety.
Storing rolled oats
According to Backyard and Homestead HQ, rolled oats are best stored in airtight containers. Place them in cool and dry areas away from sunlight.
Oat Flour Variations
Instead of rolling oats, you can also use steel-cut oats, quick-cooking oats, and other varieties of your choice.
If you don't want to have a blender, then you can also use a food processor, immersion blender, grinder, mortar and pestle, and other similar tools. You can also put the oats in a resealable bag and pound them using a rolling pin.
To add more flavor to the oat flour, you can combine it with nutmeg, cinnamon, allspice, powdered milk, and other condiments, depending on how you want it.
Recommended Tools
This post contains affiliate links, which means I earn commission income from qualifying purchases at no extra cost to you. Please read the full disclosure for more information.
Visit my shop for more products.
How to Use Oat Flour
Use the oat flour as a Vegan or Gluten-free version when making Pancakes, Waffles, Muffins, Cakes, Bread, Cupcakes, Oat Fufu, and other baked goods. It also makes an effective thickener for meat pies, Soups and Stews recipes like Chicken Curry.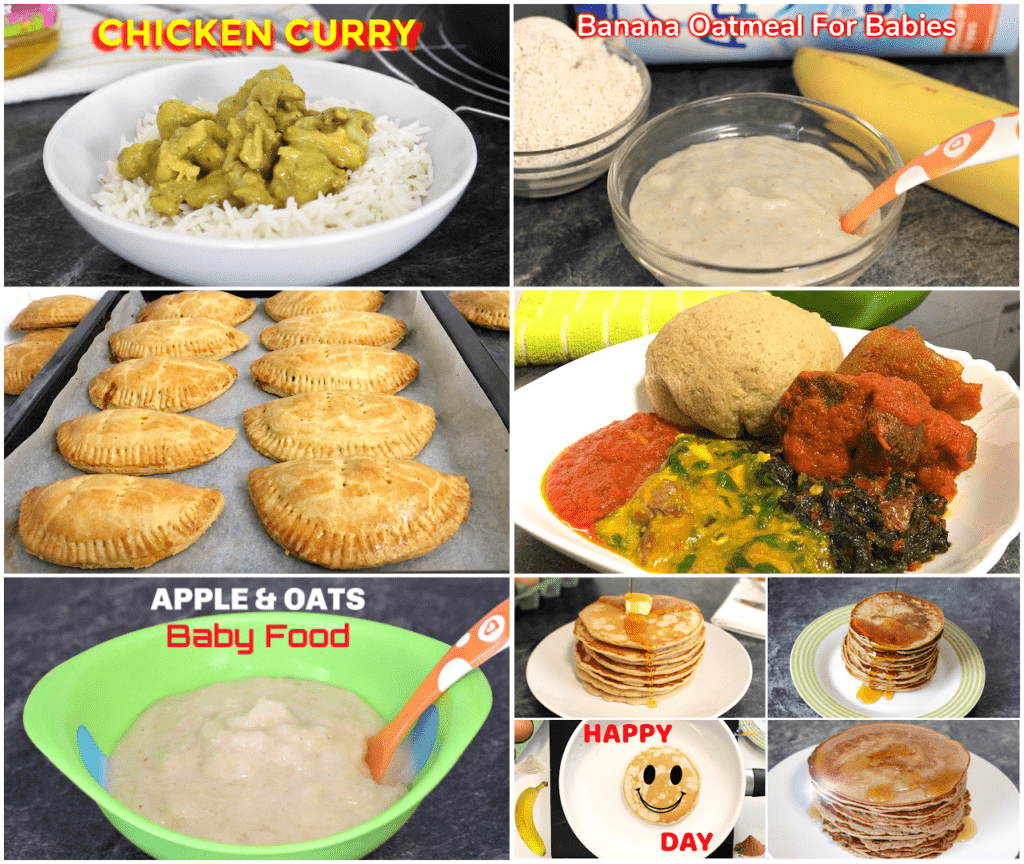 You can also use it with water as an egg substitute for porridges and soups to achieve a smooth and thick consistency. When using this flour, note that it has a mildly sweet and nutty flavor. Incorporate them into the right dishes to enhance flavor.
Storage Tips
At room temperature: Put the oat flour in an airtight container and store it at room temperature for up to 2 months.
Frequently Asked Questions
What is oat flour?
Oat flour is a powder made from whole grains of rolled oats. It is also a do-it-yourself hack that you can do for leftover oats. This can be used for baking, deep frying, and stewing!
Is oat flour healthier than white flour?
Yes, this powder is healthier than white flour. The former is useful for making dishes crunchy and chewy too. According to Sweet Additions, oat powder is more helpful for digestion, blood sugar levels, and weight loss.
Can you use the old flour to make oat milk?
You can make oat milk by combining oat flour and water. Additionally, use one cup of rolled oats and 4 cups of water.
Can you use oat flour for swallow foods?
Swallow foods are pudding-like food usually cooked with yams, semolina, and other similar ingredients. You can also use this flour to achieve a thick and decadent texture like oat fufu.
Can you use oat flour instead of all-purpose flour?
You can substitute all-purpose flour without flour if it complements the recipe you plan on cooking 1 cup of plain flour is equivalent to 1 ⅓ cups of oat flour.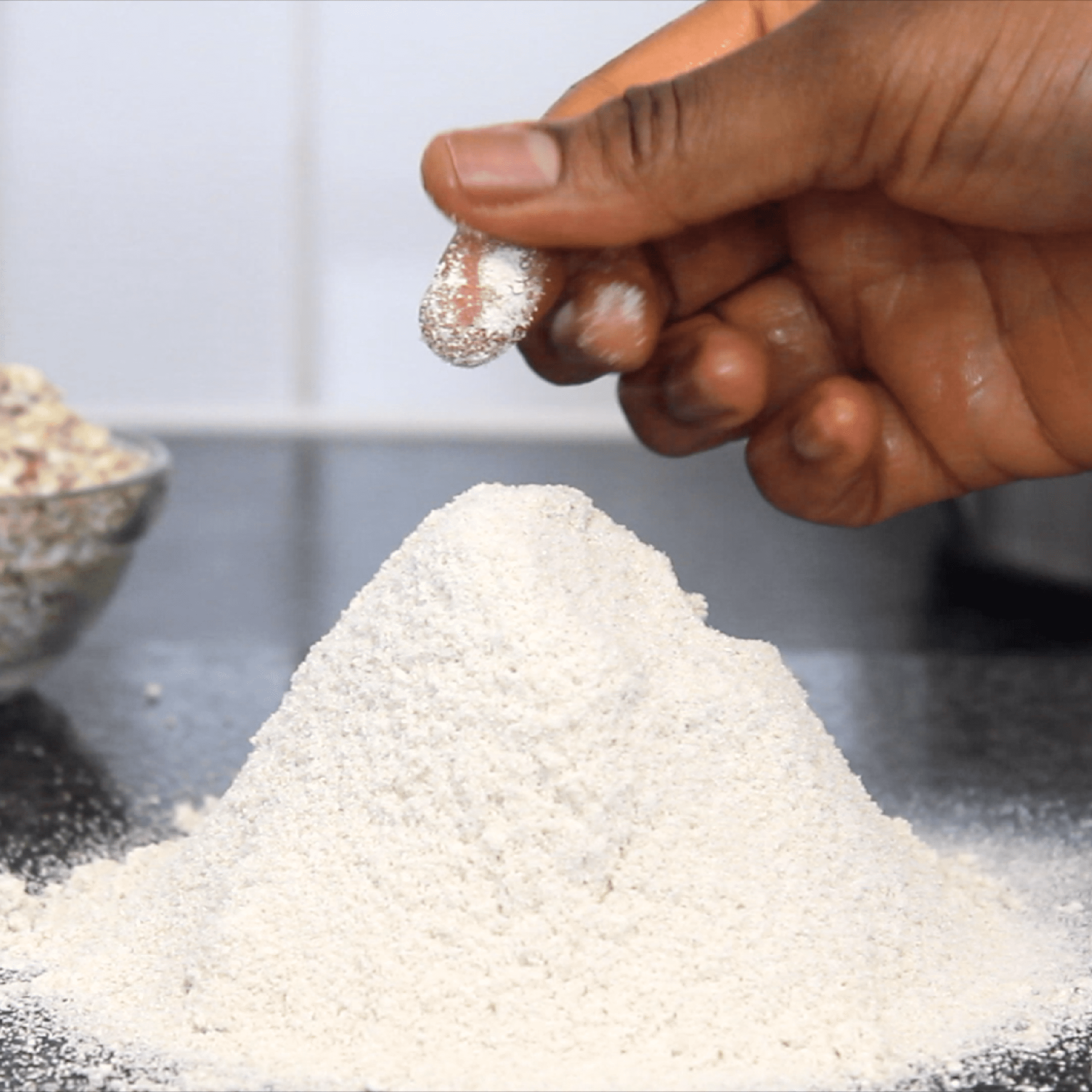 Homemade Oat Flour (Plus Video)
Make your own oat flour for baking and cooking your favorite recipes today with our step-by-step guide. It takes less than 5 minutes with just 1 ingredient!
Instructions
Blend the oats.

Pour the rolled oats into a blender and blend on low or medium speed until you achieve a fine powder consistency.

Filter the contents.

Sieve the flour with a fine-mesh sieve. Put the contents in a resealable plastic bag or airtight container to store, and you've got long-lasting oat flour for baking, cooking, making smoothies, and more!
Video
Notes
You can combine the oat flour with other powdered condiments like allspice and nutmeg for a better taste.

Use it as a thickener for porridge, soup, swallow foods, and other foods.