What better way to kickstart your day than with a delicious and easy Oats Breakfast Smoothie?
No matter what happens, you should not skip breakfast. Instead, you can make a healthy smoothie to keep you energized for the day.
You only need five minutes to make this smoothie, which is perfect for a busy morning. I can guarantee that you will love how thick, smooth, and yummy it is!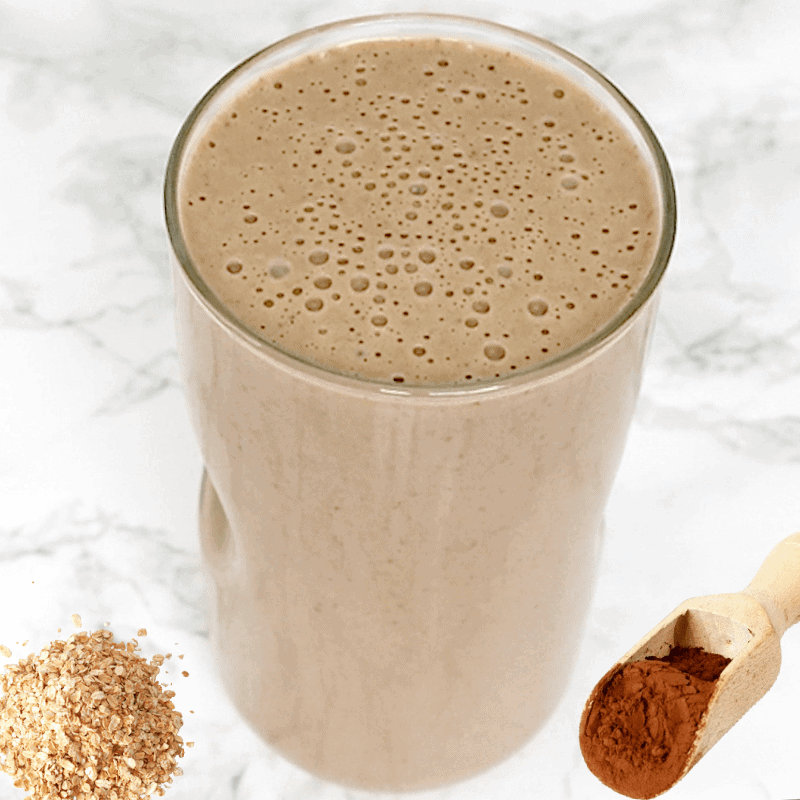 Pin this recipe on Pinterest to save for later
In this recipe, I will tell you everything you need to know about the Oats Breakfast Smoothie and more. After trying this drink, you will always crave for it in the morning!
How to Make Oats Breakfast Smoothie
You won't believe how simple it is to make the Oats Breakfast Smoothie. It uses nutritious ingredients that will give lots of health benefits.
What are you waiting for? Power up your blender and let's start!
Ingredients
There are many ways to make an Oats Breakfast Smoothie, but these ingredients have truly proven to give the best quality.
Oats
You will never run out of ways to prepare oats. Their subtle nutty flavor makes them great pairings for fruits, dairy, nuts, seeds, and more!
Oats come in different varieties, such as steel cut, crushed, or rolled oats. Aside from turning them into a smoothie, you can also make oatmeal with your favorite toppings.
If you love oats or need them for your diet, I suggest using them for other dishes, such as Overnight Oats and Granola! What's your favorite oats recipe?
Nuts
Instantly make your smoothie better with nuts. In this recipe, I suggest using almonds and cashews for their buttery, sweet, and nutty flavor that goes well with oats.
An article by the Mayo Clinic mentioned that nuts could be good for weight management, heart health, and brain function. Almond Butter and Cashew Butter can also be great alternatives.
Banana
When it comes to oats and smoothies, bananas are some of the best fruits to use. They have a subtle sweet flavor and a soft and creamy texture.
For this recipe, use ripe bananas to get the right taste and consistency. Like oats and nuts, bananas are also good for your health and wellness.
Some of my favorite banana recipes include Banana Ice Cream, Banana Bread, and Banana Puff Puff!
Chocolate powder
Let's give the smoothie a fun twist by adding chocolate powder. It adds a sweet flavor to go with the bananas and oats. You can use Milo or other chocolate powder products.
The chocolate powder will surely make the smoothie thick and creamy. Don't you just love chocolate dishes such as Chocolate Cake or classic Dark Chocolate?
Water
You can easily blend all of the ingredients together by adding water. It also neutralizes the taste for a well-balance flavor at every sip.
With these natural, tasty, and nutritious ingredients, you can never go wrong with this Oats Breakfast Smoothie Recipe!
Directions
Make these steps part of your morning routine to make your breakfast smoothie!
Use a knife to peel and chop the banana.
Add the banana slices, oats, almonds, cashews, chocolate powder, and water in a blender.
Then, blend everything together until you get a smooth consistency.
Transfer the contents into a glass and drink up!
You will surely love every sip of the easy Oats Breakfast Smoothie! In just five minutes, you can make a satisfying, tasty, and filling drink to go with your favorite breakfast meals!
Tips
Best Oats for Smoothies
Always go for quality oats that will give you good texture and flavor.
I suggest using rolled oats to make the smoothie filling.
You can also use oat flour to make it easier to blend and mix.
If you don't have a blender, then you can soak the oats to soften overnight.
Storing Oats
Buying Nuts
Buy brown cashews and almonds without signs of rotting.
Check if they are easy to peel and crunchy.
Meanwhile, you can use roasted almonds for more flavor.
Storing Nuts
Put the nuts in a container and keep them in the fridge to last up to six months.
You can also freeze nuts to last up to one year.
Oats Breakfast Smoothie Variations
Here are some of the best ways to customize the Oats Breakfast Smoothie:
Instead of chocolate powder, you can use dark chocolate, maple syrup, almond milk, or even peanut butter for a smooth and delicious smoothie.
Gluten-free
On the other hand, for a gluten-free diet, you can substitute cocoa powder for chocolate powder for a creamy and chocolatey flavor. Oats, bananas, almonds, and cashew nuts are already gluten-free.
Nut-free
You can replace nuts with seeds and seasoning such as chia seeds, sunflower seeds, cinnamon, nutmeg, and more!
Baby-friendly
For baby-friendly oats smoothies, you can blend oats with honey, fruits, vanilla, and breast milk.
No-Blender Oats Breakfast Smoothie
For the oats, cashew nuts, and almonds, you can manually pound them with a mortar and pestle, a knife, a food processor, a grinder, or a miller.
You can simply mash the ripe banana with a fork or potato masher. Then, mix them together with water and chocolate powder for a blender-free smoothie!
Recommended Tools
Blender: Use the blender or a food processor to make the smoothie.
Knife: Chop the banana with a knife for easier blending.
Glass: Serve the Oats Breakfast Smoothie in a glass.
This post contains affiliate links, which means I earn commission income from qualifying purchases at no extra cost to you. Please read the full disclosure for more information.
Visit my shop for more products.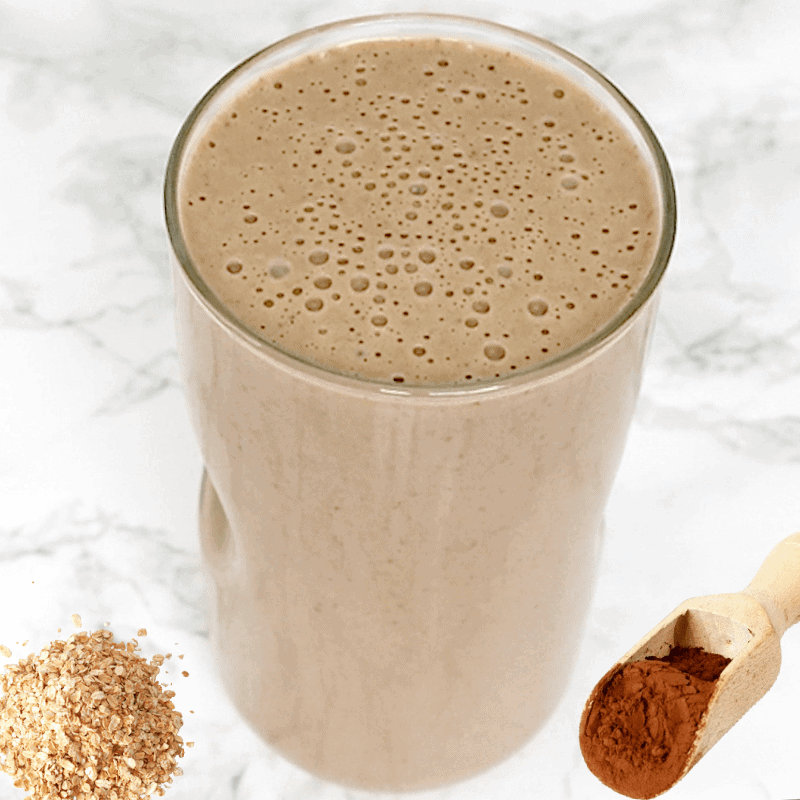 How to Serve the Oats Breakfast Smoothie
You can simply serve this Oats Breakfast Smoothie in a glass during a busy morning. It can also be served with chia seeds, flax seeds, or sunflower seeds on top for added nutritional value.
It can also be poured into a bowl where you can add dried or fresh fruits for variety and flavor. You can top it off with yogurt, granola, or fresh fruits for a more colorful and appetizing appearance.
For dish pairings, the following recipes will make excellent options:
Storage Tips
At room temperature: Drink the Oats Breakfast Smoothie within an hour.
Frequently Asked Questions
Is it OK to put raw oats in a smoothie?
Yes, you can put raw oats in a smoothie. The water will eventually soften them to make them smooth and thick. In fact, oats are usually enjoyed raw with milk, fruits, seeds, and nuts!
Is an oatmeal smoothie enough for breakfast?
An oatmeal smoothie is enough for breakfast, but I suggest pairing it with other breakfast meals for a proper diet. I especially recommend it on a busy morning when you don't have time to cook a complete meal.
Are oats in a smoothie healthy?
Of course! Oats can definitely be added to smoothies to add a nutty and rich flavor and texture. It'll also soften once added to the drink.
Most importantly, the oats will make the smoothie filling and satisfying to keep you healthy and strong.
Can oats replace bananas in a smoothie?
You can definitely use oats to replace bananas in a smoothie. The oats can also give the drink a thick and creamy quality. In fact, the nutty taste of the oats can make the smoothie tastier.
Oats Breakfast Smoothie
Can you really make a full, healthy, and delicious smoothie in just five minutes? Yes, you can! It's perfect to kickstart your day with productivity and a nutritious drink!
Ingredients
½

cup

oats

(65g)

35

g

cashew nuts

35

g

almonds

4

tsp

chocolate powder

(10g)

1

ripe banana

(40g)

2

cups

water

500ml (filtered)
Instructions
Use a knife to peel and chop the banana.

Add the banana slices, oats, almonds, cashews, chocolate powder, and water in a blender.

Then, blend everything together until you get a smooth consistency.

Transfer the contents into a glass and drink up!
Video
Notes
Put the oats, almonds, cashew nuts, chocolate powder, ripe banana, and filtered water in the blender and blend until you achieve your preferred smoothie consistency.

I recommend washing the almonds and cashew nuts if they aren't organic to remove pesticide residue.
If you don't have a water filter, the easiest alternative is to boil the water for 3 minutes and allow it to cool for a few minutes.
The consistency of the smoothie can also depend on the ingredients you use. In this case, the oats, as well as the ripe banana, can help bring a rich and thick consistency to the smoothie.
You can also reduce the amount of water to make it thicker.
Alternatively, you may incorporate protein powder dissolved in water for a richer smoothie.
Ice can also help with consistency and it can make the smoothie more refreshing.
The water can also be substituted with fresh milk or almond milk for a creamy texture
Nutrition
Serving:
1
(of 3)
Calories:
256
kcal
Carbohydrates:
31
g
Protein:
7
g
Fat:
13
g
Saturated Fat:
2
g
Polyunsaturated Fat:
3
g
Monounsaturated Fat:
7
g
Trans Fat:
0.03
g
Sodium:
90
mg
Potassium:
352
mg
Fiber:
5
g
Sugar:
12
g
Vitamin A:
26
IU
Vitamin C:
3
mg
Calcium:
59
mg
Iron:
2
mg