Green Smoothie is one of the classics yet best smoothie recipes I have ever tried that truly made a difference in my lifestyle. You'll definitely love this with breakfast meals and snacks!
Pin this recipe on Pinterest to save for later
It's the perfect mix of fruits, vegetables, and nuts that you never knew you needed! Whenever you're feeling low on stamina, try this life-changing green smoothie recipe to boost your energy!
How to Make Green Smoothie
This smoothie comprises essential vitamins and minerals to help you achieve your daily goals. You may also find the flavor enticing and addictive!
Ingredients
Baby spinach
Baby Spinach is a leafy green veggie that's low in calories but high in nutrients. It's an excellent source of fiber, iron, and calcium. It is sweeter in flavor but they may still be traces of subtle bitterness.
Gala apple
To incorporate an immunity-boosting component into the smoothie, use apples! They also support digestion, weight loss, and memory.
Gala apples are best for adding a sweet and floral flavor to the smoothie. You might also like using these for Apple Juice!
Cucumber
Meanwhile, cucumbers are hydrating ingredients that can keep your bones healthy. They can also promote better organ function and cell regeneration. Moreover, these have high water content with sweet and refreshing flavors.
Ginger
Ginger has the tendency to make any smoothie recipe better because of its distinct and pungent flavor. It can soothe your body, relieve muscle pain, and regulate your blood pressure!
This can upgrade any drink, so I highly recommend it for Pineapple Ginger Juice and Turmeric Tea.
Banana
Bananas are timeless fruits that you can use for any smoothie. It's a flavor in itself and can help with the consistency of the green smoothie.
Use your leftover bananas for Peanut Butter Banana Milkshake, Banana Bread, and Banana Strawberry Milkshake Popsicle!
Avocado
Ensure to toss in some avocados in order to make this beverage more interesting. They add to the green smoothie's nutty, earthy flavor and creamy consistency. It also contains good fat that your body might need!
Discover the best avocado storage tips to keep them fresh and edible for your favorite avocado recipes!
Nuts (Cashews, Almonds, and Peanuts)
Nuts in smoothies? Why not, right? These can make you feel full longer without compromising your weight. You'll add a unique taste to this green smoothie recipe as a result of using different kinds of nuts.
Orange juice
Finally, incorporate orange juice for added sweetness and nutritional value. It binds the ingredients together and forms the base of this recipe as well.
Be creative with your green smoothie and include different kinds of vegetables and fruits to your liking. This recipe is 100% customizable so go all out on your own version!
Directions
Rinse the baby spinach and set it aside.
Wash, peel, and slice the apple, cucumber, bananas, and avocado with a knife.
Remove the ginger's skin using a spoon.
Measure the peanuts according to your preferred flavor.
Combine the ingredients in a blender and blend until smooth and well incorporated.
Transfer contents into a glass and prepare for a much-needed energy burst!
Turn your life around by trying nutritious green smoothies like this recipe. They are guaranteed to be good for your health, heart, and mind as a result!
Tips for Making the Green Smoothie
How to Select and Store Fresh Ingredients
Baby Spinach
Selection. Opt for spinach with dark green leaves with a fresh scent. If you're buying in bunches, avoid ones with wilting leaves and an unpleasant odor. The stem should also feel thin. Otherwise, the baby spinach may be bitter.
Storage. Baby spinach will rot quickly at room temperature. It is best to store it in the fridge. Do not wash it and place it in a resealable bag to last up to 4 days. Always check the expiration date before using.
Gala Apple
Selection. Choose apples that are firm to the touch without bruises or soft spots. Gala apples should be a mixture of pinkish, yellow, and orange colors. There should also be a sweet fragrance scent from the stem.
Storage. Apples can last up to a week at room temperature. Refrigerate them to last up to a month.
Cucumber
Selection. Go for cucumbers with dark green smooth skin. Yellow spots are signs that the cucumber is ripening.
Storage. At room temperature, cucumbers can last up to only 2 days. Store them in the fridge for 3 more days to prolong their shelf life.
Ginger
Selection. Fresh ginger should be firm, smooth, and blemish-free. Do not purchase ones with wrinkled or rotting skin.
Storage. You can store it at room temperature for a week. To refrigerate, place it in a bag or container to last up to 3 weeks.
Banana
Selection. Purchase yellow bananas that are plump to the touch. If it has touches of green, then it may be unripe, but if it has specks of brown, it is ready to be used.
Storage. Let unripe bananas sit at room temperature. Ripe bananas can last up to 5 days at room temperature and refrigerate to extend shelf life to a few more days.
Avocado
Selection. According to Food Network, avocados should feel heavy and dark green. Let the unripe avocados ripen at room temperature for about three days.
Storage. Unripe avocados can be left at room temperature. On the other hand, ripe avocados for later use should be refrigerated to last up to 3 days more.
How to Store Nuts
If you love a smoothie's nutty flavor, ensure you properly preserve the nuts. Meanwhile, remember to keep them away from odorous ingredients like onions.
They can last up to 3 months at room temperature in their original packaging. You may also refrigerate the nuts in containers or bags for up to several months.
How to Make and Preserve Orange Juice
Use the juice immediately or store it in an airtight container in the fridge for up to 3 days.
How to Make a Smoothie Recipe Without a Blender
If you don't have a blender, then you can use soft fruits like bananas, avocados, and apples to make a smoothie. You can also use a grater or masher to puree them until you achieve your desired consistency. Add a bit of liquid for a finer texture.
As an alternative, you can always prepare the ingredients in salad form instead. Toss the ingredients in your desired dressing and dig in!
Variations
This smoothie is perfectly safe for vegans, vegetarians, and gluten-free foodies. However, if you're allergic to nuts, feel free to omit them from the recipe and replace them with other ingredients of your choice.
To make it creamier, you can add in milk such as Coconut Milk or Almond Milk. In case you're interested in more Smoothie Recipes, we have a lot more options for you to try!
Recommended Tools
This post contains affiliate links, which means I earn commission income from qualifying purchases at no extra cost to you. Please read the full disclosure for more information.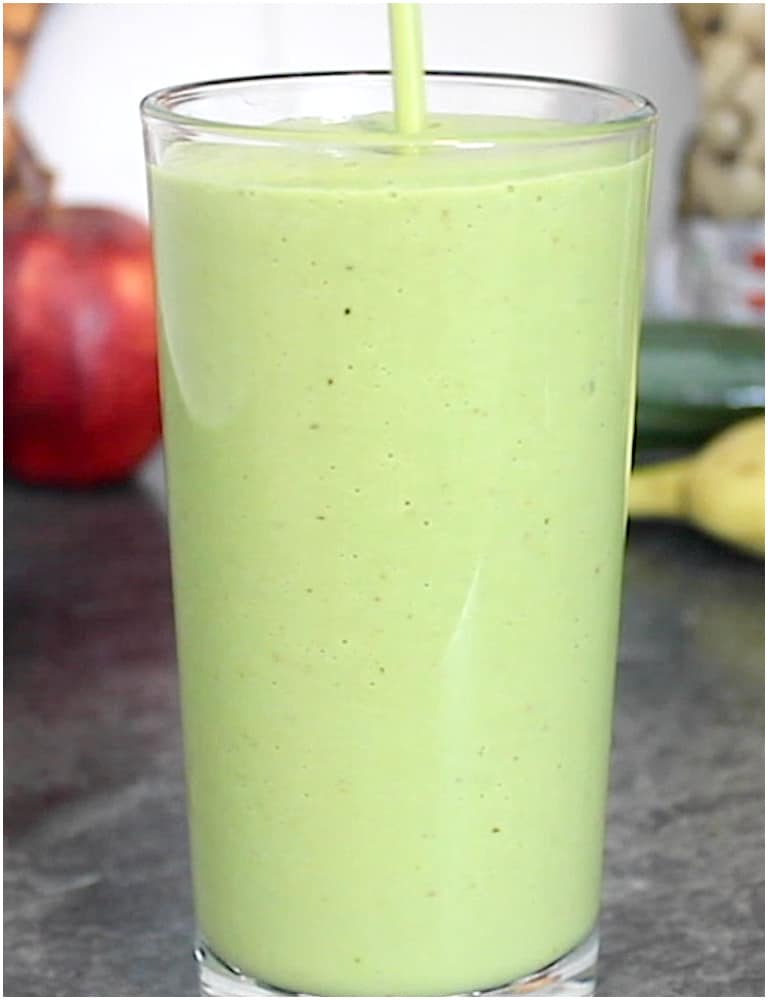 How to Serve the Green Smoothie
According to natural health expert Sophie Uliano, fresh smoothies are best served in the morning or before a workout session. It is especially preferable if you don't have a lot of time to cook a full breakfast meal. You can have it with:
On the other hand, you may also consume this wholesome green smoothie for lunch, especially if you have a long day ahead. This drink is also a great post-workout drink to restore your energy and soothe your muscles.
Storage Tips
At room temperature: Since this smoothie is made of fresh fruits and vegetables, it is best consumed within 4 hours.
Frequently Asked Questions
Is this green smoothie recipe healthy?
Definitely! It is packed with many vitamins and nutrients you will need for the day. Additionally, This green smoothie can keep you strong, energized, relaxed, active, and productive!
It has components to help with digestion, heart health, blood pressure, muscle growth, immunity, energy, and more! Trust me, you can never go wrong with a healthy smoothie like this.
Can you drink green smoothies every day?
Since this recipe is mainly composed of fruits, consume one glass every other day to prevent spikes in sugar levels. For daily consumption, incorporate more vegetables such as kale, carrots, pumpkin, cabbage, and more.
What should not be added to smoothies?
The following ingredients are not recommended for making healthy smoothies:
Ice cream
Artificial sweeteners
Canned fruits
Yogurt
Protein powder
Dried fruits
Is it true that smoothies lose nutrients?
Generally, yes, smoothies lose nutrients over time. However, an article in House Grail depends on the ingredients used and the storage. To prevent oxidation, squeeze in lemon juice or let the orange juice do the work.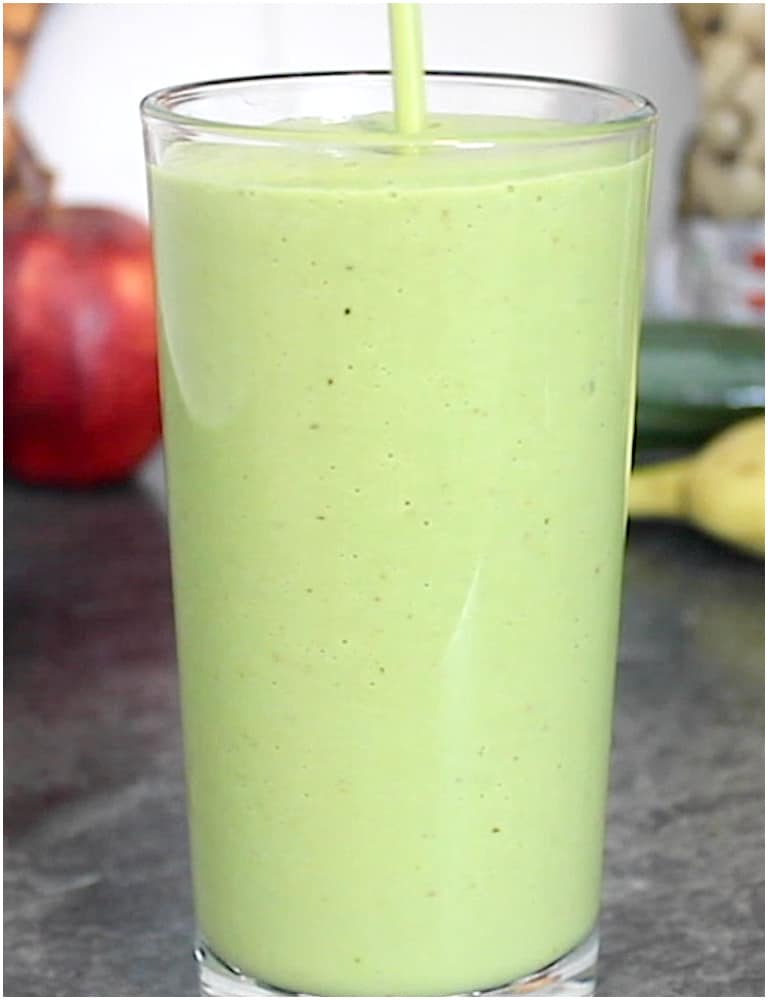 Green Smoothie
Immunity and Energy Boosting Green Smoothie. Make your mornings exciting and start with this delicious, healthy, and refreshing smoothie!
Ingredients
½

cup

baby spinach

1

gala apple

¼

cucumber

10

g

fresh ginger

1

banana

½

avocado

35

g

cashews

optional

35

g

almonds

optional

30

g

peanuts

optional

500

ml

fresh orange juice
Instructions
Prepare the ingredients.

Rinse the baby spinach and set it aside. Wash, peel, and slice the apple, cucumber, bananas, and avocado.

Remove the ginger's skin using a spoon. Measure the nuts according to your preferred flavor.

Blend the ingredients together.

Combine the ingredients in a blender and blend until smooth and well-incorporated.

Transfer contents into a glass and get ready for a much-needed burst of energy!
Video
Notes
Select the freshest fruits and vegetables for the healthies smoothie! Store them well for longer shelf life. If you don't have a blender, you can convert this recipe into a salad with your preferred dressing!
Nutrition
Serving:
1
(of 6)
Calories:
197
kcal
Carbohydrates:
24
g
Protein:
5
g
Fat:
11
g
Saturated Fat:
1
g
Polyunsaturated Fat:
2
g
Monounsaturated Fat:
6
g
Trans Fat:
1
g
Sodium:
7
mg
Potassium:
515
mg
Fiber:
4
g
Sugar:
14
g
Vitamin A:
472
IU
Vitamin C:
50
mg
Calcium:
42
mg
Iron:
1
mg