The perfect Couscous you have been waiting for is here! It's the best side dish for your favorite healthy recipes from chicken to vegetables. Couscous is also an excellent recipe for vegan foodies!
Pin this recipe on Pinterest to save for later
It's commonly used as an ingredient in African cuisine, and with this recipe, you can bring new, delicious, and healthy food to your table!
How to Make the Perfect Couscous
If you've wanted to try African recipes, this is one of the perfect recipes to start with.
Ingredients
Couscous
Couscous is an excellent source of selenium that helps with the repair of damaged cells and the prevention of numerous types of cancer. It can also boost your immunity and supply you with protein. While it's high in gluten, it won't affect your health as long as it is consumed in moderation.
Perfectly cooked couscous should be soft and fluffy. It does a wondrous job of absorbing the flavors of other ingredients, and it is easy to prepare, cook, and pair.
Since couscous is a kind of pasta, it doesn't have much flavor on its own. But when you mix it with tasty ingredients, it will emanate a fragrant aroma and an appetizing taste.
Smoked mackerel
Meanwhile, the protein source of this dish is smoked mackerel. It is a great source of vitamins and minerals, especially vitamin B-12. Smoked mackerel tastes a bit sweet, and the consistency is a chewy texture that's perfect when mixed with other ingredients.
In fact, mackerel is so delicious that you can add it to Moi Moi and Egusi Soup!
Make it more flavorful, colorful, and wholesome by adding red, orange, and green bell peppers because these can help lower blood pressure, aid digestion, and promote heart health. Red and orange bell peppers are sweeter compared to green bell peppers.
Oil
The recipe requires coconut oil, onions, and garlic for the basic sautee ingredients because these provide additional flavor and aroma.
Coconut oil is excellent for adding nutritional value to food.
Vegetables
On the other hand, for the leafy greens, use kale and spinach. Kale can have a strong earthy taste, but it is suitable for balancing the flavors. Mixed with the mildly sweet flavor of spinach will give you a burst of flavor that can impact any dish.
Seasoning
To season the couscous, use mixed herbs, sea salt, curry powder, turmeric, paprika, chicken stock cube, scotch bonnet, and liquid stock. Even a pinch of each seasoning can add character to the dish. Their combined flavors will give couscous a rich and powerful taste to savor.
Note that while these are recommended ingredients for this recipe, you are definitely free to add or exclude any ingredient according to your preferences. Cooking is all about creativity, and you are the chef of your kitchen.
Directions
Boil liquid stock in a pot over medium heat.
Add the couscous and turn off the heat.
Pour in the liquid stock and stir with a spatula.
Cover it with a lid and set it aside for 5 to 7 minutes for the couscous to absorb the liquid stock
Sautee the chopped onion, garlic, and scotch bonnet in coconut oil in a wok over medium fire.
Gradually add the mixed herbs, curry powder, paprika, turmeric, sea salt, and ground chicken stock cube.
Debone and break the cooked mackerel into chunks.
Add the kale to the pan and let it cook for a minute.
Then, incorporate the bell peppers.
Toss in the couscous and mix it with the ingredients and seasoning.
Add in the chopped spinach and let it simmer for 2 minutes.
Give the couscous a final stir and put the contents on a plate to serve!
And just like that, you can have a gastronomical experience of cooking and savoring this delicious and healthy Couscous!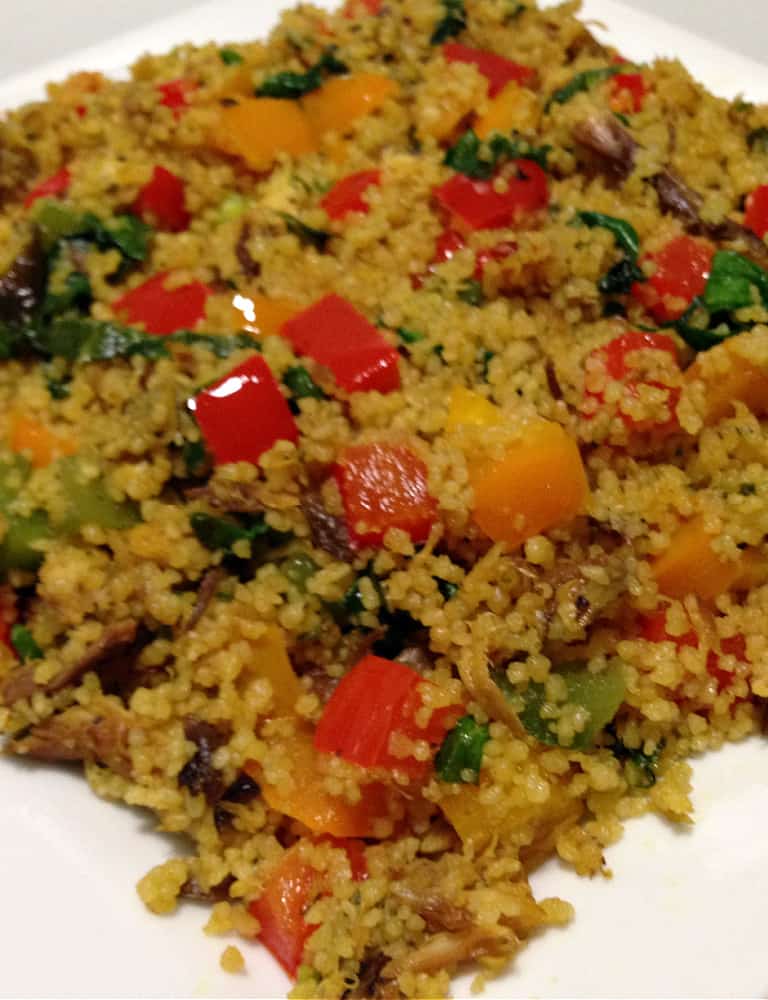 Tips for the Perfect Couscous
How to Select and Store Couscous
Purchase
Couscous is usually stored in the grain section of grocery stores. It can also be found in the international food aisle at grocery stores. This can also be purchased through online food stores in different countries.
There are three types of couscous: Moroccan, Israeli, and Lebanese. You can use whichever variant you prefer. They differ in size and cooking time. Moroccan is the smallest couscous, so it cooks faster than the Israeli and Lebanese variants.
Storage
Uncooked couscous can be stored in an airtight container to be placed in your pantry, cupboard, or kitchen. Ensure to keep it away from moisture, heat, and other food with strong odors. Couscous can last up to three to six months, depending on its quality.
Refrigeration and freezing are recommended once the couscous is cooked. Cooked couscous can be stored in an airtight container or resealable bag to last three to five days in the fridge or up to three months in the freezer.
How to Buy, Store, Fillet, and Smoked Mackerel
Purchasing Mackerel
In buying whole fresh mackerel, opt for ones that are firm to the touch with glossy skin and clear eyes. You can also try canned mackerel, but note that these have already been processed with preservatives.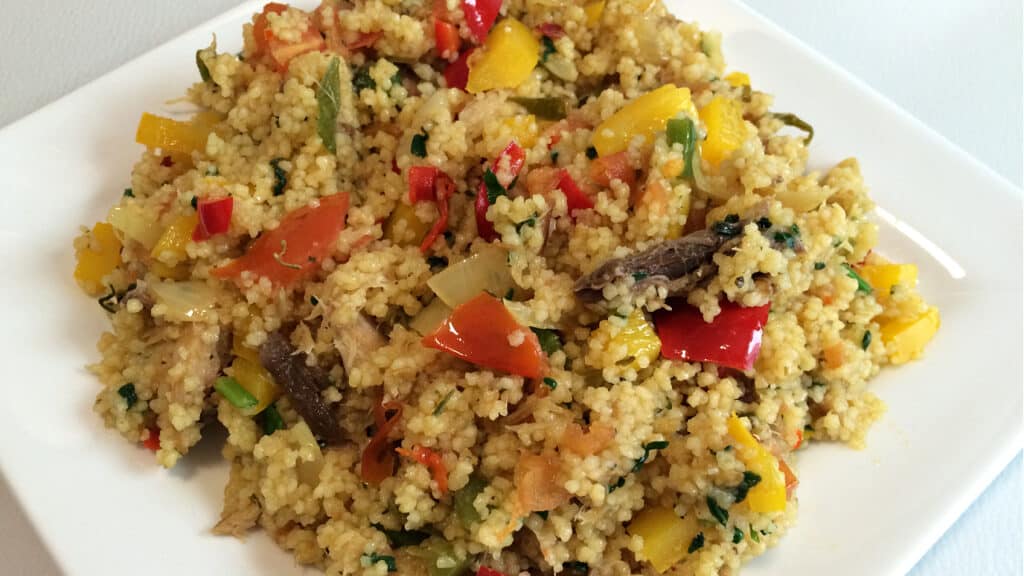 Storing Mackerel
Don't let mackerel sit at room temperature for longer than two hours because this can already increase the bacteria buildup. For better storage, wrap its original packaging in cling film, freezer bag, or aluminum foil. It can last up to two days in the fridge and up to three months in the freezer.
If the mackerel has already been cooked, it can last up to four days in the fridge and four months in the freezer.
Filleting Mackerel
If you prefer to fillet your fresh mackerel, get yourself a chopping board and a knife to start the process.
Place the fish on the chopping board and locate the pectoral fin on the side of the fish.
Once located, sever the body below the pectoral fin with an angled knife.
Then, make an incision into the stomach cavity and run your knife through the cavity until you reach the reproductive organs of the mackerel.
Turn the mackerel around, so the other side of the fish faces you.
Run the knife's blade through the flesh of the fish until it is severed from the bones.
You can use tweezers to remove small bones left in the flesh for a finer finish.
Smoking Mackerel
It's best to fillet your mackerel before smoking it so it will be cooked all through. Put the mackerel on aluminum foil and season it with butter and lemon juice. Enclose the mackerel in the foil to seal the flavors in.
Then, put it on a baking tray in a preheated oven to bake for 10 minutes. Once baked, transfer it to a plate and allow it to cool.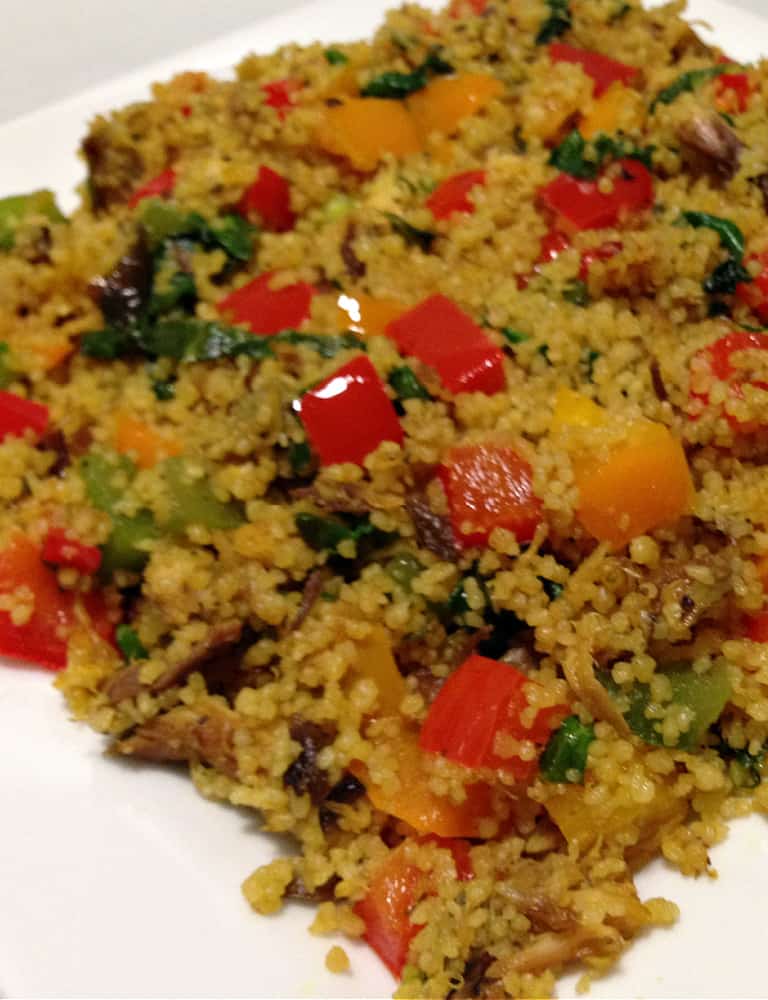 How to Make and Store Liquid Stock
Cooking the Liquid Stock
While liquid stock products are readily available, you can still use the homemade liquid stock for a healthier option.
Don't throw away your leftover chicken, beef, or vegetable because these can be used to make liquid stock. Put the ingredients in a pot and season it with your preferred herbs and spices.
Pour the water into the pot; the amount should cover all the ingredients. Then, let it boil for at least 4 hours while the stockpot is partially covered. You can skim the broth for any foam or impurities.
Once done, remove it from heat and filter the liquid stock using a fine-mesh sieve or strainer.
Storing the Liquid Stock
Don't refrigerate or freeze the liquid stock right after cooking. Let it cool in the pot before transferring it into a container or several small containers. It can last up to five days in the fridge and up to 9 months in the freezer.
For freezing, you can also use freezer bags to avoid freezer burn. Moreover, do not forget to label the containers for safe consumption and later use.
Couscous Variations
Couscous is Vegan-friendly, but unfortunately, it is not gluten-free. For a gluten-free alternative, you may opt for quinoa or millet instead. These alternatives have a longer cooking time, so it's best to follow their cooking instructions.
This is a versatile dish where you can basically incorporate any ingredient that suits your diet or preferences. You can even use chickpeas, nuts, parsley, vinegar, chives, tomatoes, artichokes, and more!
Recommended Tools
This post contains affiliate links, which means I earn commission income from qualifying purchases at no extra cost to you. Please read the full disclosure for more information.
Visit my shop for more products.
How to Serve Couscous
Serve Couscous on a plate and pair it with any of the following dishes:
Meanwhile, you can pair the rich flavors of the couscous with the refreshing quality and revitalizing properties of these drinks and juices:
Storage Tips
At room temperature: Refrain from letting cooked couscous sit at room temperature for longer than two hours. Let it cool for a while before refrigerating or freezing.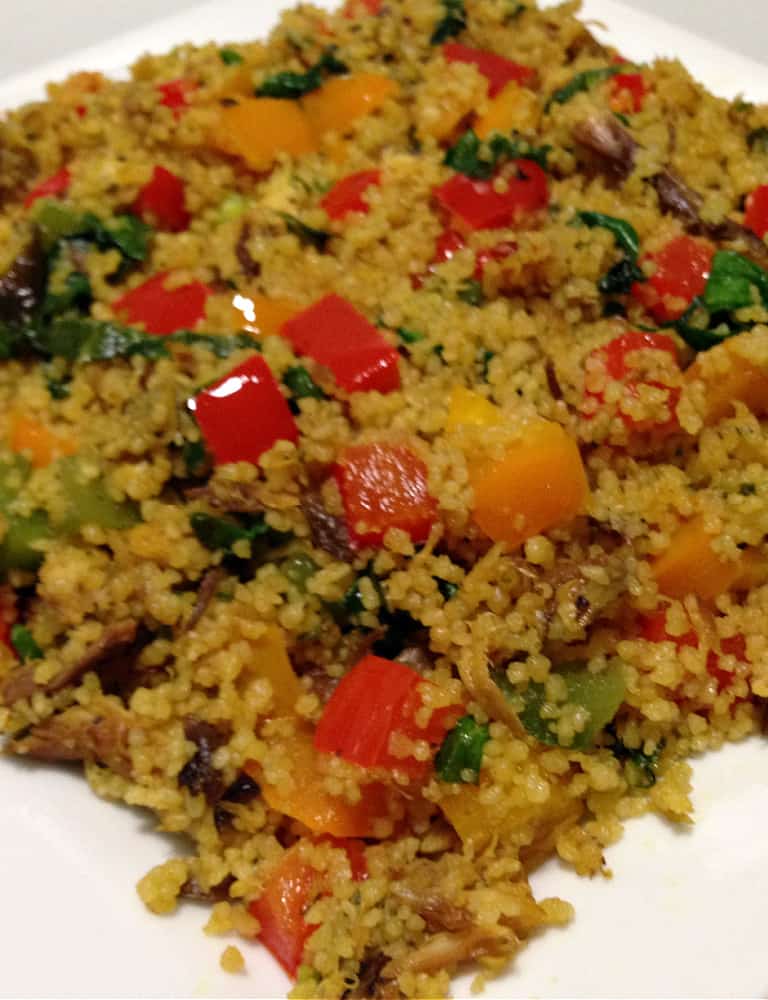 Frequently Asked Questions
What is Couscous?
As erroneously believed, you'll be surprised that Couscous is a pasta – durum wheat, not rice grains. It is processed from steamed balls of a high-gluten flour called semolina.
Is Couscous healthy?
Generally, couscous is healthy because it contains vitamins and minerals to help protect and strengthen your body. It is rich in selenium and antioxidants to repair damaged cells and boost immunity.
Couscous has fewer calories than white rice and quinoa, and a cup of couscous has less than 200 calories. It can be a weight loss diet but only when consumed in moderation. Its fiber and protein content will also reduce your appetite and keep you full for longer.
It is also a plant-based ingredient that's perfect for vegetarians and vegans. However, the National Celiac Association states that people with gluten intolerance should avoid eating it due to its high gluten content, and it's best to substitute it for gluten-free quinoa instead.
Diabetics should also be careful when eating couscous because this can increase blood sugar levels. To balance it out, consume alternative protein-rich food.
In conclusion, couscous is definitely nutritious but it must be consumed in moderation and with precautions.
Whether therefore ye eat, or drink, or whatsoever ye do, do all to the glory of God.

1 Corinthians 10:31
Is Couscous healthier than pasta?
While couscous takes on the appearance and form of rice or grains, it is actually a pasta variant. Couscous has a light and fluffy texture, making it easy to incorporate and cook with other ingredients.
Couscous also contains fewer calories, carbohydrates, and fats compared to pasta. However, couscous has less protein than pasta so incorporate protein-rich ingredients to compensate.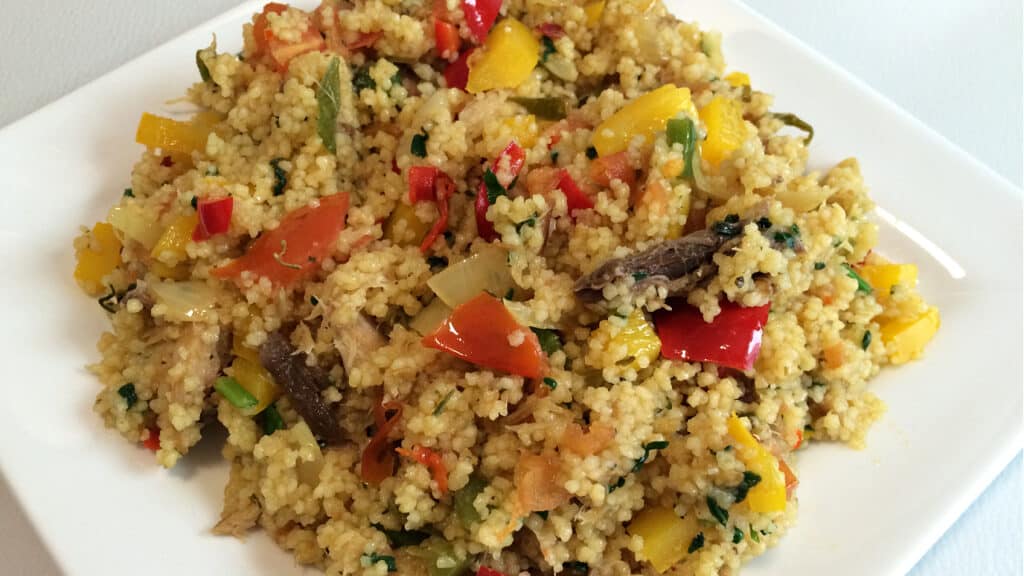 How can you thaw couscous?
There's no need to let the cooked couscous defrost in the fridge overnight. Transfer the contents into a microwaveable container with a few tablespoons of water. Then, set the microwave on high heat and let it reheat the couscous for one minute.
Reheat couscous at 20-second intervals with occasional mixing to ensure that all the ingredients are being reheated. Remove it from the microwave once you see steam coming out.
Alternatively, you can reheat it on the stove. Pour oil and water into a saucepan and toss in the couscous. Use a fork or spatula to reheat all of the ingredients. Remove it from heat after a few minutes or until the water is dissolved.
This post may contain general information and does not constitute professional medical advice. Always seek information or advice from a qualified medical professional. Please read the full disclaimer for details.
The Perfect Couscous
Make your dinner time extra special with this healthy couscous recipe. This can easily be your family's new favorite recipe. From the color to its flavor, this Couscous is truly a culinary treasure!
Ingredients
1

cup

wheat couscous

1

tbsp

coconut oil

1

red onion

(small-sized)

1

garlic clove

(minced)

½

scotch bonnet

(chopped)

Handful

curly kale

(chopped)

Handful

baby spinach

(chopped)

¼

red bell pepper

(medium-sized)

¼

orange bell pepper

¼

green bell pepper

½

tsp

mixed herbs

½

tsp

curry powder

½

tsp

turmeric

A

pinch

paprika

1

stock cube

(option)

1

cup

liquid stock

(250 ml)
Instructions
Cook the couscous.

To prepare your couscous, pour the liquid stock in a pot over medium heat. You are free to use any liquid stock of your choice. Bring the liquid stock to a boil. Then, add the couscous.

After adding the couscous, turn off the heat then mix the couscous into the liquid stock thoroughly. Cover it with a lid and set it aside for 5 to 7 minutes for the couscous to absorb the liquid stock

Sautee the onion and garlic with the seasonings.

Heat coconut oil in a pan over medium heat. Sautee the chopped onion, garlic, and scotch bonnet (use less if you prefer your food less spicy).

Then, gradually add the mixed herbs, curry powder, paprika, turmeric, sea salt, and ground chicken stock cube.

Add in the smoked mackerel.

Before mixing the smoked mackerel in, make sure that it has been deboned and but to your preferred size. Ensure that it is well incorporated into the seasoning.

Toss in the leafy greens, bell peppers, and couscous.

First, add the kale to the pan and let it cook for a minute. Then, pour in the vibrantly colored fresh bell peppers to infuse the mixture with flavor and aroma.

Next, add the couscous and mix thoroughly to coat it with the seasonings. Lastly, put in the chopped spinach and let it simmer for 2 minutes.
Video
Notes
To preserve couscous, store it in an airtight container or sealable bag.

It is high in gluten to consume in moderation.

To check if the couscous has gone bad, check the expiry date on the packaging, and check for signs of bugs, rancid taste, or foul smell.

You are free to use any liquid stock of your choice.
Couscous is a common allergen. Hence, it is not recommended for people with Oral Allergy Syndrome or those sensitive to wheat and grass pollen.
Nutrition
Serving:
1
(of 3)
Calories:
549
kcal
Carbohydrates:
107
g
Protein:
20
g
Fat:
10
g
Saturated Fat:
6
g
Polyunsaturated Fat:
1
g
Monounsaturated Fat:
1
g
Sodium:
40
mg
Potassium:
279
mg
Fiber:
12
g
Sugar:
6
g
Vitamin A:
964
IU
Vitamin C:
46
mg
Calcium:
67
mg
Iron:
5
mg