Enjoy a new, fun, and delightful dish with your family with Crispy Pan Fried Fish Fillet!
Once you try it, the fish fillet will surely be one of your favorite fish recipes of all time. It is truly bursting with the best flavors from the inside out.
The fish is not just flavorful, but it will also have a crunchy and crispy quality when fried to perfection. Try this recipe now to have another dish to serve during celebrations and occasions.
Pin this recipe on Pinterest to save for later
Experience fish like never before with an absolutely satisfying Crispy Pan Fried Fish Fillet. I'm sure you will finish it until the very last bite!
How to Make Crispy Pan Fried Fish Fillet
With the right ingredients and cooking style, you can get a perfectly cooked, Crispy Pan Fried Fish Fillet every time. Today, you will learn one of the best ways to cook fish without much effort!
Ingredients
I've tried many fried fish recipes, and so far, here are the ingredients that have given me the best results.
Haddock
There are many fish options that are good for frying. In this recipe, I suggest using haddock because of its mildly sweet yet flavorful taste that you can further improve with spices.
Once cooked, the haddock will have a tender and soft texture that feels like it melts in your mouth. Aside from frying, you can also bake, poach, smoke, saute, or broil haddock for incredible quality.
Corn flour and plain flour
My secret to extra crispy fish is to use two kinds of flour: corn flour and plain flour. The difference between them is that plain flour has wheat while corn flour does not.
Both of these will be good for giving the fish a crunchy, crispy, and flaky texture. When you bite into the fish, you will definitely hear that satisfying crunch.
I also use these for Crispy Chicken Wings, Chin Chin, and Fish Rolls!
Baking powder and baking soda
Just when you think it can't get any crispier, why not add baking powder and baking soda to improve the texture? Both of these are leavening agents that can actually be good for fried food.
Not only can you use them for baking, but you can use them for frying too. Medical News Today mentioned that baking powder and baking soda can make your dishes crispy and light.
Seasoning
Take the Crispy Pan Fried Fish Fillet to the next level with the best spices. I suggest using paprika, sea salt, onion powder, garlic powder, and chili powder.
You won't believe how much better the dish will taste with these seasonings. When seasoned well, you will certainly get the full burst of flavors.
Apple cider vinegar
Why should you use apple cider vinegar for frying fish? Taste Cooking suggests that dipping food vinegar before frying can add more flavor to the dish.
It will also remove any fishy smell that can affect the quality of the fish. In fact, this vinegar also helps keep the flesh plump and soft.
Sunflower oil
Whenever I deep fry, I use oil with a high smoke point to get the right flavor and texture. It also retains the nutrients that you can gain from the food.
Once you have prepared your ingredients, let's start making the best Crispy Pan Fried Fish Fillet!
Directions
Frying haddock is similar to how you fry other foods, but let's add twists to this recipe, shall we?
Prepare the haddock
Remove the pin bones from the haddock.
Slice the fillet with a knife.
Pat the mix of seasonings over the fillet.
Coat the haddock with plain flour and corn flour.
For the batter, mix the plain flour, cornflour, spices, baking powder, baking soda, and water in a bowl.
Then, add apple cider vinegar.
Dip the haddock fillet into the mixture.
Lightly coat the haddock in flour again.
Frying time!
Heat oil in a deep frying pan over medium-low heat.
Fry the fish for five minutes.
Use tongs to cook both sides until golden brown.
Fry for a few more minutes or until done.
Use a strainer skimmer to remove excess oil.
Finally, transfer to a tray lined with a kitchen towel to serve!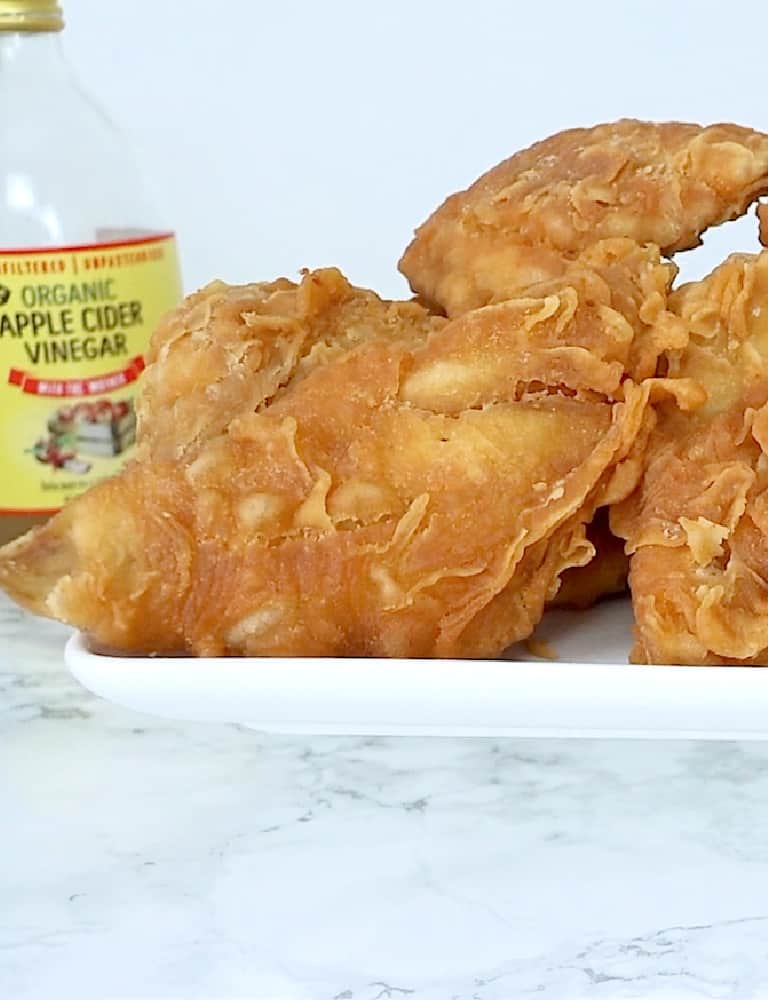 Try biting or slicing into the Crispy Pan Fried Fish to know how crispy, crunchy, and flavorful it is. Let me know how much you loved this recipe!
Tips
Buying Haddock
Storing and Preparing Haddock Fish
The haddock should have neat trims and firm flesh.
The fillet should be closely packed without gaps.
Buy fish without whitish areas.
If you smell ammonia or a fishy odor, then the fish may be unsuitable for cooking already.
Touch the flesh of the fish, and if your finger bounces back without dents on the fish, you have yourself fresh fish.
Storing haddock
Freeze or refrigerate the fish fillet within two hours to keep the flesh fresh and firm.
Use refrigerated fish within two days.
If you store it in the freezer, then you can use it for up to six months.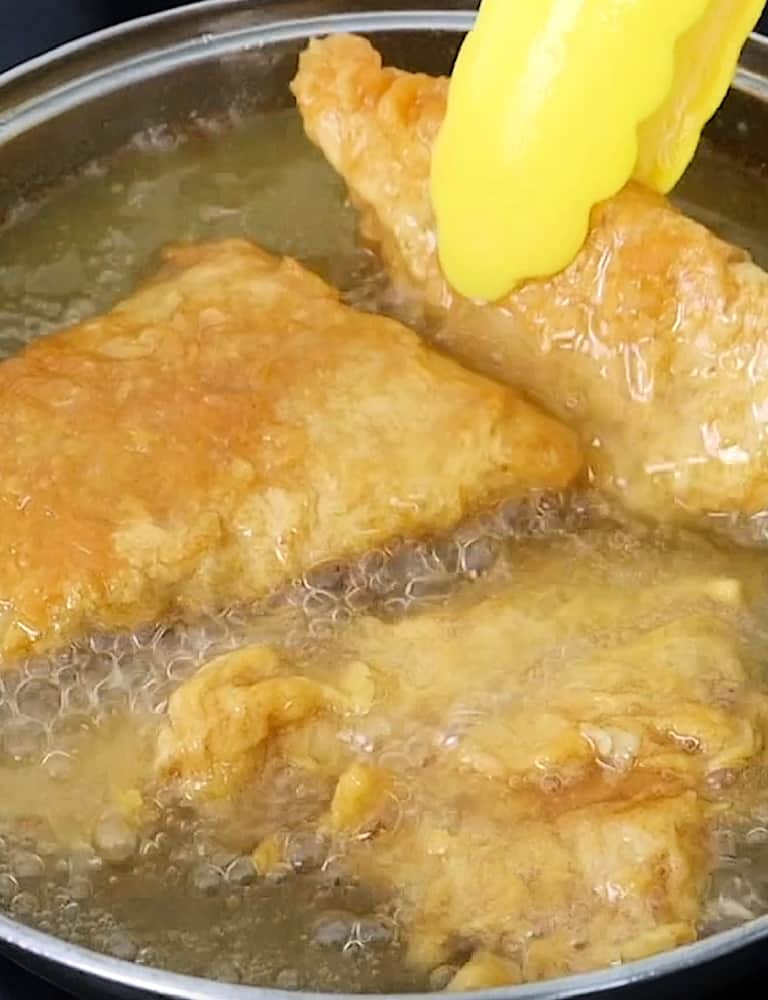 How to Cook Crispy Pan-Fried Fish Fillet
While it sounds easy, there are a lot of factors that can affect the dishes. For instance, you need to cook the fish at a certain temperature.
The fish might burn and stick to the pan if the oil is too hot. But the fish might cook in its liquid if the oil is not heated enough.
Next, refrain from turning the fish from time to time to cook the fish properly. Letting it fry for five minutes on each side will also ensure it's evenly cooked. Don't overcrowd the fish in the pan for the best results.
You can also try frying in oil and butter to create a more heat-resistant frying fat. Pour the oil in first, followed by the butter. Once the butter stops spluttering, you can add in the fish.
Filleting Haddock
If you bought whole fresh fish and you want to know how to fillet it, then this guide can help you.
Cut around the head of the fish and use the pectoral fin as your guide.
Run your knife on one side of the backbone down to the tail.
From the head, cut through the gut of the fish.
Then, cut through the flesh to make one fillet.
Repeat the same process on the other side. You can start from the head or the tail.
You can trim the fillet for smoother edges of the haddock.
Filleting your fish can take time and practice, so if you don't have enough time to fillet your haddock, you can buy the packaged haddock fillet.
Crispy Pan Fried Fish Fillet Variations
Aside from haddock, cod, flounder, catfish, and tilapia are suitable substitutes for deep frying. You can also use herbs and spices such as mixed herbs, mace, mustard powder, allspice, cardamom, and more!
Instead of using both corn flour and all-purpose flour, you can just use either of them. You can also skip the baking powder and baking soda if preferred.
Moreover, you can choose not to dip the fish in vinegar, especially if the haddock does not smell too fishy. Don't forget to share your own version of the Crispy Pan Fried Fish Fillet!
Recommended Tools
This post contains affiliate links, which means I earn commission income from qualifying purchases at no extra cost to you. Please read the full disclosure for more information.
Visit my shop for more products.
How to Serve Crispy Pan-Fried Fish Fillet
You can serve the Crispy Pan Fried Fish Fillet as it is on a plate, but you can also try adding some side dishes or sauces to make the dish more interesting.
Fish can be served with vegetables such as carrots, zucchini, and broccoli. For side dishes, it goes well with the following:
On the other hand, if you want to present more flavor to the fish, you may opt for tasteful sauces like lemon sauce, fried seafood dipping sauce, and parsley sauce.
Furthermore, you can serve fish with these refreshing drinks:
Storage Tips
At room temperature: Don't leave the fried haddock at room temperature for longer than two hours.
Frequently Asked Questions
How do you make fried fish crispy?
The secret to crispy fried fish is the coating! You can coat it twice or even thrice to thicken the crust. Like this recipe, you can use two kinds of flour for that extra crunch. I also suggest adding baking powder and baking soda for better texture.
How do you get crispy skin on pan-seared fish?
One of the suggestions from Bon Appetit when pan-searing fish is to dry most of the moisture out. Pat it dry with a towel and let it sit at room temperature for about an hour before frying.
Instead of using a non-stick pan, you can cook the fish with a cast iron skillet to get the best texture. Pay attention to the heat of the stove when cooking fish too.
Can you pan-fry fish without breading?
Yes, you can. Just season it with your preferred herbs and spices before frying it to perfection, especially if you don't want to make it crispy and crunchy.
How to pan-fry fish without coating?
Season and marinate the fish for several hours to fully infuse it with flavor. Heat your oil in the pan. Then, fry the fish until crispy on both sides.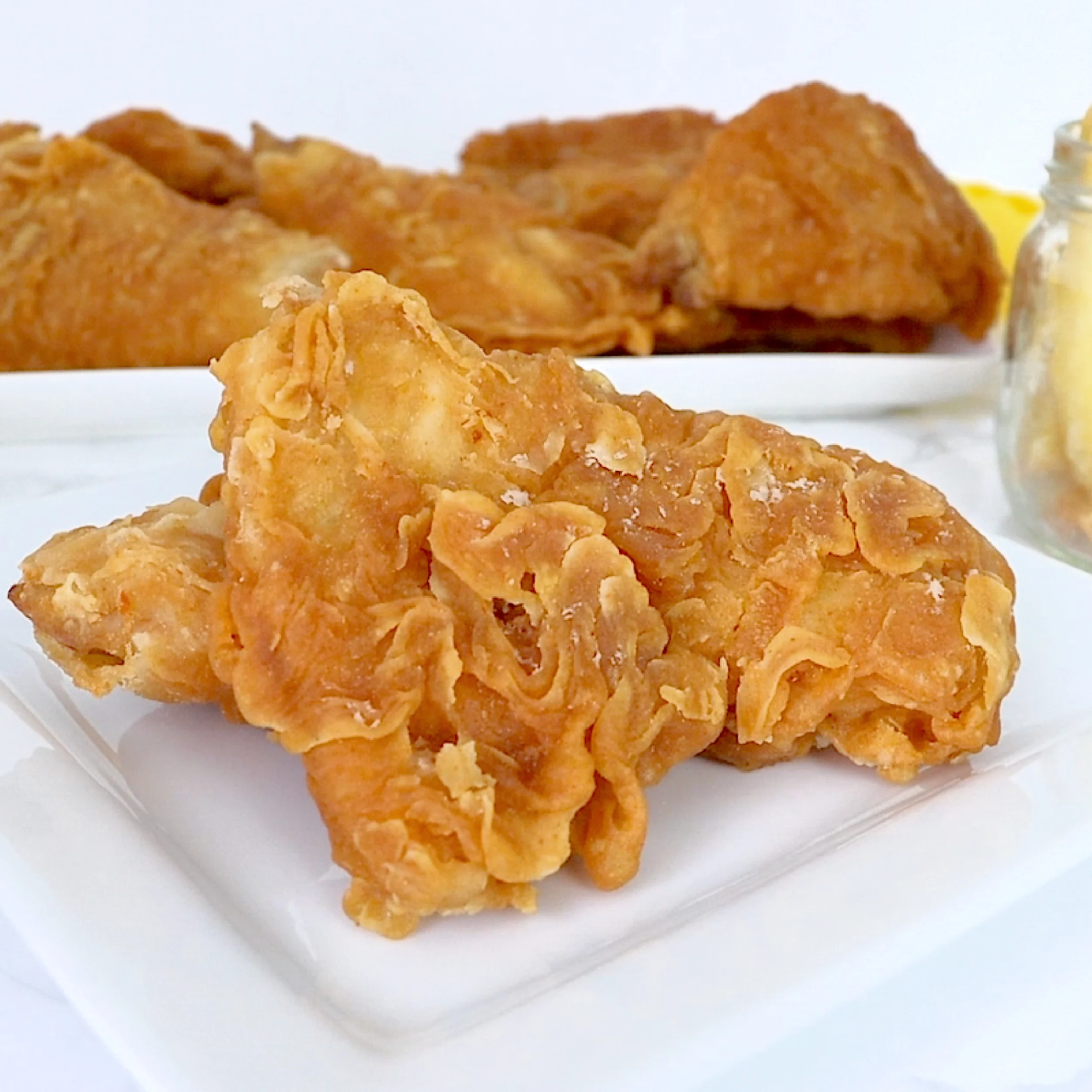 Crispy Fried Fish (VIDEO)
You haven't had it all until you try this crispy and juicy fried haddock fish!
Ingredients
For the batter
1

cup

plain flour

⅔

cup

corn flour

½

tsp

chili powder

½

tsp

garlic powder

½

tsp

onion powder

½

tsp

sea salt

½

tsp

smoked paprika

½

tsp

all-purpose seasoning

½

tsp

baking powder

½

tsp

baking soda

1

tsp

apple cider vinegar

1

cup

+ 2 tbsp water
For the dry flour coating
1

cup

plain flour

A pinch: sea salt, paprika, and all-purpose seasoning (optional)
For frying
sunflower oil

(enough to deep fry)
Instructions
Prepare the haddock fillet.

A pined-boned haddock has the fine pin bones removed. If you bought haddock that still has pin bones, you could remove them by grabbing tweezers and drawing out the pin bone from the fillet.

Proceed to slice the fillet however you like. You can split it into thinner fillets to allow it to fry quicker and more evenly.

Season the fish.

Sprinkle the seasoning over the fillets and gently pat the fillet with the seasoning to distribute evenly.

Coat the haddock in plain flour.

Next, pour plenty of plain flour on a plate and coat the haddock with the flour for a crispy crust and juicy flesh.

Make the batter.

For the batter, combine the plain flour, cornflour, sea salt, all-purpose seasoning, garlic powder, onion powder, chili powder, smoked paprika, baking powder, baking soda, and water. Then, add apple cider vinegar to the batter.

Coat the haddock with the batter.

Dip the haddock fillet in the mixture and allow the excess batter to drip back into the bowl completely.

Lightly coat the haddock in flour once more.

After dipping into the batter, coat the haddock in plain flour for extra crispiness and to keep the batter intact.

Fry the fillet.

Let the oil heat up over medium-low heat before frying the fish for 5 minutes.

Turn once until the crust becomes crispy and golden.

Use a strainer skimmer to remove it from the oil to eliminate excess oil.

Finally, transfer to a tray lined with a kitchen towel.
Video
Notes
Practice how to clean and fillet fish to master the skill.
Do not overcrowd the haddock after coating and while deep frying.
Use herbs and spices that you prefer for the seasoning.
Nutrition
Serving:
1
(of 6)
Calories:
372
kcal
Carbohydrates:
54
g
Protein:
33
g
Fat:
1
g
Saturated Fat:
1
g
Polyunsaturated Fat:
1
g
Monounsaturated Fat:
1
g
Trans Fat:
1
g
Cholesterol:
90
mg
Sodium:
1066
mg
Potassium:
547
mg
Fiber:
2
g
Sugar:
1
g
Vitamin A:
309
IU
Vitamin C:
1
mg
Calcium:
49
mg
Iron:
3
mg