All-purpose seasoning (bouillon powder)! Introducing a way to break up the meal rut many of us face while cooking at home! This All-Purpose Seasoning is MSG-free and made with easy-to-find spices. Add it to your dishes to give them a burst of flavor. It's simple to make and use – mix the spices, and you're ready to go!
This tasty and healthy mix of spices is perfect for any dish – from pizza to hamburgers to stir-fries, soup and stew. You'll always have a great idea when you keep this seasoning in the kitchen! Plus, it's free of MSG. Make your recipes delicious and healthy with this homemade bouillon powder! It has no harmful ingredients, and it can be used to season everything from beef to chicken, fish, and turkey. Try it today!
Pin this recipe on Pinterest to save for later
With this article, you'll learn the benefits of All-Purpose Seasoning and delicious recipes that make meal prep a breeze. So, if you're looking for a new way to spice up your meals and add flavor to your recipes, this is your go-to guide.
How to Make All-Purpose Seasoning
Today, you will realize how easy it is to make an all-purpose seasoning blend from scratch! You can't go wrong with this flavoring blend. It's best for grilling, roasting, and stir-frying!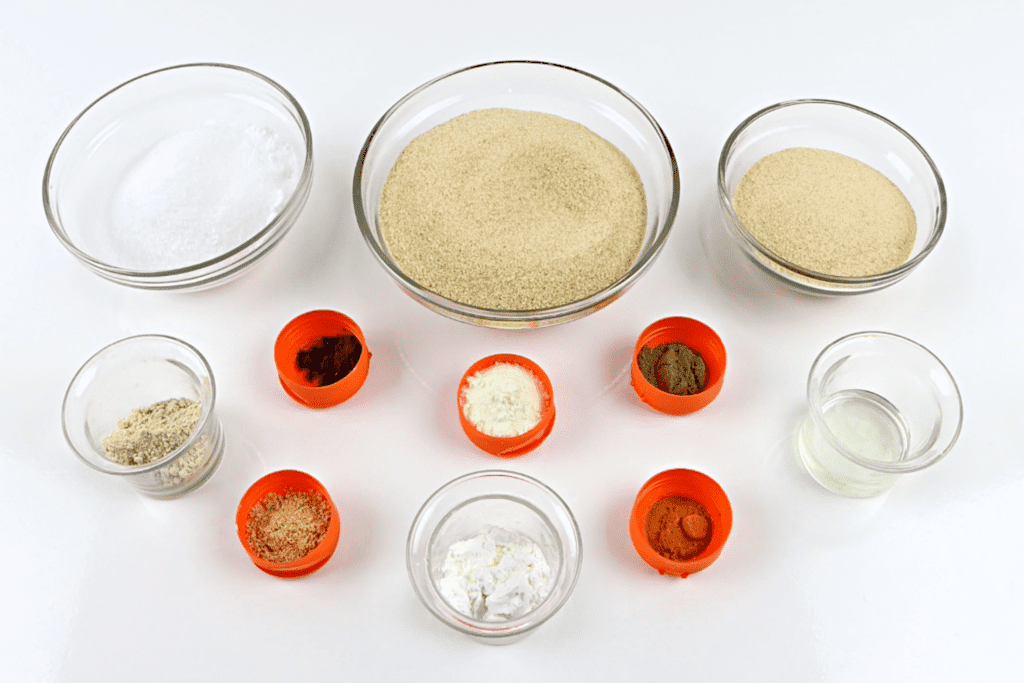 Ingredients
Here are the secret ingredients to all-purpose seasoning:
Onion powder
Onions naturally smell good, even in onion powder form. Add it to the seasoning blend to balance the taste of the other ingredients. Try using it for Roast Chicken, and you'll love the results!
Sea salt
Use salt to improve any dish. According to Mayo Clinic, sea salt is less processed than table salt. Also, sea salt is usually made of fine grains.
I love using sea salt for fish seasoning to complement the seafood taste.
Garlic powder
Like onions, garlic is also an excellent ingredient for all-purpose seasoning because of its smell. It can improve the flavor of your dishes for the best results.
Use your garlic powder for a Breakfast Sandwich for full flavors!
Fenugreek
The Spruce Eats mentioned that fenugreek tastes like maple syrup with bitterness and nuttiness. Fenugreek is also a popular flavoring agent in Middle Eastern and Indian food.
I tried using fenugreek in Jollof Rice before, and every family member enjoyed it!
Cornstarch
Use cornstarch to prevent the dry ingredients from forming. In other words, this aids in the better texture of the seasoning blend.
It will also be useful when cooking crispy and flaky food, like Crispy Pan Fried Fish Fillets or Air Fryer Chicken Wings.
Bay leaves powder
Bay leaves powder is a game changer in food recipes. It also has a sweet yet slightly accidic quality. Now, bay leaves have health and culinary potential.
I recommend adding bay leaf powder for soups and stews for flavor!
Yellow mustard seed powder
Yellow mustard seed powder is a famous seasoning in Indian food. It is naturally sweet and spicy to the taste. It's a great ingredient for marinades, rubs, and sauces.
This is also a healthy alternative to mustard!
Milk powder
Trust the process and add milk powder to the all-purpose seasoning blend. Its flavor can balance the taste of the herbs and spices used. It adds a mild sweetness to the recipe.
Cloves
Improve your dishes in an instant with the proper amount of cloves. These also add an aroma for more appetizing dishes. In an article by Medical News Today, you can use cloves like cinnamon!
Turmeric
Escalate the quality of your dishes with turmeric powder. It adds an earthy and mildly bitter flavor to your recipes. Moreover, it is packed with health recipes!
I also use it to make Turmeric Tea for a yummy drink!
Sunflower oil
Sunflower oil helps prevent clumping for better texture. Don't worry about adding a wet ingredient to the seasoning. It will slowly be mixed into the recipe.
With these ingredients, every dish you cook will be delicious, fragrant, and nutritious! This all-purpose seasoning blend contains natural ingredients without harmful substances or MSG!
Directions
Let's make the seasoning blend to start cooking the best meals!
In a glass bowl, combine the onion powder, sea salt, garlic powder, fenugreek, cornstarch, bay leaves powder, yellow mustard seed powder, milk powder, and cloves with a whisk.
Mix the sunflower oil and turmeric in a separate bowl using a whisk.
Incorporate the dry ingredients and stir until well incorporated.
Transfer into clean glass jars to store.
Try this all-purpose seasoning blend, and let me know how the dish turns out!
Breakfast, snacks, soups, stews, main dishes, name it, and you can cook it with this miracle spice blend.
Tips for Making the Best All-Purpose Seasoning
Storing herbs and spices
Generally, herbs and spices have long shelf lives. You must store them properly to retain their flavor, aroma, and quality. According to Frontier Co-Op, spices are best stored in airtight jars away from heat. I also recommend adding labels for proper use!
Making powdered seasoning
Most powdered elements in this recipe can be found in the market. You can also make them from scratch, especially from fresh ingredients.
Peel the ingredients.
Dehydrate them in a dehydrator or oven for several hours at a low temperature.
Grind the dehydrated contents with a blender, food processor, spice grinder, miller, mortar, and pestle.
Store the powder in an airtight jar.
All-Purpose Seasoning Variations
The best thing about making your spices is that you control what ingredients to use. For instance, you can remove ingredients you don't have for convenience
Moreover, you can modify it to the dishes you usually cook. For example, you can make Fish Seasoning Blend and Roast Chicken Seasoning Blend! Additionally, you can add other homemade spices, such as mixed herbs, paprika, and chili flakes.
Recommended Tools
Whisk: Mix the ingredients with a whisk.
Glass bowl: Prepare the herbs and spices in a glass bowl.
Airtight container: Store the all-purpose seasoning in an airtight container.
This post contains affiliate links, which means I earn commission income from qualifying purchases at no extra cost to you. Please read the full disclosure for more information.
Visit my shop for more products.
How to Use All-Purpose Seasoning
Remember to use all-purpose seasoning for marinades, spice rubs, dressings, and other dishes. I also love using it beef, turkey, chicken, fish, and pasta!
The flavors are released, and the aroma is pleasant! Here are some of the dishes that would taste well with stock powder:
Storage Tips
At room temperature: Store all-purpose seasoning in airtight containers away from sunlight and heat.
Frequently Asked Questions
What can I substitute for all-purpose seasoning?
There are plenty of all-purpose seasoning alternatives, and it can simply be a combination of herbs and spices in your kitchen. Moreover, you can substitute it for individual flavoring agents to modify the taste.
Is seasoned salt the same as all-purpose seasoning?
No, they are not the same. Salt is added to all-purpose seasoning in smaller amounts than other spices, such as onion powder.
Where does all-purpose seasoning come from?
All-purpose seasoning is a mix of different herbs and spices that can be anything in your kitchen. Additionally, it uses onion powder, garlic powder, gloves, fenugreek, and other ingredients.
All-Purpose Seasoning
Do you love the savory, umami flavor of MSG-free all-purpose seasoning but need help knowing where to begin? If you're looking for the perfect way to add flavor to all dishes without compromising taste, this blog covers you.
Ingredients
18

tbsp

onion powder

(7oz)

8

tbsp

sea salt

(5oz)

6

tbsp

garlic powder

(3oz)

1

tbsp

fenugreek

(0.3oz)

2

tsp

tsp cornstarch

2

pinches

bay leaves powder

or 4 bay leaves (milled)

1

tsp

yellow mustard seed powder

2

tsp

milk powder

(optional)

2

pinches

ground cloves

2

tsp

sunflower oil

2

pinches

turmeric powder
Instructions
In a glass bowl, combine the onion powder, sea salt, garlic powder, ground fenugreek, cornstarch, bay leaves powder, yellow mustard seed powder, milk powder, and ground cloves with a whisk.

Mix the sunflower oil and turmeric in a separate bowl using a whisk.

Incorporate the dry ingredients and stir until well incorporated.

Transfer into sterilized glass jars to store.
Video
Notes
You can make powdered flavoring agents by dehydrating and grinding them.

Keep the seasoning away from sunlight and heat to preserve quality.
Nutrition
Serving:
1
(of 30)
Calories:
26
kcal
Carbohydrates:
5
g
Protein:
1
g
Fat:
0.4
g
Saturated Fat:
0.1
g
Polyunsaturated Fat:
0.03
g
Monounsaturated Fat:
0.3
g
Cholesterol:
0.3
mg
Sodium:
1868
mg
Potassium:
70
mg
Fiber:
1
g
Sugar:
0.4
g
Vitamin A:
4
IU
Vitamin C:
1
mg
Calcium:
23
mg
Iron:
0.4
mg