This Roast Chicken Seasoning Blend is easy, smoky, and savory! Making Roast Chicken special mixes the right herbs and smokey spices. Every chicken recipe will surely become delicious with this seasoning blend!
Pin this recipe on Pinterest to save for later
Make roasting easier and simpler with this chicken rub mix. Your main course chicken dish will surely stand out!
How to Make Roast Chicken Seasoning Blend
Cook the perfect Roast Chicken with only the best herbs and spices in this roast chicken seasoning blend.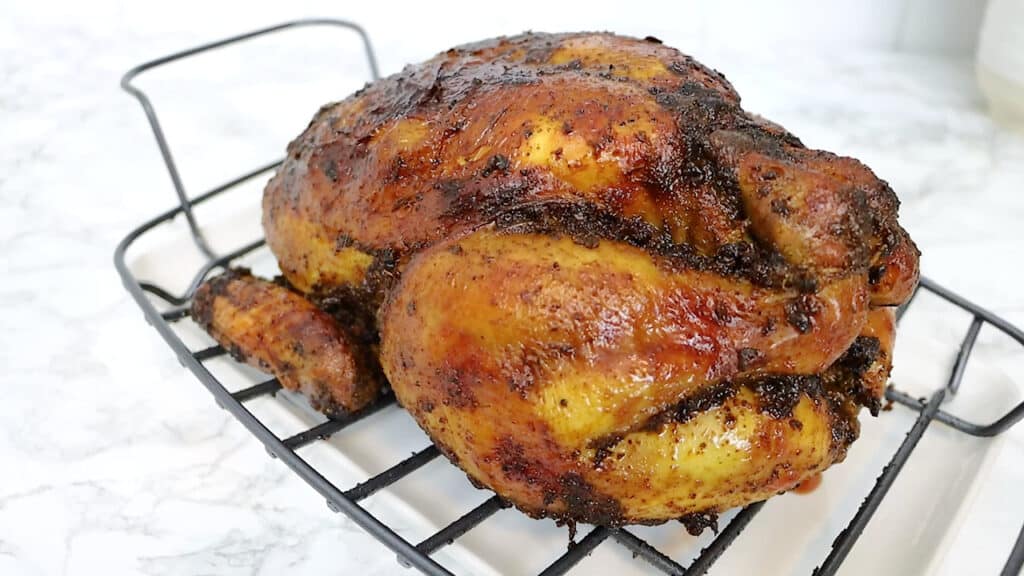 Ingredients
Chicken is easy to prepare, season, and cook. It is also a healthy option for your dietary needs, such as protein. Once roasted, it will become tasty, inviting, and juicy!
Use your leftover chicken for more dishes, such as Crispy Chicken Wings, Chicken Pie, and Air Fryer Fried Chicken!
For the roast chicken seasoning blend
Onion powder
Onion powder retains the flavor of a fresh onion – pungent and sweet with a powerful scent. In fact, I use this seasoning for other savory dishes like Grilled Salmon.
Smoked paprika
Smoked paprika mixes sweet, savory, and smoky flavors with vibrant red color. I usually use this spice for other seasoning blends, such as Fish Seasoning!
Curry powder
Curry powder is a popular spice for Indian dishes such as Chicken Curry. It also adds a warm and rich flavor and texture.
Mixed herbs
Mixed herbs is a 7-in-1 spice that can be used for almost any delicacy. Make your mixed herbs by mixing thyme, tarragon, sage, marjoram, oregano, basil, and parsley.
I love also using this flavoring agent for Jollof Rice, Moi Moi, and Fried Chicken Gizzards!
All-purpose seasoning
All-purpose seasoning is a great ingredient to add to a savory and tasty meal. According to African Bites, you can also use this spice with celery seeds, garlic powder, salt, black pepper, thyme, paprika, and onion powder!
Garlic powder
Garlic powder has a mildly sweet taste that will remind you of ginger. Furthermore, I suggest using this for dry rubs, ground meat, or marinades. Moreover, it is a great spice for Crispy Fried Fish, Grilled Croaker Fish, and Scotch Eggs!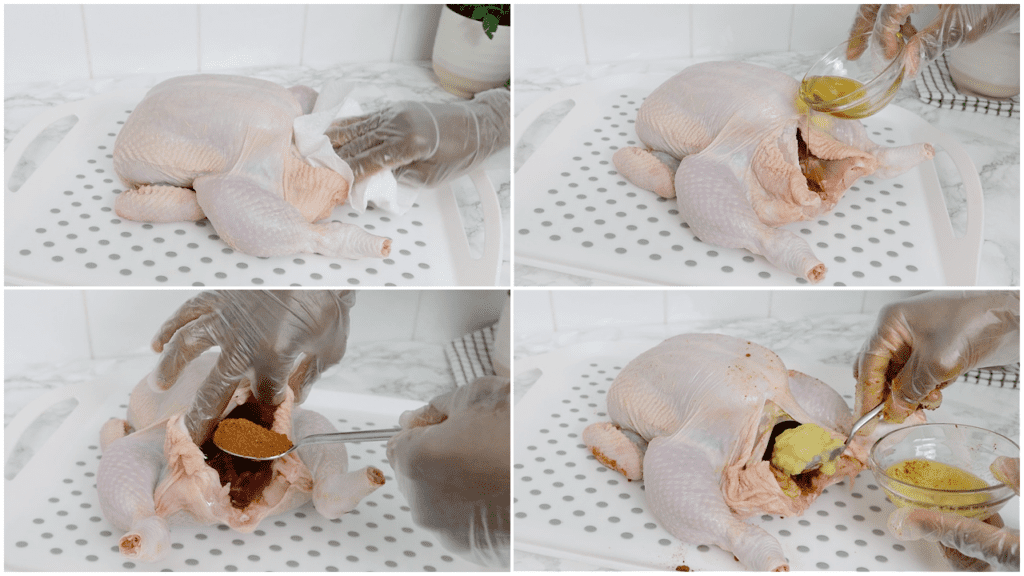 Black pepper
Black pepper is a long-lasting condiment that usually goes with salt. Additionally, utilize it for the best results for sauces, meats, and salads.
Mace
Mace has a similar flavor to nutmeg, but it is likely to be sweeter. It improves the quality of the dish, especially pastries, pasta, and chicken.
Sea salt
Sea salt is a classic condiment that balances the taste of dishes. It has slightly larger particles than table salt.
Cumin
Cumin is a unique seasoning with a nutty and sweet taste for a bold flavor. With its slightly bitter taste, it also offsets and balances other condiments.
Cardamom
Cardamom is an excellent ingredient to use for a minty and savory quality. Did you know that it also comes in whole pods or fine powder
Fenugreek
Fenugreek tastes exquisite because of its maple-like and earthy characteristics. Use this for smokey dishes for a well-balanced flavor.
Other Ingredients for Roast Chicken
Fresh onion and garlic
These are used for the paste that will infuse the inside of the chicken with flavor and aroma. Turn them into a paste to make them easier to spread on the chicken.
Olive oil
Olive oil is needed to add moisture to the chicken as it cooks. Roasting can dry it out, but the dish will become juicy and well-textured with olive oil.
Once you have these ingredients on hand, this recipe will be a walk in the park! This recipe uses only the best seasoning that all of your loved ones will enjoy.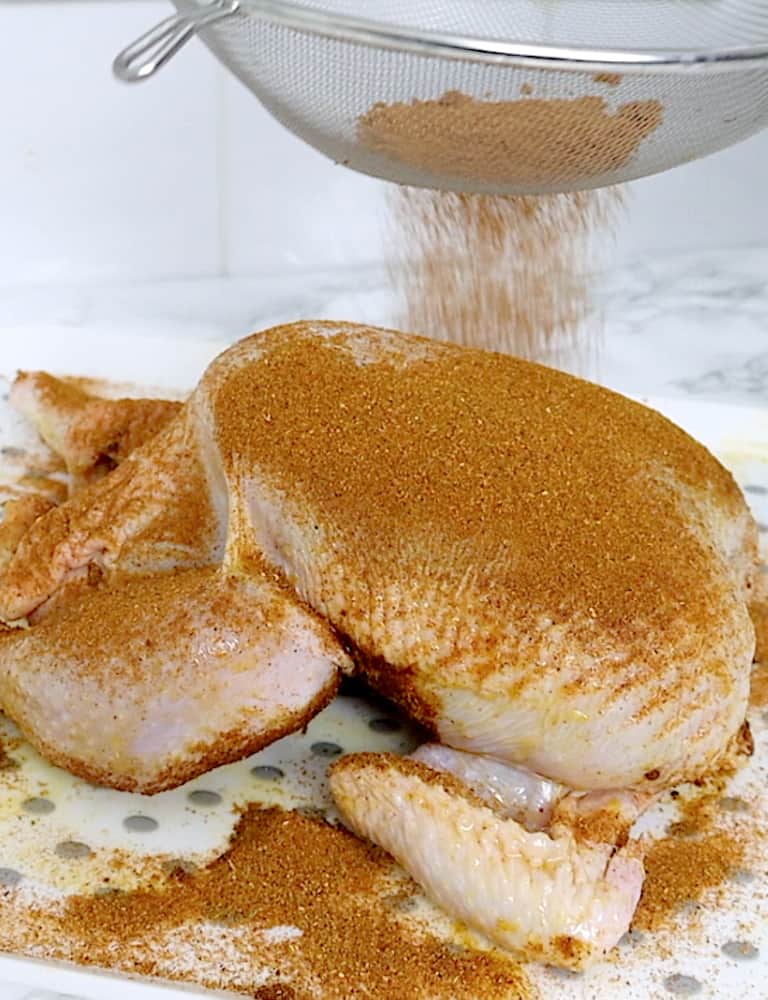 Make your Roast Chicken worthwhile by using this seasoning blend! This will surely make the chicken special every time you make it. In fact, I can guarantee you that everyone will love it!
Directions
Mill the dry herbs and spices in a spice grinder until fine.
Put the contents into a jar or small glass bowl and set it aside.
Rinse and pat the chicken dry.
Then, rub the inside of the chicken with olive oil.
Season it with the seasoning blend with a fine-mesh sieve.
Add the marinade to the cavity.
Spread the onion and garlic paste inside the chicken to bind the flavors and ingredients.
Rub the chicken with olive oil and dust it with the remaining seasoning.
Transfer it to a wire rack.
Cover it with cling film and marinate in the fridge for four hours up to 24 hours.
Remove the cling film and stuff the cavity with fresh rosemary.
Spray olive oil all over the chicken.
In a preheated oven, roast the chicken at 200°C for 50 minutes or until cooked.
Rotate the roaster every 16 minutes.
After 50 minutes, leave the chicken to rest in the oven for 10 minutes.
If you have a meat thermometer, then insert it into the chicken and check if it reads between 165°C to 190°C.
Brush the chicken with oil to serve!
Can you taste how rich and savory this seasoning blending is? It's certainly smoky, savory, mildly sweet, pungent, and peppery. In other words, it has all the qualities of a roast chicken you can crave!
Tips
How to Buy and Store Whole Chicken
Selection. If you want to roast a whole chicken, then consider the roaster size and the oven. The packaging should not have leaks. The chicken flesh should be pink and plump.
Storage. Do not remove the chicken from its original packaging. Refrigerated chicken must be used within two days. Freeze it to extend its shelf life to several weeks or even months.
Onion Garlic Paste for Roast Chicken
Onion garlic paste can be made using a blender, but if you don't have one, then you can use alternatives such as a food processor, food mill, or an immersion blender.
Otherwise, finely chop with a knife or grate the onion and garlic using a grater and mash them with a spoon for a finer texture.
Roast Chicken Seasoning Variations
This recipe is a guide you can use, but of course, you are free to remove, add, or alter the other ingredients, depending on your preference. Aside from olive oil, you may use other options available.
Moreover, the seasoning blend can be used for whole chicken or chopped chicken parts as long as you evenly coat them in the marinade. Make it spicier by adding chili powder or chili flakes.
Other condiments for roast chicken seasoning include:
Cayenne pepper
Dried rosemary
Cumin
Coriander
Dry mustard
Recommended Tools
This post contains affiliate links, which means I earn commission income from qualifying purchases at no extra cost to you. Please read the full disclosure for more information.
Visit my shop for more products.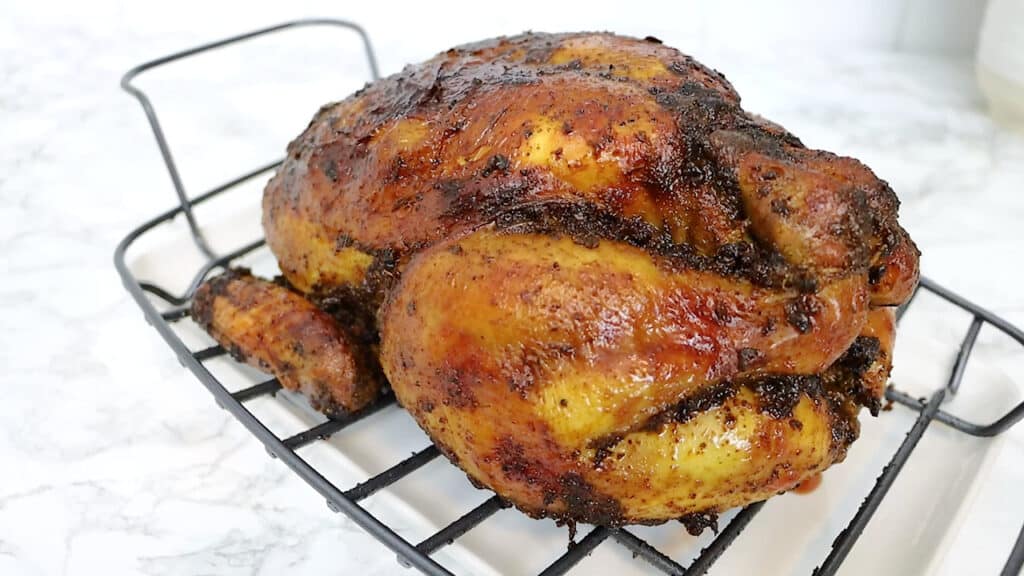 How to Use Roast Chicken Seasoning Blend
This seasoning rub can be used for a whole chicken, chicken breasts, chicken thighs, chicken wings, or chicken gizzards. It is best used with oil to seal in the marinade flavors. You may also use this for other ingredients, such as beef, fish, or turkey for a new dish.
Remember to season the cavity of the chicken for a burst of flavor and fragrance from the inside out! This seasoning mix can also be tried for baking and grilling too.
Storage Tips
At room temperature: The chicken seasoning blend is best stored in an airtight container. Then, place it in a cool and dry area for up to several months.
Frequently Asked Questions
What spices pair well with chicken?
I've tried plenty of spices in my roast chicken recipes, and the ones in this recipe are the best. You can also make your seasoning rub with salt, chili powder, cumin, garlic powder, basil, black pepper, and more!
What seasoning brings out the flavor of chicken?
My Fearless Kitchen suggests using garlic powder or fresh garlic to release the natural flavors of the chicken. Also, don't forget your garlic powder!
What herbs or spices go well with chicken?
Some of the best herbs and spices for chicken include sage, cilantro, rosemary, marjoram, thyme, and tarragon. You can also add more ingredients that you prefer.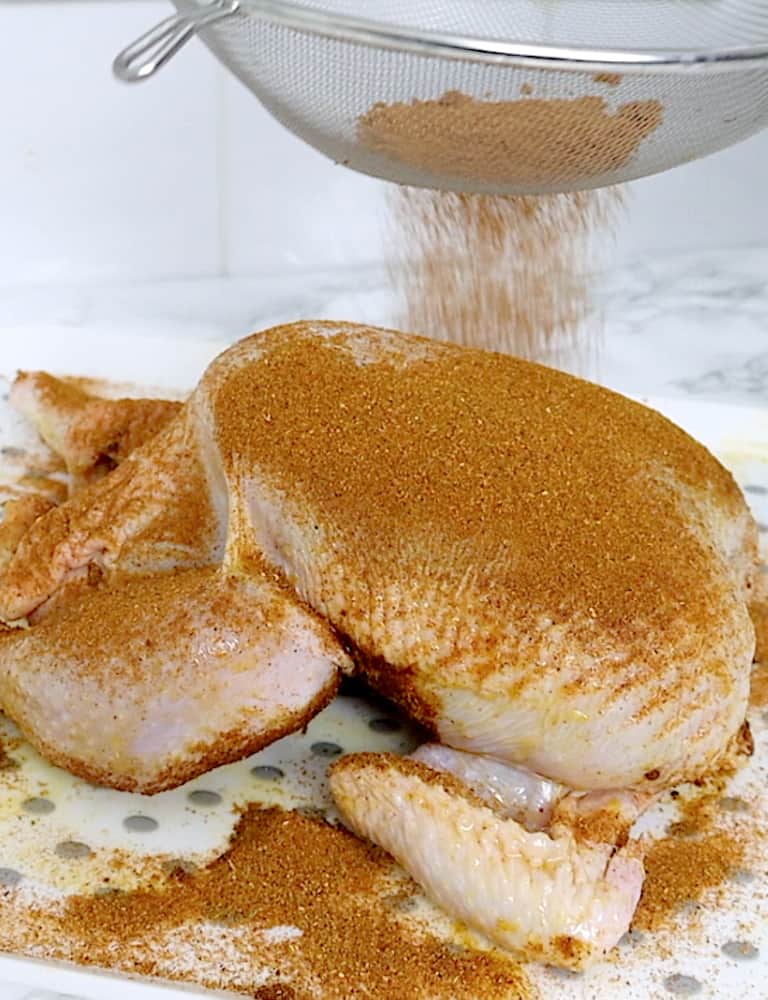 Roast Chicken Seasoning Blend
Roast chicken is an all-time classic dish to enjoy for celebrations with family and friends, so marinate your chicken with this seasoning blend for the best-tasting meal yet!
Ingredients
For the chicken seasoning
for the roast chicken marinade
1 ½

tbsp

olive oil

2

tbsp

chicken seasoning
Video
Notes
Prepare the seasoning blend depending on the size of your chicken.

It can be used for a whole chicken or chicken parts.

Brush the chicken with olive oil to seal the dry rub.

Let it marinate for at least four hours and up to 24 hours. Note that the longer it marinates, the tastier it will be.
Nutrition
Serving:
1
(of 7 tbsp)
Calories:
17
kcal
Carbohydrates:
3
g
Protein:
1
g
Fat:
0.4
g
Saturated Fat:
0.1
g
Polyunsaturated Fat:
0.1
g
Monounsaturated Fat:
0.1
g
Sodium:
573
mg
Potassium:
72
mg
Fiber:
1
g
Sugar:
0.3
g
Vitamin A:
554
IU
Vitamin C:
1
mg
Calcium:
18
mg
Iron:
1
mg