Out of all the chicken recipes I have tried, this Air Fryer Fried Chicken is one of the best! It can be served for every occasion because it's oil-free and guilt-free.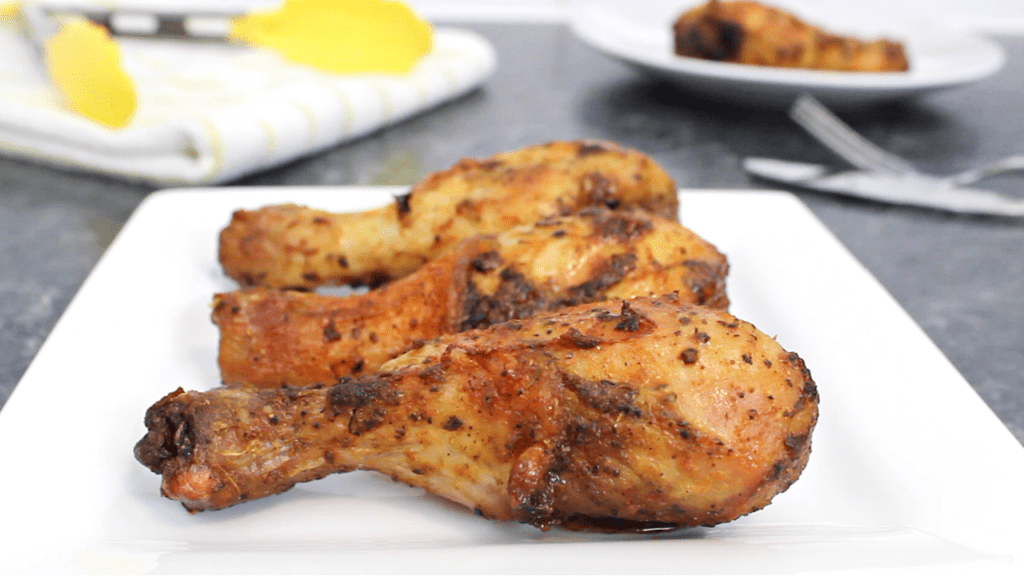 Pin this recipe on Pinterest to save for later
It's delicious, juicy, tender, healthy, easy, and affordable! This recipe might even be one of your favorite air fryer recipes.
How to Make Air Fryer Fried Chicken
The search for weekend meals is over because you can save the day by cooking this stellar main dish!
Ingredients for Air Fryer Chicken
You may notice that you will be needing a lot of herbs and spices but don't worry, the flavors will work together once combined.
Chicken drumsticks
No one can undermine the health benefits of chicken. It can help you strengthen your bones, heart, and muscles. Aside from that, it has been proven to improve brain function because it's loaded with vitamins and minerals.
If you're on a weight loss diet, you can make use of lean chicken meat for protein. Furthermore, chicken contains tryptophan which raises your serotonin levels, improving your mood!
You can also try more of my chicken recipes, such as the Crispy Chicken Wings and Roast Chicken.
Seasoning
Mixed herbs, curry powder, all-purpose seasoning, sea salt, and paprika are excellent ingredients for that kick of flavor. The Knorr chicken cube will also make the chicken more flavorful.
Garam masala is an Indian cuisine-inspired spice made of coriander, cumin, cinnamon, peppercorns, mace, and cardamom pods.
In fried chicken recipes where seasoning is the key, you can never have too many herbs and spices!
Mayonnaise
This recipe makes use of mayonnaise to create the paste consistency for the seasoning. Not only that, but it also complements the combined spices. The added flavor will balance the spiciness and saltiness of the dry ingredients.
Your food will taste fresher and better without the greasy texture of oil-soaked fried chicken.
Honestly, there is almost no reason for you not to try this recipe. It's delicious, juicy, and oil-free!
Directions for Air Fry Chicken
Now, find out how easy and quick you can make this Air Fryer Fried Chicken. Trust me, you'll be done in no time!
Create a paste with the dry ingredients and mayonnaise.
2. Pierce or score the chicken with a fork or knife.
3. Coat the chicken in the seasoning paste and marinate for at least an hour.
4. Cook it in the air fryer for 20 minutes.
5. Check for doneness before removing it from heat.
You can now enjoy your Oil-Free Air Fryer Fried Chicken!
Tips for the Best Air Fry Chicken
Now that you know how the recipe works, let's move on to how you can level it up with just simple tips.
How to Select the Best Chicken
Check the quality of the meat – look at the "best by" date on the package.
Go for the chicken that has a pink and flesh-colored color.
Select ones which are springy and firm without odor.
Feel free to check the label on the package of chicken for a variety of your choice.
How to Store Uncooked Chicken
Packaged chicken can be refrigerated in its wrapping for up to 48 hours from the time of purchase. Store it on the bottom shelves of your fridge to make sure that it doesn't leak liquid into the other food in your fridge.
After 48 hours, it's best to freeze the chicken to preserve its freshness. You can use plastic freezer bags or foil to wrap the chicken pieces separately to prevent freezer burn.
You can indicate the date when you bought and when you froze it for safe consumption.
Brining the Chicken
Even just 30 minutes of brining can make your chicken juicier and tastier! Brining is salting the meat before cooking.
For dry brine, apply the salt evenly on each drumstick. Let it sit for a few hours before cooking. With this method, it's as if the chicken will brine in its own juices.
For chicken drumsticks, I highly recommend doing wet brine. Combine ½ cup of salt, ½ cup of sugar, and 1 cup of hot water in a bowl. You can also add spices such as rosemary or oregano. Then let the chicken brine for at least 4 hours.
Air Fryer Fried Chicken Variations
Fried chicken isn't the only dish you can cook in an air fryer. I also encourage you to try other chicken recipes. You can also make it with other chicken parts, such as wings, thighs, and breasts.
With air fryers, dishes have become simpler and quicker to cook. It's healthier because you can fry lots of food without using oil. You can cook fish, chicken, turkey, beef, and even pasta in your air fryer!
How to Serve Air Fryer Fried Chicken
The good thing about chicken is that you can serve them in a number of fun and delicious ways. For side dishes, I can propose the following:
You can also serve them with these amazing and flavorful dipping sauces of your choice. If you want to use beverages to complement the fried chicken, it's best to go for:
Storage Tips for Fried Chicken
At room temperature. You can only leave them at room temperature for up to two hours before placing them in the fridge or freezer.
Recommended Tools
This post contains affiliate links, which means I earn commission income from qualifying purchases at no extra cost to you. Please read the full disclosure for more information.
Visit my shop for more products.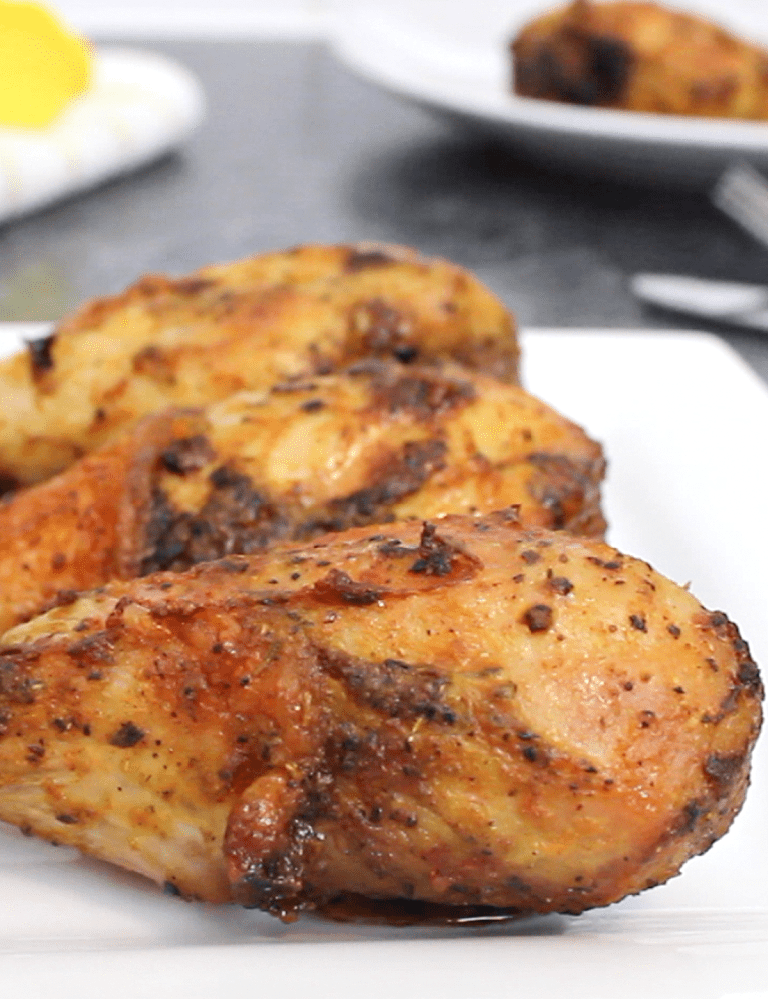 Frequently Asked Questions
Is it okay to put raw chicken in the air fryer?
Yes, it is okay to cook raw chicken in the air fryer. Even without oil, the air fryer has mechanisms to thoroughly cook anything you put in it.
Why is the chicken not crispy?
Sogginess in chicken may be caused by too many moist ingredients. Prepare the seasoning paste with a thick and creamy consistency.
Do you need oil when air frying chicken?
No, there is no need to use oil in cooking chicken in the air fryer.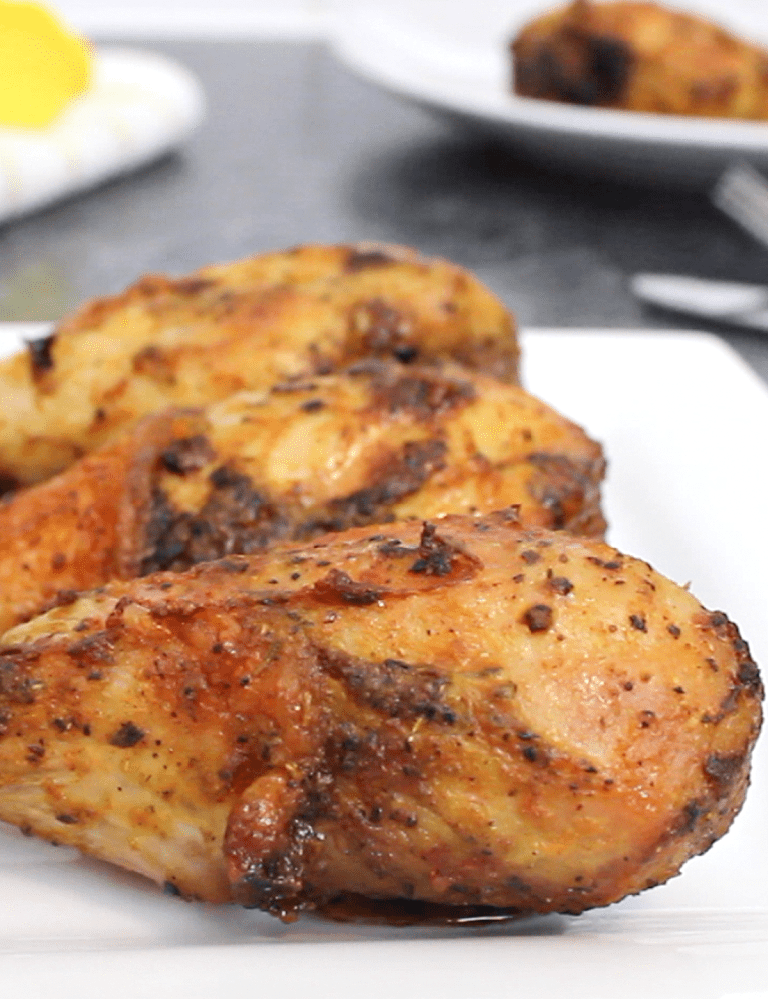 Air Fryer Fried Chicken
Want Guilt-Free Fried Chicken Recipe? Here's the Oil-Free Air Fryer Fried Chicken Recipe – a delicious dish that everyone can relish. It's delicious, juicy, tender, easy, and affordable!
Ingredients
1

kg

chicken

drumstick,12 pieces, soft

1

tsp

mixed herbs

½

tsp

curry powder

½

tsp

all purpose seasoning

½

tsp

paprika

1

stock cube

1

pinch

garam masala

½

tsp

sea salt

1

pinch

coriander

1

pinch

cumin

1

pinch

fenugreek

1

pinch

ginger powder

1

tbsp

mayonnaise
Instructions
Mix all of the dry ingredients with the mayonnaise to form a paste.

Make sure that the bowl is deep enough for the chicken drumsticks you'll be adding later.

Pierce or score the chicken.

Score the chicken using a fork or a knife so that the flavor of the seasoning will seep deeper into the chicken. By piercing the chicken, even the chicken's flesh will be infused with flavors and spices.

Coat the drumsticks in the paste.

Thinly coat each drumstick first. Once each drumstick is thinly coated and you have leftover seasoning, you can toss all of the drumsticks in the bowl to distribute the remaining seasoning.

After that, cover the bowl with cling film.

Time to marinate!

Place the chicken in the fridge and you can let it marinate for at least an hour. I suggest marinating it overnight because the longer it marinates, the tastier it will be!

Let the air fryer do the frying!

Arrange the chicken in your air fryer and set the timer for 20 minutes. To check the doneness of the chicken, slice into the chicken drumstick and if the juices are clear and the meat is opaque, your fried chicken is good to go!
Video
Notes
The longer you allow the chicken to marinate, the tastier!
Try adding in some cayenne pepper, onion powder, dried oregano, and chili powder for that burst of flavor in every bite!

The maximum time to marinate the chicken is up to 24 hours only.
Nutrition
Serving:
1
piece (of 12)
Calories:
95
kcal
Carbohydrates:
1
g
Protein:
8
g
Fat:
7
g
Saturated Fat:
2
g
Polyunsaturated Fat:
2
g
Monounsaturated Fat:
3
g
Trans Fat:
1
g
Cholesterol:
30
mg
Sodium:
132
mg
Potassium:
79
mg
Fiber:
1
g
Sugar:
1
g
Vitamin A:
70
IU
Vitamin C:
1
mg
Calcium:
5
mg
Iron:
1
mg