Get into healthy snacking with these crunchy, sweet, and nutritious Plantain Chips!
If you're wondering what to do with plantains, then you might want to try this deep-fried recipe. It's a popular snack in the Caribbean and Africa, and now, you can make it at home too.
From fresh plantains, you can make an addictive and satisfying snack to keep you full and satisfied. These plantain chips will surely be one of the best dishes you can do with plantains.
Pin this recipe on Pinterest to save for later
With these chips in your diet, you won't have to feel guilty about enjoying snacks. After you try them, these Plantain Chips will certainly be part of your regular diet!
How to Make Plantain Chips
Once you start making and eating these Plantain Chips, you'll find yourself craving them more often. Luckily, I have a simple and quick recipe you can cook at home, and all you need are ripe plantains!
Let me tell you everything you need to know about Plantain Chips!
Ingredient
The good thing about this Plantain Chips recipe is that you only need one ingredient!
Plantains
Don't be deceived, plantains may look like fruits, but they are actually vegetables. They are best eaten when cooked because of how sweet, tender, and filling they can be.
In this recipe, I suggest using ripe plantains for a sugary and pleasant flavor. Compared to bananas, plantains feel firm, especially when they are raw.
There are many ways to cook plantains. Aside from deep frying, you can also steam, bake, and roast them to get the best flavor and texture.
Once you learn how to cook plantains, you won't be able to get enough of them. In fact, here are some of the recipes that my family loves:
Directions
Make the perfect Plantain Chips by following these easy steps:
Peel the plantain and thinly slice it with a knife or V-Blade Slicer.
Pour sunflower oil into a pot.
Then, slowly drop the plantain slices into the oil.
Toss the chips into the oil with a skimmer.
Fry the plantains until golden brown and crisp.
Transfer to a lined tray lined.
Leave them to cool for extra crunchiness!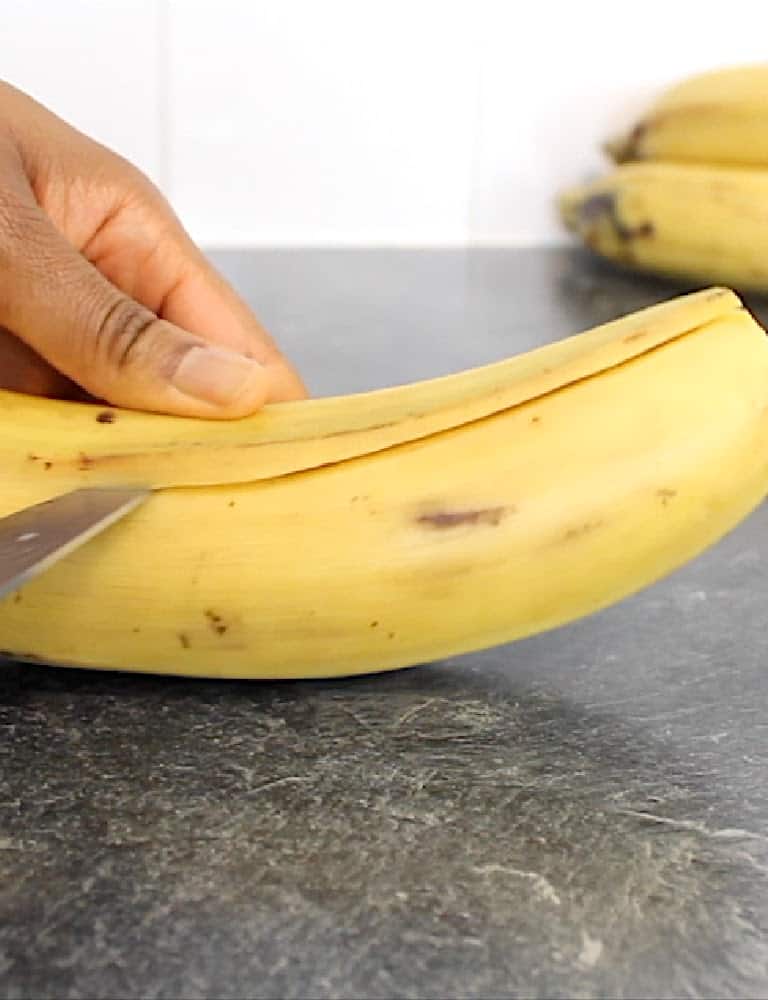 Give it a taste test, and once you're contented with the flavor and texture, munch away on your delicious, crunchy, and Sweet Plantains Chips!
Tips
Buying plantains
Storing plantains
Plantain Chips Variations
These Plantain Chips are perfect for vegan, gluten-free, and dairy-free snacks!
You can use whichever oil you prefer to deep-fry it and season it with your desired herbs and spices. You can dip it in sauces or dressings for more flavor.
Other Ways to Cook Plantain Chips
If you don't have access to a stove or pot, then you can also air fry or bake the plantain chips.
Air fryer
Arrange them evenly on the air fryer.
Let them air fry at 150°C for 12 minutes.
Then, flip the chips every five minutes to cook both sides.
Oven
Put the plantain slices onto a lined baking tray.
Bake them in the preheated oven for up to 20 minutes or until the chips turn golden brown.
Recommended Tools
This post contains affiliate links, which means I earn commission income from qualifying purchases at no extra cost to you. Please read the full disclosure for more information.
Visit my shop for more products.
How to Serve Plantain Chips
Plantain chips can make excellent snacks throughout the day. They can't be a substitute for a complete meal but can be a great source of daily fiber.
These chips can also be served as appetizers or desserts. They can also be added to salads for that extra crunch and sweetness. You can serve them with dipping sauces of your choice too.
Storage Tips
Frequently Asked Questions
Are plantain chips healthy?
Yes, they are! Compared to store-bought banana or plantain chips, these are all-natural, organic, and preservative-free.
They are packed with nutrients and minerals for your heart, immunity, bones, blood sugar, cholesterol, and energy!
What are plantain chips made of?
Plantain chips are just made of ripe plantains. They have a sweet and starchy quality that you will enjoy for snacks. You can also season the chips with salt, sugar, cinnamon, and other spices.
Are plantains bananas?
Plantains are not the same as bananas. They are vegetables, compared to bananas which are fruits. Bananas also have a creamy and soft texture, while plantains tend to be firm.
You can eat bananas raw, but plantains are best enjoyed when cooked.
How would you describe plantain chips?
Plantain chips are sweet, crunchy, and crispy snacks that have a filling effect on your appetite. They also have a golden brown color to make them more appetizing.
Plantain Chips
Good news! You don't have to buy processed plantain chips anymore because there's a simple way how you can make yours at home!
Ingredients
1

Plantain

(ripe and firm)

Cooking oil
Instructions
Peel the plantain and thinly slice it with a knife or V-Blade Slicer.

Pour sunflower oil into a pot.

Then, slowly drop the plantain slices into the oil.

Toss the chips into the oil with a skimmer.

Fry the plantains until golden brown and crisp.

Transfer to a lined tray lined.

Leave them to cool for extra crunchiness!
Video
Notes
Drop the plantain slices directly into the preheated oil to avoid clumps.

Allow them to cool at room temperature to add crispiness and crunchiness.

Plantain chips are not recommended for babies.

You can also use a knife or peeler to manually slice the plantain to your preferred sizes and styles. Plantain chips can be made in the usual round or horizontal and flat versions.
The oil is at the right temperature when the plantain floats back to the surface of the oil.
The best way to fry plantains is to put them directly into the heated oil to fry immediately after slicing. Don't gather them in a bowl anymore because this can lead to clumped plantain chips.
Nutrition
Serving:
1
(of 2)
Calories:
172
kcal
Carbohydrates:
29
g
Protein:
1
g
Fat:
7
g
Saturated Fat:
1
g
Polyunsaturated Fat:
2
g
Monounsaturated Fat:
4
g
Trans Fat:
0.03
g
Sodium:
4
mg
Potassium:
436
mg
Fiber:
2
g
Sugar:
16
g
Vitamin A:
1011
IU
Vitamin C:
16
mg
Calcium:
3
mg
Iron:
0.5
mg