There are many ways to enjoy plantains, and the Air Fryer Roasted Plantains recipe is truly one of the best!
It's no surprise that plantains are widely loved in African recipes. You can cook them in different ways for a new dish every time. With an air fryer, roasting plantains has never been easier and healthier.
Air frying them will give you a tender but firm texture and a mildly sweet flavor that tastes divine with other dishes. Eat fruits like these for healthy recipes for snacks, side dishes, or even desserts!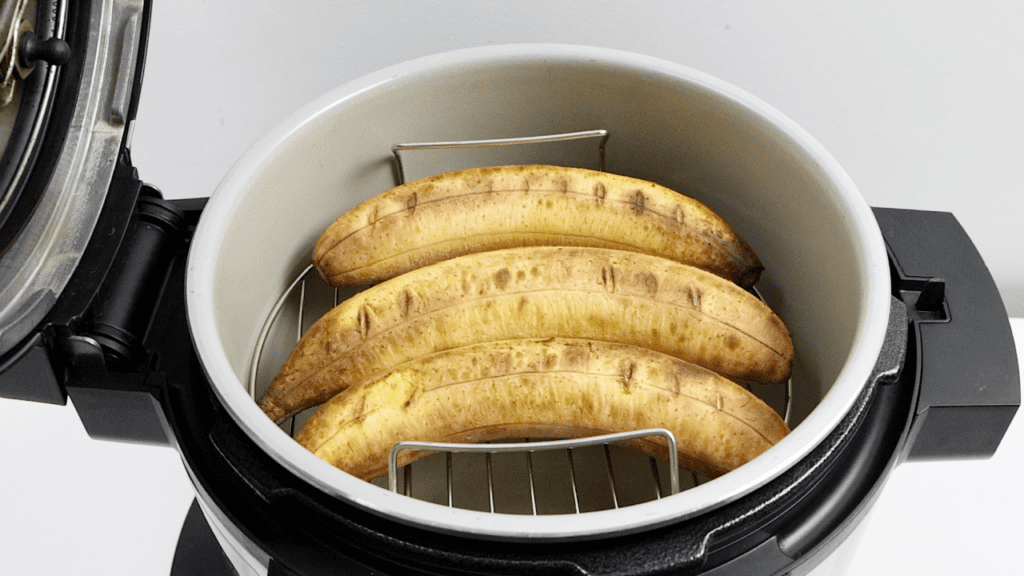 Pin this recipe on Pinterest to save for later
Once you try these Air Fryer Roasted Plantains, you'll be craving them more often. From the texture to the flavor, these plantains are guaranteed to give the best dining experience!
How to Make Air Fryer Roasted Plantains
Are you ready to prepare these effortless Air Fryer Roasted Plantains in less than 30 minutes? The recipe is so simple, so power up your air fryer to cook your plantains today!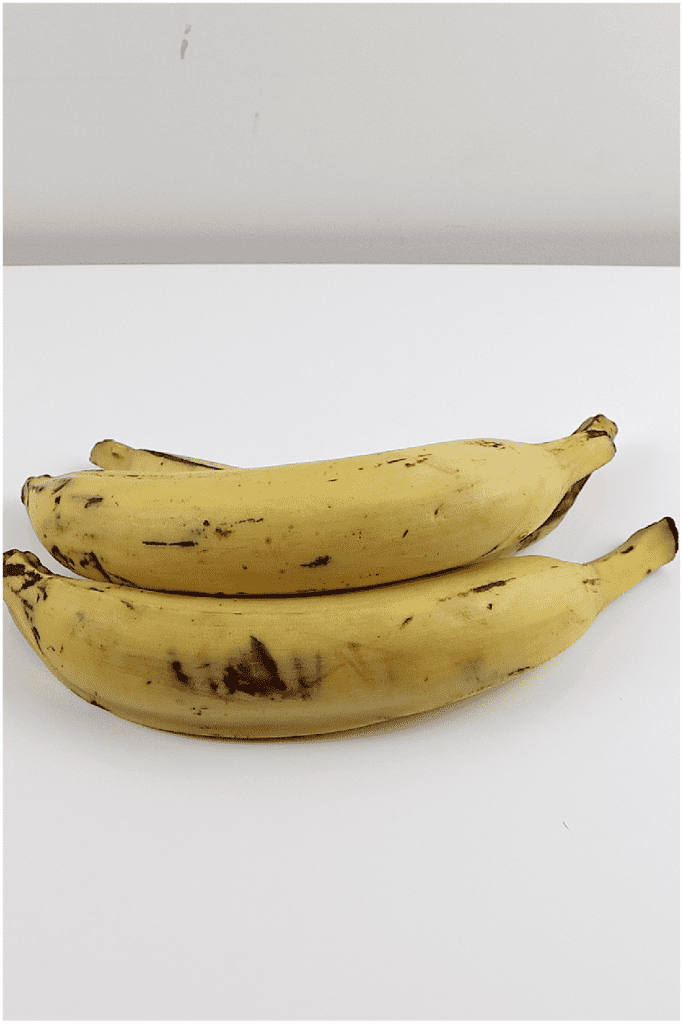 Ingredient
Here's everything you need to know about plantains:
Plantains
Include more fruits in your diet, starting with yummy plantains!
Plantains are fruits that look like bigger bananas. It is different from bananas because you need to cook the plantain before you eat and serve it.
These fruits are some of the most widely used fruits in Africa, Southeast Asia, and the Caribbean. There are so many dishes that you can cook with plantains. They're also very affordable!
When it comes to flavor, plantains have a mildly sweet and starchy taste that you can further improve. They're not just flavorful and versatile, but plantains are also healthy!
If you love plantains, then I also suggest cooking Crispy Plantains, Plantain Bread, or Plantain Porridge. Never miss out on the healthy and yummy goodness of plantains!
Experience these delicious plantains by cooking these Air Fryer Roasted Plantains with me!
Directions
Turn on your air fryer to make this quick and healthy Air Fryer Roasted Plantains recipe!
Place an iron stand in the middle of the air fryer.
Preheat it for one minute at 200°C.
Then, peel the plantain with a knife.
Air fry a single layer of plantains for 19 minutes or until cooked.
Turn the plantains over at the 9th minute.
Once roasted, transfer onto a plate to serve!
Give it a bite and relish its soft, fragrant, and delicious quality. If you think it tastes yummy as it is, wait until you serve it with the other dishes!
Tips
Buying plantains
Buy ripe plantains – fully yellow but firm with fewer black/brown bruises for a sweet and tender texture.
You can also buy unripe plantains if you intend to use them later.
Discard plantains that are too mushy, moldy, or with a foul odor.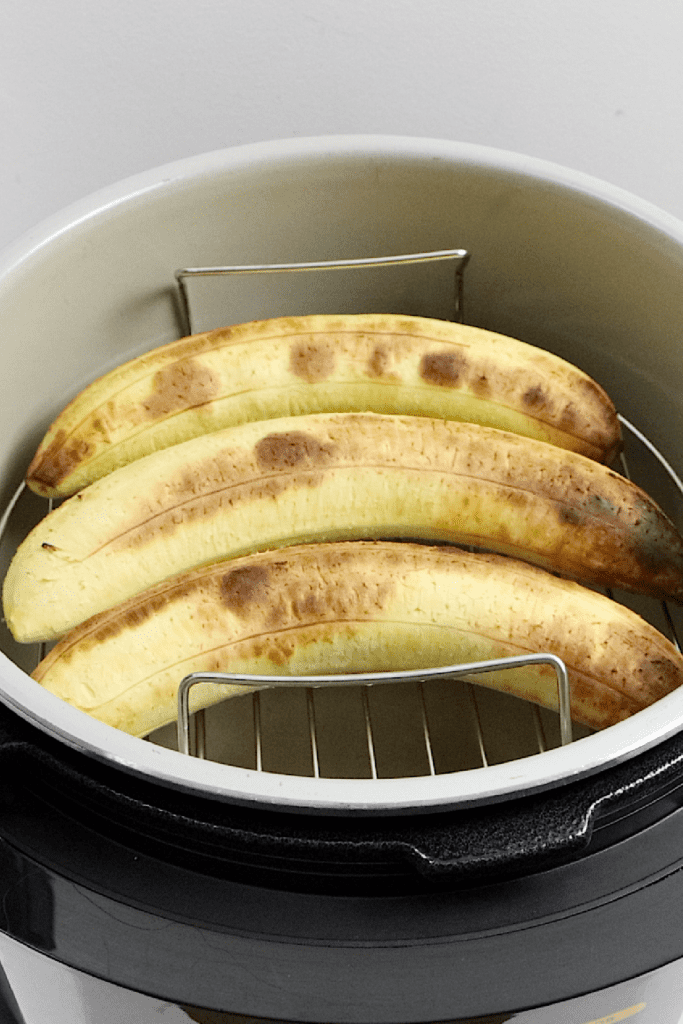 Storing plantains
Keep the plantains at room temperature in an area away from sunlight.
Ripe plantains can be refrigerated for a longer shelf life.
Once peeled or sliced, transfer them into a resealable bag or container with a bit of lemon juice.
Did you know you can store ripe and green plantain for as long as you wish?
Air Fryer Roasted Plantains Variations
If you have been cutting back on oil, then this is one of the best recipes because it does not use any oil.
Moreover, suppose you want to make the Air Fryer Roasted Plantains extra flavorful; you can season them with paprika, sugar, cinnamon powder, chili powder, cayenne, garlic powder, other herbs, and spices.
Here are also alternative methods for roasting plantains that you can cook without an air fryer:
Oven
Preheat the oven to 200°C for 10 minutes
Then, peel and slice the plantains with a knife.
Arrange them on a hot oven tack or lined baking tray.
Bake them in a preheated oven at 200°C for 15 minutes on each side.
Frying pan
Preheat a bit of oil in a frying pan.
Use a knife to peel and cut the plantains.
Fry them for three minutes on each side over medium-high fire.
Aside from roasting them in the air fryer, you can also cook plantains into:
Recommended Tools
Air fryer: Roast the plantain in an air fryer.
Iron rack: Arrange the fruits on an iron rack to cook.
Knife: Peel the fruits with a knife.
This post contains affiliate links, which means I earn commission income from qualifying purchases at no extra cost to you. Please read the full disclosure for more information.
Visit my shop for more products.
How to Serve Air Fryer Roasted Plantains
For old-fashioned roasted plantains, consume them after cooking until soft. Otherwise, you can enjoy them with peanut and cashew butter. These can also be served with other dishes such as: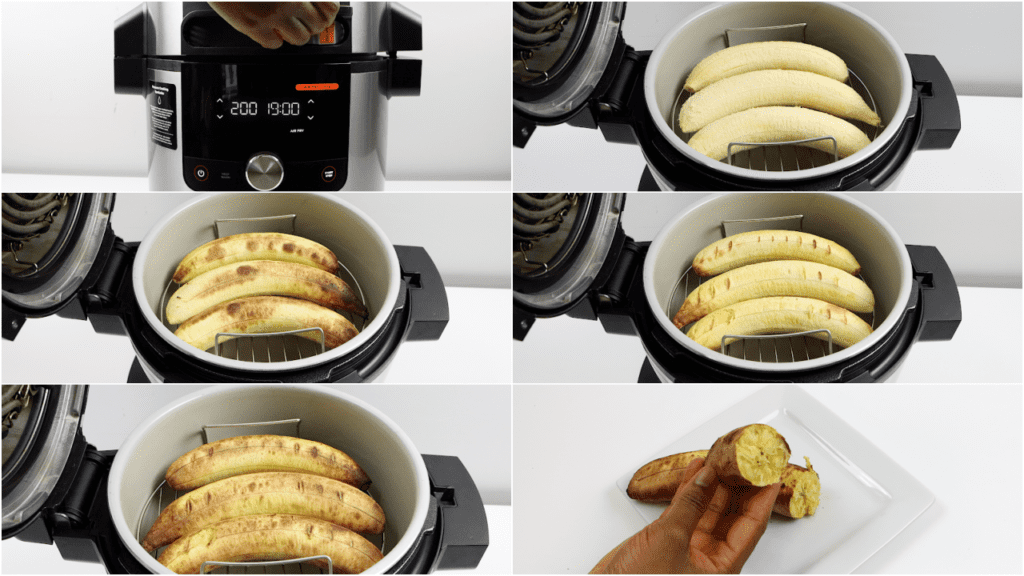 Here is a list of beverages that you might want to try with this dish:
Storage Tips
At room temperature: Roasted plantains can last up to several hours at room temperature, but they are best eaten immediately.
Frequently Asked Questions
How to roast plantain in an air fryer?
Just follow the steps in this recipe to roast plantains in an air fryer! Set the air fryer to the right temperature, and be sure to cook all sides of the plantains.
Is it healthy to eat roasted plantain?
Yes, it is. Plantains have lots of nutrients and antioxidants to help your health in many ways. For instance, it can be good for your heart, brain, digestion, and overall health.
Why do you need to soak plantains before frying?
When frying plantains, you can soak them first to make sure that they're going to be crisp and crunchy in texture. Don't worry; they will still be soft and tender on the inside.
Can I air-fry frozen plantains?
Of course! Since freezing is one fo the best ways to store plantains, you can directly air fry the plantains to restore their soft texture.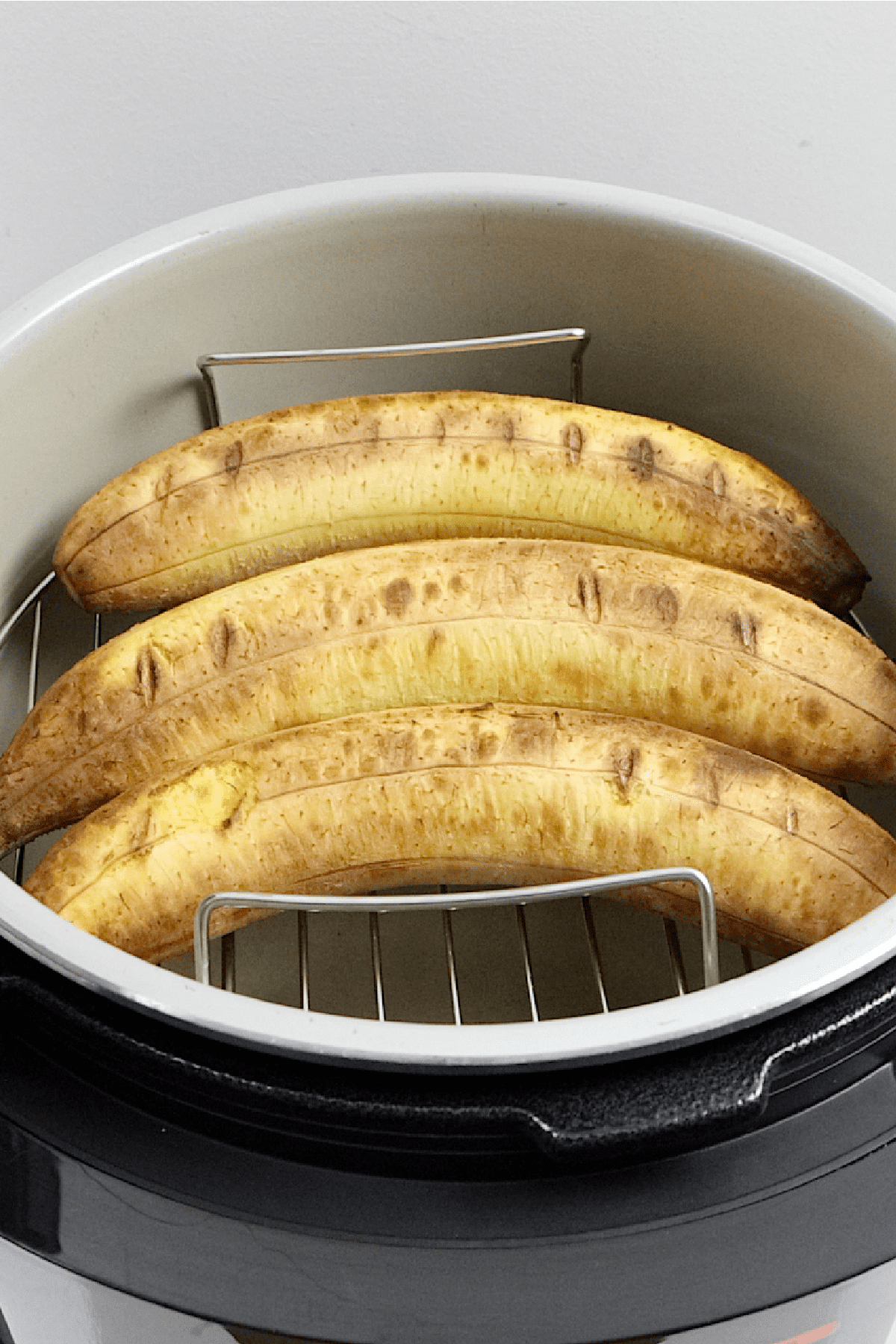 Air Fryer Roasted Plantains
Enjoy oil-free, tender, and delicious Roasted Plantains using an air fryer!
Instructions
Peel the plantain with a knife.

Place the plantains on the preheat rack. Air fry a single layer of plantains for 19 minutes.

Turn the plantains over at the 9th minute.

Once cooked (roasted), transfer onto a plate to serve!
Video
Notes
Purchase ripe plantains for a sweet flavor.

If you don't have an air fryer, you can also cook the plantains in the oven or frying pan.

Air fry them in a single layer for proper cooking.
Nutrition
Serving:
1
(of 3)
Calories:
218
kcal
Carbohydrates:
57
g
Protein:
2
g
Fat:
1
g
Sodium:
7
mg
Potassium:
872
mg
Fiber:
3
g
Sugar:
31
g
Vitamin A:
2023
IU
Vitamin C:
33
mg
Calcium:
5
mg
Iron:
1
mg