Air Fryer Roasted Plantains! It's one of the best methods, if not the best method, of cooking plantains. Unleash the culinary potential of plantains by roasting them in your air fryer. Roasted plantains are indeed made easier!
Air frying them will give you a tender but firm texture and a mildly sweet flavor that tastes divine with other dishes. Eat fruits like these for healthy recipes for snacks, side dishes, or even desserts!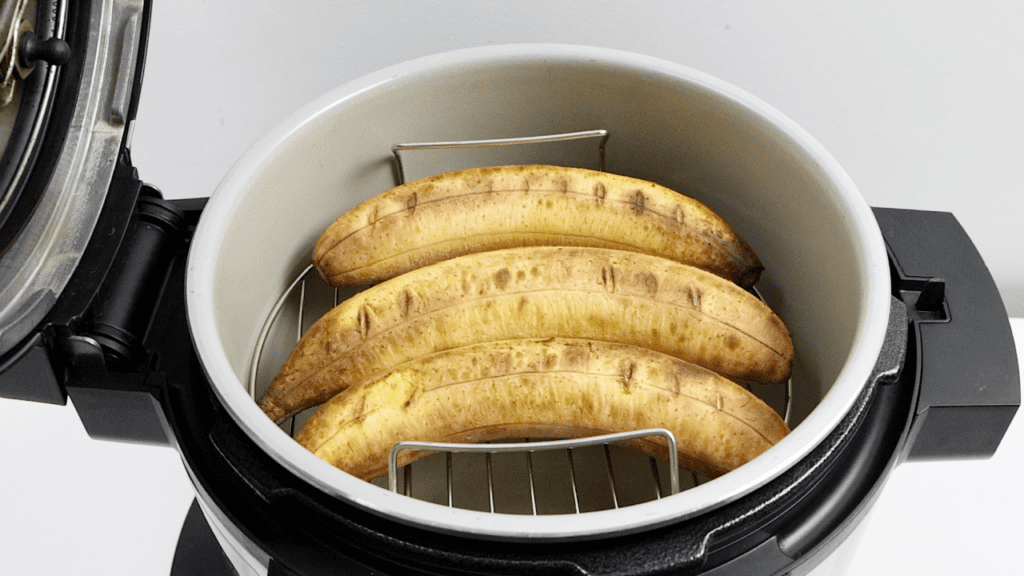 Pin this recipe on Pinterest to save for later
It's certainly an amazing whole30, a gluten-free, vegan, and vegetarian delicacy for any occasion!
How to Make Air Fryer Roasted Plantains
Prepare these effortless Air Fryer Roasted Plantains in less than 30 minutes and with one ingredient!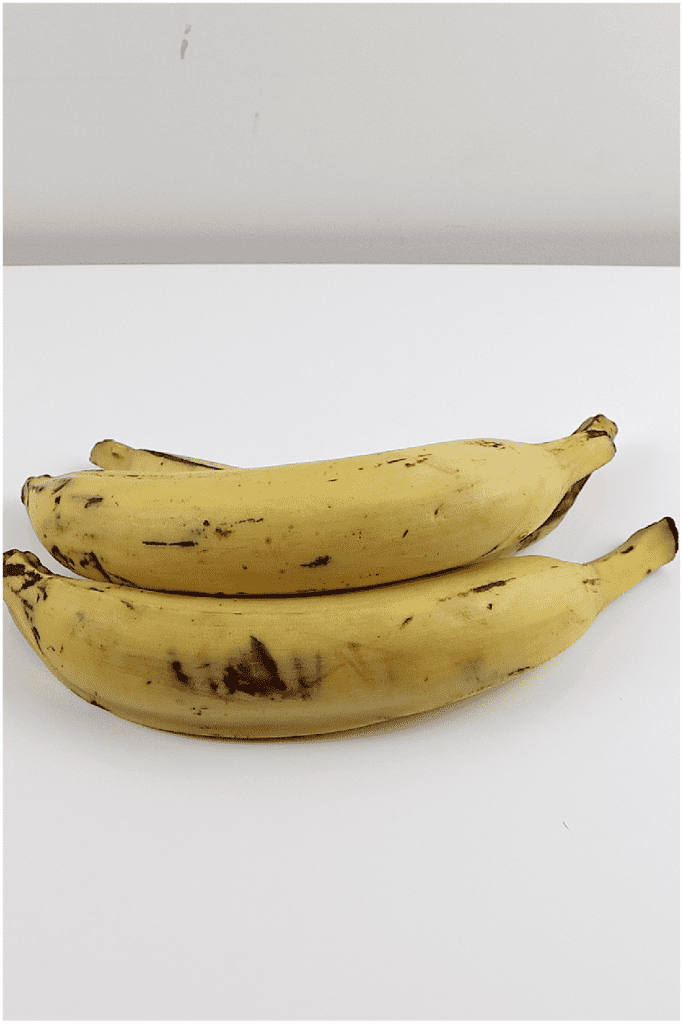 Ingredient
Plantains
Plantains are starchy, firm, and mildly flavored fruits that are best served cooked in various ways. Compared to bananas, plantains cannot be eaten raw, especially the unripe ones. They are versatile ingredients that can be served as a side dish, soup, or snack.
Healthline says these fruits are good for digestion, weight loss, and the heart because they're rich in fiber, carbohydrates, and potassium. I love using plantains for High-Protein Beans because they add flavor and texture.
If you love plantains, then I also suggest cooking Crispy Plantains, Plantain Bread, or Plantain Porridge!
Experience the goodness of plantains by cooking these Air Fryer Roasted Plantains with me!
Directions
Power up your air fryer to make this quick and healthy meal.
Place an iron stand in the middle of the air fryer.
Preheat it for 1 minute at 200°C.
Then, peel the plantain with a knife.
Air fry a single layer of plantains for 19 minutes or until cooked.
Turn the plantains over at the 9th minute.
Once roasted, transfer onto a plate to serve!
Give it a bite and relish its soft, fragrant, and delicious quality. If you think it tastes yummy as it is, wait until you serve it with the other dishes!
Tips for Air Fryer Plantain
Buying plantains
Buy ripe plantains – fully yellow but firm with fewer black/brown bruises for a sweet and tender texture.
You can also buy unripe plantains if you intend to use them later.
Discard plantains that are too mushy, moldy, or with a foul odor.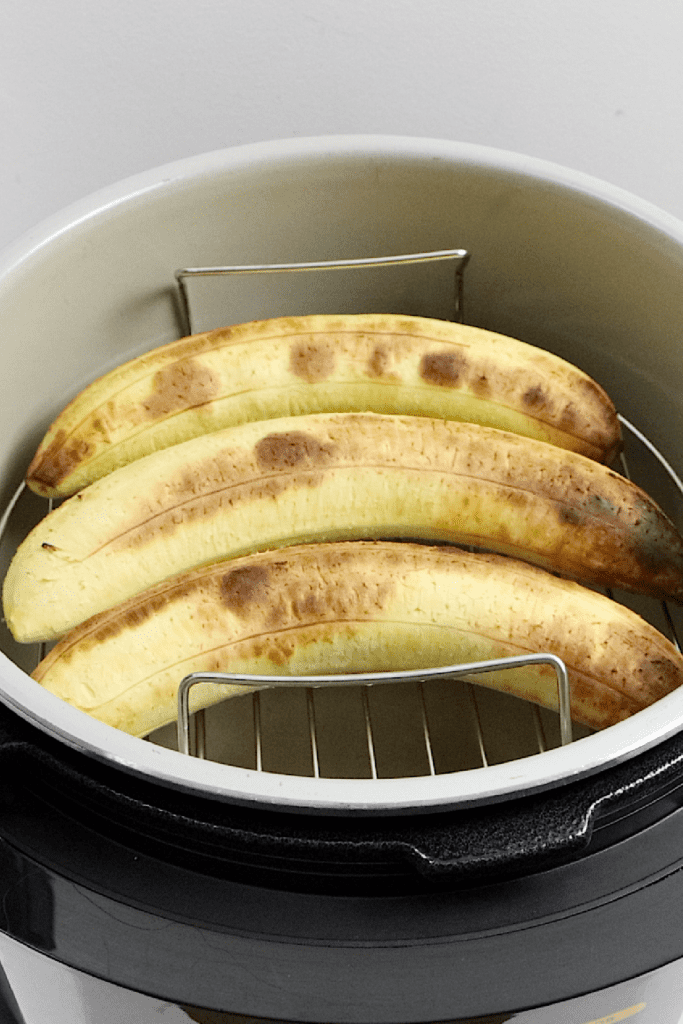 Storing plantains
Keep the plantains at room temperature in an area away from sunlight.
Ripe plantains can be refrigerated for a longer shelf life.
Once peeled or sliced, transfer them into a resealable bag or airtight container with a bit of lemon juice.
Did you know that you can preserve ripe plantain and green plantain for as long as you wish?
Variations
If you have been cutting back on oil, then this is one of the best recipes because it does not use any oil.
Moreover, suppose you want to make the Air Fryer Roasted Plantains extra flavorful; you can season them with paprika, sugar, cinnamon powder, chili powder, cayenne, garlic powder, other herbs, and spices.
Here are also alternative methods for roasting plantains that you can cook without an air fryer:
Oven
Preheat the oven to 200°C for 10 minutes
Then, peel and slice the plantains with a knife.
Arrange them on a hot oven tack or lined baking tray.
Bake them in a preheated oven at 200°C for 15 minutes on each side.
Frying pan
Preheat a bit of oil in a frying pan.
Use a knife to peel and cut the plantains.
Fry them for 3 minutes on each side over medium-high fire.
Aside from roasting them in the air fryer, you can also cook plantains into:
Recommended Tools
Air fryer: Roast the plantain in an air fryer.
Iron rack: Arrange the fruits on an iron rack to cook.
Knife: Peel the fruits with a knife.
This post contains affiliate links, which means I earn commission income from qualifying purchases at no extra cost to you. Please read the full disclosure for more information.
Visit my shop for more products.
How to Serve Air Fryer Roasted Plantains
For old-fashioned roasted plantains, consume them after cooking until soft. Otherwise, you can enjoy them with peanut and cashew butter. These can also be served with other dishes such as: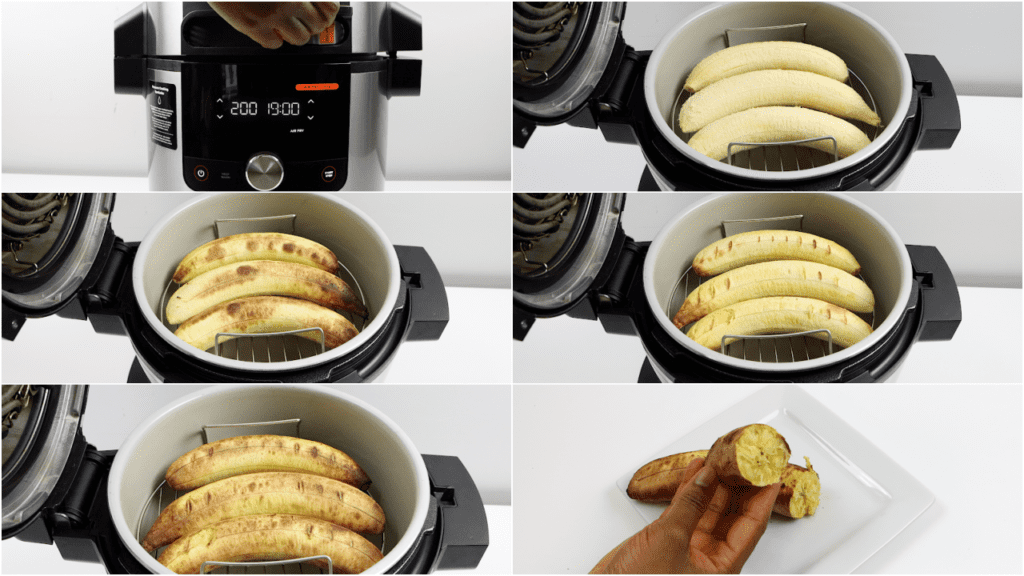 Here is a list of beverages that you might want to try with this dish:
Storage Tips
At room temperature: Roasted plantains can last up to several hours at room temperature, but they are best eaten immediately.
Frequently Asked Questions
Can you roast plantain in an air fryer?
Yes, you can roast plantains in an air fryer! It still gives you the right texture and flavor. In fact, the air fryer almost does all of the work for you. Don't forget to turn the plantain slices to the other side to cook.
Is roasted plantain good for?
Yes, roasted plantain is healthy because it contains vitamins and minerals that aid digestion, weight loss, heart health, bone density, and overall health.
What is the best way to cook plantain?
There are plenty of ways to cook plantains, but this air fryer roasting recipe's edge is that it's completely oil-free!
What is the healthiest way to eat plantains?
The best way to eat plantains depends on your diet and preferences. For instance, if you prefer crunchy chips, you may opt for Sweet Plantain Chips. On the other hand, you can cook Plantain Porridge for a smooth and thick soup.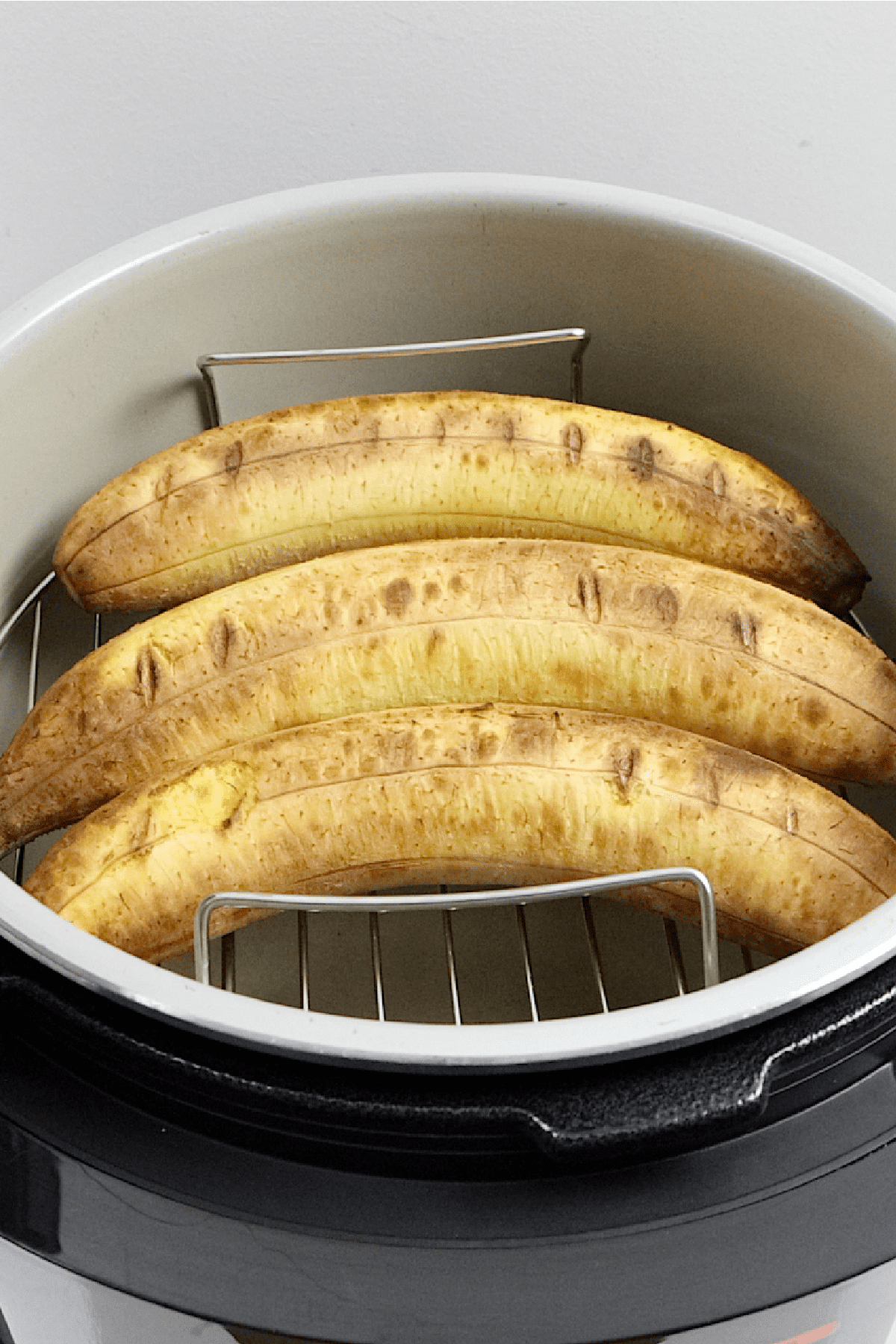 Air Fryer Roasted Plantains
Enjoy oil-free, tender, and delicious Roasted Plantains using an air fryer!
Instructions
Peel the plantain with a knife.

Place the plantains on the preheat rack. Air fry a single layer of plantains for 19 minutes.

Turn the plantains over at the 9th minute.

Once cooked (roasted), transfer onto a plate to serve!
Video
Notes
Purchase ripe plantains for a sweet flavor.

If you don't have an air fryer, you can also cook the plantains in the oven or frying pan.

Air fry them in a single layer for proper cooking.
Nutrition
Serving:
1
(of 3)
Calories:
218
kcal
Carbohydrates:
57
g
Protein:
2
g
Fat:
1
g
Sodium:
7
mg
Potassium:
872
mg
Fiber:
3
g
Sugar:
31
g
Vitamin A:
2023
IU
Vitamin C:
33
mg
Calcium:
5
mg
Iron:
1
mg