Do you love the sweet and savory mix of flavors that always seems to hit the spot? Have you been looking for a healthier alternative to deep-fried plantains? If you answered yes to either of those questions, Steamed Plantains are the perfect solution!
Incorporating fruits and vegetables into your diet is one of the best ways of staying healthy and fit – try these Steamed Plantains to find out! Steaming is so easy and practical that you can prep it in minutes. This one-ingredient dish is super easy, simple, and above all, wholesomely toothsome!
Pin this recipe on Pinterest to save for later
In this article, we'll explore the health benefits, and popular recipes for steamed plantain. You'll learn the best ways to prepare and enjoy this nutritious snack, as well as tips for adding your own flavors to it. By the time you've finished reading, you'll be ready to satisfy your cravings and boost your health at the same time!
How to Make Steamed Plantains
Steamed plantain is a delicious West African side dish that is packed with flavor and nutrition. Not only is it low in fat and rich in dietary fiber, vitamins, and minerals, but it also has a rich history of being a part of African culture for centuries. Not only is this recipe healthy, but it is also easy to make!
Plantains
These are versatile and are especially perfect for all sorts of dishes. The innate starchy and sweet flavor makes it suitable for steaming. Green plantains usually taste bland, while ripe ones have a slightly sweet flavor. The longer it ripens, the sweeter the taste will be.
They are abundant in fiber and antioxidants to aid digestion, heart health, and immunity. This fruit's nutrients can also strengthen bones for improved physical activity.
Aside from steaming, you can also transform them into Roasted Plantains, Plantain Porridge, and Fufu!
Directions
Peel and slice the fruits according to your preferred sizes with a knife.
Boil water into a pot.
Place the steaming basket in the middle, and arrange the plantain slices on the basket.
Steam them over medium heat for 10 minutes.
If you can pierce through it, then take it out of the heat to let it cool.
Trust me, preparing this fruit has never been this quick and simple! Enjoy it as it is to make the most out of the nutrients, quality, and flavor!
Tips
How to Select and Store Plantains
Selection. Ripe plantains have yellow and black skin. They are soft to the touch and fragrant in scent. You can also purchase green ones and let them ripen for up to two weeks.
Storage. These can last up to 5 days at room temperature. Ripe ones can also be refrigerated to last up to a week longer. For sliced ones, portion them into resealable bags and freeze them for up to 3 months.
Steaming Without a Steaming Basket
The Food Network suggests a new steaming method without using a steaming basket. First, roll at least three sheets of aluminum foil into balls. Then, place them in the pot and pour about half an inch of water for boiling.
Put the plate on top of the foil, arrange the plantains, cover, and steam!
Alternatively, you can use a wire cooling rack or an inverted slotted pie pan to prepare this dish. As a last resort, put them in a microwave-safe dish or bag with a bit of water and microwave for up to 6 minutes.
Plantain Variations
To mix things up, you can use this fruit to make the following plantain dishes:
You can try plenty of varieties, such as French and Horn. If you're looking for substitutes, you can use yam, sweet potato, and jackfruit.
Recommended Tools
Pot: Steam the fruit in a pot.
Steaming basket: Use this to prevent the plantain from touching the water.
Knife: Peel and chop the fruit with a knife.
This post contains affiliate links, which means I earn commission income from qualifying purchases at no extra cost to you. Please read the full disclosure for more information.
Visit my shop for more products.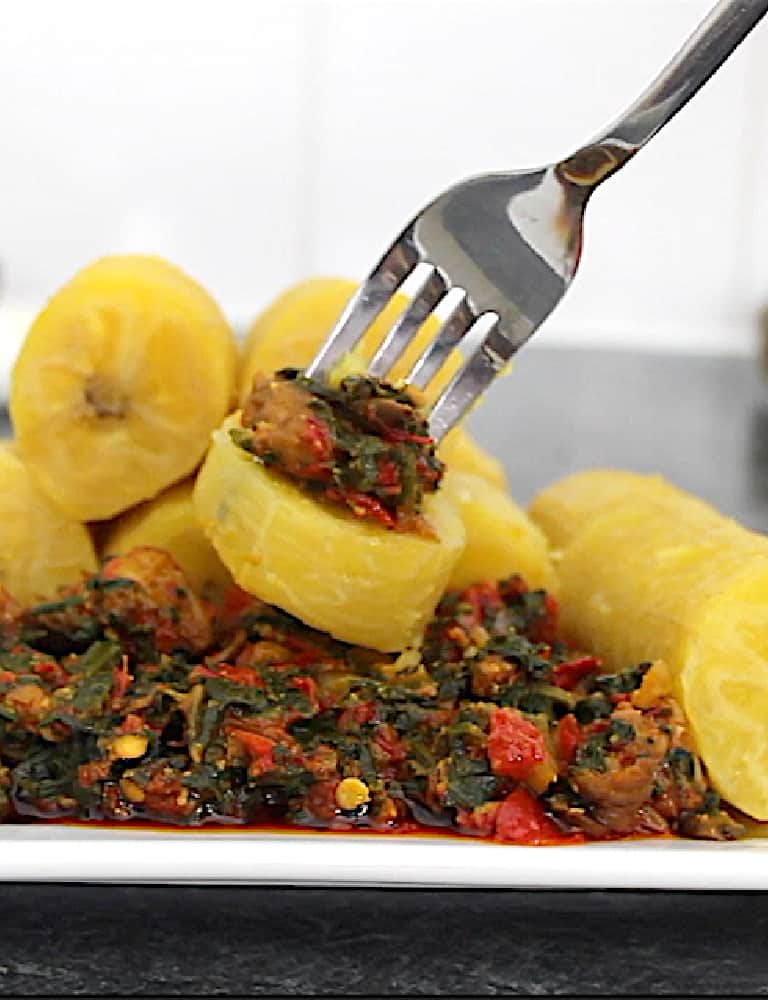 How to Serve Steamed Plantains
Plantains can be paired with stews such as:
According to Story Teller, 25 grams of ripe plantains is the recommended daily intake for adults. It constitutes about 20% of the needed daily fiber. Fruits are best consumed in the morning to energize you throughout the day.
Storage Tips
At room temperature: It's best to consume steamed plantains within 4 hours at room temperature
Frequently Asked Questions
Are steamed plantains healthy?
Yes, they are! These are packed with essential nutrients to boost energy, digestion, and immunity. This dish can also aid in weight management with its fiber and calorie content.
What is the healthiest way to eat plantain?
Steaming is one of the healthiest ways of preparing plantains because it gives them a tender texture without losing the nutrients. However, you can also roast, bake, or grill them.
Can you steam plantains?
Of course, you can! Steaming is actually one of the best ways to prepare plantains to preserve most of their natural flavors and nutritional value.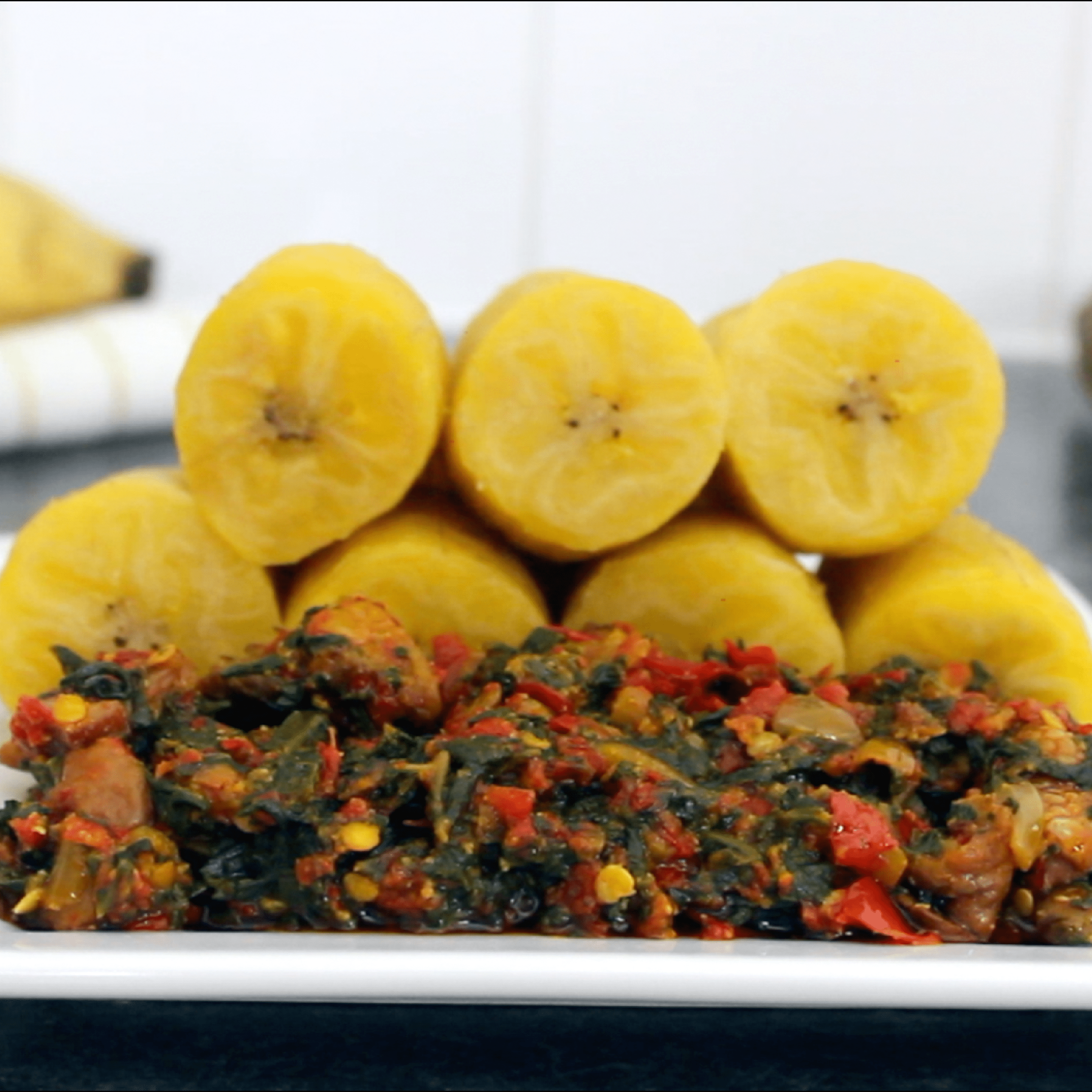 Steamed Plantains
Tired of serving the same dishes for dinner night after night? There's an easy and delicious solution to break the monotony – steamed plantains!
Instructions
Prep the plantains

Peel and cut the plantains into 2 or 3.

Boil some water

Place a pot on medium heat. Add some water, insert the steaming basket and bring to a boil.

Steam the plantain slices

Arrange the plantains on the steaming basket, cover with a lid and allow the plantains to cook for 10 minutes.
Video
Notes
If you don't have a steaming basket, use balled aluminum foil, a wire cooling rack, or an inverted slotted pie pan.

Plantains can also be transformed into chips, porridge, and more!

Peeled plantains may take at least 10 minutes to steam, but unpeeled ones need to be cooked for at least 25 minutes.
Nutrition
Serving:
1
(of 2)
Calories:
328
kcal
Carbohydrates:
86
g
Protein:
3
g
Fat:
1
g
Sodium:
11
mg
Potassium:
1308
mg
Fiber:
5
g
Sugar:
47
g
Vitamin A:
3026
IU
Vitamin C:
49
mg
Calcium:
8
mg
Iron:
1
mg