Now is the time to add healthy African recipes to your diet, starting with simple and delicious Steamed Plantains!
You will certainly love the sweet and tender quality of this dish. It's one of the best side dishes, snacks, and desserts to serve to your family and friends, from kids to adults.
When it comes to steaming recipes, plantains are my go-to veggies. Once cooked, they can go with almost any dish you want to enjoy!
Pin this recipe on Pinterest to save for later
Today, I will tell you all about steamed plantains and why you should cook them. You are in for a complete guide to cook, improve, and store steamed plantains; let's get started!
How to Make Steamed Plantains
While steamed plantains are popularly cooked in West Africa, there is no reason not to make them at home. It's loaded with flavor and health benefits to keep you satisfied and nourished!
In ten minutes, you can experience one of the culinary treasures of Africa. Get ready to experience the best steamed plantains yet!
Ingredients
Plantains
Experience vegetables with the quality of fruits with these plantains. In this recipe, I suggest using ripe plantains for a sweet flavor and tender texture.
Unlike bananas, plantains are best eaten when cooked. They have a starchy and rich taste that only gets better when you steam, deep fry, bake, air fry, or roast them.
When raw, the plantains are firm, but once cooked, they will become soft, caramelized, and decadent. With the recipes you can make from plantains, every dish will surely be exciting!
There is no doubt that plantains make some of the best veggies for your diet. Here are some of the best plantain recipes I always make at home:
Directions
How can you cook steamed plantains? Just follow these steps:
Peel and slice the plantains with a knife.
Boil water into a pot.
Place the steaming basket in the pot.
Then, arrange the plantain slices in the basket.
Steam them over medium heat for ten minutes or until tender.
Remove them from heat and serve!
Trust me, preparing steamed plantains has never been this quick and simple! Enjoy it as it is to make the most out of the nutrients, quality, and flavor!
Tips
Buying plantains
Bon Appetit suggests buying ripe plantains that have yellow and black skin or dark colors.
They should feel firm to the touch.
You can also buy green ones and let them ripen for up to two weeks.
Storing plantains
Plantains can last up to 5 days at room temperature.
Ripe ones can also be refrigerated to last up to a week longer.
For sliced ones, store them in resealable bags and freeze them for up to 3 months.
Steaming Without a Steaming Basket
The Food Network suggests a new steaming method without using a steaming basket. First, roll at least three sheets of aluminum foil into balls. Then, place them in the pot and pour about half an inch of water for boiling.
Put a plate on top of the foil, arrange the plantains, cover, and steam!
Alternatively, you can use a wire cooling rack or an inverted slotted pie pan to prepare this dish. As a last resort, put them in a microwave-safe dish or bag with a bit of water and microwave for up to 6 minutes.
Steamed Plantains Variations
To mix things up, you can use plantains to make the following plantain dishes:
You can try plenty of varieties, such as French and Horn. If you're looking for substitutes, you can use yam, sweet potato, and jackfruit.
Recommended Tools
Pot: Cook the steamed plantains in a pot.
Steaming basket: Steam the plantains in a steaming basket.
Knife: Peel and chop the plantains with a knife.
This post contains affiliate links, which means I earn commission income from qualifying purchases at no extra cost to you. Please read the full disclosure for more information.
Visit my shop for more products.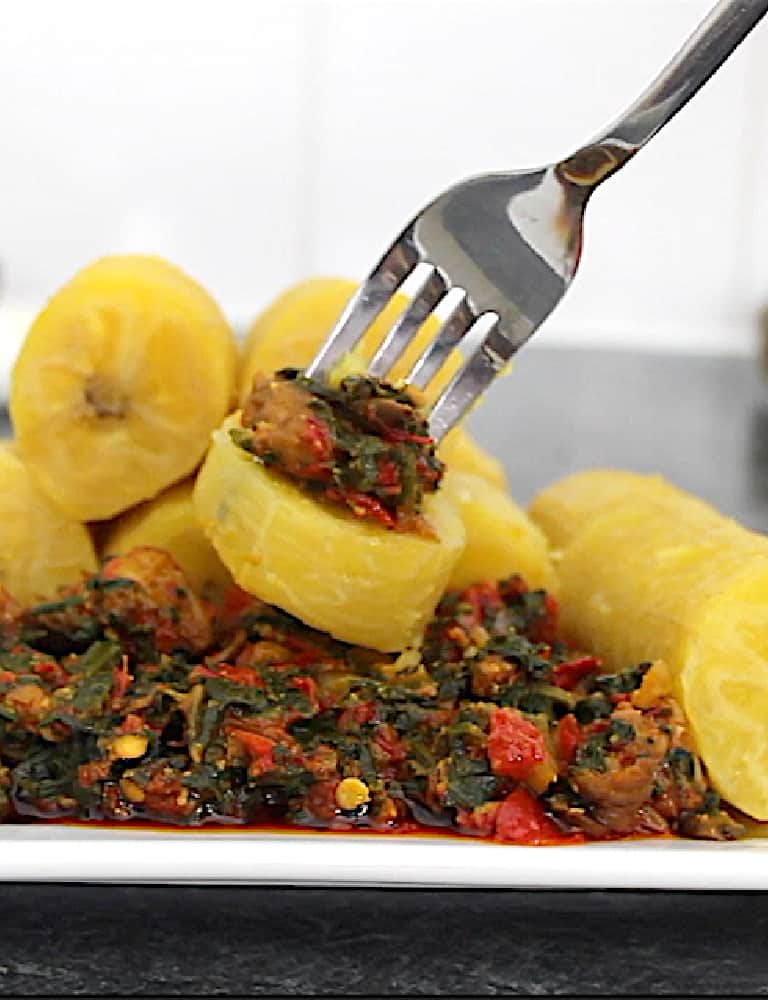 How to Serve Steamed Plantains
You can serve steamed plantains anytime you want. They can also make excellent side dishes or snacks for your guests. In fact, you can mash steamed plantains to make baby food.
Try different toppings or seasonings that will pair well with them. For instance, you can mix them with milk, cream, sugar, cinnamon, chili flakes, and more!
Plantains can be paired with stews such as:
According to Story Teller, 25 grams of ripe plantains is the suggested daily intake for adults. It also constitutes about 20% of the needed daily fiber.
Storage Tips
At room temperature: It's best to eat steamed plantains within four hours at room temperature
Frequently Asked Questions
How long does it take to steam plantains?
It depends on the quantity of plantains you want to steam. Generally, it takes about eight to ten minutes to steam them. Check them for doneness before removing them from heat.
Are steamed plantains healthy?
Yes, they are! These are packed with essential nutrients to boost energy, digestion, and immunity. This dish can also aid in weight management with its fiber and calorie content.
What is the healthiest way to cook plantain?
Steaming is one of the healthiest ways of preparing plantains because it gives them a tender texture without losing the nutrients. However, you can also roast, bake, or grill them.
Can you steam plantains?
Of course, you can! Steaming is certainly one of the best ways to prepare plantains to preserve most of their natural flavors and nutritional value.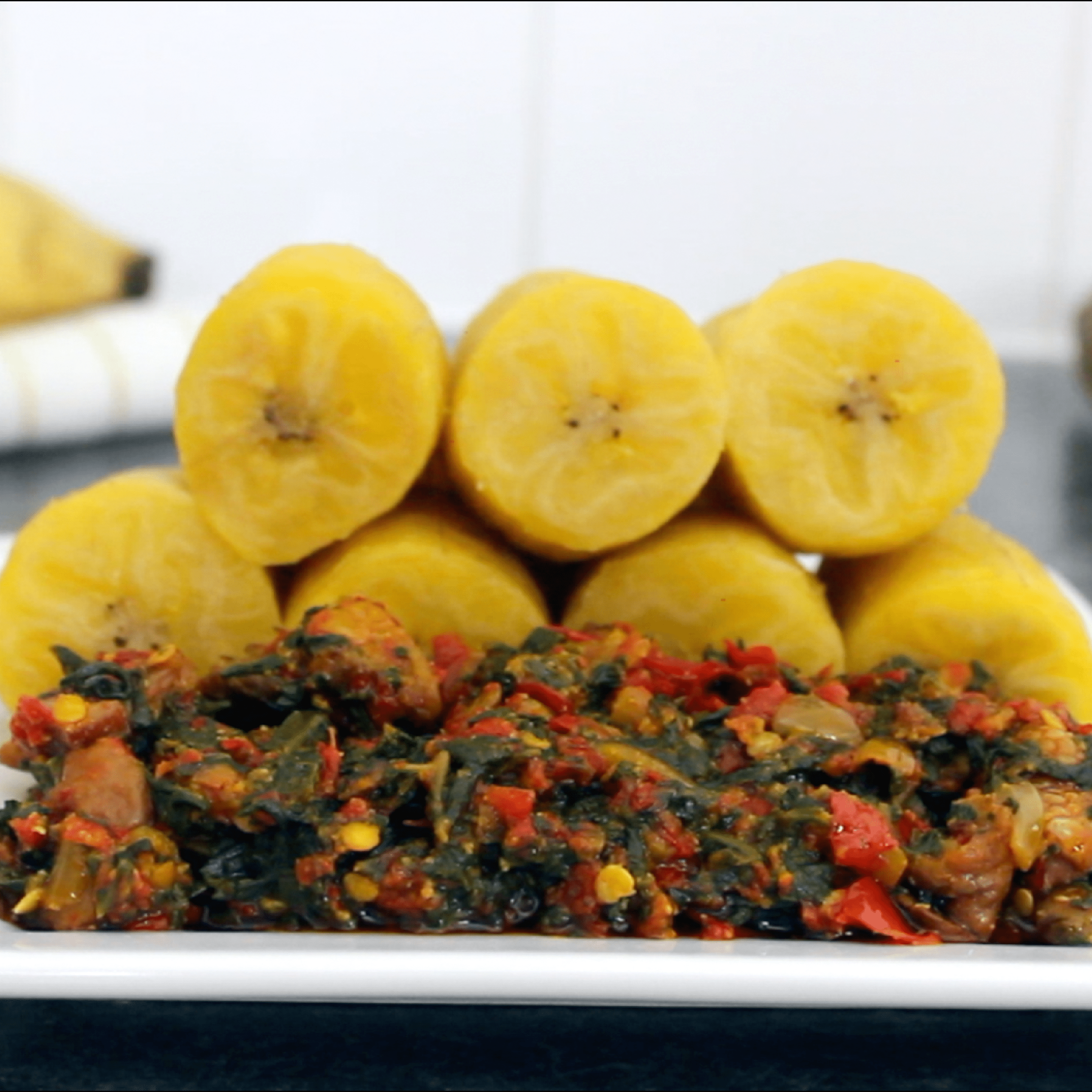 Steamed Plantains
Tired of serving the same dishes for dinner night after night? There's an easy and delicious solution to break the monotony – steamed plantains!
Instructions
Peel and slice the plantains with a knife.

Place the steaming basket in the pot.

Then, arrange the plantain slices in the basket.

Steam them over medium heat for ten minutes or until tender.

Remove them from heat and serve!
Video
Notes
If you don't have a steaming basket, use balled aluminum foil, a wire cooling rack, or an inverted slotted pie pan.

Plantains can also be transformed into chips, porridge, and more!

Peeled plantains may take at least 10 minutes to steam, but unpeeled ones need to be cooked for at least 25 minutes.
Nutrition
Serving:
1
(of 2)
Calories:
328
kcal
Carbohydrates:
86
g
Protein:
3
g
Fat:
1
g
Sodium:
11
mg
Potassium:
1308
mg
Fiber:
5
g
Sugar:
47
g
Vitamin A:
3026
IU
Vitamin C:
49
mg
Calcium:
8
mg
Iron:
1
mg