Make the most of plantains with an easy, affordable, and ultimately delicious Roasted Plantains recipe!
When it comes to the best African snacks, Roasted Plantains are on top of the list. They were first cooked by the Yoruba people in Nigeria as a snack or meal in itself.
These plantains pair well with the famous African sauce and savory dishes with meat, vegetables, and stews. Not only are they absolutely sweet, but they are also healthy and filling!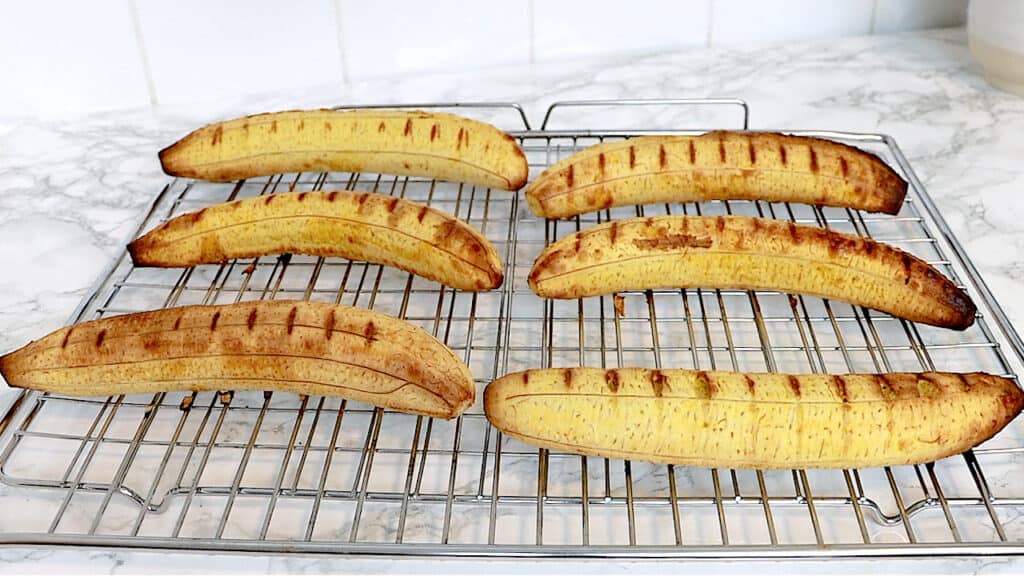 Pin this recipe on Pinterest to save for later
Feel warmth, comfort, and satisfaction in every bite of these Roasted Plantains. Serve it to your family and guests to give them a good time to remember!
How to Make Roasted Plantains
The Roasted Plantains recipe is a simple yet hearty dish you can cook in the oven. Once you cook them, you will enjoy the sweet, tender, and extraordinary quality you can get from plantains.
Get ready to experience plantains like never before!
Ingredients
What do you need to make the Roasted Plantains recipe?
Plantains
Isn't it interesting how plantains look like fruits but feel and taste like vegetables? According to MIC Food, plantains are actually fruits because they belong in the same family as bananas!
Unlike bananas, plantains are not usually eaten raw because of how firm they are when raw. You can bake, steam, roast, or deep fry them to get the best quality.
In this recipe, I suggest using ripe plantains because they have a sweet and starchy flavor that will taste amazing when roasted. After you cook them, they will have a soft texture too.
I've tried many plantain recipes, and my family always enjoyed them. In fact, here are some of the best plantain dishes I can suggest:
Start with the Roasted Plantains recipe, and you won't be able to get enough of these plantains. These might even be your new favorite snacks!
Directions
Power up your oven, and let's cook the Roasted Plantains recipe!
Preheat the oven to 200°C or 400°F for 10 to 15 minutes.
Rinse the plantains.
Then, chop off both ends of the plantains with a knife.
Slice along the ridges of the fruits.
Arrange the plantains on the oven rack.
Roast them in the oven at 200°C or 400°F for 10 to 15 minutes on each side.
Once happy with doneness, remove them from heat and enjoy!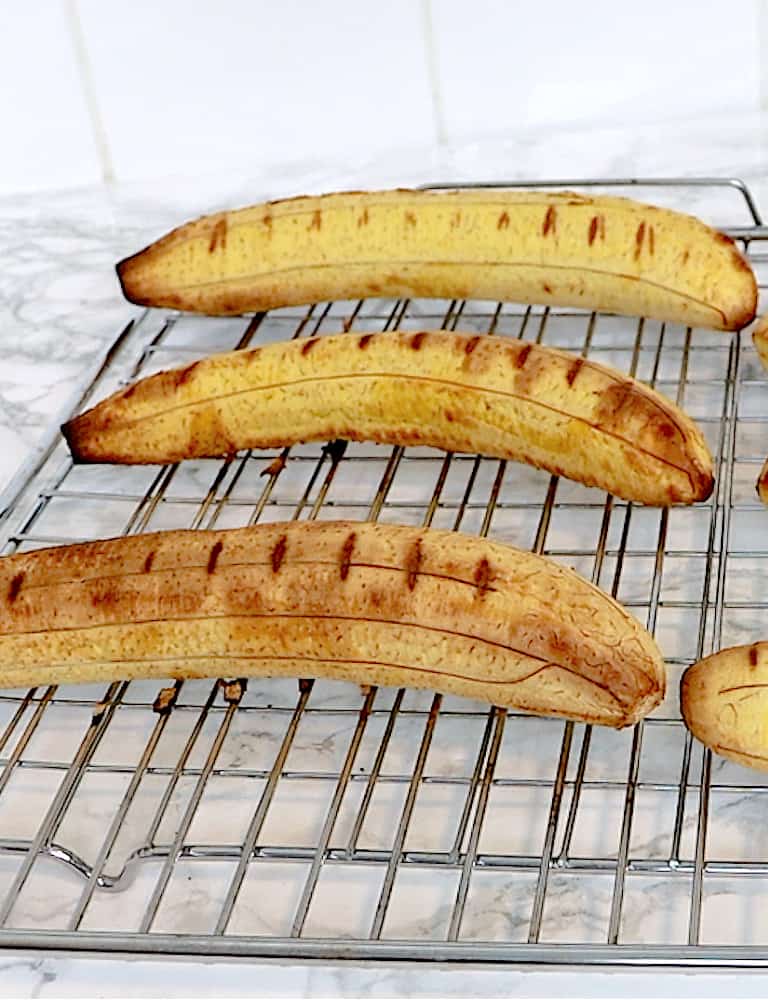 Did you notice how sweet, soft, and decadent they have become? Imagine how tastier they will be once you pair them with the right dishes and drinks!
Tips
Buying plantains
According to Bon Appetit, ripe plantains are brown or black in color.
They will also feel soft but not too mushy.
You can buy unripe plantains and let them ripen.
Storing plantains
Let whole unripe plantains ripen at room temperature.
Once ripe, transfer them into resealable bags and store them in the fridge for several days.
Meanwhile, freeze peeled and sliced plantains to last up to a few weeks.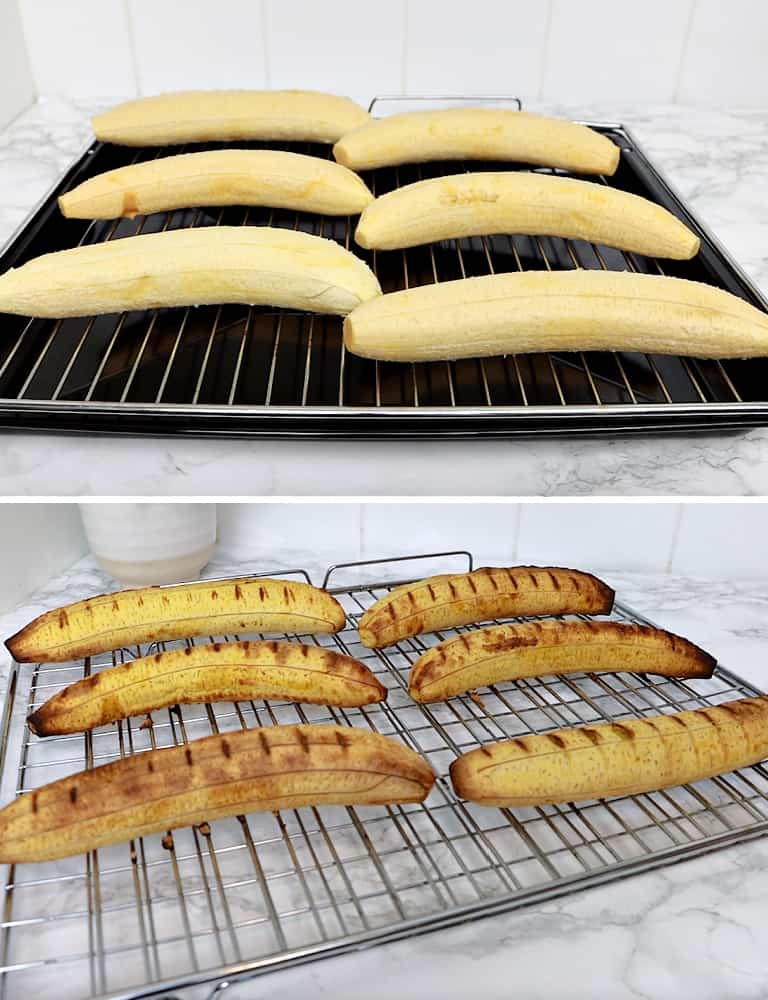 Roasted Plantains Recipe Variations
There are many ways to make your Roasted Plantains fun and exciting. For instance, you can drizzle them with coconut oil for a nutty flavor and aroma.
You can also season the plantains with salt, sugar, chili flakes, and other herbs and spices of your choice. Aside from ripe plantains, try roasting unripe plantains for an earthy flavor.
They can also be fried into Crispy Plantains or Plantain Balls. You can also combine these with eggs! They are so versatile that they can even be turned into baby food, porridge, fufu, bread, or chips!
No-Oven Roasted Plantains
Preheat your frying pan over medium fire for several minutes. Once hot, turn down the heat and place the peeled plantains on the pan. Cover it to trap the air inside.
Once golden on one side, turn it over to cook the other side. Once contended, remove them from heat and let them cool before serving!
Recommended Tools
This post contains affiliate links, which means I earn commission income from qualifying purchases at no extra cost to you. Please read the full disclosure for more information.
Visit my shop for more products.
How to Serve Roasted Plantains
Roasted plantains can be served on their own as snacks or desserts. Making your roasted plantains more interesting by dipping them in peanut butter or cashew butter.
Here are some of the best dishes to pair with roasted plantains:
Complete your meal with any of these refreshing drinks:
When would you prefer to cook the Roasted Plantains recipe?
Storage Tips
At room temperature: Eat the Roasted Plantains within four hours or while hot.
Frequently Asked Question
What is roasted plantain?
A roasted plantain is one of the best ways to cook and enjoy plantains. Using the oven, roast the plantain until sweet and soft. It will pair well with your favorite soups, stews, dishes, and drinks!
Is roasted ripe plantain healthy?
Yes, roasted plantains are healthy because they are naturally nutritious on their own. They have fewer calories yet more vitamins and minerals. These can be a source of fiber, energy, and immunity as well!
According to Foods from Africa, 100 grams of plantain is 8% of your daily fiber intake. It can certainly help with digestion and metabolism.
What do plantains taste like?
Plantains taste sweet and starchy when ripe and cooked. They will have an enriched flavor once seasoned with herbs and spices. Meanwhile, unripe plantains have an earthy and bitter flavor.
Are baked plantains good for you?
Yes, baked plantains are good for you. They have a good amount of nutrients to help with heart health, metabolism, eyesight, energy, immunity, and overall health.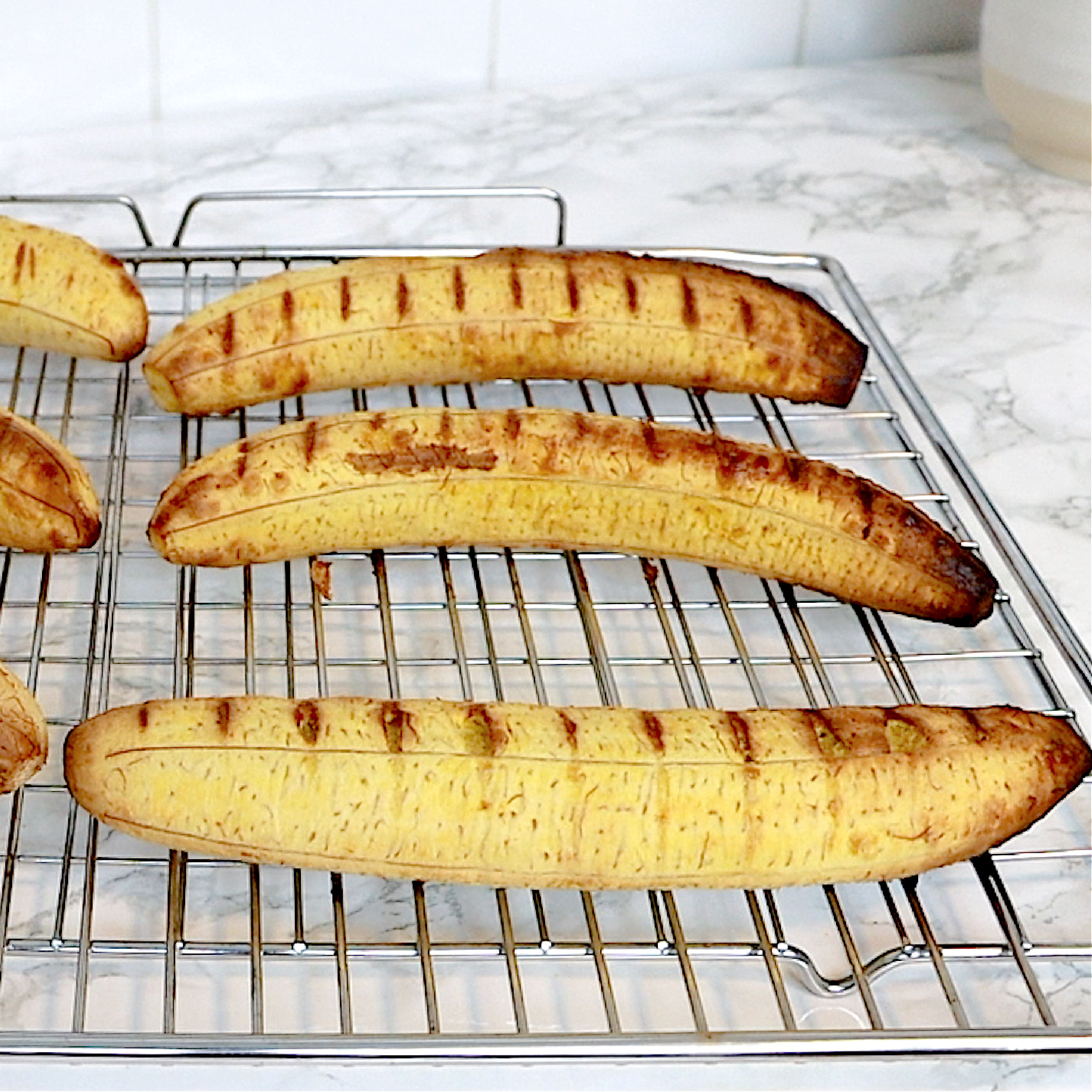 Roasted Plantains
Free yourself from high-calorie junk food and ravish these fiber-rich, low-calorie, and nutritious roasted plantains!
Ingredients
6

plantains

(ripe and firm)
Instructions
Preheat the oven.

Preheat the oven at 200°C or 400°F for 10 to 15 minutes.

Prepare the plantains.

Rinse the plantains and slice off the stalk and the other end. Run your knife vertically on the plantain for easy peeling.

Take the oven rack out of the preheating oven and carefully arrange the plantains in the middle rack.

Roast the plantains.

Roast the plantains in the oven at 200°C or 400°F for 10 to 15 minutes. After 15 minutes, turn the plantains over and roast for another 15 minutes.

Note that the roasting time depends on how many plantains you're roasting. The more plantains you have, the longer it will take. Remove them from the oven once golden.
Video
Notes
Use ripe and firm plantains for roasting for a delicious sweet flavor.

Store plantains properly to prevent spoilage.

Plantains can also be fried, steamed, baked, or boiled.
Nutrition
Serving:
1
(of 6)
Calories:
218
kcal
Carbohydrates:
57
g
Protein:
2
g
Fat:
1
g
Sodium:
7
mg
Potassium:
872
mg
Fiber:
3
g
Sugar:
31
g
Vitamin A:
2017
IU
Vitamin C:
33
mg
Calcium:
5
mg
Iron:
1
mg