Paprika powder has a powerful, rich, sweet flavor that makes every dish irresistible! Whether you're cooking beef, chicken, fish, or pasta, the paprika powder can make the best difference!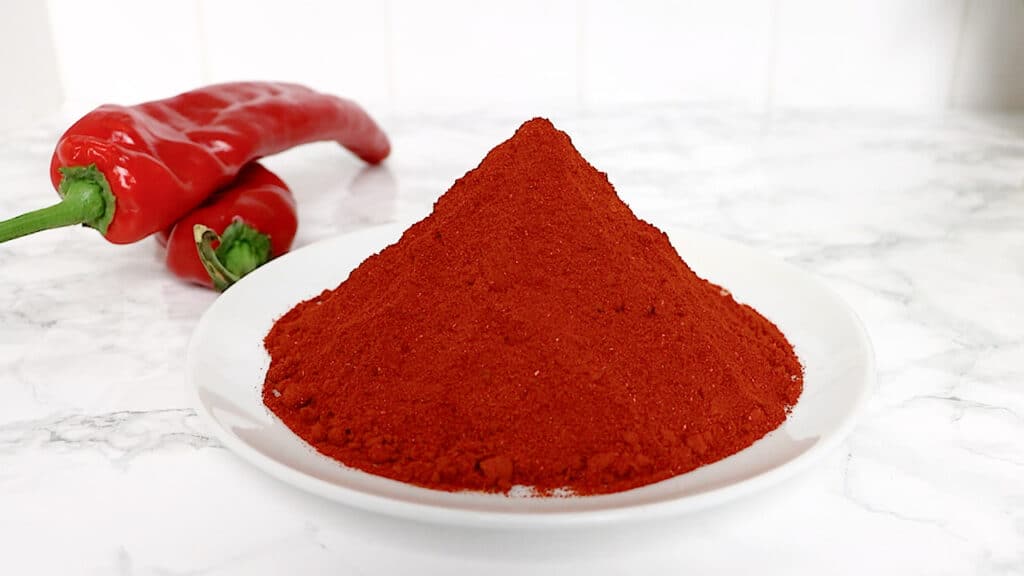 Pin this recipe on Pinterest to save for later
This versatile and healthy Hungarian favorite spice will certainly add color, flavor, and sweetness to your dish.
How to Make Paprika Powder
Since this is homemade paprika powder, you can trust that it is healthy, natural, and authentic. No preservatives are needed! You just need our only ingredient: red sweet peppers!
Sweet Red Peppers
Sweet red pepper is also commonly known as bell pepper or capsicum. Its flavor is sweet with a touch of earthy taste. This may also radiate a citrus-like flavor because red peppers are already ripe and mature.
Red peppers have high antioxidant levels that promote metabolism, collagen production, and immunity compared to other peppers.
I always have sweet red peppers in stock for Jollof Rice, One-Pot Spaghetti, and Breakfast Wraps!
Directions
Rinse the sweet red peppers.
Use a knife to chop off the stalks and slice the red peppers as thinly as possible.
Place a grill mesh mat on top of an oven rack.
Then, distribute the peppers on the grill mesh mat.
Preheat the oven to 85° C or 185° F for 15 minutes.
Place the racks in the oven and dehydrate for 3 to 8 hours, depending on the number of sweet red peppers you prepare.
Once cooled at room temperature, put them in the blender or spice grinder to powderize.
Once it is in powder form, you can pour the contents into an airtight container and have a distinct, rich, and sweet paprika powder for everyday cooking!
Tips
How to Buy Red Peppers
Look for red peppers that are bright red. The skin should also be slightly firm to the touch. The stems or stalks should also be a vibrant green to indicate a healthy red pepper.
Red peppers with bruised skin or soft spots may be vulnerable to wilting or rotting.
How to Store Red Peppers
If you're planning on not using it for a couple of days, then you can put the unwashed red peppers in a resealable bag in the fridge to retain their freshness and crispiness.
It's best to put them in the vegetable section, spreading them out inside the plastic bag for better preservation.
It's not recommended to place the red peppers in the fruit drawer of your fridge.
Keep them dry to prevent them from rotting.
Red peppers can last up to a week.
On the other hand, if you want to pre-cut your red peppers, you can wrap them in kitchen towels and place them in a container to retain their moisture.
Place them on the top shelf of your fridge.
Use chopped red peppers within three days.
How to Dehydrate Red Pepper Without an Oven
If you don't have a dehydrator or an oven, you can use your oven toaster to dehydrate the red peppers. Continue to use the grill mesh mat to prevent the red peppers from falling into the toaster oven.
Alternatively, you can sun dry the red peppers! Distribute the red peppers on a baking sheet and leave them under direct sunlight with mesh material to prevent flies from being drawn to the red peppers.
This may take a few days or weeks until the red peppers become crisp.
How to Powderize Dried Red Pepper Without a Blender or a Miller
While blenders and millers are practical machines to use for powdering red peppers, you can also try other methods. You can use a mortar and pestle to pound the red peppers into your desired texture. Be careful not to overload the mortar.
You may also opt to use a knife to chop the red peppers until they become powder-like manually. Do this in small amounts for more effective chopping.
Alternatively, put the red peppers in a resealable bag and use a meat tenderizer or rolling pin to pound the red peppers.
Variations
This one-ingredient homemade paprika powder is already delicious and flavorful, but it won't hurt to add more flavor to it!
You can add onion powder for a bit more sweetness, garlic powder to balance the sweetness, or chili powder for a slight kick of spice.
Add other seasonings or spices in moderate amounts to avoid overpowering the flavor of the red peppers.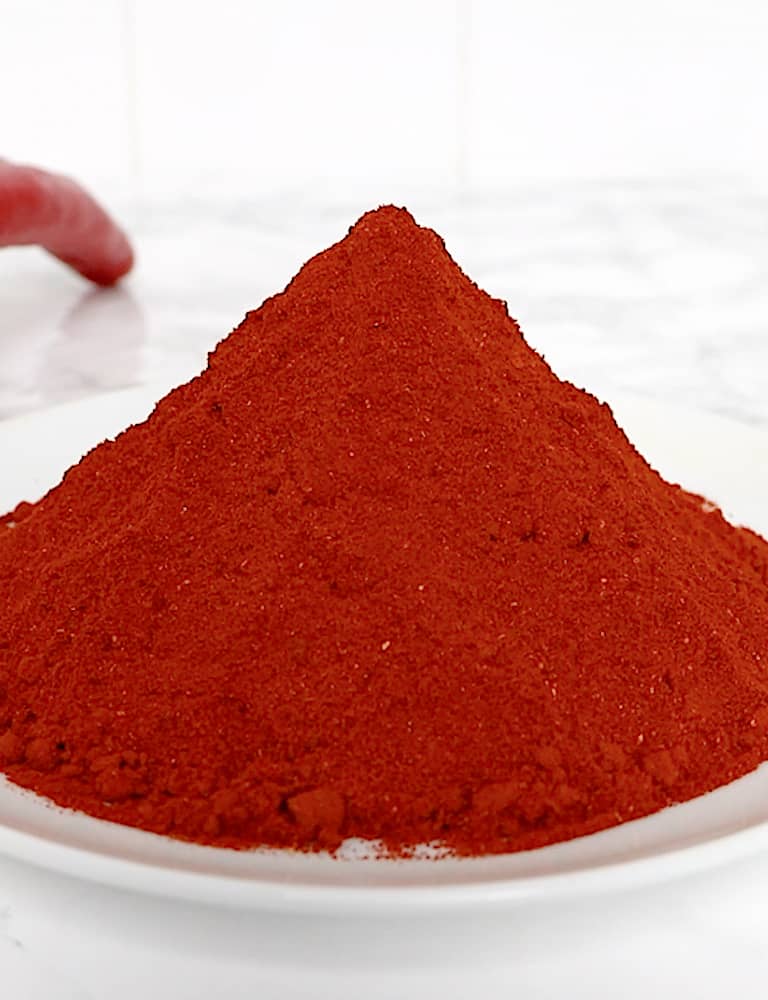 Recommended Tools
This post contains affiliate links, which means I earn commission income from qualifying purchases at no extra cost to you. Please read the full disclosure for more information.
How to Use Paprika Powder
Paprika can be used in almost any dish that you can think of! It is usually used as seasoning along with other herbs and spices. It can be utilized for frying, rubs, marinades, sauces, and more.
Not only does it add flavor to food, but it also makes the colors more vibrant and the fragrance more aromatic. Moreover, the paprika powder can be used to cook:
It can also make food savory, especially eggs, stew, vegetables, and rice. Oftentimes, this is also used to add color and flavor to the chicken batter.
Storage Tips
At room temperature: Put the paprika powder in an airtight container and place it in a dry and cool area of your kitchen. Don't put it under direct sunlight. If stored properly, the paprika powder can last up to 3 years!
To freeze: Put the paprika powder in a tin airtight container in the freezer to get rid of bugs (if any). The disadvantage of freezing is that it can cause condensation in the container, making the paprika watery. Freezing paprika powder is recommended if you intend to use it for soups or recipes that require blending.
Frequently Asked Questions
Is paprika powder the same as chili powder?
No, paprika powder and chili powder are distinct spices. Paprika powder provides more sweetness than spice while chili powder can be a mixture of chilis and other herbs that contribute to a hot and spicy taste.
Sometimes, chili powder is used as a substitute for paprika powder or vice versa.
What is paprika best for?
Paprika can be used for almost any dish but I especially love adding them to beef, chicken, pasta, fish, turkey, and seasoning rubs.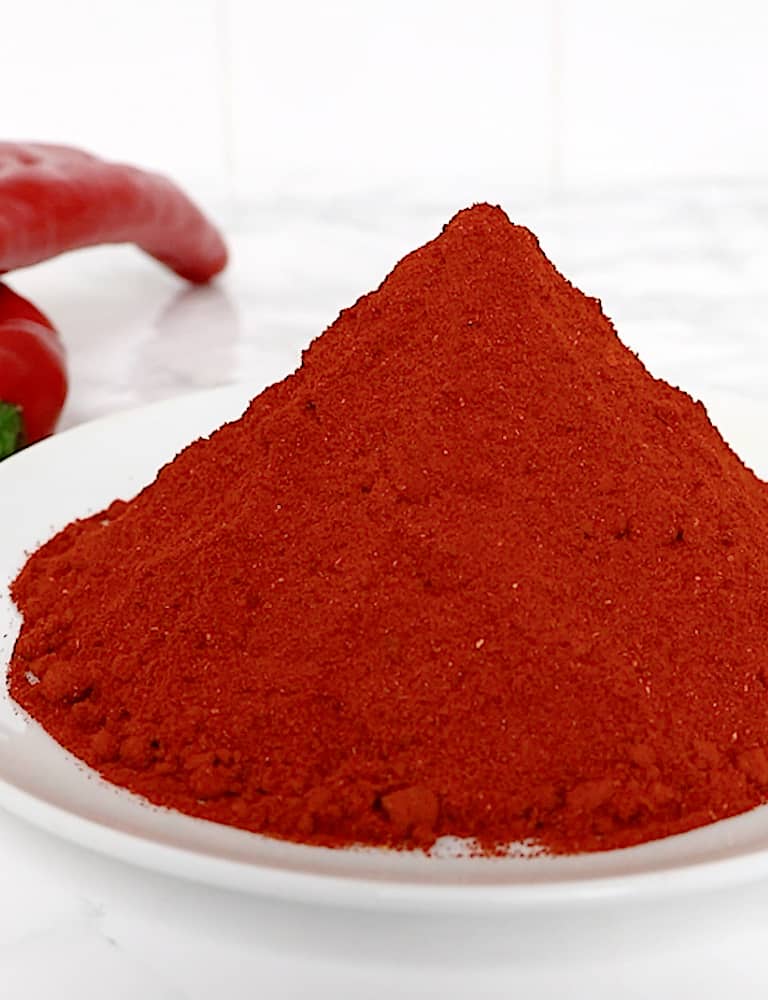 Is paprika hot or spicy?
Paprika powder has a mix of sweet and mildly spicy flavor. It's not as spicy as chili flakes but it certainly has a hint of hotness to it.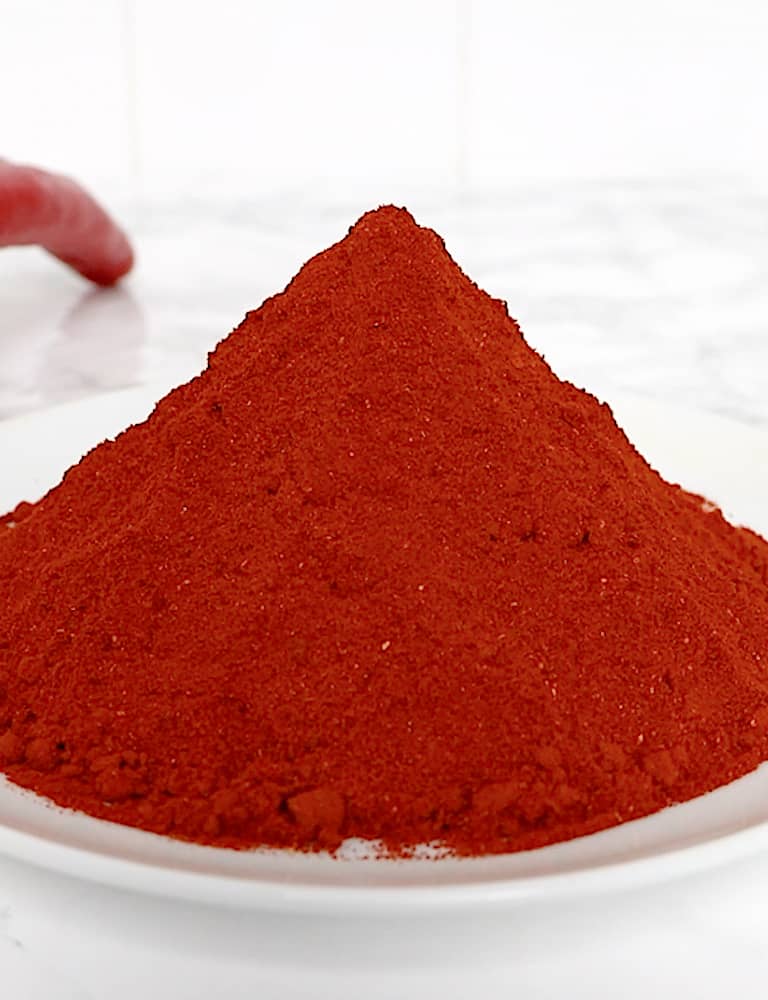 Paprika
You can never have too much paprika powder in your pantry. Better than the store-bought version of it! Let's make it.
Instructions
Prepare the red peppers.

Rinse the red peppers to get rid of possible pesticide residue. Chop off the stalks before slicing the sweet red peppers using the julienne technique.

Slice the sweet peppers as thinly as possible.

Arrange the red peppers on a grill mesh mat.

Place a grill mesh mat on top of an oven rack. Then, distribute the julienned peppers on the grill mesh mat.

At this point, you can also preheat the oven at 85° Celsius or 185° Fahrenheit for 15 minutes.

Dehydrate the red peppers.

Once the julienned red peppers are arranged on the grill mesh mat, place the racks in the oven and dehydrate for 3 to 8 hours, depending on the number of sweet red peppers you prepared.

Blend or mill the peppers.

Remove the dehydrated sweet red peppers from the oven once they are crisp. Leave them to cool for at least one minute. Then, put them in the blender or miller to powderize.
Video
Notes
Paprika powder can be used for almost any recipe. It's perfect for batters, marinades, soups, seasonings, garnish, and more! Remember, use it in moderation for best results.
Nutrition
Calories:
217
kcal
Carbohydrates:
50
g
Protein:
8
g
Fat:
3
g
Saturated Fat:
1
g
Polyunsaturated Fat:
1
g
Monounsaturated Fat:
1
g
Sodium:
33
mg
Potassium:
1758
mg
Fiber:
17
g
Sugar:
35
g
Vitamin A:
26081
IU
Vitamin C:
1066
mg
Calcium:
58
mg
Iron:
4
mg