Instead of buying Dark Chocolate, why not make it at home to make it healthy and yummy?
If you want to relieve stress, bake, or snack on creamy and delicious dark chocolate, then this is the perfect recipe for you. With all-natural ingredients, you can make smooth and tasty dark chocolate!
You might be surprised at how simple this recipe is. Make sure to prepare plenty of this so that you can use them for your desserts, drinks, snacks, smoothies, and baked goods.
Pin this recipe on Pinterest to save for later
You'll only need three ingredients to make this dark chocolate in the comfort of your home. Add these to your favorite recipes for added chocolatey goodness!
How to Make Dark Chocolate
Make the best quality dark chocolate at home using simple ingredients and even simpler steps! Today, you will learn everything you will need and do to make dark chocolate.
Prepare to realize how easy it is to make it at home!
Ingredients
Can you believe that it only takes three foods to make?
Cocoa nibs
When it comes to flavor, cocoa nibs have a bitter and earthy taste, which makes it fitting for its name. Before turning them into chocolate, the cocoa nibs will have a crunchy texture.
These nibs undergo a process before you can use them. They are picked, fermented, dried, roasted, and culled before they are sold or turned into cacao products.
You can add cocoa to yogurt, butter, smoothies, baked goods, desserts, snacks, drinks, bread, cakes, and other healthy recipes. How do you usually use cocoa nibs?
Coconut oil
Give dark chocolate a rich flavor and texture with coconut oil. It has a nutty and tropical flavor that will make any dish tastier and smoother.
It also helps with forming the chocolate and giving it a thicker and creamy quality. With coconut oil, you will get the right shape, texture, and form.
There are many ways to use coconut oil. For instance, you can use it for frying, baking, and making drinks. I love using this oil for Coconut Fried Rice, Coconut Cake, and Nigerian Coconut Buns!
Confectioner's sugar
You may recognize this as powdered sugar. It is usually used in baked goods, particularly in icing and fudge recipes. This adds a quality to the chocolate that almost melts in your mouth!
The confectioner's sugar is sweet, so it tones down the bitter taste of the cocoa nibs for the best chocolate flavor ever.
Did you ever expect that it only takes these three foods to make dark chocolate at home?
Directions
Come and make dark chocolate with me!
Spread cocoa nibs on a lined baking tray.
Bake them at 150°C for three minutes in a preheated oven.
Then, leave it to cool.
Transfer the baked cocoa nibs into a miller.
Mill the roasted cocoa nibs on high speed.
Mill the milled cocoa nibs with the sugar and coconut oil on high speed until thick.
Pour the contents into the chocolate mold.
Refrigerate for four hours or until solid.
Wrap it in parchment paper, store it in a resealable bag, and refrigerate.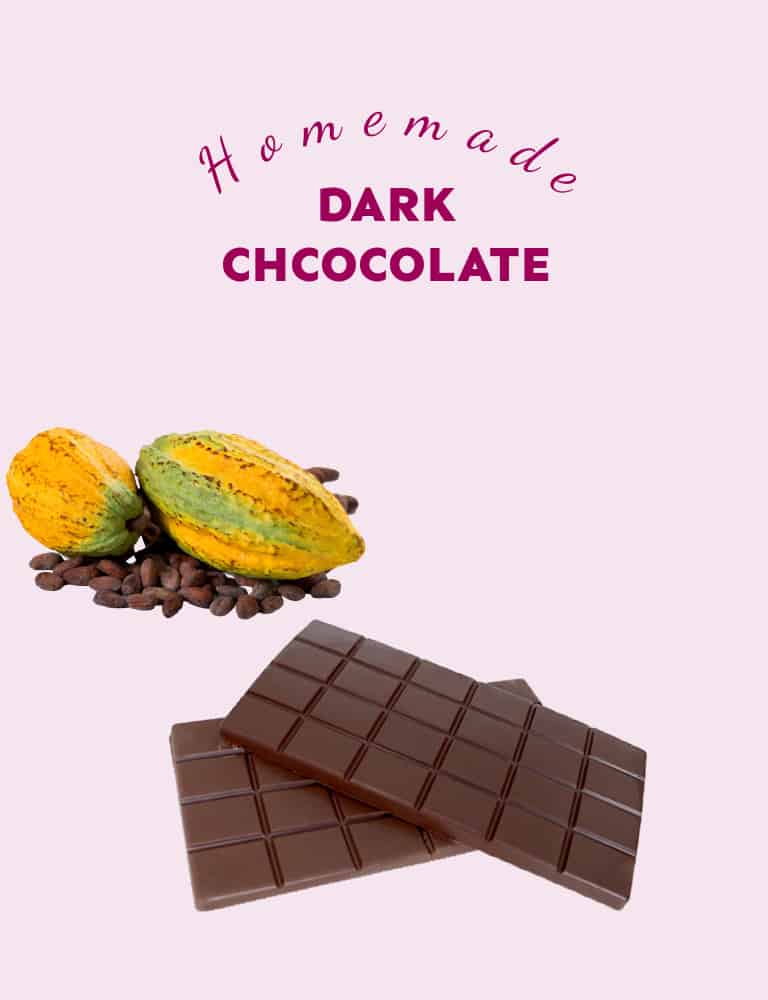 Doesn't it taste heavenly and delicious? This dark chocolate recipe is also extremely healthy because it is natural, organic, and safe to eat!
Tips
Cocoa Nibs
Selection
Cocoa nibs are readily available in grocery stores.
You will usually buy them in packages or packets.
If there are samples at the grocery store, then go for ones with a nutty and earthy flavor.
Storage
Vacuum seal the cocoa nibs in containers or resealable bags.
Store them in a dark and cool area of your kitchen.
Check the cocoa nibs for signs of mold or changes in fragrance.
Preparation
This recipe suggests roasting the cocoa nib in the oven.
However, you can also do it over a stove.
Spread the nibs over a skillet and let it roast over medium heat for up to ten minutes with mixing to prevent burning.
Coconut Oil
You can buy coconut oil at the grocery store, but here's how you can make it at home:
Open the coconut and extract the coconut meat.
Use a blender to puree coconut meat with water until thick.
Filter the contents using a sieve.
Heat the mixture in a pot over low heat until the oil floats to the top.
Let it cool to harden the coconut oil for at least two hours.
Once you can separate the oil, strain it with a sieve and store it!
Confectioner's Sugar
You can easily make this sugar at home. Just use a tablespoon of cornstarch for every cup of sugar.
Process these in a blender or food processor until they become white and velvety. Store this in a clean jar and let it sit at room temperature for months.
How to Temper Chocolate Without Molds
Aside from chocolate molds, you can also use ice cube trays! Additionally, shallow containers and cupcake molds can be used to form chocolates. You can simply slice them with a knife once they are solid.
Dark Chocolate Variations
This dark chocolate recipe for vegan and gluten-free foodies is the one for you. You can guarantee that it's made from scratch!
Add vanilla extra, agave, and cocoa butter for a unique and richer flavor. Put in a pinch of sea salt to tone down the sweet or bitter flavor. For more flavor, color, and texture, you can mix in some nuts, raisins, or berries.
No-Miller Dark Chocolate
For the cocoa nibs, you can turn them into powder using a grinder or a food processor. Then, slowly add the sugar and the coconut oil until thick and creamy.
In case you don't have a miller or any of the mentioned equipment, you can also make cocoa powder with a mortar and pestle.
You can also cook them together in a pan. Heat the coconut oil before adding the cocoa nibs and the sugar. Once content with the flavor and texture, pour them over the chocolate molds and store in the fridge.
Recommended Tools
This post contains affiliate links, which means I earn commission income from qualifying purchases at no extra cost to you. Please read the full disclosure for more information.
Visit my shop for more products.
How to Serve and Use Dark Chocolate
Aside from eating it as a snack, you can also use this for breakfast meals and desserts. For instance, you can grate it to add to your oatmeal or granola bars. It can also be used as a garnish for fruit bowls or as an add-in for ice cream.
It is a popular ingredient for pastries such as cakes, cupcakes, cookies, brownies, muffins, bread, pies, tarts, and more! You can melt it into a dip or sauce, spread it over a slice of bread, or turn it into candy bars.
According to NDTV, the best time to eat dark chocolate is on an empty stomach and 30 minutes before your first meal for the day – this is especially suggested if you are trying to lose weight.
Of course, you are free to eat dark chocolate whenever you feel sleepy, stressed, and tired.
Storage Tips
At room temperature: In an article in Still Tasty, dark chocolate bars can last up to three weeks at room temperature. Wrap it in parchment paper and eat or use it within a few days.
Frequently Asked Questions
Is dark chocolate good for you?
Dark chocolate is one of the healthiest chocolate in the world. According to Healthline, dark chocolate is rich in antioxidants and vitamins for blood pressure, stress relief, heart health, and more!
Can you eat dark chocolate every day?
Yes, you can eat dark chocolate every day. However, limit your consumption to 30 to 60 grams daily. Mix it with healthy food for better flavor and enjoyable food.
Is dark chocolate healthier than regular chocolate?
Dark chocolate is healthier than regular chocolate because it has less sugar. It is also made of fewer ingredients compared to milk chocolate which requires milk and dairy products.
Can diabetics eat dark chocolate?
Yes, dark chocolate is safe for diabetics. However, remember to use the in moderation to prevent adverse effects.
This post may contain general information and does not constitute professional medical advice. Always seek information or advice from a qualified medical professional. Please read the full disclaimer for details.
Homemade Dark Chocolate (VIDEO)
Relieve your stress and calm your nerves with this easy 3-ingredient homemade dark chocolate recipe!
Total Time
4

hours
20

minutes
Instructions
Spread cocoa nibs on a lined baking tray.

Bake them at 150°C for three minutes in a preheated oven.

Transfer the baked cocoa nibs into a miller.

Mill the roasted cocoa nibs on high speed.

Mill the milled cocoa nibs with the confectioner's sugar and coconut oil on high speed until thick.

Pour the contents into the chocolate mold.

Refrigerate for four hours or until solidified.

Wrap it in parchment paper, store it in a resealable bag, and refrigerate.
Video
Notes
If you don't have the other equipment mentioned in this recipe, you can try the alternatives mentioned in this article.

You can consume about 2 ounces of dark chocolate every day.

This treat is not recommended for babies aged younger than 2 years old.
Nutrition
Serving:
1
(of 10)
Calories:
58
kcal
Carbohydrates:
3
g
Protein:
1
g
Fat:
6
g
Saturated Fat:
4
g
Polyunsaturated Fat:
0.04
g
Monounsaturated Fat:
0.1
g
Sodium:
0.01
mg
Fiber:
1
g
Sugar:
0.1
g
Calcium:
0.02
mg
Iron:
0.001
mg