Feel the comfort and relaxation that a hot drink can give you with a Turmeric Tea recipe!
Experience the warm and soothing effect of tea with the help of turmeric. It's one of my favorite homemade drinks because of how well it calms my nerves and senses.
Turmeric Tea has the perfect blend of spicy, earthy, and woody flavors. It also uses natural ingredients that bring out the best in this healthy and tasty spice.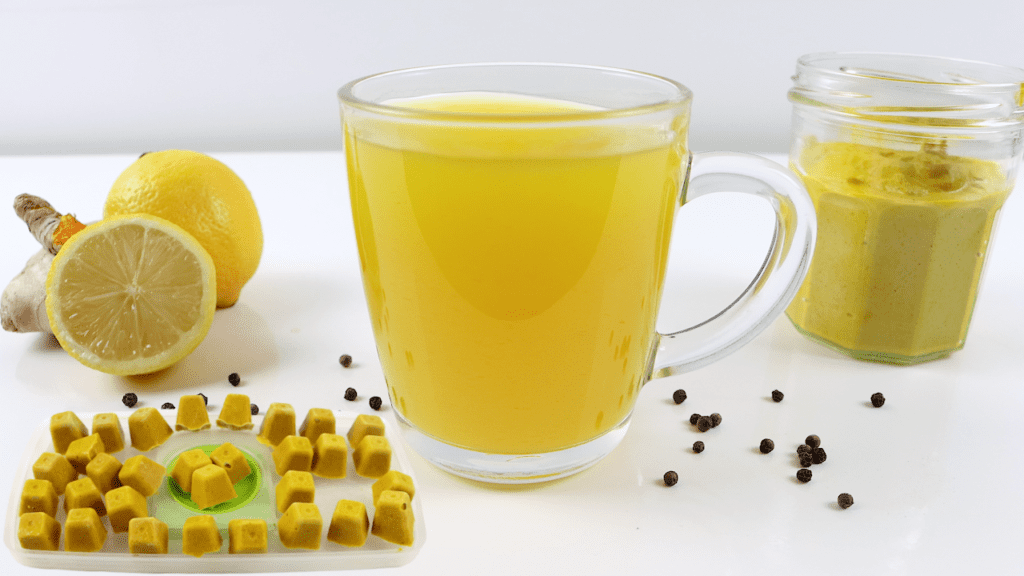 Pin this recipe on Pinterest to save for later
I love serving it with keto, vegan, or vegetarian meals. You can prepare it for your family or guests to give them a good time in your home!
Benefits of Turmeric Tea
Here are the top reasons why you need to start making and drinking Turmeric Tea:
Lose weight in a healthy way!
Turmeric tea has been proven to be good for healthy weight loss. According to NDTV, it has powerful effects on digestion, blood sugar levels, and fat burning.
Its rich flavor will also entice you to drink it as an alternative to sweet drinks.
Reduce inflammation in no time.
This Turmeric Tea recipe is suggested for muscle pain and bone strength. It also makes tea an excellent option for a workout session to relieve the muscles and joints.
Achieve glowing and radiant skin.
According to Neutrogena, fresh turmeric is helpful for acne, hyperpigmentation, dark circles, aging, and other skin-related problems.
Sharpen your mind with every sip.
Improve brain function by enjoying Turmeric Tea. It can also aid in memory and focus. Moreover, it can help prevent brain diseases for proper brain function.
Prevent cancer with every glass.
According to Sbarro Institute for Cancer Research, Turmeric Tea helps in cancer treatment. In fact, this tea has also been proven to prevent different kinds of cancer.
There are plenty of other health benefits of Turmeric Tea. Once you add this drink to your diet, you will love every effect it will have on your body and mind!
How to Make Turmeric Tea
There are lots of Turmeric Tea recipes, but this is certainly one of the best. It has flavor, aroma, and health benefits!
Ingredients
These are my secret ingredients when making Turmeric Tea:
Turmeric
Fresh turmeric looks like a combination of ginger and carrot in texture and color. It has an earthy, bitter, and citrusy flavor which makes it perfect for mixing with other sweet and savory herbs and spices.
I often use it for smoothies, juices, and stews for its rich taste and color. According to Everyday Health, turmeric can do wonders for your heart, bones, weight, mood, skin, and vision!
Turmeric is not just for drinks, but also for dishes such as Scotch Eggs, Moi Moi, and Couscous!
Lemon
Tone down the spicy and earthy flavors of the turmeric with sweet and sour lemons. These citrus fruits are also known to support weight loss, fight cancer, and improve blood sugar levels.
These make excellent additions to drinks like Hibiscus Lemon Tea, Anti-Inflammatory Juice, and Iced Tea!
Ginger
Complement the spicy flavor of the turmeric with peppery and pungent ginger. It is a versatile spice that I love to use for dishes, condiments, and drinks.
This is also helpful for nausea, menstrual pain, and memory. I use it for other food and drink recipes such as Pineapple Juice, Apple, Carrot, and Ginger Juice, and Jollof Rice!
Black pepper
Give the drink a mildly spicy, savory, and citrusy taste with black pepper. Aside from the flavor it adds, it also has health benefits for your stomach, bones, and brain.
Put black pepper to good use by adding it to Crispy Chicken Wings, Roast Chicken, and Fish Seasoning.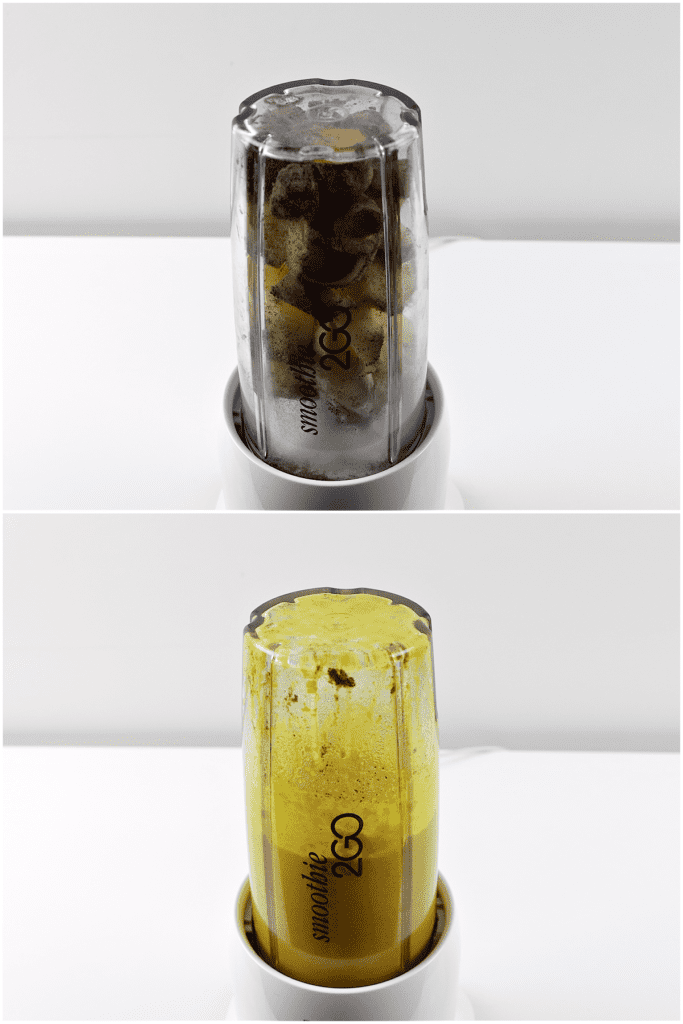 Just imagine the combination of these ingredients in one drink. You will surely enjoy the health benefits that they have in store for you! Turn these ingredients into an effective, lasting, and delicious paste or frozen cubes for Turmeric Tea!
Directions
Remember these instructions when preparing your Turmeric Tea:
Peel and chop the ingredients with a knife.
Use a glass blender or food processor to puree the ingredients until smooth.
Then, transfer the contents into an airtight jar to store.
Mix the turmeric paste with hot water, stir, and enjoy!
How delicious and refreshing is the first sip of Turmeric Tea? Using this technique to prepare this tea is easy, healthy, and effective!
Tips
Turmeric
Buying turmeric
While you may opt for turmeric powder, it is still best to go for fresh ones.
Fresh ones are readily available in stores.
Buy ones with smooth skin without soft and rotten spots.
Storing turmeric
Lemons
Buying lemons
Buy lemons with clear and vibrant yellow skin.
They should also be free from bruises and scars or holes.
It should also yield a slight squeeze for juices inside.
Storing lemons
Ginger
Buying ginger
The Kitchn suggests buying ginger with tight and shiny skin.
It should also smell slightly peppery.
Don't buy ginger with soft spots and cracks.
Storing ginger
Ginger can be stored at room temperature.
However, I suggest freezing it by following this technique:
How to Make Turmeric Paste Without a Blender
In case you don't have a glass blender, you can make the turmeric paste by using a food processor, mortar and pestle, or a miller.
Alternatively, chop them as finely as you can with a knife on a cutting board.
Turmeric Tea Variations
The best thing about tea is that you can make it according to your liking. For instance, you can add honey, maple syrup, sugar, orange, creamer, and more!
Furthermore, some people also like to use other herbs and spices such as cinnamon, mint, vanilla extra, nutmeg, and cayenne pepper.
You can also use instant turmeric powder instead of fresh ones if preferred. Instead of using fresh garlic and lemons, you can try adding Lemon Ginger Ice Cubes, too!
Recommended Tools
This post contains affiliate links, which means I earn commission income from qualifying purchases at no extra cost to you. Please read the full disclosure for more information.
Visit my shop for more products.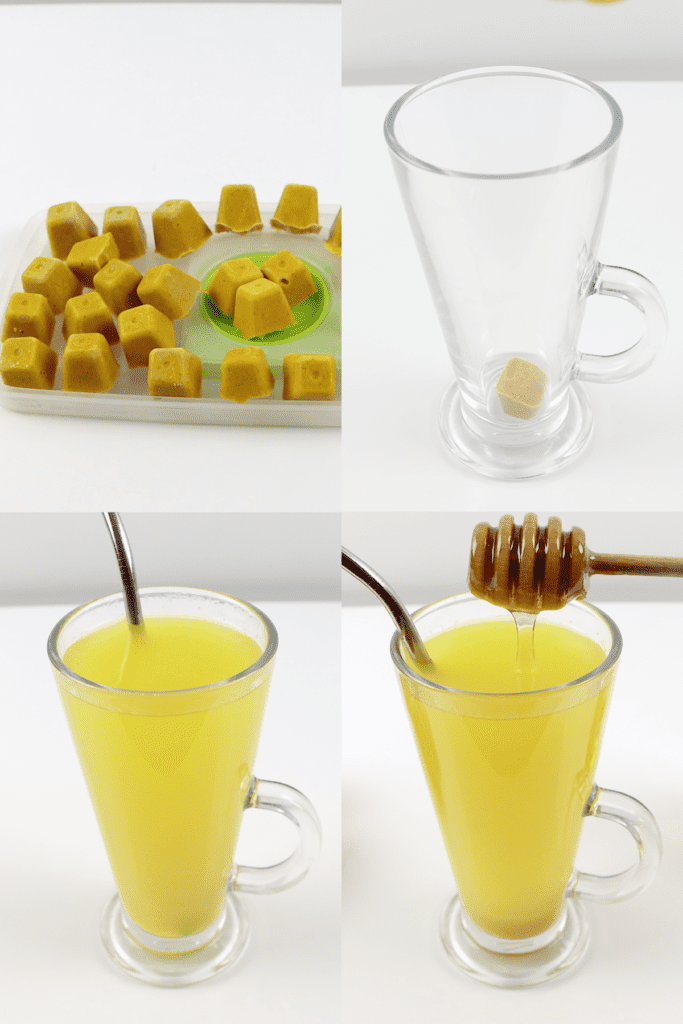 How to Serve Turmeric Tea
Let me tell you how easy it is to use turmeric paste. If you stored it in the fridge, then you can simply scoop out your desired amount and mix it in a cup of hot water! You can use the same method for turmeric ice cubes.
Aside from enjoying a cup of hot turmeric tea, you can also serve it cold with ice.
According to Healthline, turmeric tea can be served at any time of the day. The Beet also suggests drinking it daily to make sure you're reaping all of the nutrients.
In case you're looking for food to serve with this drink, here are some of the best recipes I enjoy with my cup of tea: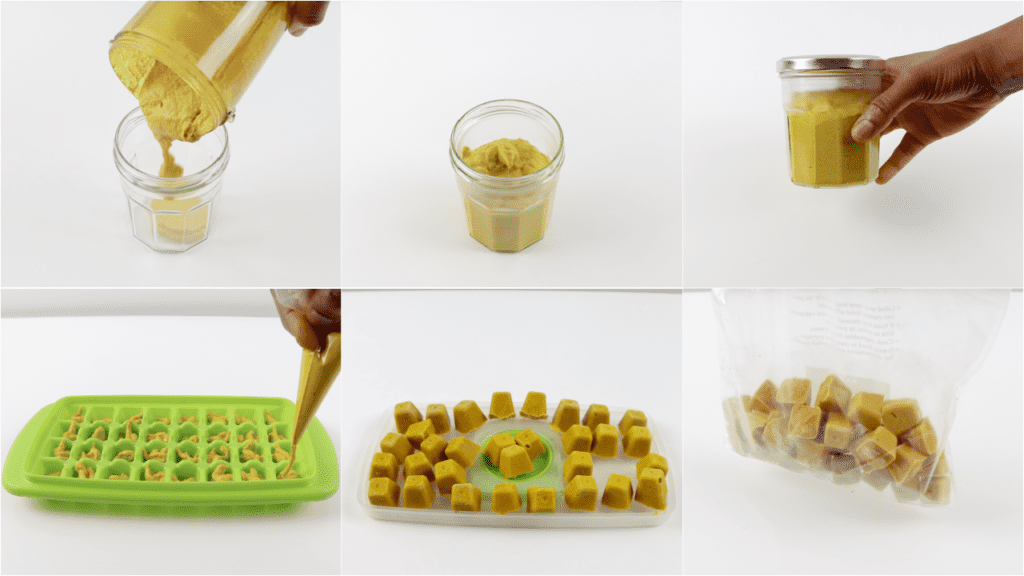 Storage Tips
At room temperature: Turmeric paste can sit at room temperature for about three days.
Frequently Asked Questions
What is turmeric tea good for?
Yes, turmeric tea is good for your immunity, skin health, vision, bone strength, cancer prevention, digestion, weight loss, and more!
This drink has properties that can help restore your body to its full potential. It even has a soothing effect that puts you in a good mood throughout the day.
Is it OK to drink turmeric tea everyday?
Turmeric tea can be consumed every day as long as the amount is in moderation. In fact, this drink is low in calories and caffeine, which can help you take care of your body better.
What is the best time to drink turmeric tea?
You can drink turmeric tea at any time of the day. It is especially recommended for morning consumption to energize your body and mind. However, it can also be suitable for lunch and dinner along with your meals.
Is turmeric good for acid reflux?
Yes, it is! According to the Gastroenterology Institute, turmeric has a compound called curcumin that helps relieve acid reflux. Curcumin is also a powerful anti-inflammatory agent.
Turmeric Tea (VIDEO)
Make the most out of fresh turmeric by preparing this soothing, nourishing, and satisfying Turmeric Tea!
Ingredients
50

g

fresh turmeric

(turmeric powder) see note 1

1

fresh lemon

(seedless) see note 3

85

g

fresh ginger

1

tsp

black pepper
Instructions
Prepare the ingredients.

With the turmeric and ginger, scrape off the skin with a spoon and chop them with a knife. On the other hand, peel the lemon and separate the segments or cut.

Puree.

Put the chopped ingredients, with the black pepper, in a glass blender and puree until smooth.

Store the turmeric paste.

Transfer the paste to a clean airtight jar and refrigerate. You can also freeze the paste in ice cube trays and store the cubes in freezer bags for longer shelf life.

How to use the turmeric paste.

Add about a pinch of the paste to a cup of hot water and mix until fully dissolved. Add honey or any sweetener of your choice.

How to use the turmeric cubes.

Add a cube of turmeric paste to a glass and add hot water. Mix till dissolved. Add honey or any sweetener of your choice.
Video
Notes
Use 1

⅓

tablespoons of turmeric powder in place of the fresh turmeric.
Turmeric stains, take precautions while handling it if you don't want your fingers and tools stained.

Lemon seeds are edible and nutritious, but you can take them out. Roll the lemon on a flat surface to loosen up the seeds and juices. Then, slice it into half to extract the juice.

The Beet

recommends consuming this drink daily to ensure you're reaping all the nutrients.

If you don't have a glass blender, you can make the turmeric paste using a

food processor

,

mortar and pestle

,

immersion liquidizer

, or a

miller

. Alternatively, chop the ingredients as finely as you with a

knife

on a

chopping board

.
Nutrition
Serving:
1
(of 50)
Calories:
4
kcal
Carbohydrates:
1
g
Protein:
0.1
g
Fat:
0.2
g
Saturated Fat:
0.1
g
Polyunsaturated Fat:
0.01
g
Monounsaturated Fat:
0.003
g
Sodium:
0.3
mg
Potassium:
11
mg
Fiber:
0.1
g
Sugar:
0.1
g
Vitamin A:
1
IU
Vitamin C:
1
mg
Calcium:
1
mg
Iron:
0.03
mg