Live a healthier and happier life with an easy, nutritious, and delightful Anti-Inflammatory Juice!
When your body feels like it's under attack, your immune system acts to protect your health. In some cases, inflammation continues and eventually causes health problems.
It's a good thing that there are many ways to treat inflammation, and one of them is a wonderful drink recipe that you can prepare at home!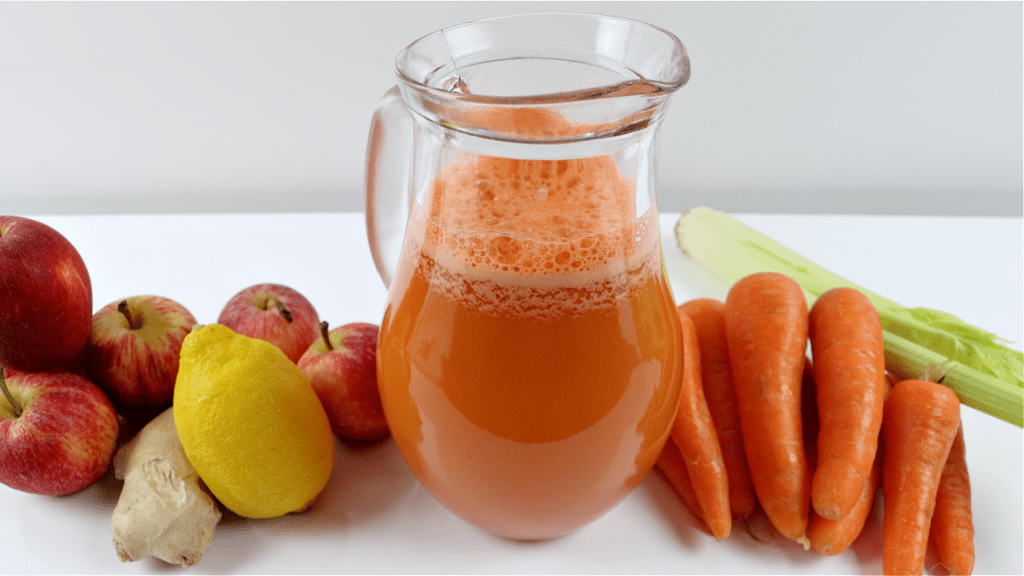 Pin this recipe on Pinterest to save for later
Isn't it amazing how a simple juice recipe can relieve you from inflammation? You won't have to worry about the symptoms because you will feel so much better!
How to Make Anti-Inflammatory Juice
Making a glass of this Anti-Inflammatory Juice will surely make your health better. Power up your juicer, and then let's make this drink together!
Ingredients
What makes this juice special? It's 100% made of healthy ingredients!
Carrots
When it comes to fighting inflammation, you can count on carrots to help out. These mildly sweet and earthy vegetables have nutrients that can improve your health in many ways.
Carrots also give the drink an appealing look because of how colorful it is. Once you juice carrots, you will enjoy them like never before.
According to Healthline, carrots can certainly help combat cancer, improve vision, and lower blood cholesterol. Carrots also have falcarinol and falcarindiol, which are known to be effective against inflammation.
Aside from using them for juice, you can also make oil, powder, or even baby food. Make carrots part of your diet, and you surely won't regret it!
Lemons
Instead of turning lemons into lemonade, why not add them to an effective Anti-Inflammatory Juice? The sweet and sour flavor of the lemons definitely goes well with the taste of carrots.
Lemons are good sources of nutrients to keep your health in check. WebMD also shared that lemons can help you lose weight, fight bacteria, and prevent anemia and cancer.
Sometimes, I make lemon ice cubes to take my drinks to the next level. These fruits also taste delicious in Hibiscus Lemon Tea, Turmeric Tea, and Iced Tea!
Apples
An apple a day keeps the inflammation away! Apples are some of the best fruits for juicing because they're naturally filled with sweet and tarty juice inside.
These fruits are known to have good effects on digestion, immunity, and the gut. Eating Well also found that apples can strengthen your gut to reduce inflammation.
You can use apple varieties like Fuji, Gala, or Granny Smith. If you love apples, then you can make Apple Juice for a healthy drink!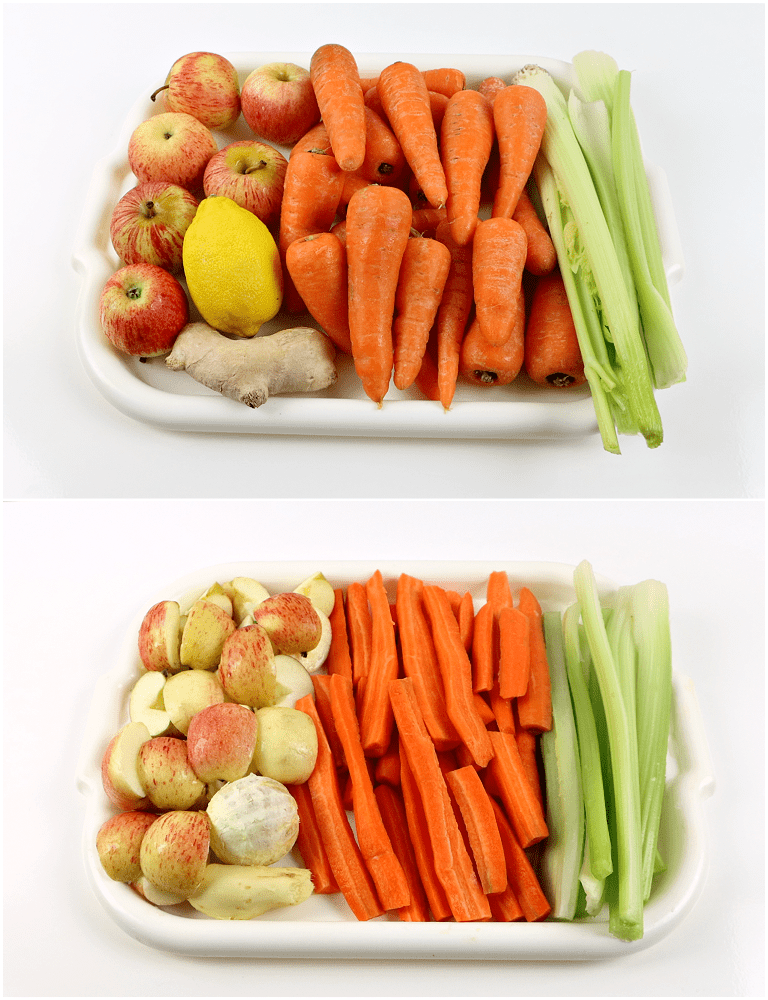 Ginger
The Anti-Inflammatory Juice will certainly taste better with the spicy and pungent quality of ginger. It also adds a soothing and warm sensation when you drink the juice.
John Hopkins Medicine mentioned that ginger can relieve nausea, bloating, and even gas. Ginger also has anti-inflammatory potential, especially in arthritis and respiratory inflammation.
Celery stalks
Can you use celery stalks for juicing? Of course, you can! It also has a mild bitter taste that balances out the sweet, sour, and spicy flavors of the ingredients.
Furthermore, BBC Good Food suggests that celery is great for heart health, digestion, and weight loss. It also shows anti-inflammatory properties, especially in cases of chronic cases.
Each of these ingredients has nutrients to fight against inflammation. With this combination, you can say goodbye to inflammation and hello to the best version of yourself!
Directions
How easy is it to make Anti-Inflammatory Juice?
Prepare the ingredients
Use a knife to peel and chop the carrots.
Slice the lemon in half and squeeze out the juice.
Peel and slice the apple with an apple corer and slicer.
Then, chop the celery stalks into strips.
Use a spoon to scrape off the ginger skin.
Slice the ginger into pieces.
Juicing time!
Insert the slices into the slow juicer.
Finally, pour the contents into the glass to serve!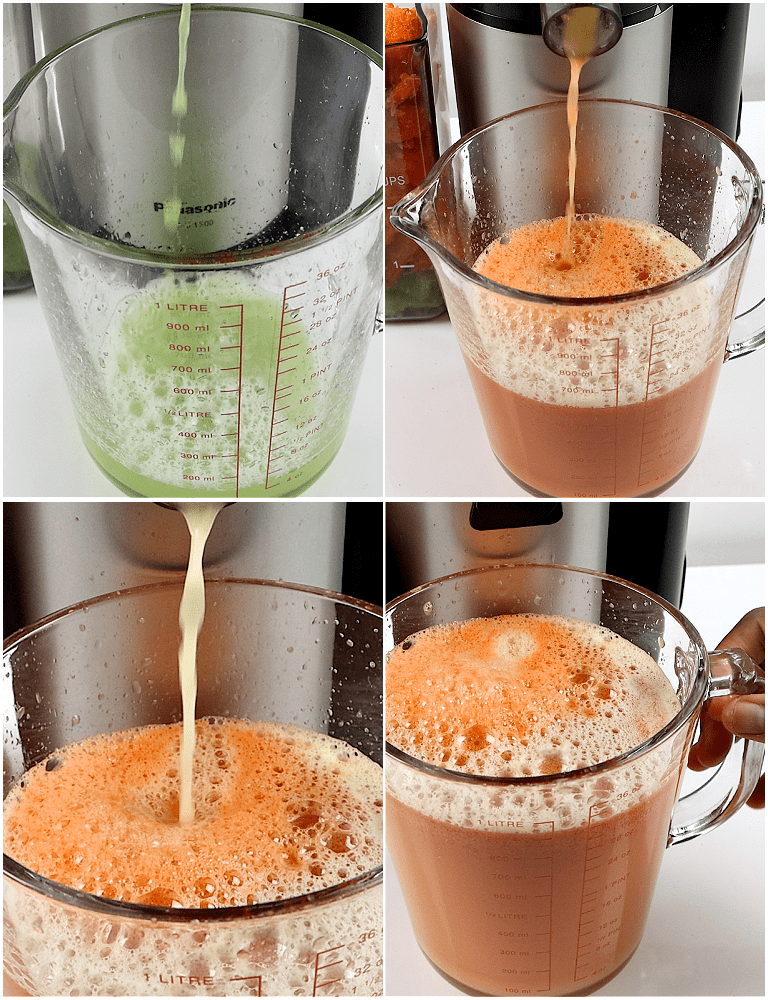 You will surely feel good after every sip of this Anti-Inflammatory Juice. It is one of my favorite juices because of how fresh and revitalizing it is!
Tips
Carrots
Buying carrots
Go for carrots that have bright orange and smooth skin.
It should also not have soft spots or rotten areas.
Buy medium ones for easy juicing.
Storing carrots
Store these carrots at room temperature without washing them for a few weeks.
Refrigerate the carrots in a container with cold water.
Otherwise, freeze them to store for months.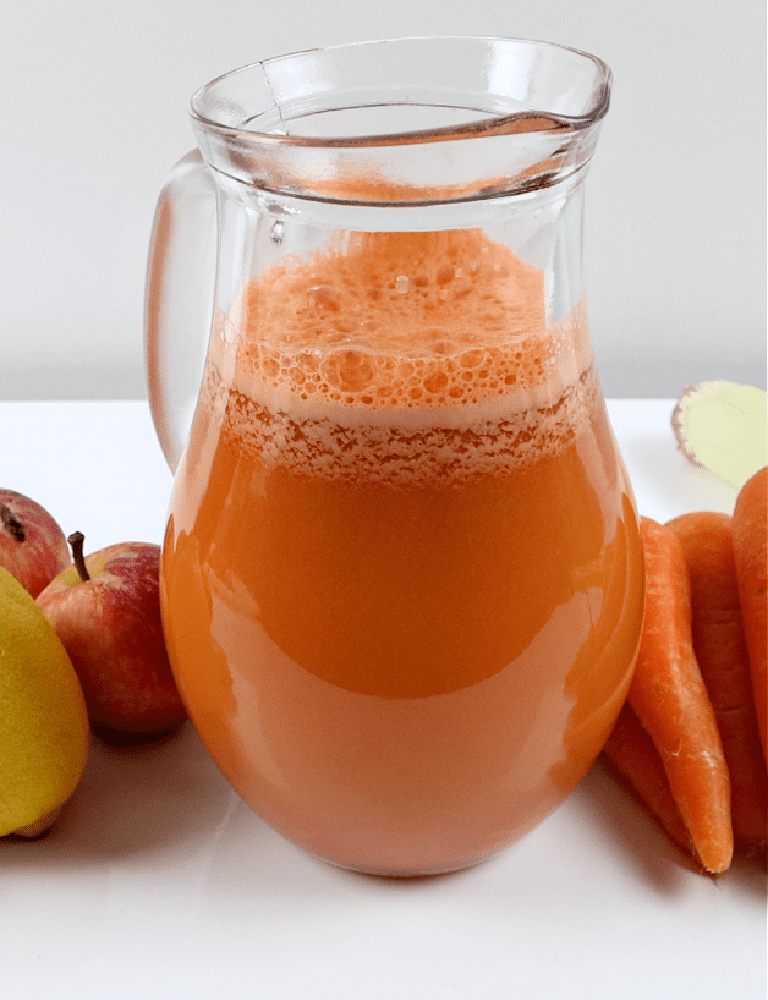 Lemons
Buying lemons
Buy lemons with a bright yellow color and without rotten spots.
Moreover, choose ones that feel heavy for their size.
Storing lemons
Lemons can be stored at room temperature to last more than a week.
You can also place them in a resealable bag to store.
Ginger
Buying ginger
The Kitchn suggests buying ginger with tight and thin skin.
There should also be a peppery smell.
Check the ginger for cracks or rotten spots.
Storing ginger
Ginger can be kept at room temperature or in the fridge.
You can also peel them and put them in freezer bags to store for months.
Celery stalks
Buying celery stalks
Buy tightly packed celery with firm stalks.
They should also feel crisp and not rubbery.
Check if they have rotten spots.
Storing celery stalks
Room-temperature celery can last up to a week.
Refrigerate it by wrapping it in foil. Then, put them in the fridge or freezer.
Apples
Buying apples
Fresh apples should feel firm and heavy in weight.
They should also not have soft spots or bruises.
Go for ones with smooth skin and the stems still attached.
You should smell sweetness near the stem.
Storing apples
Put the apples in a slotted resealable bag and refrigerate them to store.
Do not wash them before storage to store them for a longer time.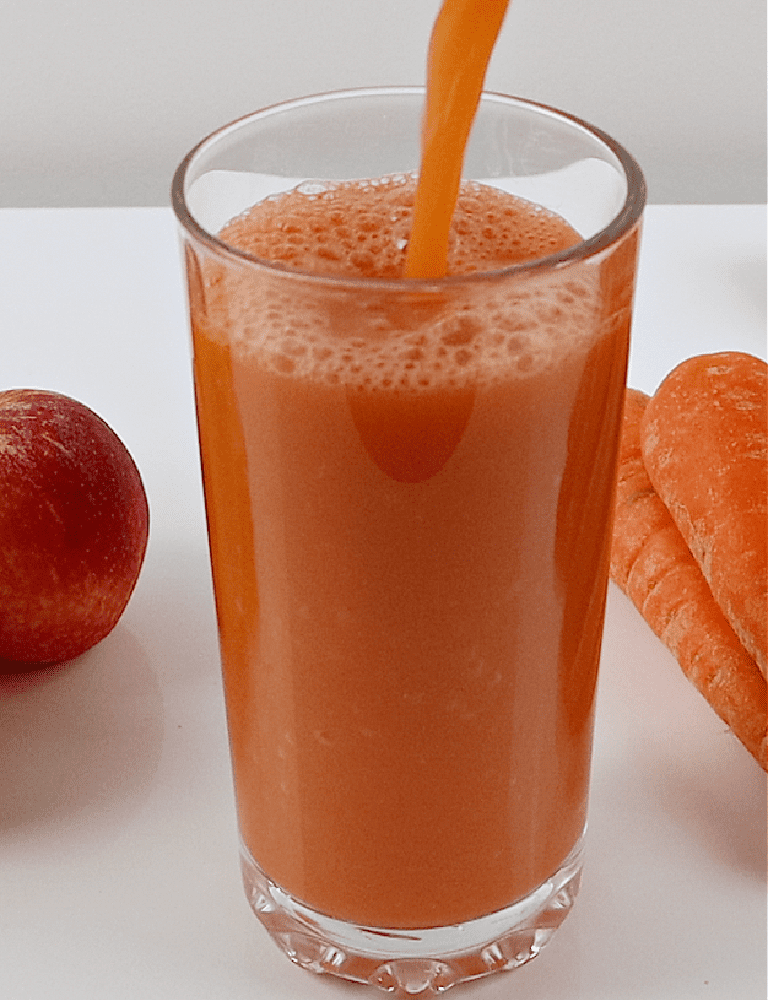 Anti-Inflammatory Juice Variations
Anti-inflammatory juice can be made of other fresh and healthy fruits and vegetables. Here are also some of the other options you can try:
Berries
Broccoli
Spinach
Kale
Oranges
Pineapples
Instead of this combination, you can also try the ingredients on their own first. Any combination will work as long as you use the best anti-inflammatory fruits and veggies!
No-Juicer Vegetable and Fruit Drink
Instead of using a slow juicer, you can also use the blender for a smoothie. Alternatively, put the fruits and veggies in a food processor to get similar results.
For a finer texture, filter the contents with a sieve and a spatula. Otherwise, chop the ingredients using a knife and make a salad instead!
Recommended Tools
This post contains affiliate links, which means I earn commission income from qualifying purchases at no extra cost to you. Please read the full disclosure for more information.
Visit my shop for more products.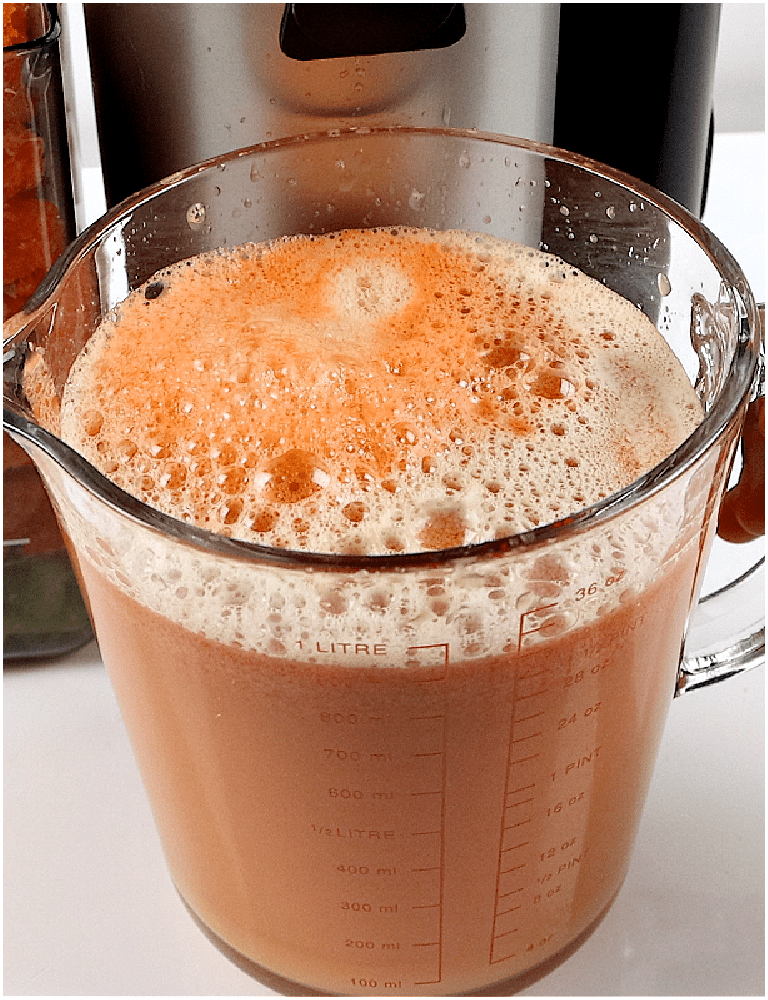 How to Serve Anti-Inflammatory Juice
According to All About Juicing, you can drink it in the morning on an empty stomach or with a breakfast meal. It's also a good drink before or after a workout for energy and muscle recovery!
I suggest pairing it with Yummieliciouz healthy recipes like the following:
Moreover, Medical News Today suggests drinking eight ounces of fresh fruit and vegetable juice daily. Meanwhile, limit kids' juice intake to four ounces daily.
Storage Tips
At room temperature: Drink this Anti-Inflammatory Juice within two to four hours.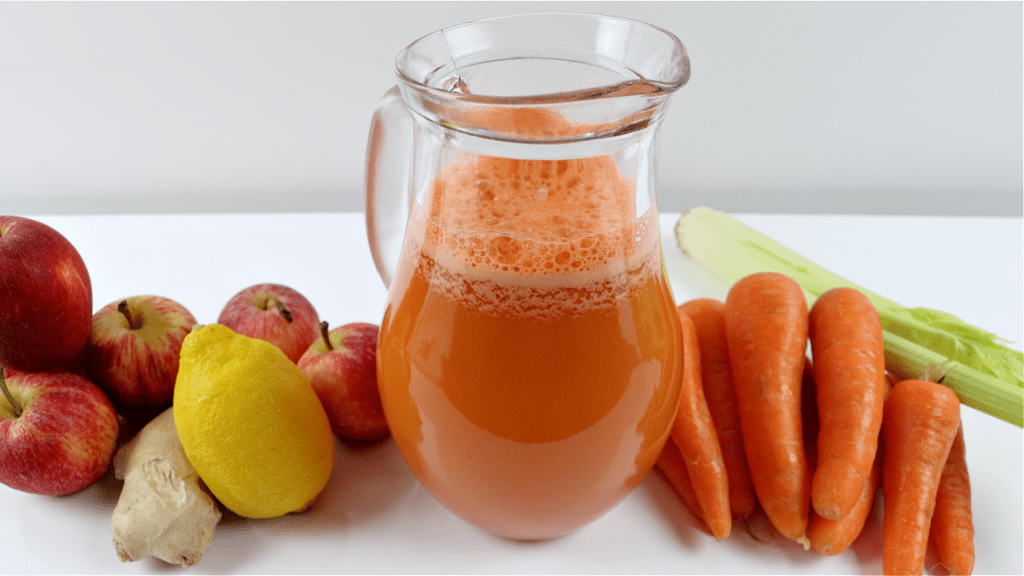 Frequently Asked Questions
What juices are good for inflammation?
According to Arrowhead Health, the best anti-inflammatory juices include cherry, pineapple, and lemon juice. You can also try apple cider vinegar drink, Turmeric Tea, Beet Juice, and Pineapple Ginger Juice to fight inflammation.
What fruit is anti-inflammatory?
Harvard Health Publishing shared the best fruits with anti-inflammatory effects:
Blueberries
Strawberries
Apricots
Peaches
Pomegranates
Oranges
Cherries
Plums
Apples
Lemons
Limes
Grapefruits
Blackberries
Cranberries
Grapes
What is the #1 best drink to reduce inflammation?
Aside from this Anti-Inflammatory Juice recipe, Eat This, Not That suggested the following drinks to reduce inflammation:
Ginger tea
Celery juice
Green tea
Turmeric milk
Bone broth
Coffee
Lemon water
What is the strongest natural anti-inflammatory?
Leafy greens, fruits, vegetables, and herbs have powerful anti-inflammatory effects on your body. For instance, this juice's celery, ginger, and lemon can help reduce inflammation. I also suggest using berries, spinach, and more!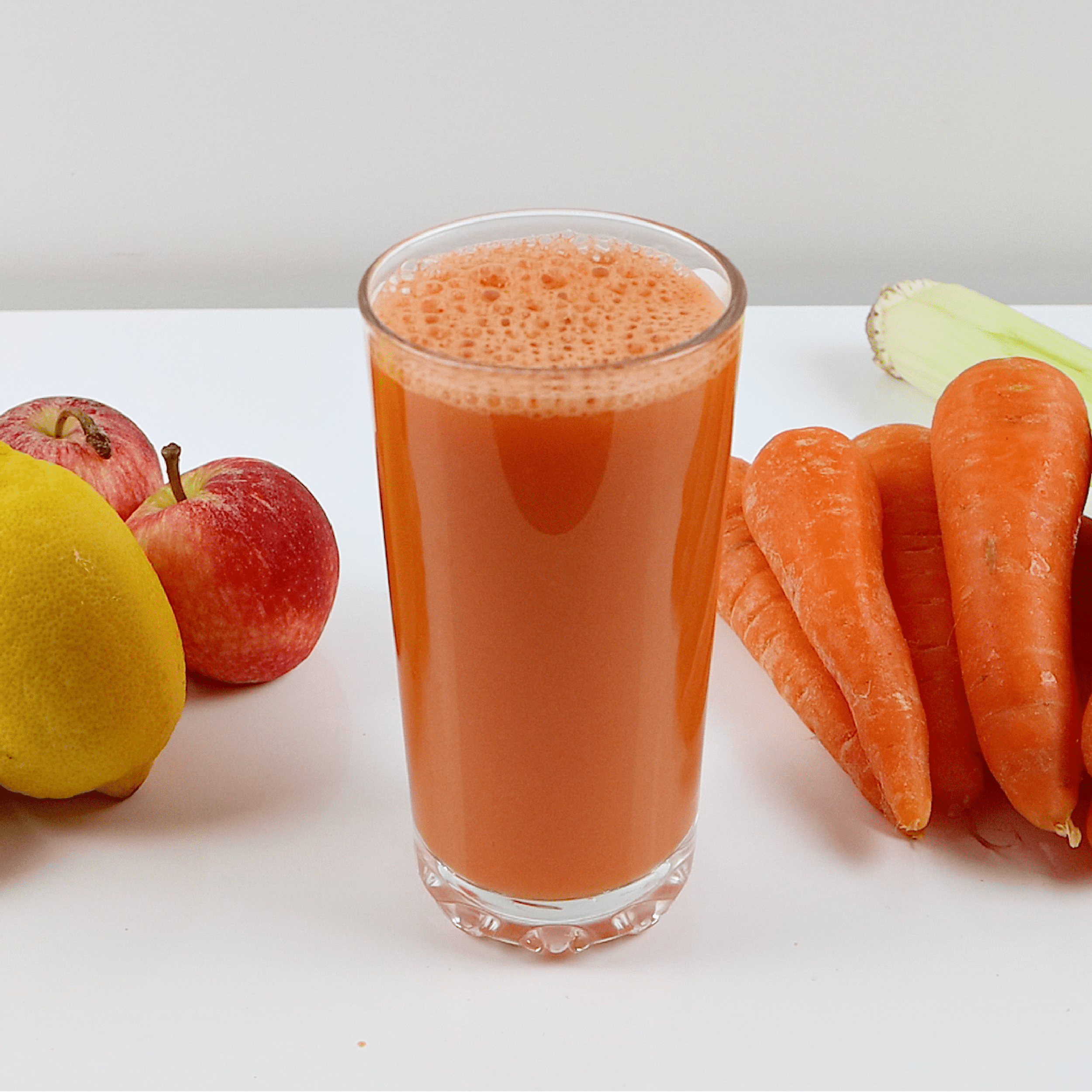 Anti-inflammation Juice
Take a step closer to a healthier life by making this five-ingredient miracle juice drink! This recipe contains anti-inflammatory compounds that protect your whole body and boost antioxidant activity.
Ingredients
8

carrots

(small-sized)

6

apples

(small-sized)

1

lemon

(peeled)

85

g

ginger

(peeled)

4

celery stalks/ribs
Instructions
Prepare the ingredients
Use a knife to peel and chop the carrots.

Slice the lemon in half and squeeze out the juice.

Chop the celery stalks into strips. Use a spoon to scrape off the ginger's skin.

Then, slice the ginger into pieces.
Juicing time!
Pour the contents into the glass to serve!
Notes
Buy quality fresh ingredients to give the juice a delicious taste.

Rinse and prepare the fruits and vegetables properly.

If you don't have a slow juicer, use a food processor or a blender instead.
Nutrition
Serving:
1
(of 2)
Calories:
64
kcal
Carbohydrates:
15
g
Protein:
1
g
Fat:
0.3
g
Saturated Fat:
0.05
g
Polyunsaturated Fat:
0.1
g
Monounsaturated Fat:
0.02
g
Sodium:
60
mg
Potassium:
316
mg
Fiber:
1
g
Sugar:
9
g
Vitamin A:
12287
IU
Vitamin C:
15
mg
Calcium:
28
mg
Iron:
0.4
mg