Organic Carrot Powder is a one-ingredient multi-purpose, and versatile condiment you can make entirely from scratch. Made from all-natural carrot vegetables, you can guarantee that this is a healthy recipe that you can use for your favorite dishes, snacks, and drinks!
Pin this recipe on Pinterest to save for later
Cook quality, delicious, and nutritious dishes with carrot powder!
How to Make Carrot Powder
This hack is one of the easiest methods to employ if you want to convert fresh carrots into a flavoring agent!
Carrots
Making carrot powder is not as difficult as it sounds. It takes just one ingredient to make this all-purpose and healthy given powder.
Carrots are root vegetables that are crunchy, healthy, sweet, and earthy. Once cooked, it'll have a tender texture and an aromatic fragrance. They can be stir-fried, roasted, baked, steamed, and now, they can be powderized. Carrots are also easy to season and cook.
Use them to make puree, juice, pastries, baby food, oil, pie, and more. Moreover, carrots are rich in vitamins and antioxidants that benefit your eyes, heart, immunity, digestion, and bones.
Compress all of the benefits of carrots into granules by making Carrot Powder!
Directions
Then, use a spiralizer or knife to slice them into strips.
Spread the strips on a lined tray and cover them with a net curtain, chiffon, mesh fabric, or other similar materials to prevent insects from getting to the carrots.
Leave it under the sun for one to two days until completely dry.
Transfer the dried carrots to a blender or food processor and blend until powdery.
Then, filter the carrot powder with a fine-mesh sieve for a finer texture.
Finally, transfer contents into an airtight container and store them!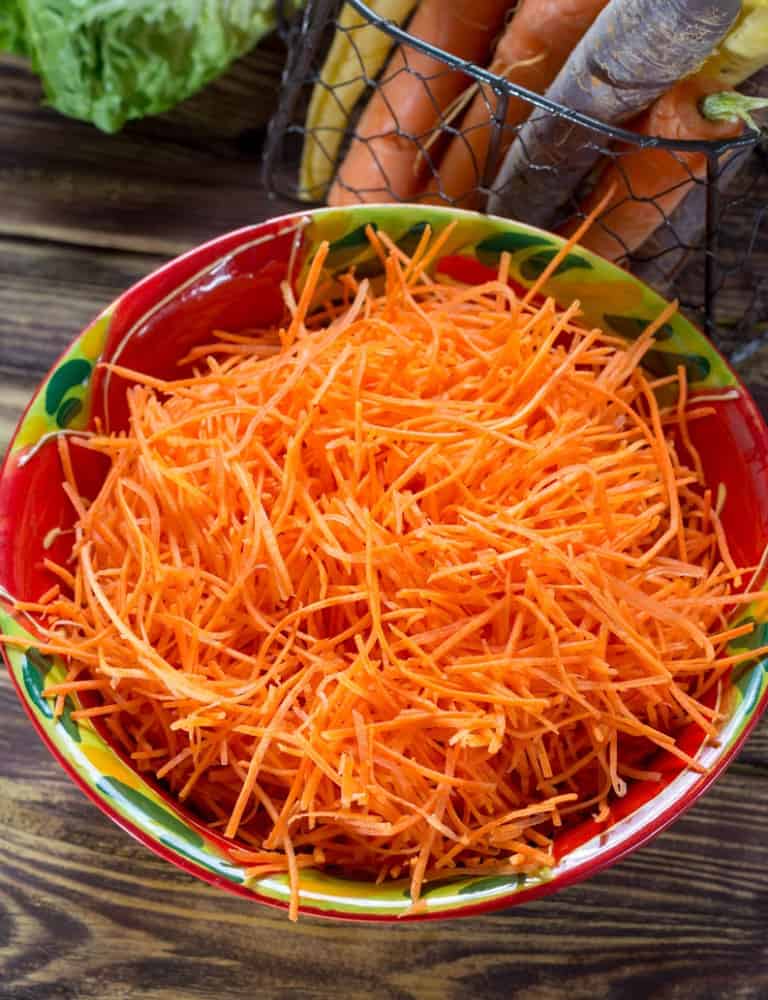 Pat yourself on the back because you just made a condiment in your kitchen! It's not just an ordinary condiment; it's organic, all-natural, and ultimately healthy.
Tips
How to Buy and Store Carrots
Selection. According to AZ Central, choose carrots with firm and plump quality. Additionally, they should be in vibrant color, and the tops of the carrot must be in a healthy-green shade. Check them for any cracks, soft spots, or discoloration.
Storage. Separate the carrot tops and use them as a garnish for other dishes. Put the unwashed carrots in mesh bags and refrigerate them for a week.
The Masterclass also recommends vertically submerging the carrots in a jar of cold water and replacing the water once it becomes murky—freeze carrots in freezer bags for up to several weeks.
Carrot Strips
If you don't have a spiralizer or a grater, then you can use a knife to julienne the carrots. Alternatively, slice it with a peeler for even strips.
Carrot Powder Without a Blender
Aside from using a blender, you can also use a food processor, a grinder, an electric mixer, a food mill, a garlic chopper, or a mortar and pestle.
Dehydrating and Storing Carrots
Instead of sun drying the carrots, there are other methods you can try.
Slice the carrots and distribute the slices on the trays.
Set the dehydrator to 52°C and let them dry for several hours, depending on the number of carrots.
Arrange the carrots slices on a lined baking tray and set the oven to the lowest setting.
Then, leave the oven door slightly ajar to prevent the carrots from roasting. This can take up to several hours.
Line a microwave-safe plate with wax paper and lightly grease it with oil.
Put the slices on the plate and cook them on medium heat for 10 minutes.
Then, turn them over and cook for another 10 minutes.
Dehydrate them for another 15 minutes on a low setting.
Organic Carrot Powder Variations
Use any variety of carrots to make the condiment but remember that they must be fresh and properly stored.
You can combine it with chili flakes or other powdered seasonings for a diverse flavor.
The dried carrot strips can be used on their own. Otherwise, convert the carrots into a paste by boiling them and pureeing them with a masher or a blender.
Carrots can also be transformed into oil by combining the carrot powder with coconut oil in an airtight container.
Recommended Tools
This post contains affiliate links, which means I earn commission income from qualifying purchases at no extra cost to you. Please read the full disclosure for more information.
How to Use Organic Carrot Powder
You can use carrot powder for smoothies, cereals, baking – carrot cake, cooking, soups, stews, food coloring, carrot oil, and more. This powder can also be used for your skin, especially if you combine it with moisturizing agents.
Storage Tips
At room temperature: Store the carrot powder in an airtight container for up to several weeks.
Frequently Asked Questions
How do you use carrot powder in food?
You can incorporate carrot powder in many dishes, drinks, and snack recipes. It also makes an amazing flavoring agent for juices, smoothies, and baby food!
Is it required to peel the carrots?
No, it is not necessary to peel the carrots.
What is carrot powder good for?
Organic carrot powder can be used for desserts, pastries, dishes, sauces, dips, stews, smoothies, baby food, and more. Moreover, you can even use it as a coloring agent.
Carrot Powder
Don't miss out on the nutrition and flavor of carrot powder; make your own at home!
Instructions
Prepare the carrots.

Rinse the carrots and peel them. Spiralize or grate the carrots into strips.

Dry them.

Spread the strips on a lined tray and cover them with a net curtain, chiffon, mesh fabric, or other similar materials to prevent insects from getting to the carrots.

Leave it to dry under the sun for one to two days until completely dry.

Powderize the dried carrots.

Transfer the dried carrots to a blender or food processor. Blend it until smooth. Sieve the carrot powder for a finer texture. Transfer contents into an airtight container and store!
Video
Notes
Slice the carrots with a spiralizer, grater, knife, or other similar materials.

The carrots can be dehydrated under the sun, in the oven, microwave, or dehydrator.
Nutrition
Calories:
150
kcal
Carbohydrates:
35
g
Protein:
3
g
Fat:
1
g
Saturated Fat:
0.1
g
Polyunsaturated Fat:
0.4
g
Monounsaturated Fat:
0.04
g
Sodium:
253
mg
Potassium:
1171
mg
Fiber:
10
g
Sugar:
17
g
Vitamin A:
61144
IU
Vitamin C:
22
mg
Calcium:
121
mg
Iron:
1
mg