You may have heard of the amazing health benefits of drinking carrot juice, including improved digestion, clearer skin, and better overall health. Now you can take advantage of these benefits for yourself with this delicious and easy-to-make carrot juice recipe.
Give yourself your daily dose of nutrients and satisfaction by making drinks and juices like this Carrot Juice!
Pin this recipe on Pinterest to save for later
Isn't it amazing how one ingredient can do wonders for your eyes, immunity, skin, heart, and liver?
This article will provide a step-by-step guide on how to make high-quality, nutritious carrot juice right in your own kitchen and offer ideas on ways to make it even more flavorful.
How to Make Carrot Juice
You can definitely quench your thirst with this refreshing, sweet, and nutritious drink! Make this recipe in less than 5 minutes using a juicer.
You'll also discover the many exciting health benefits you can get from drinking this natural vegetable juice. So let's get started and find out how carrot juice can make your body and taste buds happy!
Carrots
Carrots have a sweet taste coupled with rich texture and vibrant color that makes them the perfect ingredients for a satisfying drink!
Did you know that a medium-sized one contains only 25 calories? It's also loaded with vitamin A to improve your eyesight, protect your lungs, and strengthen your immune system.
If you love carrots, you may want to try using these for coleslaw, carrot powder, and Chicken Fried Bulgur!
Directions
Rinse the ingredient over running lukewarm water.
Slice the carrot into small portions with a knife or V-Blade Slicer.
Gradually feed the sliced carrots into the juicer.
Let the juice extracts drip into a glass. Once done, you can already drink your juice!
You can simply make this at home for when you feel like drinking nutritious juice. It's also perfect for teaching toddlers and babies how to drink healthily! Trust me, once you get a taste of this beverage, you will find yourself craving it from time to time.
Tips
How to Select Carrots
Always be on the lookout for carrots that have bright orange and smooth skin. If you see black areas near the top, this means that they are no longer fresh.
Medium-sized ones are suitable for juicing because they are not as firm as large and mature ones.
How to Store Carrots
Do not wash carrots before storage. It's best to rinse them right before you cook or juice them.
Put them in a container and store them in a cool and dark place to last for several months – this works especially well for ones bought in bulk.
If refrigeration is preferred, put the unpeeled and unwashed carrots in an airtight jar or plastic container and submerge them in cold water. Make it a habit to replace the water every five days. Refrigerating them can last up to a month in storage.
If you wish to freeze this vegetable, rinse and scrub the dirt away from the skin. Slice them and arrange them over a parchment-lined tray in the freezer.
Once frozen, individually remove them from the baking sheet and store them in a freezer bag or container. Freezing them can make them last up to several months.
Carrot Juice Variations
This all-natural and organic carrot juice is perfect for anyone on a vegan or gluten-free diet. It's plant-based, healthy, and completely safe to consume.
To make the juice tastier and healthier, it can be combined with other fruits, vegetables, or spices. For instance, you can make Carrot and Celery Juice, Apple-Carrot-Ginger Juice, or even Apple-Beetroot-Carrot Juice.
For spices, you can add turmeric, cinnamon, nutmeg, or even black pepper.
Recommended Tools
Knife: Use this to peel and slice the ingredient.
Juicer: To make juicing easier, use this to easily extract the juice from the carrot.
This post contains affiliate links, which means I earn commission income from qualifying purchases at no extra cost to you. Please read the full disclosure for more information.
Visit my shop for more products.
How to Serve Carrot Juice
You can simply serve the beverage juice in a glass, with or without a straw. Transfer it into a container or bottle so you can bring it along throughout the day.
The best time to drink this juice is during the mornings because it can supply you with a significant amount of energy you will need for your day-to-day tasks.
This juice can be paired with plenty of dishes such as:
You can drink it every day but it's best to limit yourself to half a cup of carrot juice per day to prevent the risk of carotenemia.
Storage Tips
Frequently Asked Questions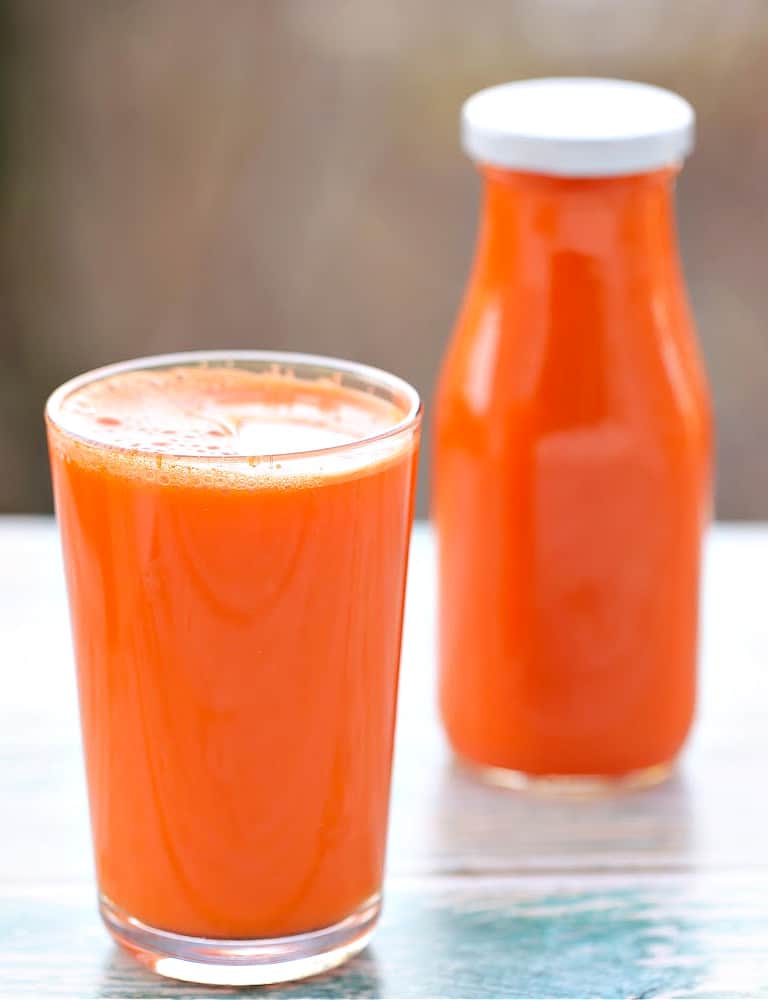 What is carrot juice good for?
Regular consumption of carrot juice can aid in immunity, vision, blood sugar, cancer prevention, skin, heart health, brain function, and more!
Is it okay to drink carrot juice every day?
Yes, you can drink carrot juice every day but it's best to limit yourself to half a cup of carrot juice per day to prevent the risk of carotenemia.
With carotenemia, your skin can turn into a yellowish shade because of increased beta-carotene levels in the bloodstream. Other than that, you can fully maximize the benefits of carrot juice every day!
Does carrot juice have any side effects?
According to WebMD, too much carrot juice can lead to teeth yellowing and decay. It can also cause an allergic reaction in people allergic to parsley and celery.
Carrot Juice
This carrot juice is a triple threat because it's healthy, delicious, and easy to make! It's packed with vitamins and minerals that can help with your overall health.
Ingredients
4

carrots

– medium-sized (peeled and sliced)
Instructions
Prepare the carrot.

Carrots may have been sprayed and treated with pesticides so it's best to use wash them before using them for the juice. Simply run the carrot over running lukewarm water. You can use a knife or a peeler to remove the skin.

Slice the top and bottom part of the carrot and continue to slice it into small portions, sizes that can fit into the juicer's tube.

Gradually feed the sliced carrots into the juicer.

At this point, the juicer will do most of the work. Let the carrot juice extracts drip into a glass. Once done, you can already drink your carrot juice!
Video
Notes
In case you don't have a juicer, blend the carrots with water and filter them with a nut milk bag or fine-mesh sieve.
If you don't have a juicer, you can blend the carrots with a bit of water, and once blended, sieve the contents using a mesh strainer for a smoother consistency.
Nutrition
Serving:
1
(200ml)
Calories:
100
kcal
Carbohydrates:
23
g
Protein:
2
g
Fat:
1
g
Saturated Fat:
1
g
Polyunsaturated Fat:
1
g
Monounsaturated Fat:
1
g
Sodium:
168
mg
Potassium:
781
mg
Fiber:
7
g
Sugar:
12
g
Vitamin A:
40763
IU
Vitamin C:
14
mg
Calcium:
81
mg
Iron:
1
mg