Don't let your strawberries go to waste and turn them into thick, smooth, and absolutely delicious Strawberry Jam!
Once you learn how to make it at home, you can use it anytime as a spread, sweetener, or flavoring agent. It's one of the easiest spreads to make from fresh fruits.
With strawberry jam, you can make your desserts, bread, smoothies, snacks, and drinks better, tastier, and healthier!
I'm sure you will love how fruity, sweet, and tarty the Strawberry Jam will be. Get the freshest berries you can find to get the best results!
How to Make Strawberry Jam
Making your own strawberry jam at home is a good way of using berries, saving money, and being healthy. In this recipe, I'll show you the simplest way to prepare the jam.
I can't wait for you to try it out!
Ingredients
Grab these ingredients to make the best-tasting Strawberry Jam.
Strawberries
When it comes to making jam, strawberries are always on top of the list. These fruits have a sweet, tarty, and sour flavor to make any dish flavorful.
Berries are also soft and juicy, so they will be easy to blend and turn into a jam. You will surely get a smooth and thick texture from the natural pulp of the fruits.
The strawberry jam is made better with the rich and vibrant red color of fresh berries. In fact, the fragrant aroma of the berries instantly makes everything better too.
If you love strawberries, you will also enjoy them in Strawberry Ice Cream Bars, Strawberry Banana Milkshake, and Banana Strawberry Popsicles!
Sugar
Even if the strawberries are already sweet, you will still need sugar to add a subtle sweet taste. Once you cook it into the jam, the sugar will have a caramelized quality.
According to The Guardian, sugar can also help make the jam last longer through any temperature. By adding sugar, you are also making the jam easy to spread and scoop.
Lemon juice
Don't forget to add the finishing touch – lemon juice. With the acidity of the lemon, you can neutralize the sweet flavors of the strawberries for a well-balanced flavor.
An article by Tasting Table mentioned that lemon juice also has pectin to help the jam set for the right texture. Overall, the lemon juice will surely make the strawberry jam better.
Can you believe it only takes three ingredients to make this top-quality strawberry jam? The condiment will surely ooze with freshness, flavor, and nutrition!
Directions
Simply follow these steps to get the perfect Strawberry Jam even on your first try!
Mix the strawberries, sugar, and lemon juice in a pan.
Stir until the sugar melts.
Turn on the stove's heat to boil the mixture.
Then, mix the jam with a spatula.
Once happy with the consistency, remove it from the heat.
Now, whenever you crave strawberry jam, you can easily make it at home!
Tips
Buying strawberries
According to California Strawberries, you should buy berries with a vibrant and shiny color.
The green leaves should also still be intact.
Check the berries for any unpleasant odor.
I suggest buying small to medium plump berries.
Storing strawberries
Don't wash the strawberries if you plan on using them later.
Wrap the berries in paper towels and store them in the fridge for a week.
Alternatively, you can freeze the strawberries to last longer.
Lemon Juice
You can submerge the lemon in warm water for up to 40 minutes to juice easily.
Roll the lemon on a hard surface for quick juicing.
The lemon can also be microwaved for about 20 seconds to heat it before squeezing.
Remove the seeds before mixing the lemon juice into the mixture.
Aside from using your hands, you can also use a juicer to extract the lemon juice.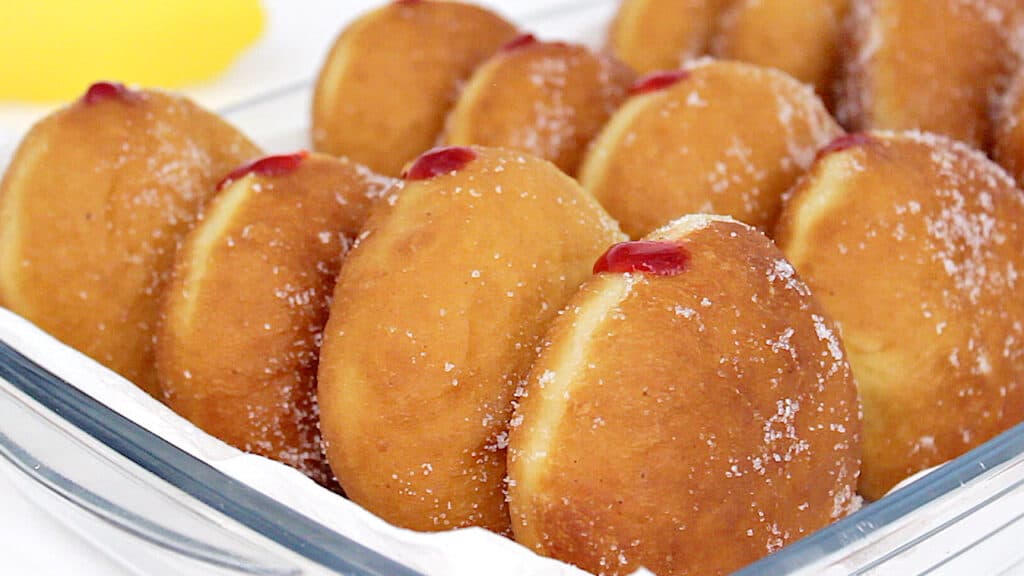 Strawberry Jam Variations
Strawberry jam is generally safe for vegan, gluten-free, and dairy-free diets. If you are cautious about sugar intake, then you can substitute sugar with stevia, honey, or molasses.
Instead of a smooth jam, you can also get berry chunks, especially if you want to use them for baked goods. You may also add fruit pectin and water for a thinner consistency.
Recommended Tools
This post contains affiliate links, which means I earn commission income from qualifying purchases at no extra cost to you. Please read the full disclosure for more information.
Visit my shop for more products.
How to Use Strawberry Jam
There are plenty of ways to use strawberry jam! You can use it as a bread spread, pastry filling, dip, sauce, salad dressing, and more!
It can also be added to popsicles, cakes, donuts, smoothies, juices, pancakes, milkshakes, purees, and other dishes. Moreover, this jam can be used for cakes, cupcakes, pies, and cookies for a hint of fruity goodness!
While it is natural and homemade, strawberry jam can still cause adverse reactions, especially if you use too much. Having too much strawberry jam can cause bloating, diarrhea, flatulence, and lethargy.
Storage Tips
At room temperature: You can store the strawberry jam in a glass jar for several at room temperature.
Frequently Asked Questions
What is Strawberry Jam?
Simply put, strawberry jam is a jam or spread made of strawberries. You need to cook the berries with lemon juice and sugar to get the perfect caramelized, smooth, and thick consistency.
Why is Strawberry Jam healthy?
Strawberry jam is healthy because it contains essential vitamins, minerals, and antioxidants that can help with heart health, weight loss, and blood sugar levels.
Strawberries also contain simple sugars to supply your body with energy every day.
How to make jam step by step?
You need to mix the strawberries, lemon juice, and sugar first. Stir them until the sugar melts. Turn on the heat and cook until smooth and yummy.
What is strawberry jam rich in?
Strawberry jam is rich in vitamins and minerals for your overall health. It also has lots of sugar because of how sweet and tarty it tastes.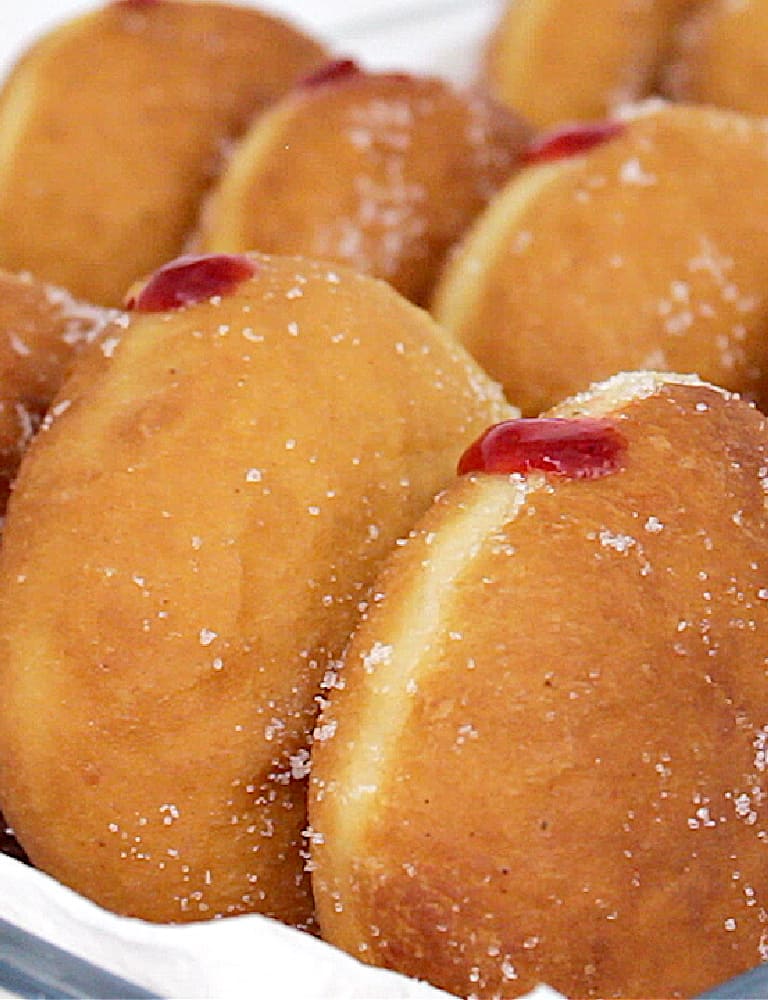 Strawberry Jam
This simple 3-ingredient Strawberry Jam is bursting with flavor and sweetness! You just have to give it a try.
Prep Time
1

hour
10

minutes
Total Time
1

hour
30

minutes
Ingredients
600

g

strawberries

(fresh)

400

g

sugar

(Jam sugar)

1

tbsp

lemon juice

(fresh)
Instructions
Mix the strawberries, sugar, and lemon juice in a pan.

Stir until the sugar melts.

Turn on the stove's heat to boil the mixture.

Then, mix the jam with a spatula.

Once happy with the consistency, remove it from the heat.
Video
Notes
You can freeze the jam to last up to 1 year.

Babies can have strawberry jam as early as 12 months old.

Purchase quality ingredients for the best strawberry jam ever!

You can allow the juices to be released for an hour or overnight.
The sugar can help make the strawberry jam thick in consistency, but if you want to add thickness to the jam, you may incorporate a few tablespoons of cornstarch dissolved in water. Mix it into the jam while cooking.
In case you don't have access to a pan or stove, you can still make strawberry jam with strawberries, sugar, lemon juice, and instant pectin.
Thaw the frozen strawberry jam in the fridge overnight, and once thawed, consume it within 1 week and do not re-freeze.
Nutrition
Serving:
100
g (of 650)
Calories:
267
kcal
Carbohydrates:
69
g
Protein:
1
g
Fat:
1
g
Saturated Fat:
1
g
Polyunsaturated Fat:
1
g
Monounsaturated Fat:
1
g
Sodium:
2
mg
Potassium:
145
mg
Fiber:
2
g
Sugar:
66
g
Vitamin A:
11
IU
Vitamin C:
55
mg
Calcium:
16
mg
Iron:
1
mg