Keeping your body healthy and fit sounds intimidating. But you can start by making this delicious, satisfying, and effective belly fat-burning drink!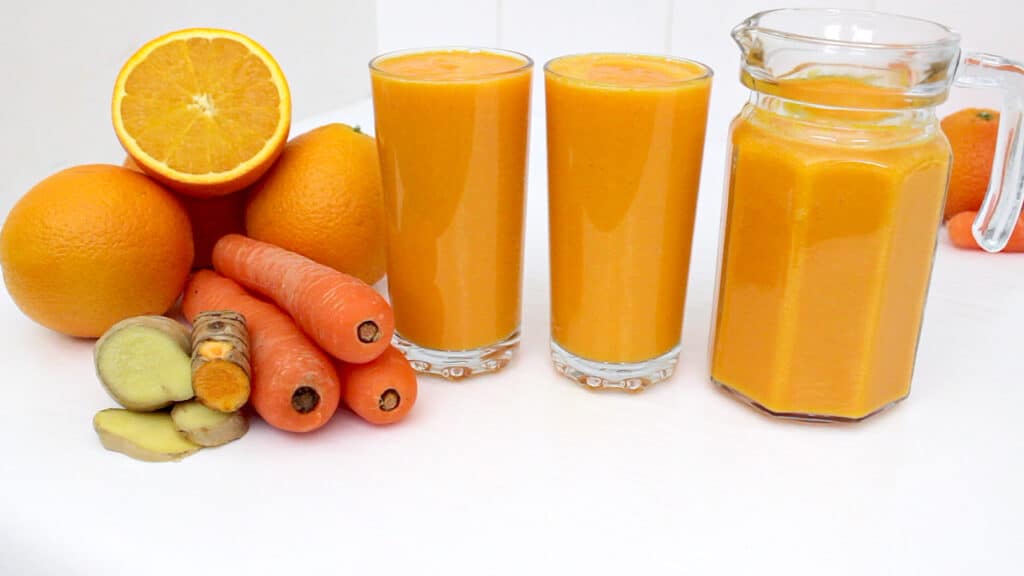 Pin this recipe on Pinterest to save for later
In addition, it's simple, affordable, natural, and powerful – all that you could ask for in a drink. Drink your way to flawless skin! Remember, you're what you ingest, so nourish your skin to glow from the inside with this belly fat burner and skin nourisher.
How to Make the Belly Fat Burner Smoothie
Staying in good shape is a process. You can take the first step by trying out this sensational smoothie! Consume this regularly, and you will see how it can work its magic on your overall well-being.
Ingredients
Turmeric
Turmeric is popular for its potent antioxidant properties. It is a helpful ingredient to reduce inflammation, boost memory, protect the heart, and improve mental health.
Moreover, use it in its natural form to get a taste of a mix of bitter and citrus flavors. This also has a touch of pepper that makes it ultimately refreshing.
Carrots
Carrots are excellent vegetables for clear vision, strong immunity, healthy skin, and an alert mind. The earthy and sweet taste helps with enriching the overall quality of the smoothie.
Oranges
This vitamin C-rich fruit is best for maintaining that youthful glow in your skin. Oranges are also for normal blood pressure, digestion, and brain health. The juicy saccharine flavor is just so irresistible!
Ginger
Ginger is one of the best foods to add to your regular diet. It's beneficial for pain relief, blood sugar, and cholesterol levels. In fact, this can contribute a spicy yet sweet flavor and aroma to the drink.
From the ingredients alone, you can already tell that this drink is not an ordinary beverage. It's a life-changing delight that will help you achieve a healthy and fit lifestyle!
Directions
Prepare the ingredients.
Rinse all of the ingredients except for the ginger. Slice them into pieces.
Blend them together.
Put the ingredients into the blender and add the water. Blend the mixture until you're content with the consistency.
Isn't this the easiest smoothie you have ever made? I bet it's also the most delicious and healthiest drink you've tasted. Pat yourself on the back because you just converted ordinary ingredients into a transformative drink!
Be your healthiest, fittest, and revitalized self with this spectacular smoothie recipe!
Tips to Make a Belly Fat Burner Drink
How to Purchase and Store the Ingredients
Turmeric
Selection. Turmeric is commonly sold in its powder form but it's best to use fresh ones for maximum nutritional benefits. It should be firm and smooth in texture.
Storage. These are best stored in airtight containers in dark and dry areas. Turmeric can also be refrigerated for up to two weeks or frozen to last up to several weeks. Use them within 6 months o retain potency.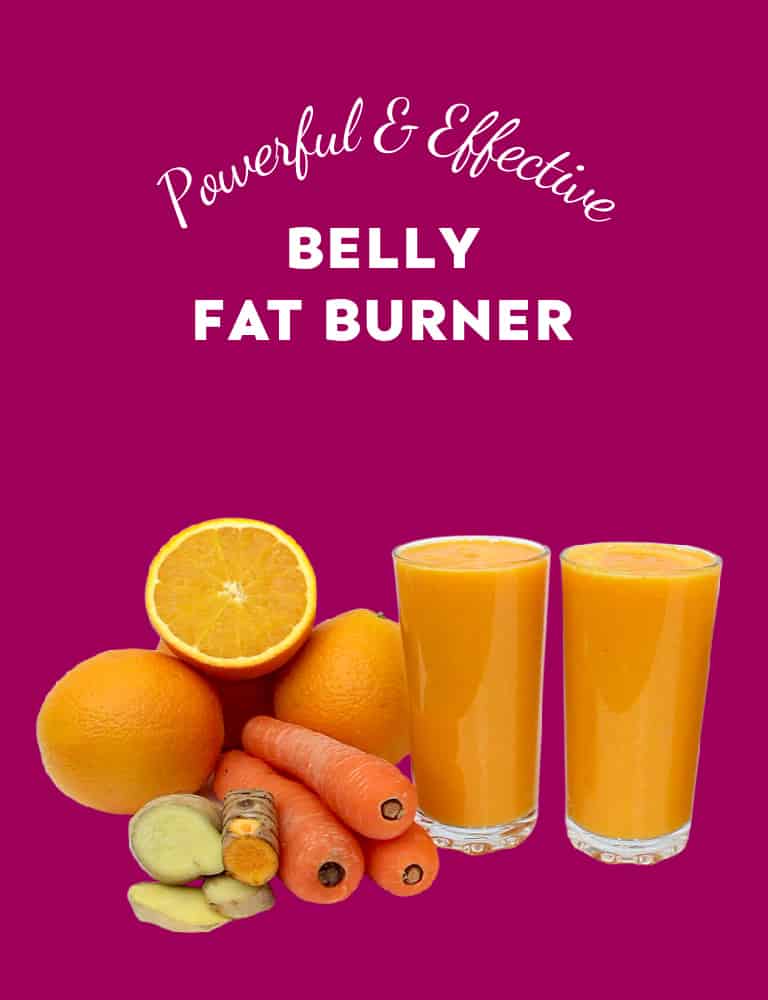 Carrots
Selection. Choose carrots that are bright in color without soft spots, bruises, or discoloration.
Storage. Carrots at room temperature can last up to 4 days only. Unwashed carrots can also be refrigerated to last up to 3 weeks.
Oranges
Selection. Go for oranges that feel heavy for their size. They should be free from discoloration, soft areas, or holes. The best ones are those that are brightly colored with a sweet fragrance.
Storage. Oranges can last up to a week on the counter. Refrigerate the oranges in the crisper drawer of the fridge to last up to 2 months. Sliced oranges can be frozen solid and stored in freezer bags to last up to several months.
Ginger
Selection. The ginger should be firm and smooth. If it is shriveled, it is likely that it's dehydrated. It should also be without discoloration.
Storage. Keep ginger at room temperature to last up to a week. You can also place it in a bag and refrigerate it to extend its shelf life to at least 3 weeks.
How to Make a Smoothie Without a Blender
In case you don't have a blender, you can try the other methods. For instance, you can use a food processor or a mechanical food chopper. Alternatively, boil each ingredient and mash until you achieve your desired consistency.
You can also use a slow juicer to convert it into a more liquid beverage.
If you don't have appliances to make a smoothie, then you can always make tea. Grate the ginger, carrot, and turmeric root. Add them with the orange sacs to boiling water in a pot. Sift the tea, and you've got yourself an Effective Belly Fat Burner Tea!
Restore your burnt pots with my burnt pot cleaning hack to have a pot for more tea recipes!
Smoothie Variations
This drink is perfect for vegan, gluten-free, and lactose-free diets. You can also use one ingredient at a time or any combination you prefer. Moreover, you can also substitute almond milk for water for a richer flavor and creamier consistency.
You can even use bananas, apples, peanuts, papayas, strawberries, and more! To make this drink healthier, try adding leafy greens such as spinach, asparagus, kale, or celery.
For additional nutrients, you can use nutmeg, cinnamon, fenugreek seeds, vanilla bean, or chia seeds.
Recommended Tools
This post contains affiliate links, which means I earn commission income from qualifying purchases at no extra cost to you. Please read the full disclosure for more information.
Visit my shop for more products.
How to Serve a Healthy Smoothie
Smoothies are best served in the morning, especially an hour before a workout session. It fuels you with energy and essential nutrients for the day! You can easily make it on a busy day.
To serve it cold, just add ice before blending it. For a full diet meal, consume it with a fruit bowl or a vegetable salad. Here are some of the dishes I suggest with this drink:
Storage Tips
At room temperature: Smoothies at room temperature are best stored immediately. If sealed in a container, it can last up to a few hours.
Frequently Asked Questions
Is this smoothie recipe healthy?
Of course! This is one of the healthiest smoothie recipes you will ever try. It's made up of natural ingredients and you don't even need sugar for that sweet flavor.
This fat-burner drink is not just for weight loss, it is also for heart health, clear vision, brain function, digestion, bone strength, mental health, and more! If you consume this regularly, you will be guaranteed tremendous benefits!
How many smoothies should have every day?
In an article published in NHS, the safe intake of smoothies is about 150ml per day. A glass of a smoothie consists of one meal out of five meals in a day.
What should you not add to a smoothie?
To retain the natural nutrients of the drink, avoid adding flavored yogurt, ice cream, sherbet, processed fruit juices, or canned fruits. Keep the ingredients fresh and organic for full health benefits.
How can you tell if a smoothie has gone bad?
An expired smoothie usually has a slimy texture, discoloration, a foul odor, and a sour flavor. Discard spoiled drinks immediately.
Can babies have smoothies?
This drink is unsuitable for babies because of the number of vegetables used. However, you can opt to feed puree or fresh vegetables to a baby instead. Use one ingredient at a time to prevent allergic reactions.
Belly Fat Burner Smoothie
With this drink's freshness, nutrients, and effectiveness, you will not just lose weight, but you will also improve your overall well-being!
Ingredients
2.5

g

turmeric

1

carrot

(small-sized)

1

orange

(small-sized)

17½

g

ginger

100

ml

water
Instructions
Prepare the ingredients.

Rinse all of the ingredients, except for the ginger. Slice them into pieces.

Blend them together.

Put the ingredients into the blender and add the water. Blend the mixture until you're contented with the consistency.
Video
Notes
Purchase quality ingredients for the freshest-tasting drink. You can refrigerate or freeze it to extend its shelf life. For babies, opt for purees instead.
Nutrition
Serving:
1
g
Calories:
98
kcal
Carbohydrates:
23
g
Protein:
2
g
Fat:
1
g
Saturated Fat:
0.1
g
Polyunsaturated Fat:
0.1
g
Monounsaturated Fat:
0.1
g
Sodium:
49
mg
Potassium:
495
mg
Fiber:
5
g
Sugar:
15
g
Vitamin A:
10485
IU
Vitamin C:
74
mg
Calcium:
80
mg
Iron:
1
mg