If you've been looking for the easiest way to clean a burnt pot, you have come to the right place! Using your pots for cooking soups, stews, and other one-pot recipes can cause a burnt pot, but after learning this hack, you won't have to worry about it!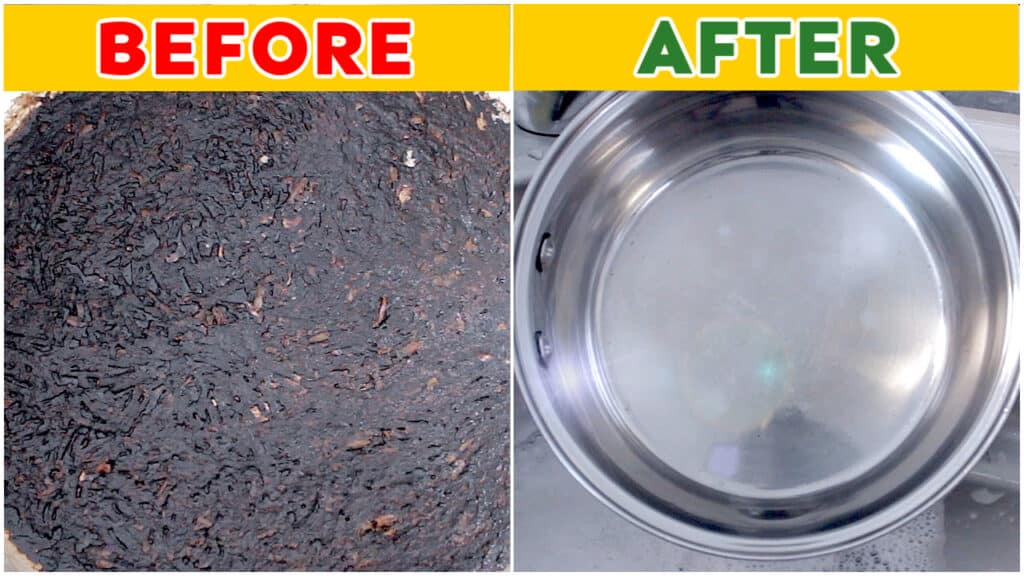 Pin this recipe on Pinterest to save for later
Today, I'll teach you the best method to restore your burnt pot to sparkling perfection, its former glory!
How to Clean a Burnt Pot
Washing your burnt pot doesn't have to be complicated or even expensive. All you need is water and dishwashing liquid to do the job!
Causes of a Burnt Pot
This problem is usually caused by cooking on a high flame on the stove.
Pots are especially prone to burning if the dish becomes dehydrated as it cooks. Some dishes may also require occasional stirring.
Burnt pots can also be due to prolonged exposure to the flame from the stove.
It can also be attributed to uncleaned pots after use.
Whatever the reason, cleaning your burnt pots is essential to keep your food delicious, safe, and tasty!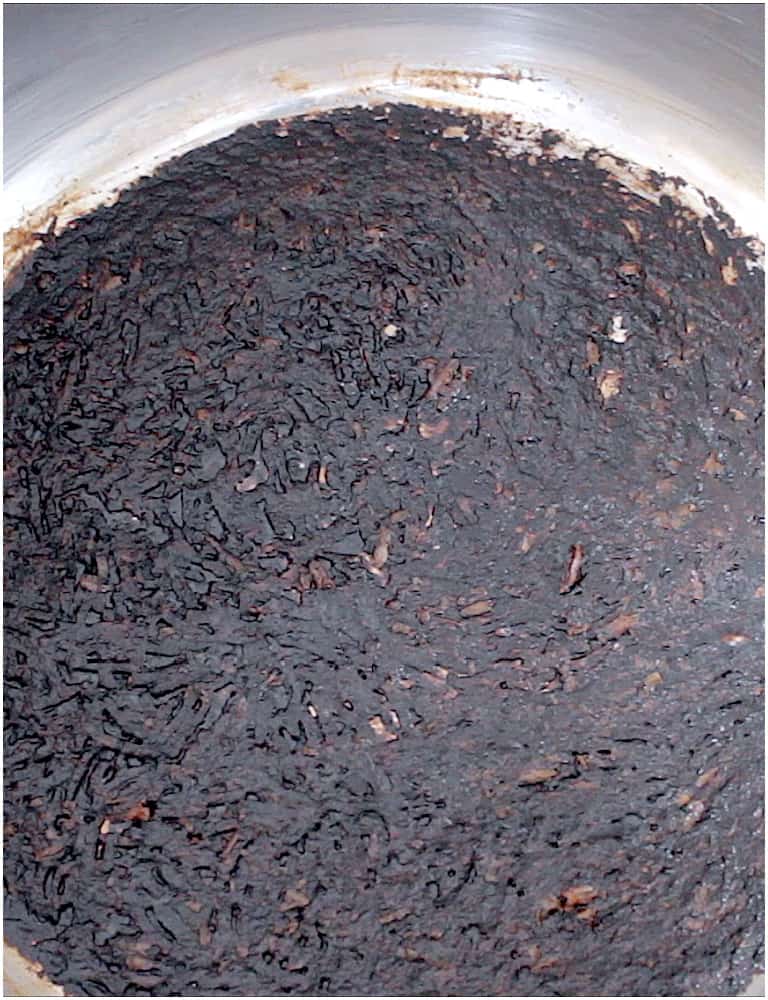 Directions
After this tutorial, you'll realize how easy it is to clean your burnt pots. In fact, you may find this to be a satisfying experience.
Place the pot over medium heat
Add water, enough to cover the burnt part of the pot.
Add dishwashing liquid (dish soap or washing up liquid).
Bring to a boil.
Set the pot aside to cool.
The burnt part should come off easily. Otherwise, you can use a scouring pad to scrub and some elbow grease.
Rinse the pot.
Nifty trick, right? It doesn't require much money, effort, or even time! Once you do this hack, your pots will look brand new again.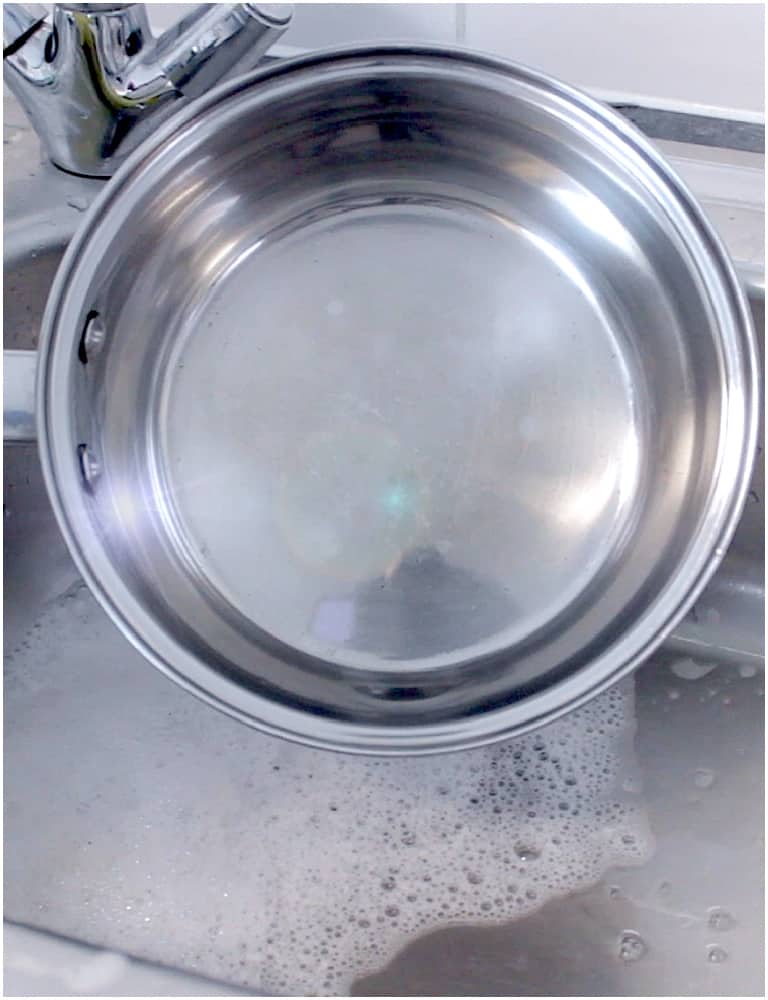 Alternative Ways to Clean a Burnt Pot
There are plenty of other cleaning hacks you can try. Here are some of the best ones yet:
Baking Soda and Vinegar
Taste of Home recommends using equal parts water, vinegar, and two tablespoons of baking soda.
Put the contents in a pot and let it boil.
Then, remove it from the heat and let it stand for about 15 minutes.
Drain the water and scrub the burnt parts with a scouring pad.
If there is still burnt residue, make a paste with water and baking soda to rub on the scorched areas.
Lemons
Use up to 3 sliced lemons and arrange them in a pot.
Set the stove to medium-high heat and add water to cover the lemons.
Let it boil before removing the pot from the heat.
The scorched particles should float to the surface to make removing them easier.
Drain the contents and rinse the pot with water while scrubbing with a scouring pad.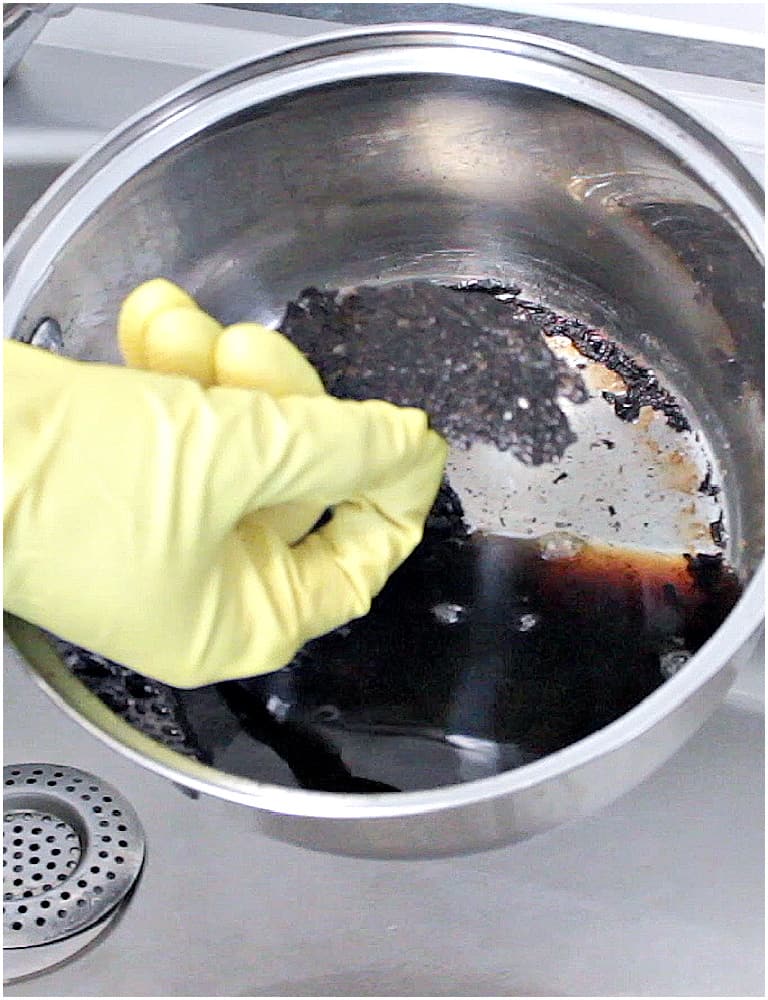 Aluminum Foil and Baking Soda
For this method, rinse the pot with hot water.
After draining, put two tablespoons of baking soda and hot water to make a paste.
Roll aluminum foil into a ball and use it to scrub the pot.
Finally, rinse it with soapy water!
Commercial Pot Cleaning Products
You can use many products, such as Bar Keepers Friends and even dishwasher tablets, to restore your pots.
Regardless of your chosen method, it is essential to clean burnt pots. It saves money, gives you quality dishes, and ensures food safety!
How to Prevent Burnt Pots
To retain the excellent condition of your pots, purchase heavy-duty cookware that can withstand high temperatures.
Some may be expensive, but they can be a wise kitchen investment for long-term use.
Also, use oil to grease the pots before cooking. It prevents the ingredients from sticking to the surface.
Let the oil pre-heat over medium fire.
In addition, after using the pot, you can pour hot water and let it boil to remove burnt residue easily.
Some straightforward tips include using the pots on low flame, stirring, and rotating the pot.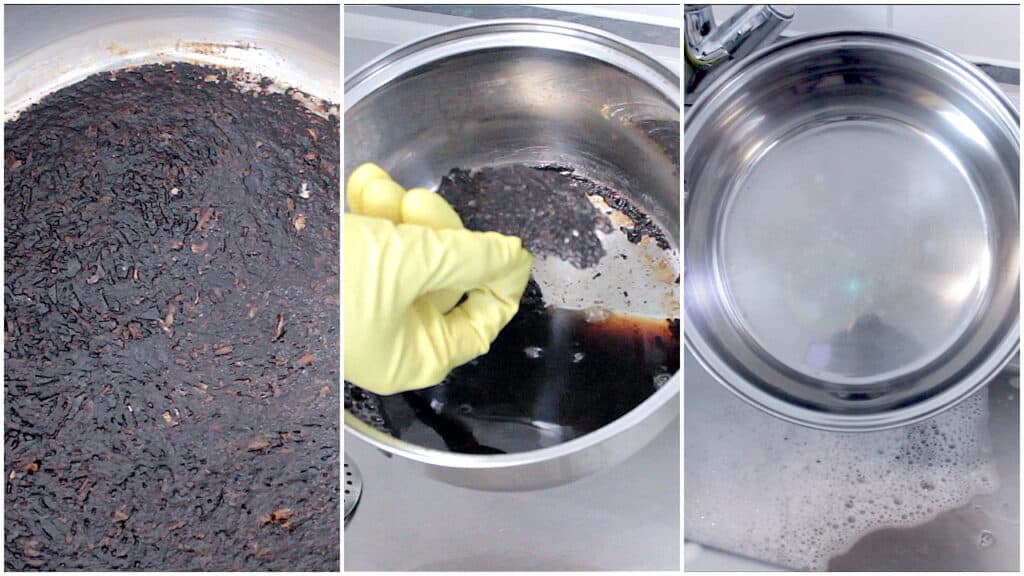 Frequently Asked Questions
Can a burnt pot be saved?
Of course! Follow the tips in this technique, and you'll find yourself restoring your pots like a pro! You can always try other cleaning methods if one method doesn't work.
How do you clean a badly burnt stainless steel pot?
Try boiling water in it first and stirring with a wooden spatula while subtly scraping off the scorched parts. The burnt areas will soften as it boils until you can easily remove them.
How do you clean a burnt ceramic pot?
For ceramic pots, boil up to three teaspoons of baking soda and hot water for 15 minutes. As a supplement, you can also incorporate vinegar into the mixture.
How do you clean a severely burnt pot?
Sometimes, cleaning a burnt pot requires more time. If you're on a schedule but still want to wash the pot, soak it in soap and water and put it on a dryer sheet.
A dryer sheet may seem like an odd cleaning material, but it is effective in softening the burnt parts to make them easier to remove.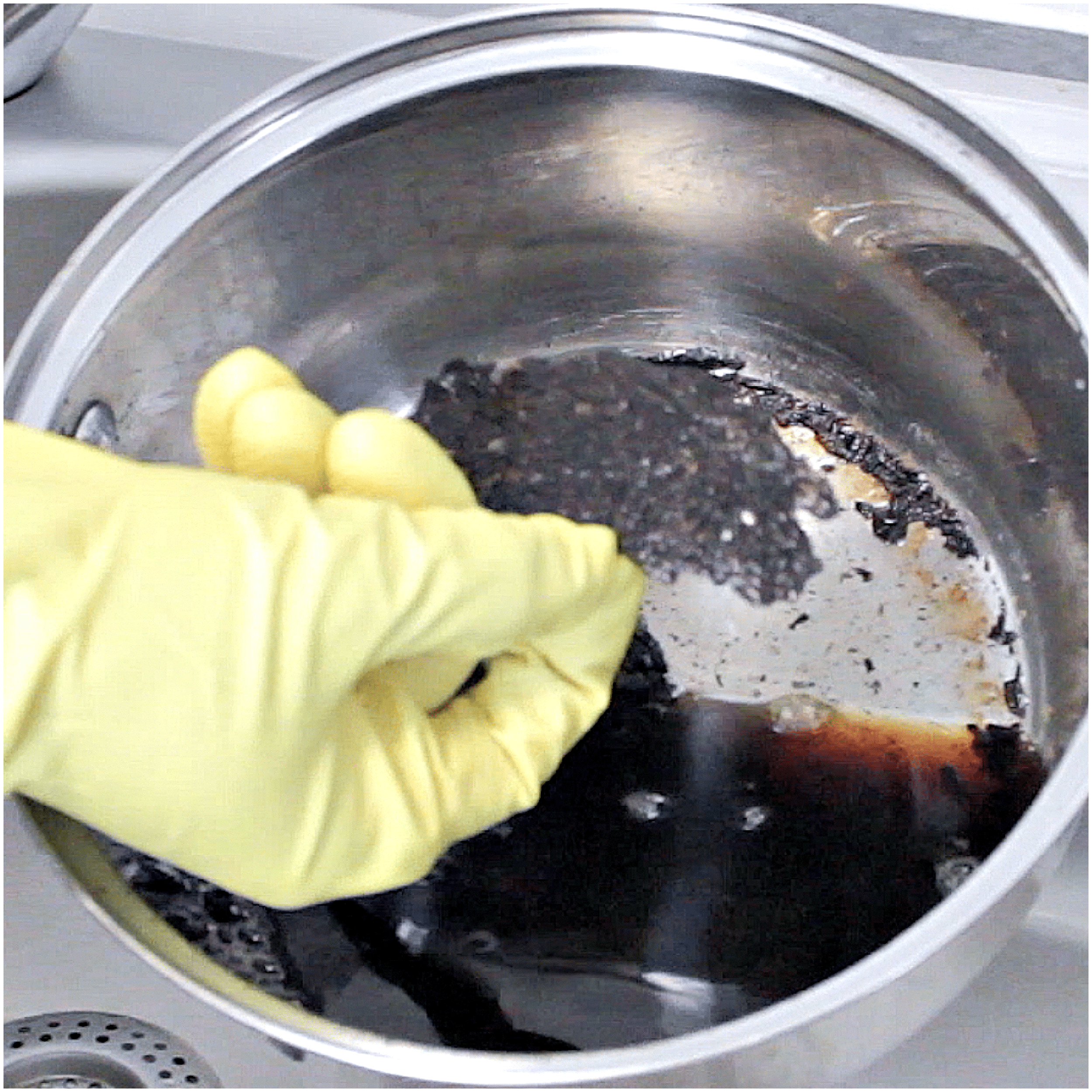 Burnt Pot Cleaning
Burnt pot? No fuss, check out this cleaning hack! With this burnt pot cleaning hack, you'll be able to maintain your pot and extent its lifespan! Burnt pots should be cleaned appropriately to ensure you prepare quality food always.
Ingredients
Water

(enough to cover the burnt part)

Dishwashing liquid

(dish soup or washing up liquid)
Instructions
Place the pot over medium heat.

Add water, enough to cover the burnt part of the pot.

Bring to a boil.

Set it aside and allow it to cool. The burnt part should come off easily. You can also use a scouring pad to scrub off the burnt part.
Video
Notes
Aside from this method, you can also use baking soda and vinegar, lemons, aluminum foil and baking soda, and other commercial pot cleaning products.