Can you believe that there's a Pizza Sauce recipe you can make in just five minutes?
Once you learn how to make it, you won't be able to stop using it for your favorite pizza flavors. It's made of all-natural, fresh, and tasty ingredients for a fun meal.
Sometimes, a no-cook pizza sauce is all you need to complete the Italian dining experience. With the help of your blender, you can make this sauce in no time!
Pin this recipe on Pinterest to save for later
Whatever pizza flavor you want, this Pizza Sauce recipe is guaranteed to give you the best results. How easy is this sauce recipe? Wait and see!
How to Make No-Cook Pizza Sauce
Set your timer because you only need five minutes to do the best Pizza Sauce recipe. I'll tell you everything you need and do to get the best results!
Ingredients
Cook the pizza sauce recipe like an Italian chef with these ingredients:
Tomatoes
Whenever I think about pizza sauce, tomatoes instantly come to mind. Tomatoes have a sweet, tangy, and fresh flavor that pairs well with any pizza toppings.
These also have a bright red color that people are always looking for in a pizza. Tomatoes are juicy, pulpy, and soft inside; they're easy to blend and mash to make the sauce.
If you have any leftover tomatoes, then use them for dishes to go with the pizza, like Tortilla Wraps, Spaghetti in Chicken Breast Sauce, or Spaghetti Bolognese!
Olive oil
You might be surprised at how better the pizza sauce recipe will be with olive oil. It adds a mild and fruity taste that goes well with the tomatoes and spices.
The olive oil will also improve the consistency of the sauce, especially since you won't be cooking it. With the help of this oil, the sauce will be thicker and smoother to spread easily on the pizza dough.
Garlic
Even a clove of garlic is enough to level up the pizza sauce. It also gives a distinct touch of earthy and sweet taste for an Italian experience.
Once the sauce cooks in the pizza, the garlic will also give the dish a fragrant aroma and a richer flavor.
Seasonings
The pizza sauce recipe is not complete without herbs and spices. In this recipe, I suggest using sugar, sea salt, onion granules, all-purpose seasoning, and smoked paprika.
These spices are perfect for adding extra flavor and depth to the sauce.
Believe me; you will love the flavors and aroma you can get from this pizza sauce recipe.
Directions
Before you make the pizza, let's prepare the pizza sauce!
Rinse the tomatoes.
Use a knife to deseed and slice the tomatoes.
In a blender, puree the tomatoes, sugar, salt, all-purpose seasoning, olive oil, smoked paprika, garlic, and onion granules.
Blend them until smooth.
Then, transfer the mixture to a bowl.
You can use it as it is or turn it into a garnish whenever you want pizza!
What an easy, quick, affordable pizza sauce recipe, right? It has the freshness of the tomatoes, the flavors of the herbs and spices, and the nutrients of a healthy homemade pizza condiment!
Tips
Tomatoes
Buying tomatoes
According to The Spruce Eats, tomatoes should feel heavy for their size.
They should have smooth skins free from soft spots and holes.
You should also smell an earthy and sweet fragrance near the stem.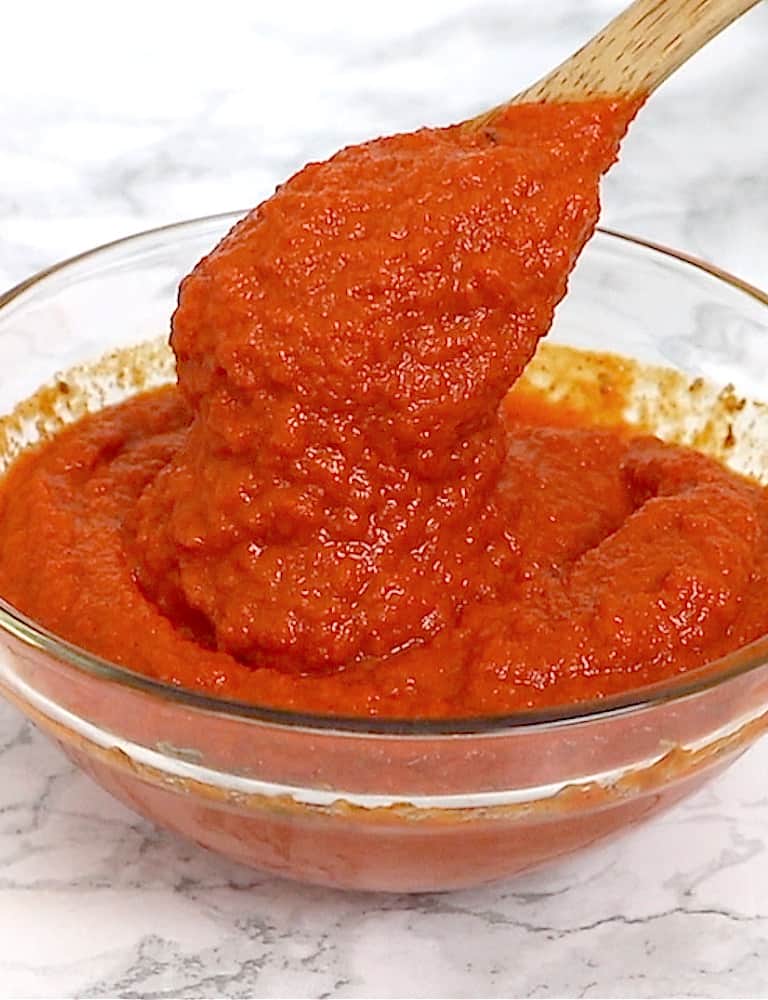 Storing tomatoes
Tomatoes stored at room temperature should be used within one week.
Place them in an area away from direct sunlight.
Once ripe, refrigerate them to extend their shelf life.
How to Upgrade Homemade Pizza Sauce
For 101% guaranteed quality DIY pizza sauce, ensure that your tomatoes are fresh!
Be generous with the herbs and spices to enhance the overall flavor.
Do not skip the sugar and olive oil for a well-balanced flavor.
You can also let the sauce cook for a few minutes to fully infuse it with the seasoning.
If you cook it for a bit, then you can add about two tablespoons of butter.
No-Blender Tomato Sauce
You can still do this recipe even without a blender. How?
Deseed and chopped the tomatoes.
Boil them over medium heat until they become soft.
Easy, right?
Alternatively, slice the tomatoes into halves and mash them using a potato masher. You can also use a food processor for a finer consistency.
Pizza Sauce Recipe Variations
This recipe is perfect for people who are not fans of store-bought sauces. It allows you to season it however you like, which is perfect, especially if you plan on making different pizza sauces for a crowd.
Want the cooked version? You can also try an alternative Yummielicious Pizza Sauce recipe for a more refined flavor.
It's also vegan, gluten-free, and vegetarian for a healthier dressing for pizzas. You can as well make it even more nutritious by omitting the sugar.
Recommended Tools
Blender: Puree the tomatoes using a blender.
Knife: Dice the tomatoes with a clean knife.
Bowl: Pour the contents into a bowl or container.
This post contains affiliate links, which means I earn commission income from qualifying purchases at no extra cost to you. Please read the full disclosure for more information.
Visit my shop for more products.
How to Use No-Cook Pizza Sauce
Spread three to four tablespoons or a quarter cup of pizza sauce on a 30 cm (12″ wide) Pizza Dough. Do not use too much to make the pizza crusty and crispy. Smear it evenly over the pizza for full flavor.
You can also utilize it as a marinade, salsa, soup, pasta sauce, and more! You can use it for the following pizza recipes:
Storage Tips
At room temperature: Homemade pizza sauce can only last up to four hours at room temperature.
Frequently Asked Questions
What is the best pizza sauce?
The best pizza sauce is a homemade pizza sauce recipe. You can make sure that it's made of fresh ingredients and seasoned to your liking.
You can also turn it into another flavor that you want for a pizza recipe that's truly your own.
What can I use as pizza sauce?
Aside from using pizza sauce, you can also use pasta sauce or other sauces. Sometimes, you can use ketchup as a tool alternative to tomatoes too.
What is the most common pizza sauce?
The most common pizza sauce is tomato-based pizza sauce. It's a classic recipe that has been used in even the earliest pizza recipes. However, make sure to season it with the right herbs and spices.
What makes pizza sauce taste like pizza sauce?
The secret to good-tasting pizza sauce is the seasonings! Use any herbs and spices you want, but I suggest using smoked paprika, garlic powder, chili peppers, oregano, basil, and more!
No-Cook Pizza Sauce
Why shouldn't you make your own pizza sauce? It's quick, easy, practical, affordable, healthy, and delicious! You are fully assured that the ingredients are fresh, clean, and safe.
Ingredients
170

g

tomatoes

(deseeded and chopped) 3 cups

A

pinch

sea salt

A

pinch

all-purpose seasoning

2

tbsp

olive oil

2

tbsp

smoked paprika

5

g

garlic clove

(1 clove)

1

tsp

onion granules

1

tbsp

sugar

optional

Oregano

(or basil, or parsley) for garnish
Instructions
Use a knife to deseed and slice the tomatoes.

In a blender, puree the tomatoes, sugar, salt, all-purpose seasoning, olive oil, smoked paprika, garlic, and onion granules.

Then, transfer the mixture to a bowl.

You can use it as it is or turn it into a garnish whenever you want pizza!
Video
Notes
Do not precook your pizza sauce for fresher tomato flavors.

Use Roma tomatoes for a richer texture.

If you don't have a blender, you can use a sieve, potato masher, or food processor to puree the tomatoes.
aThe pizza sauce makes four 30 cm (12″ wide) pizzas.
Nutrition
Serving:
1
(of 4)
Calories:
95
kcal
Carbohydrates:
7
g
Protein:
1
g
Fat:
8
g
Saturated Fat:
1
g
Polyunsaturated Fat:
1
g
Monounsaturated Fat:
5
g
Sodium:
5
mg
Potassium:
191
mg
Fiber:
2
g
Sugar:
5
g
Vitamin A:
2078
IU
Vitamin C:
6
mg
Calcium:
17
mg
Iron:
1
mg