Pizza sauce in 5 minutes! Are you out of Pizza Sauce? Don't worry; you don't need to run to the grocery store. Make the best no-cook pizza sauce recipe with fresh vegetables!
Pin this recipe on Pinterest to save for later
This classic pizza sauce is quick, easy, instant, thick, rich, and flavorsome. Take your Italian night weekend to a whole new level with this recipe!
This pizza sauce recipe only takes five minutes to make, and you don't need to cook it!
How to Make No-Cook Pizza Sauce
This will surely be one of the best pizza sauce recipe hacks you will ever need. It's made up of fresh ingredients for nutritional value. You can do this in just a few minutes without breaking a sweat!
Ingredients
Tomatoes
Homemade pizza sauce tastes so much better with fresh tomatoes. It becomes more flavorful, has less acidity, and is richer in texture. Tomatoes can also supply your body with energy, antioxidants, and vitamins!
Olive oil
Olive oil is best used to intensify the flavors of the pizza sauce. It also gives it a thicker and smoother consistency that works well on the dough.
Garlic
Even a clove of garlic is enough to level up the pizza sauce. This provides a distinct touch of earthy and sweet taste for an Italian experience.
Seasoning
Add sugar, sea salt, onion granules, all-purpose seasoning, and smoked paprika to balance the flavors. These ingredients are perfect for adding extra flavor and depth to the sauce.
These may seem like basic ingredients, but the finished product will surely be the all-time best pizza sauce!
Directions
In a blender, combine the diced tomatoes, sugar, salt, all-purpose seasoning, olive oil, smoked paprika, garlic, and onion granules. Blend them until smooth.
Transfer the mixture to a bowl. You can use it as it is or garnish it with oregano, basil, or parsley!
What an easy, quick, affordable way to make pizza sauce, right? It has the freshness of the tomatoes, the flavors of the herbs and spices, and the nutrients of a healthy homemade pizza condiment!
Tips for Pizza Sauce
How to Select, Store, and Prepare Tomatoes
Selection. According to The Spruce Eats, tomatoes should feel heavy for their size, with smooth skins free from soft spots and holes. The scent should be a combination of earth and sweet fragrances.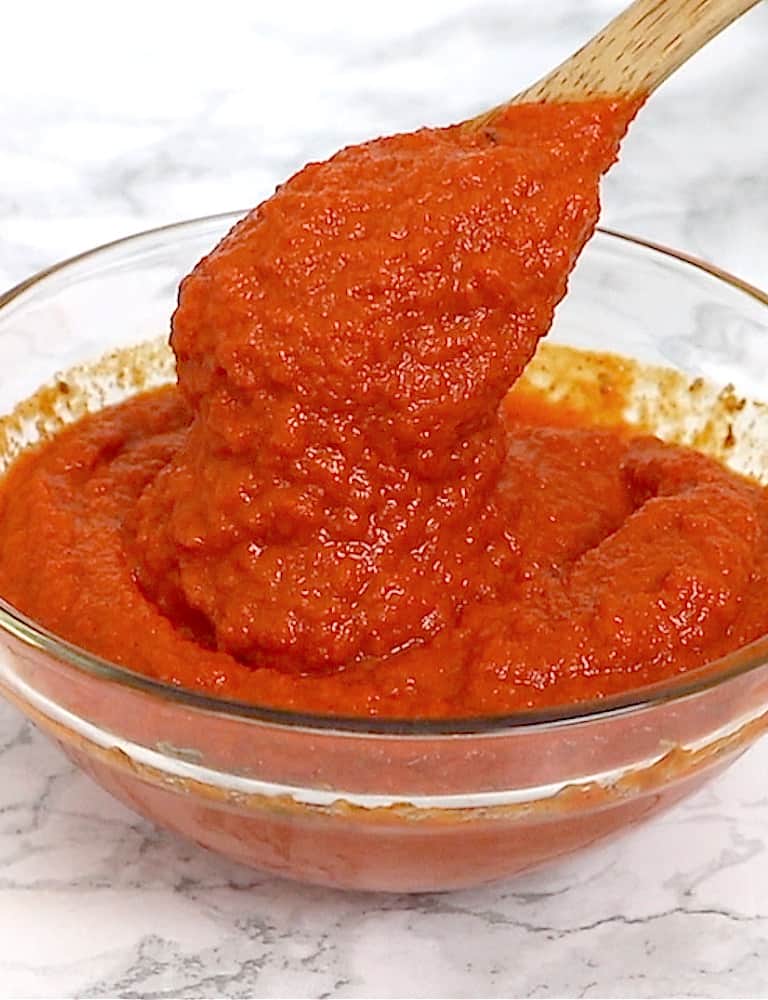 Storage. Tomatoes stored at room temperature should be used within 1 week. Place them in an area away from direct sunlight. Once ripe, refrigerate them to extend their shelf life.
Preparation. Rinse the tomatoes and slice them into halves. For purposes of this recipe, use a spoon to scoop out the seeds inside. Chop the tomatoes however you prefer.
How to Upgrade Homemade Pizza Sauce
For 101% guaranteed quality DIY pizza sauce, ensure that your tomatoes are fresh!
Be generous with the herbs and spices to enhance the overall flavor.
Do not skip the sugar and olive oil to tone down the acidity of the tomatoes.
You can also let the sauce simmer for a few minutes to fully infuse it with the seasoning.
If you cook it for a bit, you can add about two tablespoons of butter for enhanced texture and flavor. Incorporate it towards the end of the simmering process for best results.
How to Puree Tomatoes Without a Blender
You can still do this recipe even without a blender. How?
Deseed and chopped the tomatoes.
Boil them over medium heat until they become soft.
Alternatively, slice the tomatoes into halves and mash them using a potato masher. If you have a food processor, feel free to use it for a finer consistency.
Variations
This recipe is perfect for people who are not fans of store-bought condiments. It allows you to season it however you like, which is perfect, especially if you plan on making different pizza sauces for a crowd.
Want the cooked version? Check out this classic homemade Pizza Sauce recipe.
It's also vegan, gluten-free, and vegetarian for a healthier dressing for pizzas. You can as well make it even more nutritious by omitting the sugar.
Recommended Tools
Blender: Puree the tomatoes using a blender.
Knife: Dice the tomatoes with a clean knife.
Bowl: Pour the contents into a bowl or container.
This post contains affiliate links, which means I earn commission income from qualifying purchases at no extra cost to you. Please read the full disclosure for more information.
Visit my shop for more products.
How to Use No-Cook Pizza Sauce
Spread 3 to 4 tbsp or ¼ cup of pizza sauce on a 30 cm (12″ wide) Pizza Dough. Do not use too much to prevent the pizza from becoming soggy. Smear it evenly over the pizza for full flavor.
You can also utilize it as a marinade, salsa, soup, pasta sauce, and more! You can use it for the following pizza recipes:
Storage Tips
At room temperature: Homemade pizza sauce can only last up to 4 hours at room temperature.
Frequently Asked Questions
Is homemade pizza sauce healthy?
Of course! It frees you from the potentially harmful preservatives and additives from processed pizza sauce. Its essential vitamins help cleanse the body, boost immunity, and control blood sugar.
There are also antioxidants to protect you from damaged cells, bad cholesterol, and heart ailments. Since the original recipe does not require cooking, it can allow you to absorb the lycopene content better.
You can even make Homemade Pizza Dough and spread it on!
What can I use if I don't have pizza sauce?
According to Webstaurant Store, you can substitute pizza sauce with pesto, barbecue sauce, ranch dressing, sweet chili sauce, and other sauces.
Does pizza sauce need to be cooked?
It depends on your preference. If you want a fresher flavor, then don't precook it because it will also be cooked in the oven. On the other hand, cook it beforehand if you want to add more ingredients, such as butter.
This post may contain general information and does not constitute professional medical advice. Always seek information or advice from a qualified medical professional. Please read the full disclaimer for details.
No-Cook Pizza Sauce
Why shouldn't you make your own pizza sauce? It's quick, easy, practical, affordable, healthy, and delicious! You are fully assured that the ingredients are fresh, clean, and safe.
Ingredients
170

g

tomatoes

(deseeded and chopped) 3 cups

A

pinch

sea salt

A

pinch

all-purpose seasoning

2

tbsp

olive oil

2

tbsp

smoked paprika

5

g

garlic clove

(1 clove)

1

tsp

onion granules

1

tbsp

sugar

optional

Oregano

(or basil, or parsley) for garnish
Instructions
Prepare the tomatoes.

Rinse the tomatoes, cut them in halves, and deseed them. Remove the seeds by scooping them out with a spoon. Roughly dice the tomatoes for easy processing.

Blend the sauce.

In a blender, combine the diced tomatoes, sugar, salt, all-purpose seasoning, olive oil, smoked paprika, garlic, and onion granules.

Blend them until smooth. Transfer the mixture into a bowl. You can use it as it is or garnish it with oregano, basil, or parsley.
Video
Notes
Do not precook your pizza sauce for fresher tomato flavors.

Use Roma tomatoes for a richer texture.

If you don't have a blender, you can use a sieve, potato masher, or food processor to puree the tomatoes.
aThe pizza sauce makes four 30 cm (12″ wide) pizzas.
Nutrition
Serving:
1
(of 4)
Calories:
95
kcal
Carbohydrates:
7
g
Protein:
1
g
Fat:
8
g
Saturated Fat:
1
g
Polyunsaturated Fat:
1
g
Monounsaturated Fat:
5
g
Sodium:
5
mg
Potassium:
191
mg
Fiber:
2
g
Sugar:
5
g
Vitamin A:
2078
IU
Vitamin C:
6
mg
Calcium:
17
mg
Iron:
1
mg