Make baby feeding and weaning fun for you and your baby with homemade Apple Puree!
Using fresh apples, you can give your baby sweet, healthy, and exciting baby food. Of all the baby food recipes my kids have tried, the Apple Puree is definitely one of their favorites.
With a little steaming and blending, you can easily make a baby-friendly fruit puree. It's guaranteed to put a smile on your baby's face and even yours.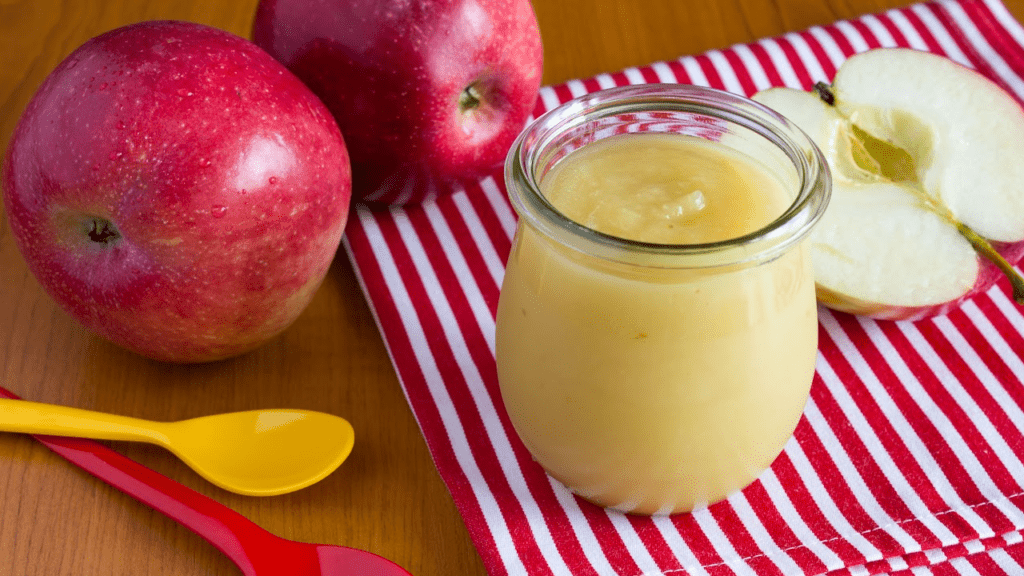 Pin this recipe on Pinterest to save for later
You can never go wrong with this puree as your baby's stage one baby food. In this recipe, I'll show you the best way to make Apple Puree from fresh fruits!
Are you looking for a quick, easy, delicious stage one weaning food recipe? Look no further! You're in the right place!
How To Make Apple Puree
Is it your baby's first time trying fruit purees? Well, the Apple Puree is surely going to be one of the best options. It's naturally delicious and certainly enjoyable for your baby.
You only need 15 minutes to make it, but the happiness will surely last for a lifetime!
Ingredients
Apples
To ensure that you're making the best Apple Puree for your baby, you need to use the best kinds of apples. Stemilt suggests using Royal Gala or Fuji apples for mildly sweet yet fruity flavors.
I love using apples for baby food because of how juicy and crisp they are. They even have a floral fragrance that just makes the puree even more exciting.
With their soft texture, it will be easy to steam and blend until lump-free and smooth. Apples can also be mixed with water or milk for the best consistency for your baby.
Now, apples are not just for kids and adults; they're for babies too! You can even pair them with other fruits, spices, and herbs to make the puree tastier!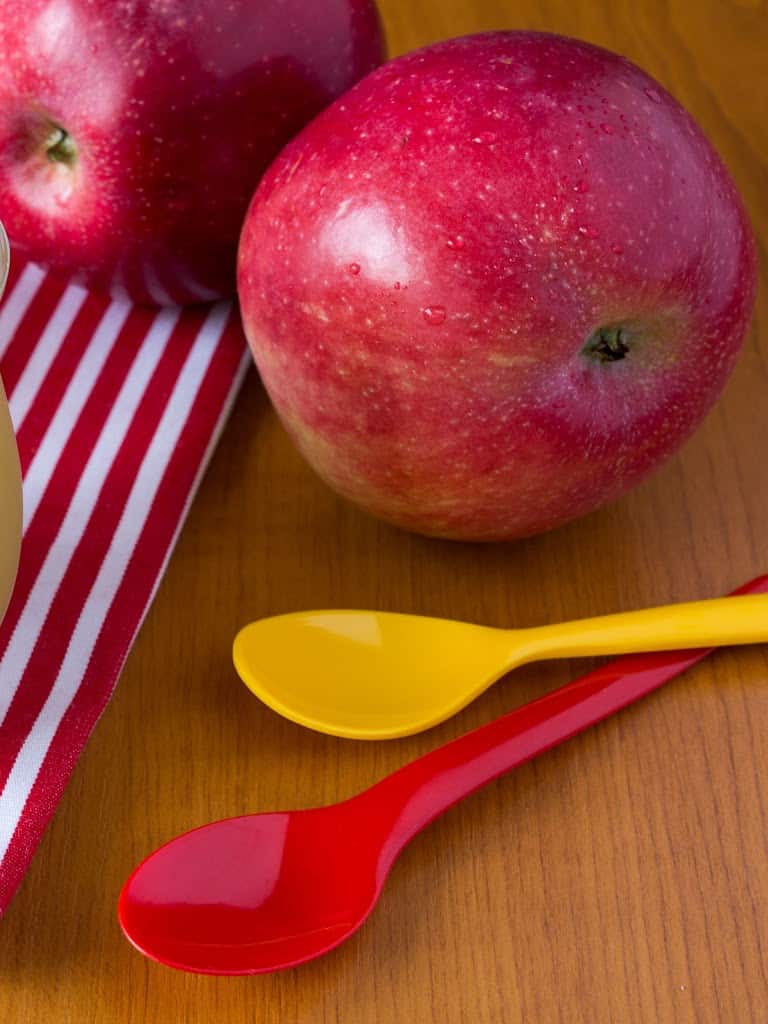 Directions
Are you excited for your baby to try the Apple Puree? Well, let's start making it!
Rinse and peel the apple.
Slice it into pieces using an apple corer and divider.
Then, heat the water in a pot.
Place a steaming basket inside.
Steam the apple slices over medium heat until tender.
Once cooked, set aside to cool slightly.
Transfer the steamed apple piece into a blender.
Add water from the pot or breast milk.
Blend until smooth.
Transfer some of it into a clean baby bowl, and serve!
Baby food like this Apple Puree can instantly bring a smile to your baby's face. This recipe is the perfect one to make to get your child started on a healthy lifestyle!
Tips
Buying apples
NDTV suggests buying apples that feel firm and heavy for their size.
Check the apples for any soft spots.
The apples should also have a waxy and shiny texture.
Storing apples
Apples can last up to a week at room temperature.
According to Masterclass, you should keep the apples in the fridge to last up to six weeks.
Drizzle sliced apples with lemon juice to last up to five days in the fridge.
You can also freeze the apples for up to six months.
Apple Puree Variations
If this is your baby's first time trying fruit purees, then start with the apples alone. Once the baby is familiar with the flavor, you can mix the apples with other fruits and veggies.
Healthy Little Foodies suggests pairing apples with squash, berries, apricots, lemons, pears, raisins, and more. You can also season the puree with honey, maple syrup, sugar, or cinnamon.
As your baby grows older, you can try serving steamed apples or fresh apple slices. For stage one baby food, I suggest steaming and blending the apples first.
Instead of steaming, you can also boil the apples to soften. Aside from using a blender, you can also use a food processor or masher to get a similar texture.
Recommended Tools
Pot: Cook the apples in a pot.
Steaming basket: Soften the fruits in a steaming basket to retain nutrients.
Blender: Puree the steamed apples using a blender.
Knife: Peel and slice the fruits with a knife.
Apple corer and divider: Use this as a substitute for the knife.
Baby bowl: Serve the apple puree in a baby bowl.
This post contains affiliate links, which means I earn commission income from qualifying purchases at no extra cost to you. Please read the full disclosure for more information.
Visit my shop for more products.
The chopping board comes ready handy when it comes to preparing your baby's apple puree. Heavily dented and scratched wooden and plastic chopping boards tend to harbor bacteria and become unsanitized. So, you'll need to buy a granite chopping board, the ultimate work surface that doesn't absorb moisture or harbor bacteria. Read our All You Need to Know About Cutting Board Guide for detailed information.
How to Serve Apple Puree
Feed the Apple Puree to your baby in the morning for lots of energy for a fun-filled day. Start with a few tablespoons to introduce the flavor to the baby.
Wait for three to five days before feeding to your baby again. Always check for any allergic reactions and consult your doctor for any intolerance.
Make sure that the apple puree is warm before feeding it to the baby. Most importantly, remember to have fun while enjoying the moment with your child!
Storage Tips
At room temperature: Feed the Apple Puree to your baby within two hours.
Frequently Asked Questions
What is apple puree made of?
Apple puree is made of steamed apples, especially if you prepare them for stage one baby food. You can add in water or milk for a smooth and runny consistency.
There are also fruits, vegetables, and spices you can pair with the apples. They are guaranteed to give the baby food an excellent flavor.
What is the difference between apple puree and applesauce?
Apple puree and applesauce have similarities, but they are especially suggested for baby weaning because of their smooth and lump-free texture.
On the other hand, applesauce is usually used as a sweetener for desserts and pastries due to its texture.
How to make apple puree for my baby?
You can make apple puree by steaming the apples until soft and tender. Once cooled, blend the steamed apples until smooth in texture.
Is boiled apple puree good for babies?
Yes, they are! Apples have lots of health benefits that are good for your baby. Boiled apple puree can improve brain function, energy, immunity, vision, digestion, skin, and overall health!
This post may contain general information and does not constitute professional medical advice. Always seek information or advice from a qualified medical professional. Please read the full disclaimer for details.
Apple Puree (VIDEO)
Quick, easy, healthy, and delicious apple puree that will delight your baby. Your baby will surely give you a warm smile to say thank you!
Ingredients
2

royal gala apples

½

cup

water
Instructions
Rinse and peel the apple.

Slice it into pieces using an apple corer and divider.

Then, heat the water in a pot.

Place a steaming basket inside.

Steam the apple slices over medium heat until tender.

Once cooked, set aside to cool slightly.

Transfer the steamed apple piece into a blender.

Add water from the pot or breast milk.

Transfer some of it into a clean baby bowl, and serve!
Video
Notes
Any leftover apple puree can be stored in an airtight container and placed in the fridge within two hours of preparation.

Refrigerated apple puree must be consumed within 48 hours.

Apple puree can be frozen in ice cube trays for lake use for up to three months.

Feed the baby about one or two times a day.
You can keep baby puree refrigerated for up to 2 days or freeze it for up to 3 months.
Apple is naturally sweet, so no added sugar is required.
You can add breast or formula milk instead of water to the puree.
Nutrition
Serving:
1
(of 4)
Calories:
47
kcal
Carbohydrates:
13
g
Protein:
1
g
Fat:
1
g
Saturated Fat:
1
g
Polyunsaturated Fat:
1
g
Monounsaturated Fat:
1
g
Sodium:
2
mg
Potassium:
97
mg
Fiber:
2
g
Sugar:
9
g
Vitamin A:
49
IU
Vitamin C:
4
mg
Calcium:
6
mg
Iron:
1
mg