If spinach is one of your favorite vegetables, you will appreciate this storage hack! Try this technique to preserve the spinach, save money, and cook healthy recipes.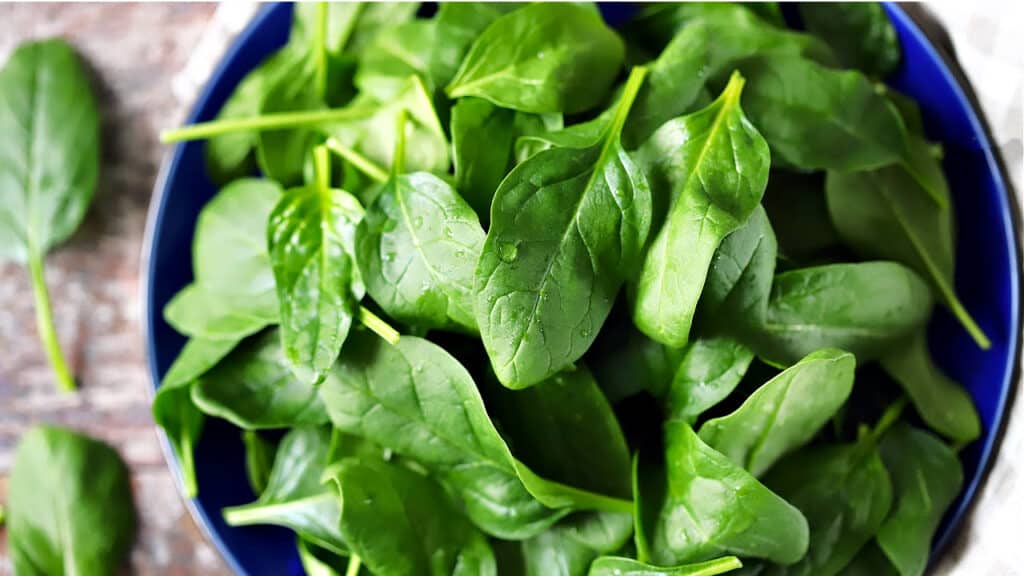 Pin this recipe on Pinterest to save for later
Today, you will realize that you can always have spinach whenever you want because you can now store it for as long as you wish!
Spinach
Spinach tastes leafy, light, and sometimes sweet. Its mild sweet taste makes it perfect for salads and smoothies.
This vegetable will only develop a bitter flavor once it begins to wilt. It doesn't mean it has gone bad when it becomes bitter. Instead, use it to tone down the flavors of other dishes.
This leafy green vegetable crop is extremely beneficial for your overall health because it contains iron, riboflavin, potassium, and other essential vitamins. There are three varieties to choose from: savoy, smooth leaf, and semi-savoy.
Overall, spinach is one of the leafy greens you need in your kitchen because it can save you money, time, and your life!
Directions
Wash it with water over a colander on top of a deep bowl.
Use a resealable bag or freezer bag to preserve.
Leave it partially open and vacuum seal it by pressing as much air as possible.
Then, freeze it until needed for recipes!
This method of preserving it is easy, quick, and simple! Now you know how to make your spinach last forever!
Tips
How to Purchase Spinach
When buying spinach, turn your attention towards leaves that appear brittle in texture and dark green in color.
Discard the ones that seem wilted or yellow because these will likely expire quickly.
As you wash them at home, inspect each leaf and remove the ones that look unhealthy.
Go for the freshest ones because these can retain more nutrients.
Moreover, check the "best before" date to ascertain freshness.
Avoid packaged ones with excessive moisture because this can easily spoil.
How to Plant Spinach at Home
To ensure that you will never run out of spinach, why not plant them at home too?
Before planting, you must first prepare the soil.
A week before planting, combine soil with compost.
Sow the seeds into the soil and wait for 6 weeks.
To hasten the process, you can cover the soil with a black plastic bag.
Make sure you sow the seeds half an inch deep every 2 inches and top it off with half an inch of soil. For multiple crops, plant them at a distance of at least 12 inches from one another.
To help them grow, water them regularly to maintain moisture in the soil. You can even use row covers to make the area cooler and moister. Spinach can also survive well even during cold seasons.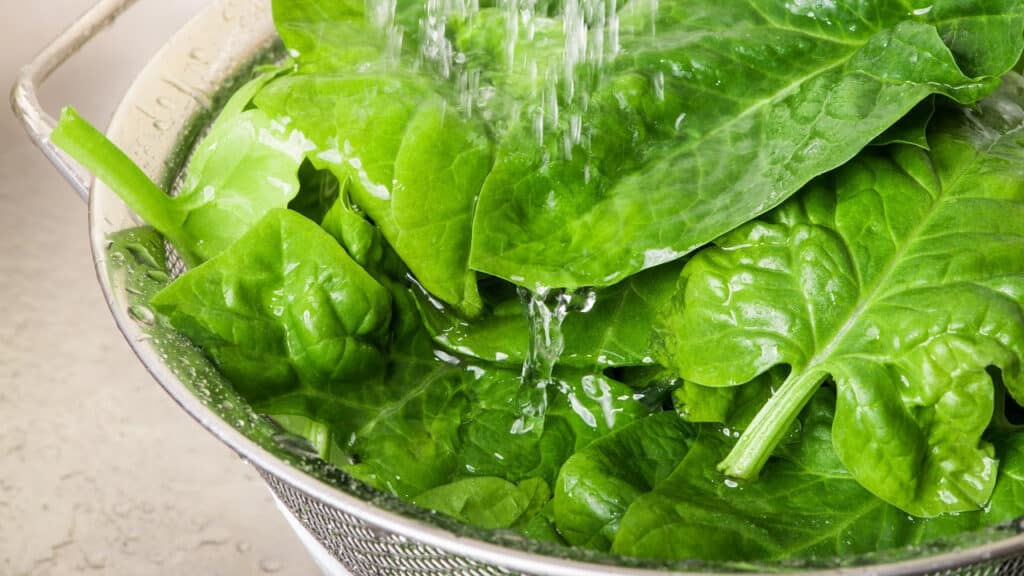 How to Harvest Spinach at Home
Once fully grown, you can cut off the leaves using scissors.
Harvest the older leaves first to prevent them from developing a bitter flavor.
By cutting, it can re-sprout for another opportunity to harvest.
Spinach Variations
It is vegan, gluten-free, and keto-friendly! It is completely safe to use for your diet. In fact, a cup of spinach only has seven calories!
There are different kinds of spinach that you can try out; the choice depends on how you want to use it.
Cook with savoy spinach to reduce the bitterness. It can also withstand lengthy cooking temperatures without losing its nutritional value. Similar to the smooth-leaf variant, semi-savoy is also easy to clean.
Recommended Tools
Colander: Use the colander to rinse the ingredient over warm or cold water.
Bowl: You can place a bowl under the colander to clean the leafy greens.
Resealable Bag or Freezer Bag: Store the spinach in these containers to preserve it.
This post contains affiliate links, which means I earn commission income from qualifying purchases at no extra cost to you. Please read the full disclosure for more information.
How to Serve and Use Spinach
Spinach can be served in multiple ways. First, it can be served as it is – raw, fresh, and rinsed. Baby spinach leaves are great raw snacks because they have a sweet flavor and tender texture.
Use it for any of the following dishes and drinks for the best flavor and quality: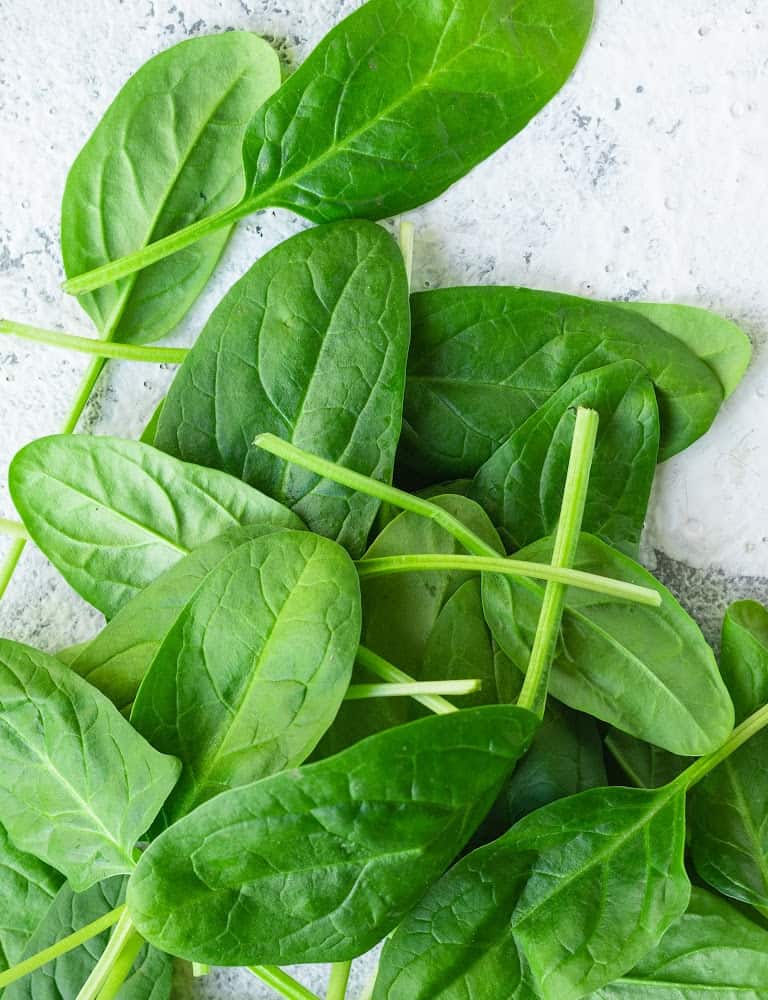 Storage Tips
At room temperature: Raw spinach can last only up to 6 hours at room temperature, while cooked ones will last up to 3 hours. It's best to refrigerate or freeze them.
Frequently Asked Questions
What are the benefits of eating spinach?
Spinach is 101% healthy! It is packed with nutrients and minerals to help protect your heart, eyes, and bones. Consuming it can also keep your body relaxed and rested to prevent stress.
Eating it can also boost immunity, hydrate, repress appetite, and eliminate harmful radicals in the body. Overall, if it is consumed properly, it can truly make a difference in your diet, lifestyle, and health.
Is spinach the healthiest food?
It is one of the healthiest vegetables you can use for your dishes and drinks. This is loaded with essential vitamins and minerals to help with overall health!
Can you eat spinach raw?
Yes, it can be eaten raw as long as it is rinsed properly. If you prefer to eat it raw, it's best to purchase baby spinach leaves because of their sweet taste.
Moreover, raw ones can increase oxalic acid, vitamin C, riboflavin, and potassium to improve overall health and nutrition.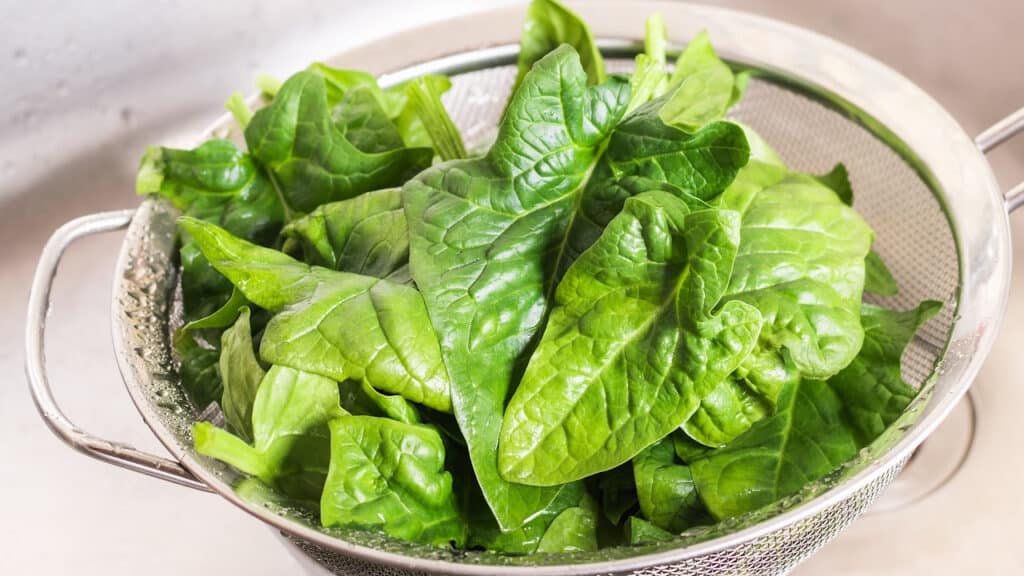 This post may contain general information and does not constitute professional medical advice. Always seek information or advice from a qualified medical professional. Please read the full disclaimer for details.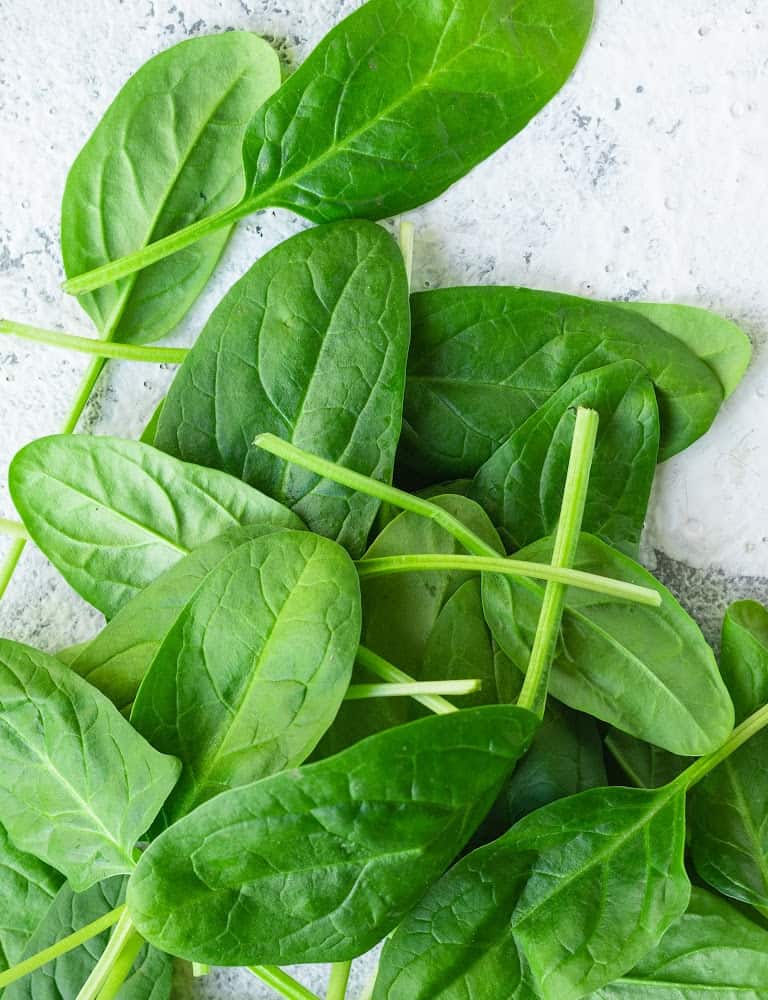 How to Preserve Spinach For Longer
The nutrients and minerals in spinach cannot be overlooked nor undermined. It is easy to prepare, multipurpose, readily available, and absolutely healthy for you in all aspects. For a lasting healthy lifestyle, preserve your spinach properly!
Instructions
Rinse the spinach.

To remove any chemical residue on the spinach, rinse it with water over a colander on top of a deep bowl. It's best to wash it as you as you get home because it can get gritty or sandy.

You may also use a salad spinner for this step. Wait until the water is totally drained.

Freeze the spinach in a resealable bag.

Use a resealable bag or freezer bag to preserve the spinach. Leave it partially open and vacuum seal it by pressing out as much air as possible.

Then, freeze it until needed for recipes.
Video
Notes
Never forget to rinse the spinach leaves properly.

When harvesting homegrown spinach, cut the older leaves first using scissors.

Babies aged 6 months old can eat rinsed spinach.

It's best to wash it as you get home because it can get gritty or sandy.