Enjoy more of your favorite spinach recipes by learning this spinach storage tip to make them last longer.
Among all of the leafy green veggies, it is a family favorite in the house. Even the kids love it! I add it to smoothies, pasta, soups, and stews for a sweet, earthy, and robust flavor.
It also adds vibrant color to recipes to make dishes appetizing for everyone. No matter what happens, I make sure we always have these in stock.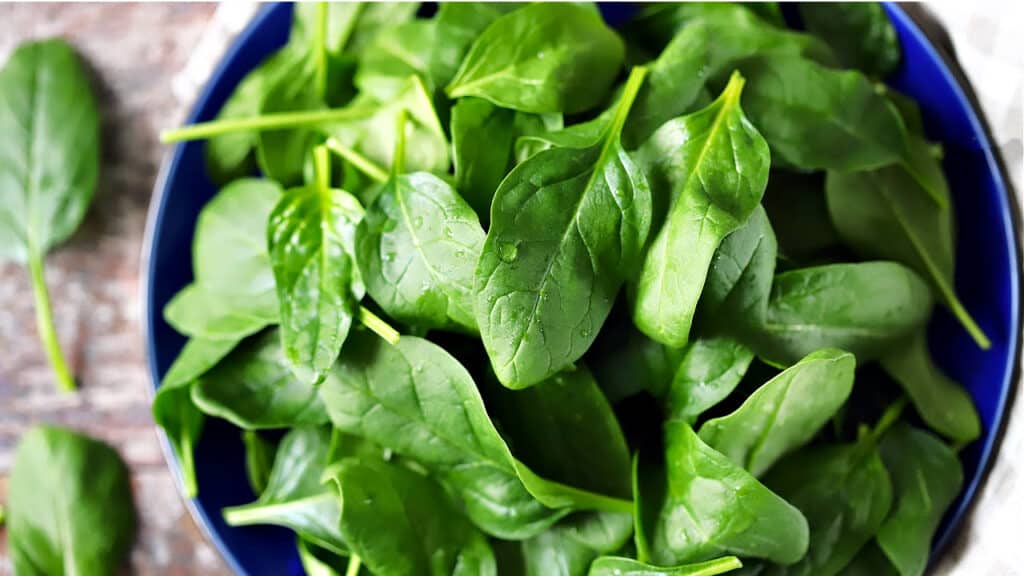 Pin this recipe on Pinterest to save for later
Today, you will realize that you can always have spinach whenever you want because you can now store it for as long as you wish. It has worked for me, and I'm sure it'll work for you too!
How to Store Spinach
There's a special way of storing your leafy green properly. In this guide, I'll show you the best way to keep them longer while retaining the nutrients, flavor, quality, and color.
After trying this kitchen hack, you'll surely save money when buying spinach!
Ingredient
Spinach
Why should you add spinach to your diet? This has a light, mildly sweet, vegetal, and rich flavor that only gets better when cooked or eaten.
It originated in Persia, and it is now widely used in cuisines around the world. You can eat it raw to experience its natural taste or cook it by steaming, sauteing, blanching, stewings, and more!
How long does spinach last at room temperature? According to Pantry Tips, the spinach can last only up to two hours. You need to store it properly to make the most out of its nutrients.
There are different kinds of spinach that you can try out; the choice depends on how you want to use it.
Cook with savoy ones to reduce the bitterness. It can also withstand lengthy cooking temperatures without losing its nutritional value. Similar to the smooth-leaf variant, semi-savoy is also easy to clean.
With the fun and delicious meals you can make with these leafy greens , you will never run out of ways to use them. Try it with your favorite healthy recipes, smoothies, soups, and stews!
Directions
Now, let's go to the fun part – doing the spinach storage tip!
Use a colander to rinse the spinach.
Put them in a resealable bag or freezer bag to store.
Then, squeeze out as much of the air as you can.
Freeze it until needed for recipes!
It only takes less than five minutes to store them properly. Out of all the storage hacks, these steps have proven to be the most effective!
Tips
Buying spinach
My Food and Family suggests buying spinach that appears brittle in texture and dark green in color.
Discard the ones that seem wilted or yellow.
As you wash them at home, remove the unhealthy-looking leaves.
Moreover, check the "best before" date.
Avoid packaged ones with excessive moisture because this can easily spoil.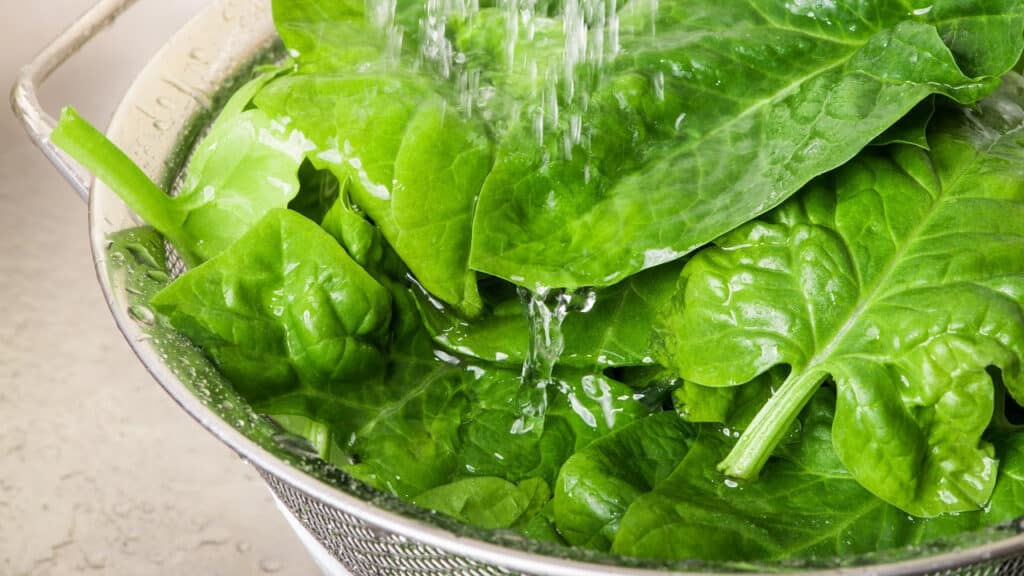 Spinach Storage Variations
Remember that you only keep spinach at room temperature for about two hours. Aside from the technique I mentioned, you can also put them in a container with tissue at the bottom and top.
You can also boil or blanch them before storage for ready-to-use leafy greens. Don't forget to train the water from boiled or blanched them.
Once cooked, you can store them in the fridge for five days or in the freezer for more than a week. Share which storage hack worked best for you!
Recommended Tools
Colander: Use the colander to rinse the ingredient over warm or cold water.
Bowl: You can place a bowl under the colander to clean the leafy greens.
Resealable bag or freezer bag: Store the spinach in these containers to preserve it.
This post contains affiliate links, which means I earn commission income from qualifying purchases at no extra cost to you. Please read the full disclosure for more information.
Visit my shop for more products.
How to Serve and Use Spinach
Spinach can be served and used in many ways. First, you can enjoy it as it is – raw, fresh, and rinsed. Baby spinach leaves are great raw snacks because they have a sweet flavor and tender texture.
You can also steam, blanch, boil, stew, dehydrate or stir-fry them to bring out their flavor. I usually pair it with beef, chicken, veggies, and turkey for better quality.
Use it for any of the following dishes and drinks for the best flavor and quality: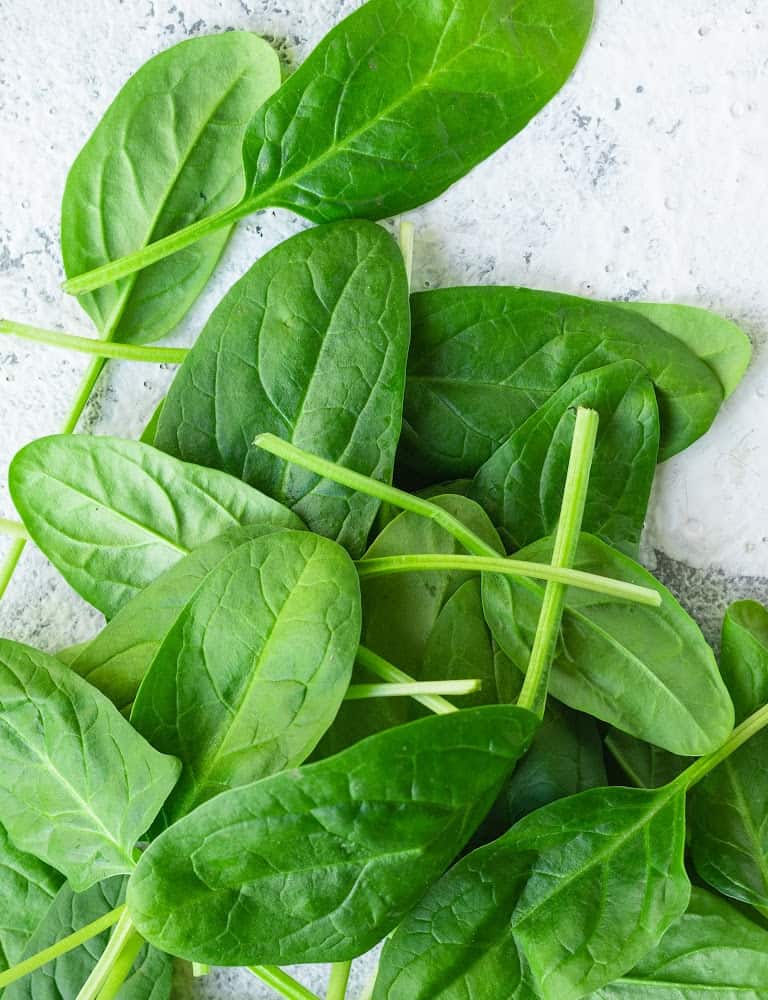 Storage Tips
At room temperature: Raw spinach can last only up to two hours at room temperature, while cooked ones will last up to three hours.
Frequently Asked Questions
What is spinach good for?
With the benefits you can get from spinach, it is absolutely good for your overall health. It is packed with nutrients and minerals to help protect your heart, eyes, and bones. Eating it can also keep your body relaxed and rested to prevent stress.
Eating it can also boost immunity, hydrate, repress appetite, and eliminate harmful radicals in the body. Overall, if it is consumed properly, it can truly make a difference in your diet, lifestyle, and health.
Is it good to eat spinach every day?
According to Lettuce Info, eating spinach every day can have adverse effects on your body. Like any other food, you need to eat spinach in moderation.
Is spinach rich in protein?
Yes, it is! In fact, Medical News Today mentioned that spinach is one of the protein-rich foods, with 0.7 grams of protein for every 25 grams of serving.
What are the benefits of drinking spinach water?
Drinking spinach water can help fight different types of cancer. It can also promote healthy hair, skin, and heart. With spinach water, you can take better care of your eyes too.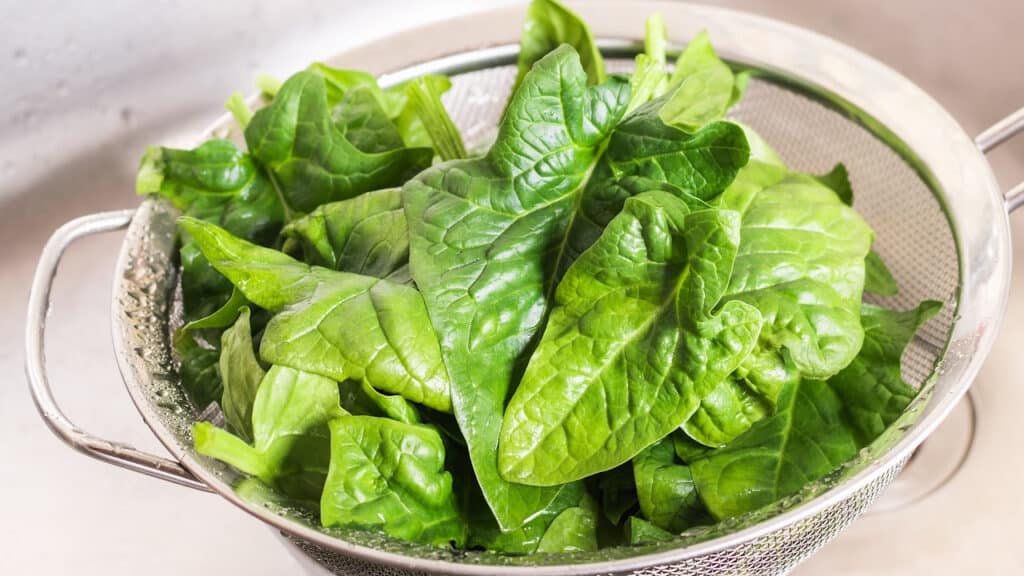 This post may contain general information and does not constitute professional medical advice. Always seek information or advice from a qualified medical professional. Please read the full disclaimer for details.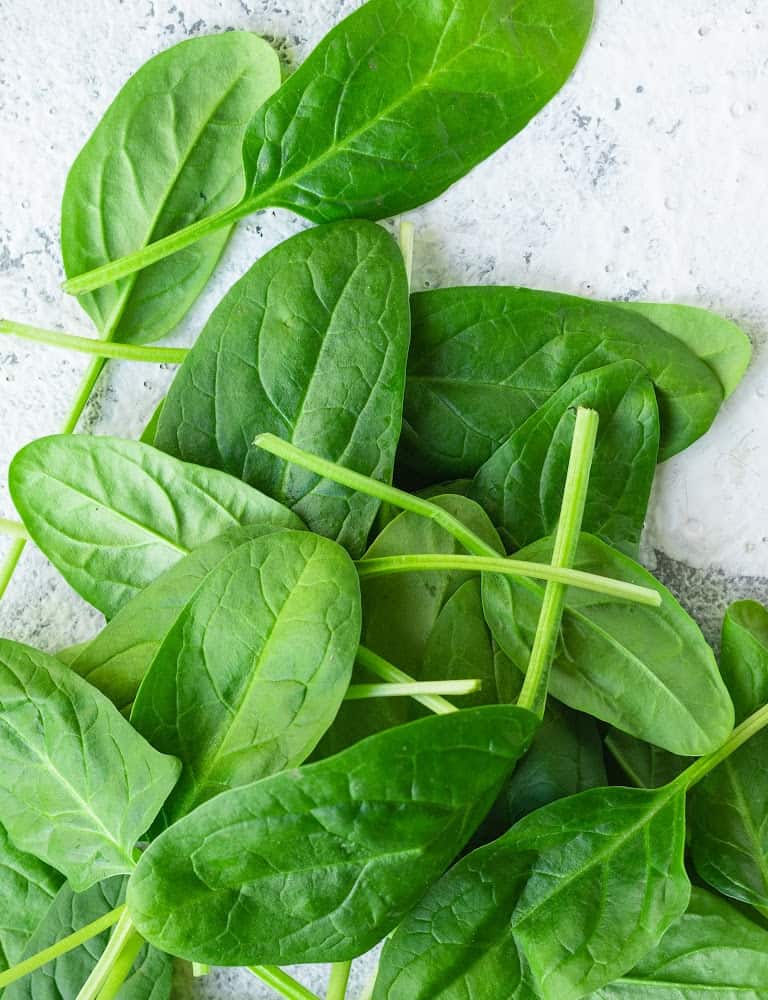 How to Preserve Spinach For Longer
The nutrients and minerals in spinach cannot be overlooked nor undermined. It is easy to prepare, multipurpose, readily available, and absolutely healthy for you in all aspects. For a lasting healthy lifestyle, preserve your spinach properly!
Instructions
Use a colander to rinse the spinach.

Put the spinach in a resealable bag or freezer bag to store.

Then, squeeze out as much of the air as you can.

Freeze it until needed for recipes!
Video
Notes
Never forget to rinse the spinach leaves properly.

When harvesting homegrown spinach, cut the older leaves first using scissors.

Babies aged 6 months old can eat rinsed spinach.

It's best to wash it as you get home because it can get gritty or sandy.