If you're looking for the best and most effective egg substitutes, then you have come to the right place!
You won't have to skip every recipe that needs eggs because you can try egg alternatives. There are different ways to use eggs, and there is a right substitute for each recipe you want.
Today, you will know the egg replaces a thickener, a leavening or flavoring agent, a coloring agent, a glaze, a binder, an emulsifier, and more!
Pin this recipe on Pinterest to save for later
In this guide, you'll learn how to substitute eggs in whatever recipe you need them!
Measurement Guide
In every egg substitute option, you should always use the proper amount. Here's an easy guide to know how much you need to get the effect of one egg:
Substitutes / Replacements
Amount needed (eq. 1 egg)
Mashed ripe bananas
¼ cup (or 4 tbsp)
Applesauce
¼ cup (or 4 tbsp)
Silken tofu
¼ cup (or 4 tbsp)
Buttermilk
¼ cup (or 4 tbsp)
Yogurt
¼ cup (or 4 tbsp)
Pumpkin puree
¼ cup (or 4 tbsp)
Condensed milk
¼ cup (or 4 tbsp)
Prune puree
¼ cup (or 4 tbsp)
Plant-based milk
¼ cup (or 4 tbsp)
Carbonated water
¼ cup (or 4 tbsp)
Mashed avocado
2 tbsp to ¼ cup
Nut butter (peanut/almond)
3 tbsp
Mayonnaise
3 tbsp
Aquafaba
3 tbsp
Gelatin + water
1 tbsp gelatin + 3 tbsp water
Cornstarch + water
1 tbsp cornstarch + 3 tbsp water
Oats + water
2 tbsp oats + 3 tbsp hot water
Arrowroot powder + water
2 tbsp arrowroot powder + 3 tbsp water
Meringue powder + water
2 tbsp meringue powder + 2 tbsp water
Flax or chia seeds + water
1 tbsp seeds and 2 ½ tbsp water
Xanthan powder + water
¼ tbsp xanthan powder + ¼ cup water
Vinegar + baking soda
½ tsp baking soda + 1 tbsp vinegar
Agar-agar or gelatin
1 tbsp agar-agar + 1 tbsp water
Commercial egg replacer
Depends on the product
Chickpea flour
2 tbsp chickpea flour + 2 tbsp water + 1 tsp oil
(let sit for 5 minutes)
What can I replace for one egg?
The question of how you can replace one egg depends on what it's for in the recipe. There are various reasons for using egg replacement in a recipe, whether baking or cooking. You can use it for:
As a source of nutrients – necessary for health and growth
As a binder (acts as a binding agent) – to provide structure
As a leavening agent
As a flavoring agent
As a tenderizer
As a coloring agent (egg yolk substitute)
For glazing (egg white and egg yolk substitute) – egg wash
As a thickener
As an emulsifier
To provide moisture
Egg Replacements for Baking
| | | | | | | | | |
| --- | --- | --- | --- | --- | --- | --- | --- | --- |
| Substitutes / Replacement | Cakes | Brownies | Cookies | Bars | Bread | Pizzas | Pastries | Egg wash |
| Mashed ripe bananas | ✔︎ | ✔︎ | | | ✔︎ | | | |
| Applesauce | ✔︎ | ✔︎ | | | | | | |
| Silken tofu | ✔︎ | ✔︎ | | | | | | |
| Buttermilk | ✔︎ | ✔︎ | | | | | | |
| Yogurt | ✔︎ | ✔︎ | | | | | | ✔︎ |
| Pumpkin puree | ✔︎ | ✔︎ | ✔︎ | | | | | |
| Condensed milk | ✔︎ | | ✔︎ | | | | | ✔︎ |
| Prune puree | ✔︎ | | | | | | | |
| Plant-based milk | ✔︎ | | | | ✔︎ | | | ✔︎ |
| Carbonated water | ✔︎ | ✔︎ | | | ✔︎ | | | |
| Mashed avocado | ✔︎ | ✔︎ | | | | | | |
| Nut butter (peanut/almond) | ✔︎ | ✔︎ | ✔︎ | ✔︎ | ✔︎ | | | |
| Mayonnaise | ✔︎ | ✔︎ | ✔︎ | | | | | ✔︎ |
| Aquafaba | ✔︎ | | | | | | | |
| Gelatin + water | ✔︎ | ✔︎ | ✔︎ | | | ✔︎ | | |
| Cornstarch + water | ✔︎ | ✔︎ | ✔︎ | | ✔︎ | ✔︎ | ✔︎ | |
| Oats + water | ✔︎ | | ✔︎ | ✔︎ | ✔︎ | | | |
| Arrowroot powder + water | ✔︎ | ✔︎ | ✔︎ | | ✔︎ | | ✔︎ | |
| Meringue powder + water | | | | | | | | ✔︎ |
| Flax or chia seeds + water | ✔︎ | ✔︎ | ✔︎ | ✔︎ | ✔︎ | | ✔︎ | |
| Xanthan powder + water | ✔︎ | | ✔︎ | | ✔︎ | | | |
| Vinegar + baking soda | ✔︎ | ✔︎ | ✔︎ | | ✔︎ | | | |
| Agar-agar or gelatin | ✔︎ | | ✔︎ | | | | | |
| Commercial egg replacer | ✔︎ | ✔︎ | ✔︎ | | | | | |
| Chickpea flour | | ✔︎ | | | | | ✔︎ | |
Cakes include cupcakes, pancakes, muffins, and quick bread/loaf cake. For egg wash, oil, honey, maple syrup, condensed milk, and butter can also be used instead of egg.
Uses of Eggs
Eggs serve lots of purposes in cooking and baking. You usually use them for baked goods like bread, pie, cake, pastry, cookies, and more. This is because these eggs can provide structure, color, and flavor.
Have you noticed how they double in volume when you mix them? This is because eggs are also leavening agents, especially egg white. Eggs also give moisture to food like pie for tender and soft results.
Additionally, you can use eggs for glazing. Brushing the pastry like pie and sausage with egg wash can give it a shiny golden brown finish and flaky texture.
Egg Nutrition
Eggs are good sources of nutrients. They contain choline, vitamins, and antioxidants for energy and health benefits. These are also great for weight loss, brain function, and healthy vision! Below are the nutrition facts for one egg of this.
| | | |
| --- | --- | --- |
| Calories: 63kcal | Carbohydrates: 0.3g | Protein: 6g |
| Fat: 4g | Saturated Fat: 1g | Polyunsaturated Fat:1g |
| Monounsaturated Fat: 2g | Trans Fat: 0.02g | Cholesterol: 164mg |
| Sodium: 62mg | Potassium: 61mg | Sugar: 0.2g |
| Vitamin A: 238IU | Calcium: 25mg | Iron: 1mg |
Why Use Egg Substitutes?
Here are the primary reasons why you may be in search of egg replacements:
Egg Allergy
Eggs are one of the most common allergens for children and adults. Although some people outgrow this allergy, those who still have it may experience skin irritation, nasal congestion, indigestion, and other symptoms after consumption.
Vegan diet
A vegan diet is a plant-based diet. Animal products, such as eggs, are not part of the vegan diet. Most nutrients in this diet come from fruits and vegetables.
Egg intolerance
Egg intolerance is different from an allergy. According to Healthline, egg intolerance means you can still eat eggs, but you may experience side effects. The effects may include bloating, diarrhea, and nausea.
Medical reasons
Eggs are high in cholesterol and fat, which can cause complications for people with heart conditions. People for the Ethical Treatment of Animals (PETA) also mentioned that eggs are a common source of salmonella and other food poisonings.
Personal preference
Opting not to eat eggs may also be a personal choice. It can be due to religion or social beliefs. For instance, some people do not eat eggs due to animal cruelty in their production.
Regardless of why you do not eat eggs, this article will provide plenty of alternative options!
What Are the Effective Egg Substitutes?
There are many egg alternatives, but some are more effective than others. Below are the best substitutes for eggs in baking and cooking alike.
Best Egg Substitutes for Baking
Mashed banana
Applesauce
Tofu
Buttermilk
Yogurt
Condensed milk
Flaxseed (or chia seeds) and water
Aquafaba
Arrowroot powder
Carbonated water
Vinegar and baking soda
Commercial egg replacer
Nut butter
Mashed bananas
These can also add moisture to the ingredients. Moreover, they can also act as binders for baked goods. These are specially used for cakes because of their mildly sweet flavor.
What makes mashed ripe bananas one of the best egg substitutes? Leaf suggests using an additional leavening agent when adding mashed bananas to pastry.
Applesauce
Before using applesauce as an egg alternative, ensure its flavor pairs well with the dish you plan to cook. It is cheap and easy to find, so you can always have this in your kitchen.
Is applesauce an effective egg replacement? Of course! Applesauce is suggested if the recipe includes the egg as a binder. Our Everyday Life also suggests using it for spiced bread. This is also sweet, fruity, and a bit tangy.
Buttermilk
Buttermilk is a fermented dairy that has a thick and slightly lumpy texture. It also has a tangy and mildly sour smell and flavor to add excellent taste to dishes.
How can you use buttermilk as an egg alternative? Add it to dishes that need moisture, such as cakes and muffins, to make them extra fluffy and soft.
Silken Tofu
Silken tofu is a moist Japanese product that contains lots of water. It is also a common part of a vegan diet. Moreover, it is known for its quality of becoming firmer as it loses moisture.
Eggless Cooking also suggests using this for tender pastry, bread, and omelets! Adding another leavening agent is needed if you plan to cook food that expands.
Yogurt
Choose plain yogurt, especially if you don't want to change the dish's flavor. This also adds moisture to any recipe for a tender texture. Furthermore, it's best used for recipes that require only one egg. For additional leavening, add other rising agents.
Aside from using it for diet meals, what other recipes can you cook with yogurt? You might be surprised to know that as an egg substitute, it is also used for cakes, muffins, quick bread, pancakes, and waffles!
Condensed milk
While commonly known as a dairy product, there are already vegan options for condensed milk. It also makes an excellent ingredient for baked goods and fillings. Additionally, there are sweetened and unsweetened versions available too.
Is condensed milk an egg alternative ingredient? Yes, it is. You can also use it for cakes, desserts, and fillings for a creamy and tasty flavor.
Flaxseed or Chia Seeds + Water
This combination turns into a thick mixture used for baking and cooking. White chia and golden flax seeds are best when you don't want to see brown specks on your food.
Have you tried using flaxseeds or chia seeds as egg replacements? Now is the perfect time to try! Vegan Richa also suggests using it for cookies, burgers, and muffins. Note that it is not suggested to use this option if the recipe requires more than two eggs.
Aquafaba
Ever wondered what aquafaba is? It's the drained liquid from chickpeas! It has also been traditionally used as a thickener, binder, and stabilizer for plenty of dishes.
How versatile is aquafaba as an egg alternative? In addition, it makes an excellent substitute for egg whites and whole eggs. Whip or whisk it until foamy to use. I also suggest using it for pancakes, cupcakes, meringue, mousse, creams, and more!
Arrowroot powder + water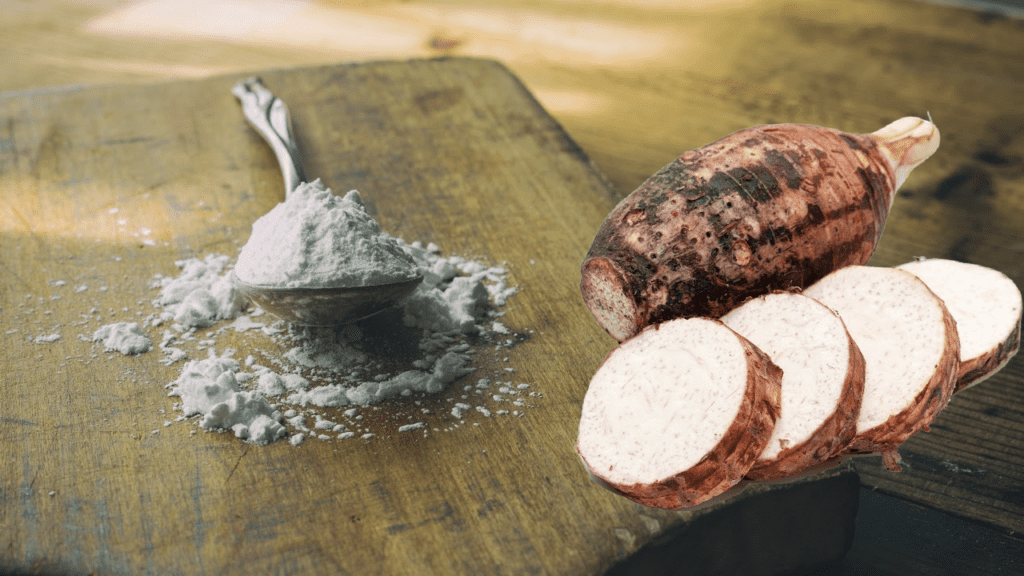 According to The Spruce Eats, arrowroot powder is a white and flavorless powder that can last up to four years. You can also use this for low-temperature cooking and quick stir-fry recipes.
Is it suggested to use arrowroot powder as an egg substitute? Definitely! You may also use it as a thickener, binder, or leavening agent for puddings, sauces, and other recipes.
Carbonated water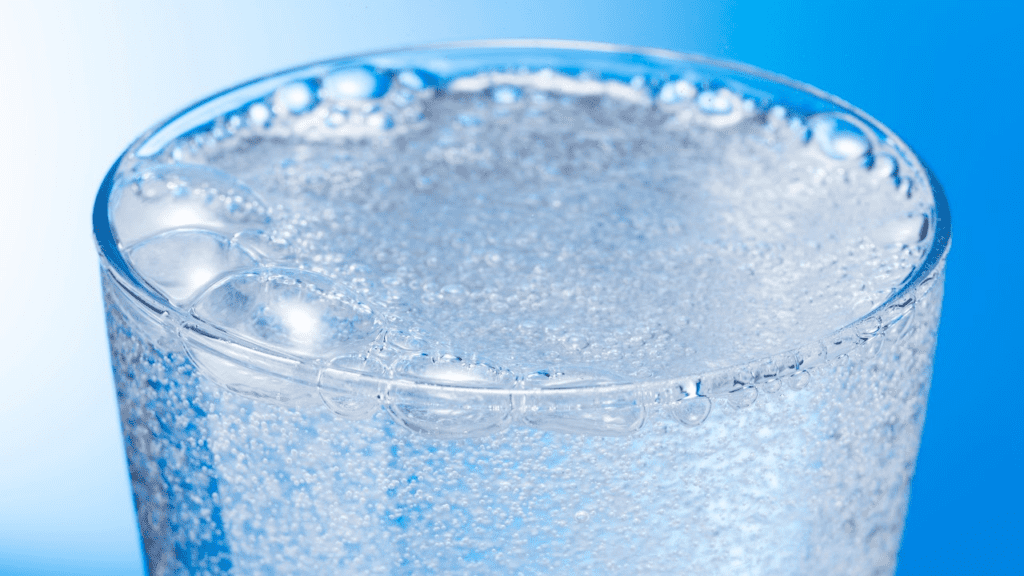 Carbonated water is a refreshing and sparkling beverage. You're probably familiar with this drink because it is also an alternative to soda.
Did you know that carbonated water is also an egg replacer? According to Cookist, carbonated water is one of the best substitutes for baked goods. It's also advised to use it for pastries with a light texture, like cakes, bread, and cupcakes.
Vinegar and baking soda
You may be familiar with this baking soda and vinegar combination as a cleaning mixture. Today, here is a different approach to how to use them.
Mixing these two can also make pastries light, airy, and fluffy. This combination can also be used for cupcakes, cookies, and cakes. These two are best for recipes that require only one egg.
Commercial egg replacer
There are plenty of commercial egg replacers you can buy and use. Most of them are suitable for baking but check the packaging for appropriate use. They're ready to use from the box!
Have you seen commercial egg replacers in your local grocery stores? Add them to your grocery list now because these can work wonders in baked goods, such as cakes, pancakes, and especially cookies!
Nut butter
Nut butter and other similar products like peanut butter and cashew butter are all-time favorite spreads for sandwiches and fillings for pies.
How will nut butter affect your recipes if you use it as an egg alternative? It may add a nutty taste to the recipes, and its creamy texture can also serve as a thickener or binder. Moreover, you can use it for muffins, waffles, cupcakes, and cookies.
Other Egg Substitutes
Gelatin + Water
Use unflavored gelatin with water for recipes that require 2 to 4 eggs. Then, add water to a pot and sieve the gelatin to mix them. Then, stir them together and cook over medium-low heat. Add it into the dish once the gelatin melts.
Have you been thinking about how to use gelatin to replace eggs for recipes? This egg replacement is certainly suitable for pancakes, cookies, pizzas, and brownies.
Pumpkin Puree
Pumpkin puree is an organic and healthy egg substitute you can make at home. It's also a great egg replacer for recipes that use cinnamon, caramel, and other similar ingredients for better flavor.
How can you turn pumpkin puree into an egg alternative?
Slice the pumpkin in half and scrape out the seeds.
Afterward, oven-roast or air fry the halves for 45 minutes at 180°C.
Then, let them cool and peel.
Puree it using a blender, food processor, or masher. Add water if needed.
Finally, store it in the fridge or freezer for a longer shelf life.
Cornstarch + Water
Cornstarch has many purposes, not just in the kitchen but also in the household. In fact, you might have used it as a thickening agent for soups, sauces, marinades, and other desserts.
What other uses are cornstarch and water suitable for? Use it for a moist yet firm texture for pudding, custards, and bread.
It also works well for soups, stews, or sauces that are creamy and smooth. You can also add it to recipes for cakes, bread, and cookies!
Oats with water
These oats are useful grains commonly used for weight loss meals, oat flour, fufu, and more. These are also rich in protein and fiber for a balanced meal.
What recipes can you cook with oats and water as egg alternatives? Try these with cookies, pies, bars, cake, cupcakes, and more!
Xanthan gum + Water
Xanthan gum is a gluten-free ingredient that's sticky. It is also perfect as a thickener or binder in baked goods. On the other hand, it is not suggested if you need to add moisture to a dish.
How effective is xanthan gun as an egg replacement? Bob's Red Mill suggests using it with other leavening agents, such as baking powder and baking soda. Moreover, you can utilize this combination for cakes, cookies, and bread.
Mashed avocado
Avocados are creamy, delicious, and healthy ingredients that you might have already used for sandwiches, dips, and dishes. Today is the perfect time to discover another way to use avocados.
What are the best ways to use this creamy, smooth, nutty egg substitute? It can also be perfect for cookies, pies, and cupcakes. Using it as an egg replacement also helps with disposing of ripe avocados.
Mayonnaise
Mayonnaise is a creamy, fatty, and smooth condiment that works well for baked food. It is also used in sandwiches as spreads. This is not vegan but an excellent option for people with egg allergies.
Have you tried using mayonnaise as an egg replacement? Also, remember to use plain mayo instead of the flavored version. It adds to dishes' flavor, texture, and structure, especially cakes and cupcakes. You may also use it as an egg wash!
Meringue powder
Meringue powder is usually used for frosting and icing. You can also have it in different colors and pipe it into various shapes and sizes.
This is also suggested if you only need an egg replacement for the egg white. In what ways can you use meringue powder as an egg substitute? Use this for icing and souffles. Most meringue powder brands already have leavening agents, so they can be used as they are.
Plant-based milk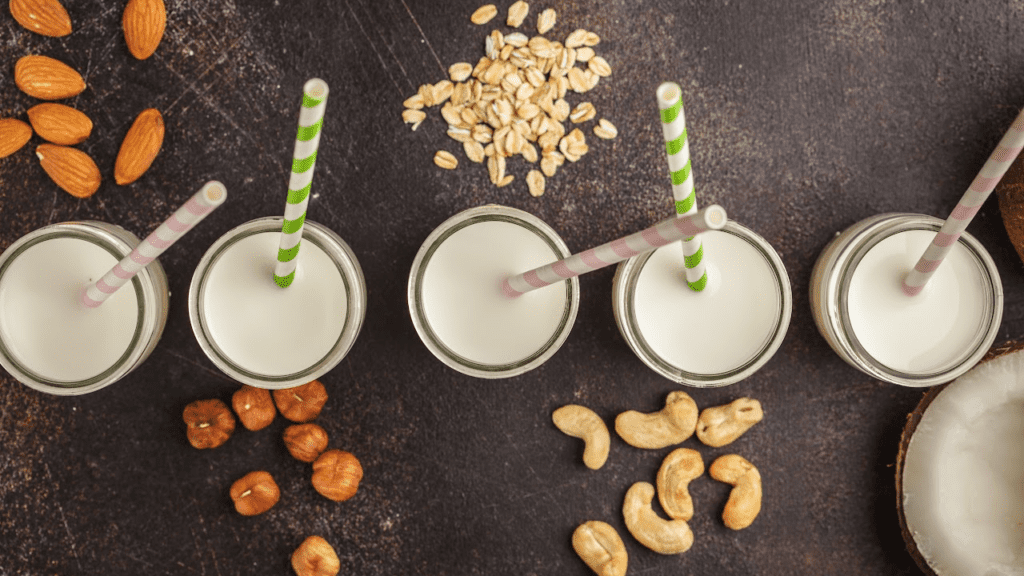 Plant-based milk is suitable for vegan and gluten-free meals and drinks. It also has the texture of milk and added flavor and nutrients.
How great is plant-based milk in egg-free cooking and baking? This is appropriate for desserts such as cakes, bread, and muffins to give the dessert an extra puff.
This substitute also comes in different flavors like almond milk, coconut milk, cashew milk, soya milk, oat milk, and more.
Prune puree
Prune puree is a fresh, pureed fruit egg substitute highly suggested for desserts with chocolate, bananas, and pumpkin flavors.
Have you tested prune puree as an egg substitute for recipes? You start by adding it to batters for waffles and pancakes. It also has its natural flavor and good nutrients.
Chickpea flour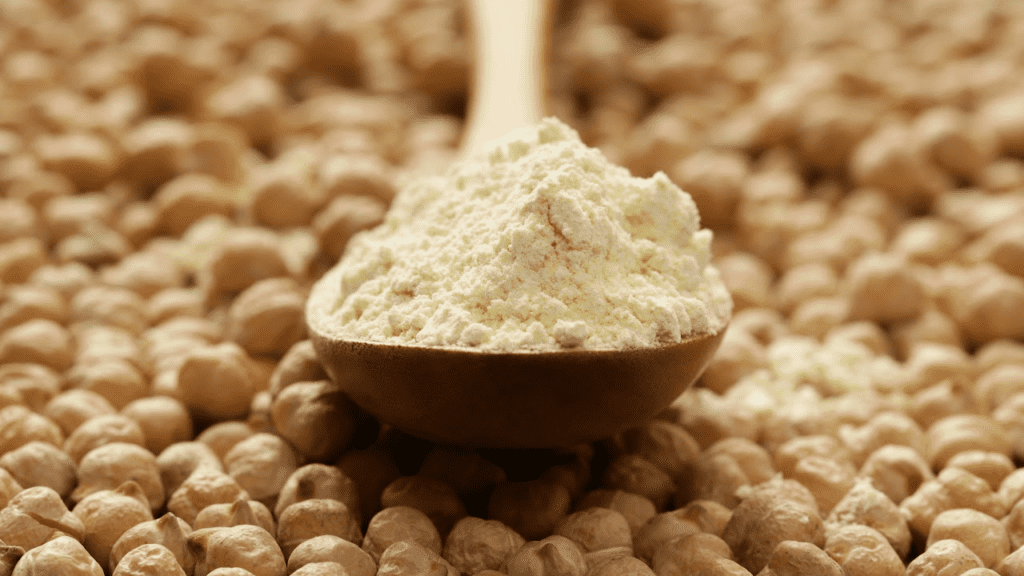 According to The Hidden Veggies, chickpea flour is a good substitute if you don't want the flavor or texture to be affected. You can also make it at home by putting the chickpeas in a blender or a food processor.
If you love chickpea flour, then you will love it in your dishes and desserts as an egg replacement. Why? This makes an excellent binder for vegan recipes for crepes, brownies, and pies.
Agar-agar or gelatin
Agar-agar is a plant-based ingredient that is commonly made from seaweed. It has a semitranslucent appearance once it sets and stabilizes.
Have you been thinking about using agar-agar as an egg substitute, but you're unsure how effective it is? Check the instructions before use, which is best utilized for cookies and cakes.
How Much Egg Substitute Do I Need To Replace An Egg?
Note: eggs vary in weight (ranging from 50 to 70g), size (small to very large), and volume (from 4 to 2.5 tbsp). 1 large egg is a ¼ cup (4 ⅓ tbsp/65ml/2.30oz). So, you'll need to substitute the volume in your recipe. That's to say, you'll need to replace the same amount of the egg(s) you are leaving out.
For example, this delicious banana bread requires two eggs which can be replaced with ½ a cup of prune puree (or applesauce, yogurt, buttermilk, flax mixture)
What Do Vegans Replace Egg with?
There is no best egg replacer or substitution, but some are best suited for your recipe and your needs. Using ingredient substitutes is all about trying out different methods and elements.
Whenever you need an egg substitute, consider the recipe you are cooking. In like manner, consider the flavors you want to intensify, the texture you want to improve, and the outcome you want to achieve.
So, what dish are you going to cook, and which egg substitute are you planning to use?