If you're looking for more recipes to do with almonds, then this Almond Oil recipe is for you.
From fresh almonds, you can make versatile oil and fat for your dishes. The oil is great for adding flavor and fragrance to side dishes, vegetables, and soups and stews!
Aside from the culinary quality it adds, almond oil can also be good for your health and appetite. In fact, it's a two-in-one recipe with butter and oil in a jar!
Pin this recipe on Pinterest to save for later
You can easily make 100% natural almond oil in the comfort of your home in a food processor!
How to Make Almond Oil
Everyone needs this oil in their kitchen, so here's an Almond Oil recipe that you can do to make your version at home! How fun would it be to make your own oil, right?
Ingredients
Almonds
What do almonds taste like? They have a nutty, mildly sweet, earthy, and bitter taste. Almonds have hard brown shells with more flavor inside.
Transforming raw them into oil can greatly enhance their health benefits. Use this oil for your hair care and skin health, and discover how it can work wonders!
They can also make great weight loss diet ingredients. I also love using these on Granola, Banana Bread, and Egusi Soup for better flavor.
They are also rich in magnesium which can help with blood sugar levels, blood pressure, and insulin. Imagine how amazing it would be to cook the best meals while caring for your health.
According to the Harvard School of Public Health, you can use almonds for salads, baked goods, butter, chips, flour, and more. How do you usually enjoy almonds?
Directions
Let's make Almond Oil together!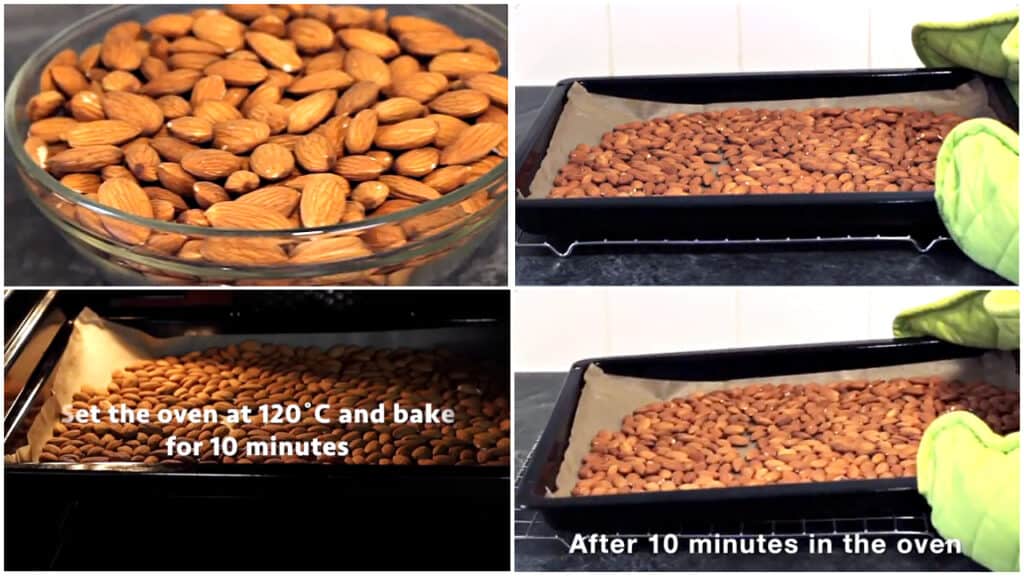 You can use the leftover contents as butter substitutes.
Every drop and spoonful of this condiment can truly make a difference in your daily diet. If you're turning over a new leaf for a healthier lifestyle, then this almond oil recipe is definitely a must-try!
Tips
Buying almonds
You can buy shelled, unshelled, roasted, blanched, or raw almonds.
Some may be sold whole, halved, or chopped.
For this recipe, I suggest whole raw variants because these usually have the freshest flavors that would make rich oil.
If you hear rattling inside, then they are most likely aging. Rancid ones also have a bitter taste to them.
Storing almonds
Properly stored almonds can last for quite a long time.
According to the Almond Board of California, store them properly because they can be affected by their packaging, environment, and characteristics.
Store the packaged raw variants in their original packaging for up to two years.
Unopened roasted ones can last up to a year and longer if refrigerated or frozen.
You can also store these in containers or resealable plastic bags.
Store it in a cool and dark place for up to three months.
Almond Oil Variations
This oil can be added to vegan, gluten-free, and dairy-free diets, making it one of the most versatile ingredients. It is also safe for coeliac and diabetic patients to use.
If you like these two-in-one recipes where you can get a dip and oil in one, then I suggest making Peanut Butter too. For almond lovers like me, you can also make Chocolate Almond Milk for your plant-based milk options.
Instead of a food processor or blender, you can use a mortar and pestle to get similar results. Pound and stir the almonds until you get your desired texture.
Recommended Tools
This post contains affiliate links, which means I earn commission income from qualifying purchases at no extra cost to you. Please read the full disclosure for more information.
Visit my shop for more products.
How to Use Almond Oil
How can you make the most of almond oil? It is perfect for stir-frying any kind of food. Moreover, it has a high nutritional value compared to other processed oils.
When used for cooking, remember that almond oil may become unstable under high temperatures. It must also be used in moderation to prevent gaining unnecessary calories.
Check out these recipes you can cook with almond oil:
The butter that comes with the oil can also be used as a spread or filling for bread or baked goods.
Storage Tips
At room temperature: You can simply store the oil in a container and place it in a cool and dry place for up to 2 weeks.
Frequently Asked Questions
What is almond oil good for?
Almond oil is absolutely nutritious! It contains vitamins and minerals such as E, magnesium, and antioxidants. Its properties can fight against inflammation and boost immunity.
It can also regulate cholesterol levels and blood sugar. This oil can also aid in minimizing the risk of getting cancer or cardiovascular diseases. It even has components that will help with weight loss.
I suggest using it for other healthy food such as meat, fish, chicken, spinach, vegetables, and more.
Is almond oil OK for skin?
Yes, it is. Whether you use almond oil for your meals or directly on your skin, it can potentially improve your skin quality. In case you want to use it for skincare, I suggest buying ones in stores for the proper product.
The antioxidants from almonds can help cleanse your skin for a glowing and healthy complexion.
Is almond oil good for face oil?
Of course! According to Skin Kraft, almond oil helps moisturize and hydrate your skin. It can be used for all skin types. You can use it for your face, lips, and under eyes.
Can almond oil lighten skin?
Almond oil will not lighten your skin, but it will nourish it to protect you from skin problems. Oils are best for hydrating and moisturizing the skin instead of whitening.
Almond Oil (VIDEO)
It takes only one ingredient to make this almond oil so make your at home and enjoy its tremendous benefits!
Instructions
Roast the raw almonds in the oven for 10 minutes at 120°C.

Blend the contents in a food processor or blender until smooth.

Use a spatula to scrape the crumbs on the side of the food processor.

Transfer the contents into an airtight glass container to store.
Video
Notes
Remember to store it in an airtight container.

The longer you store it, the more oil it can produce.

If you don't have a food processor or blender.
Nutrition
Serving:
100
ml
Calories:
10
kcal
Fat:
1
g
Saturated Fat:
0.1
g
Polyunsaturated Fat:
0.2
g
Monounsaturated Fat:
1
g