With this Apple Ginger Juice recipe, you'll feel brand new, energized, and nourished throughout the day. It's a healthy recipe for drinks and juices, perfect for vegan and vegetarian diets!
Pin this recipe on Pinterest to save for later
Transform ordinary fruits and spices into delicious beverages for every and any occasion! You will surely love the blend of flavors that this Apple Ginger Juice will give you.
How to Make Apple Ginger Juice
Who doesn't need an easy, quick, tasty drink, right? You've got to try this beverage on a busy or chill day!
Ingredients
Apples
Apples are some of the best fruits for juicing because of their sweet, tarty, and slightly sour taste. They also have the right level of crispiness, making the drink smooth and rich at every sip. These are also naturally extra juicy!
This can help with weight management, heart health, cancer prevention, and brain function! For this recipe, I suggest Sweet Gala Apples for sweetness, but you can also use Fuji, Pink Lady, or Granny Smith.
If you love apples, then I suggest making Apple Juice, Apple Puree for babies, and Dried Apple Slices!
Ginger
While both ingredients are sweet, the ginger brings a spicy and pungent flavor to make it absolutely invigorating! It also has a cooling and minty effect that can make you feel fresh even on a hot day.
Ginger helps with blood pressure regulation, lung health, and digestion! It even helps relieve sore throats, coughs, and colds.
Trust me; you are going to love this juice! It has the flavor, texture, and health benefits that you need!
Directions
Let's make this easy Apple Ginger Juice in just five minutes!
Use a knife to deseed and slice the rinsed apples.
Slice a piece of ginger.
Feed the chopped apples and ginger into the slow juicer to extract the juice.
Transfer it into a glass and relish!
Isn't this the simplest juice recipe you've made? Natural, fresh, and nutritious! Your guests will surely love this drink. Try it yourself and find out how delicious it is!
Tips
Apples
Selection
According to Stemilt, apples should feel firm.
They should also be free from discoloration, bruises, and soft spots.
Smell it near the stem for a fruit and pleasant scent.
Storage
If you store apples away from sunlight, then room-temperature apples can last up to a week.
Refrigerate them in a mesh bag to last up to 3 months.
Ginger
Selection
Choose firm ginger with smooth and thin skin.
Wrinkled ginger means that the ginger is old.
Also, purchase ones without blemishes.
Storage
Keep it at room temperature to last up to at least a week.
You can also store it in resealable bags to extend its shelf life to several months.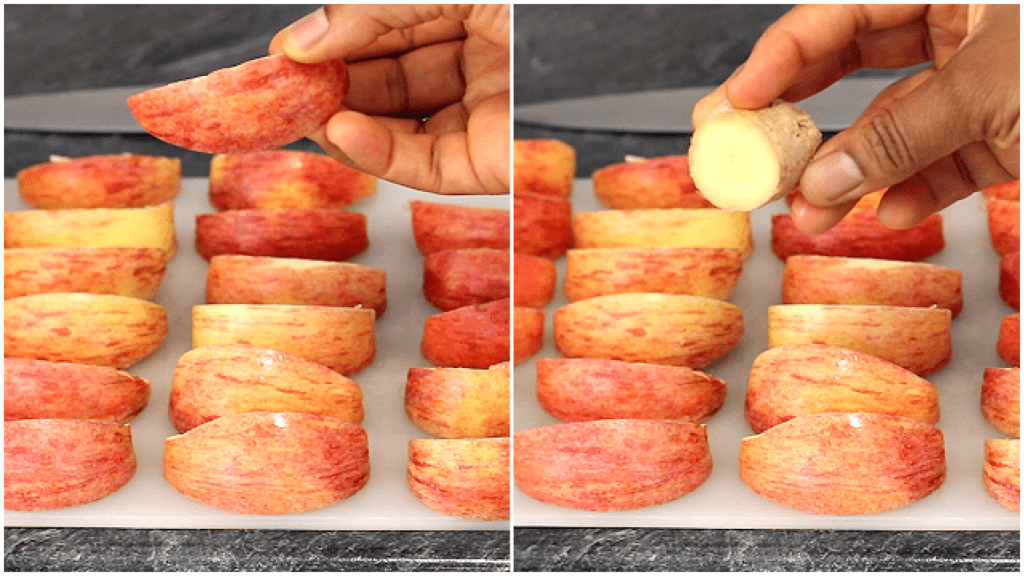 Ginger Apple Juice Variations
Aside from this recipe, gingers and/or apples can also be combined with other fruits and vegetables. Check out these drinks for more options:
Moreover, you can transform these ingredients into a smoothie or a puree!
No-Juicer Apple Ginger Juice
You can peel and blend the apple slices and grated ginger as an alternative to the slow juicer.
If you want to make it extra smooth, then filter it with a cheesecloth or a nut milk bag. Use the pulp for other recipes or garnish!
Moreover, you can grate the ingredients over a bowl and filter with a fine-mesh sieve to fully extract the liquid.
In addition, you can try steaming or boiling the ingredients, mashing, and filtering to achieve similar results.
Recommended Tools
Slow juicer: Feed the ingredients into this machine to make Apple Ginger Juice.
Knife: Slice the apples and ginger using a knife.
Glass bowls: Place the chopped fruits into glass bowls.
This post contains affiliate links, which means I earn commission income from qualifying purchases at no extra cost to you. Please read the full disclosure for more information.
Visit my shop for more products.
How to Serve Ginger Apple Juice
In an article by Juicer Net, fresh juices are best consumed in the morning and on an empty stomach to absorb and utilize the nutrients throughout the day. You can also have it before or after a workout to restore energy.
Check out these dishes and snacks to pair with this juice:
If you like it cold, then add ice cubes for an extra invigorating feeling. The American Institute for Cancer Research suggests drinking ¾ to 1 cup of fruit juice per day. In case you want to add herbs and spices, you can incorporate mint, basil, and parsley.
Storage Tips
At room temperature: Since this is made with perishable ingredients, it is best consumed immediately or within 2 hours.
Frequently Asked Questions
What is the benefit of apple and ginger juice?
This drink can make you feel fresh and energized all day and aid in heart health, blood pressure regulation, weight management, immunity, digestion, muscle relaxation, and more!
What is the effect of apple ginger juice?
Apple ginger juice gives a soothing and calming yet energizing effect on your body. Even on your first sip, you feel how refreshing it is. This juice also gives you energy, immunity, and nutrients for overall health.
Can I take apple and ginger juice on an empty stomach?
Yes, you can take apple and ginger juice on an empty stomach. In fact, it's one of the best times to drink it for weight loss. Enjoy this drink with healthy dishes in the morning for a productive day!
Are apples and ginger good for weight loss?
Yes, they are! This drink can increase the feeling of fullness to curb your appetite and cravings. It also gives you the energy to burn calories throughout the day. These also have the detoxifying effects to relieve constipation and improve metabolism.
Should I peel ginger before juicing?
No, you don't need to peel the ginger before juicing, especially if you have a slow juicer that automatically peels the ingredients.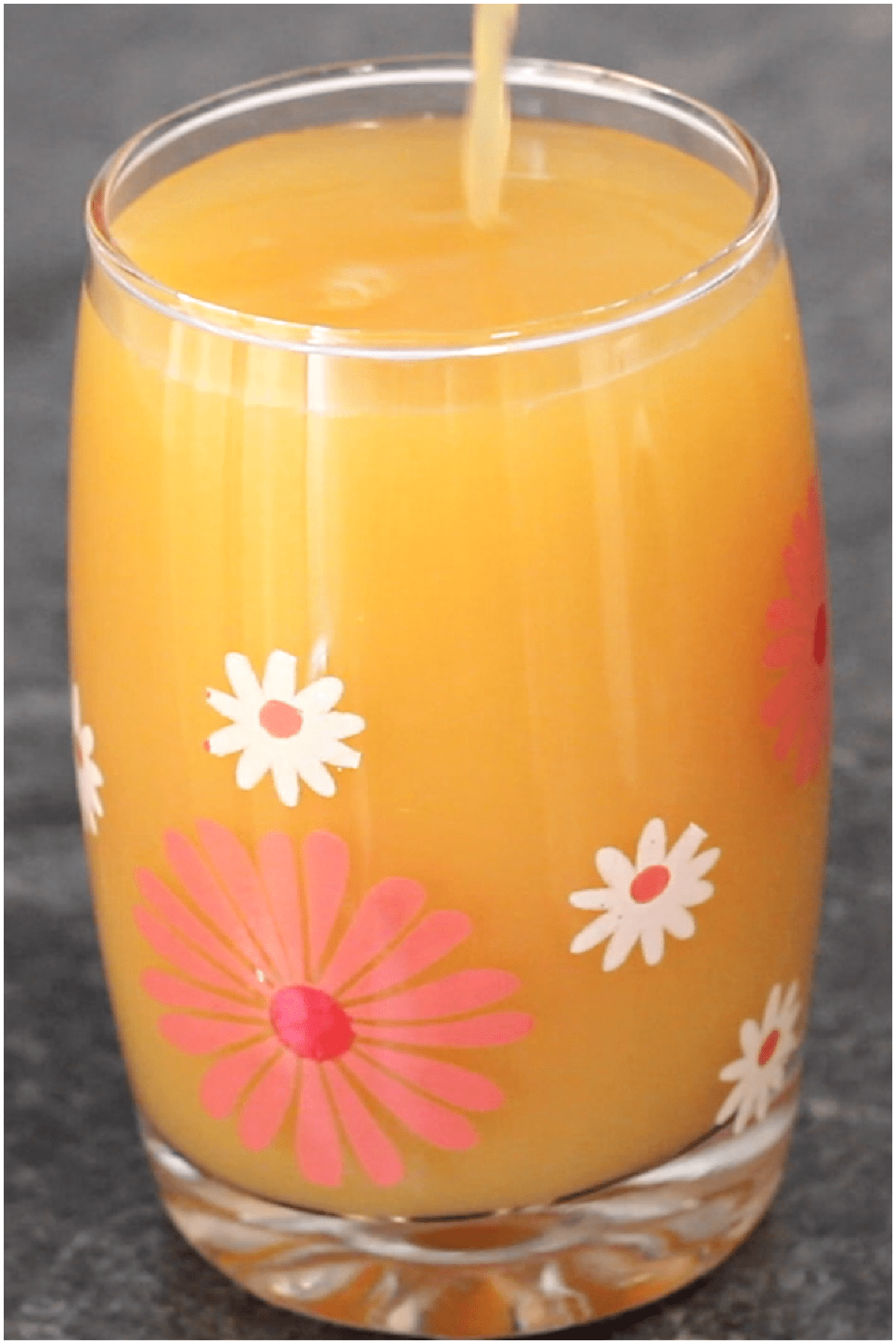 Apple Ginger Juice
Start your juicing journey right by making this Ginger Apple Juice! You'll definitely enjoy the flavors and textures this beverage has in store for you!
Ingredients
3

sweet gala apples

1

inch

ginger
Instructions
Prepare the ingredients.

Wash, slice, and deseed the apples. Slice a piece of ginger, depending on how much you want to incorporate in the juice.

Juice the ingredients.

Feed the chopped apples and ginger into the slow juicer to extract the juice. Transfer it into a glass and relish!
Video
Notes
Select the freshest ingredients to make a satisfying drink.
If you don't have a slow juicer, use a blender or a grater and filter with a nutmilk bag, cheesecloth, or fine mesh sieve to add the juices and separate the pulp.
Nutrition
Serving:
1
(of 2)
Calories:
142
kcal
Carbohydrates:
38
g
Protein:
1
g
Fat:
0.5
g
Saturated Fat:
0.1
g
Polyunsaturated Fat:
0.1
g
Monounsaturated Fat:
0.02
g
Sodium:
3
mg
Potassium:
292
mg
Fiber:
7
g
Sugar:
28
g
Vitamin A:
147
IU
Vitamin C:
13
mg
Calcium:
16
mg
Iron:
0.3
mg