Iced Coffee is truly one of the most relaxing yet energizing drinks you can consume with breakfast meals, snacks, or desserts! It can be served during celebrations, summer days, or brunches too.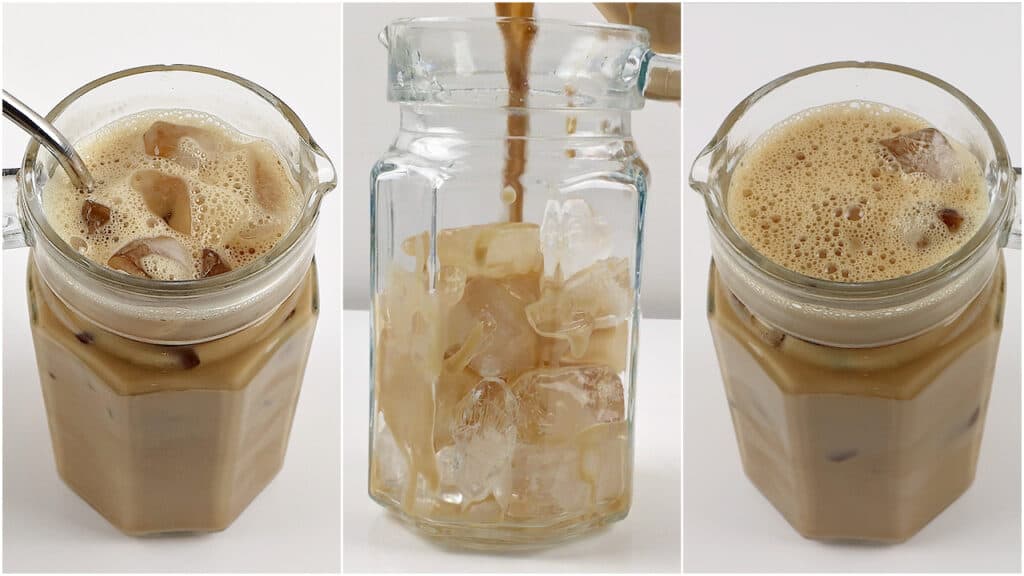 Pin this recipe on Pinterest to save for later
Be your own coffee barista by trying out this bold, flavorful, creamy, and unforgettable beverage!
How to Make Iced Coffee
Iced coffee comes in different ingredients and methods, but this one will be one of the best.
Ingredients
Coffee granules
You can't make this recipe without coffee granules, so use your favorite brand to make your drink. It is responsible for the beverage's dominant flavor and appetizing color. This can also be used for smoothies and pastries.
According to Kaffe Bueno, coffee is great for energy, physical activity, mental health, metabolism, and more!
Honey
Honey is a healthy sweetening agent that you can use to balance the taste of the coffee. This also thickens the drink to make it smooth and velvety when consumed. It also rids you of unnecessary sugar for a nutritious alternative.
Whenever I use it for drinks such as Iced Tea, the honey gives it a nice kick!
Evaporated milk
Evaporated milk is highly recommended for improving the consistency of iced coffee. It's responsible for the creamy and milky goodness of the drink. This also helps you achieve the subtle brown color of classic iced coffee.
Chilled water and ice cubes
Water is needed to combine the ingredients thoroughly. It also adds volume to the coffee so that you can drink more of it. Of course, you also need ice cubes to give the drink a rejuvenating effect at every sip!
Are you ready to make the best iced coffee recipe in the world? Grab your favorite glass and ingredients, and let's turn the kitchen into our coffee shop!
Directions
Dissolve the coffee granules in warm water in a glass.
Drizzle the honey, pour the evaporated milk, and add chilled water. Stir them together until well incorporated.
Put your desired amount of ice in a glass and pour the mixed coffee.
Allow the ice to set for a creamy, cold, and delicious iced coffee!
This iced coffee is 101% guilt-free because you can use the right coffee with the best sweetening agents. Get cozy and enjoy your top-notch iced coffee!
Tips
How to Make Coffee Granules
If you don't have coffee granules, use a grinder and mortar with pestle to powderize coffee beans. Do not process it for too long. Then, sift it using a fine-mesh sieve to break down the large particles.
Roasty Coffee recommends adding cinnamon, nutmeg, or cocoa powder for additional flavor and aroma. Store it in an airtight container for up to several months. As an alternative, you can use instant coffee powder.
Iced Coffee Variations
You can use your preferred brand or instant coffee powder for the coffee grounds. It is all about looking for the perfectly flavored coffee for you. Meanwhile, honey can be replaced with other sweeteners such as sugar, stevia, maple syrup, and more!
Instead of evaporated milk, you can use regular full cream, chocolate almond milk, coconut milk, or oat milk. If you like your iced coffee in cappuccino style, then froth the milk for a creamier and voluminous consistency. Otherwise, you can drink the coffee without milk or creamer to achieve the best black iced coffee.
Use vanilla syrup and caramel sauce to achieve the caramel macchiato flavor, and pour in more milk to give it the illusion. On the other hand, combine the coffee with milk and chocolate syrup for mocha-flavored iced coffee.
For latte lovers, I suggest using heavy cream, milk, and at least two sweeteners for the coffee. Remember that iced coffee recipes are highly customizable, so make one that suits your daily mood!
Recommended Tools
This post contains affiliate links, which means I earn commission income from qualifying purchases at no extra cost to you. Please read the full disclosure for more information.
How to Serve Iced Coffee
Greatist recommends consuming iced coffee from mid to late afternoon to energize your body for daily tasks. If you plan on drinking it in the afternoon, ensure you have at least six hours to use the caffeine. It can also be a pre or post-workout beverage to energize and restore strength.
This is also best consumed when you need a burst of energy because its effects usually last up to five hours, depending on how your body reacts to it. It is not recommended for babies and kids.
Make this Iced Coffee recipe count by enjoying it with any of the following dishes:
Storage Tips
At room temperature: Iced coffee is best consumed within a few hours to make the most out of the ice and the flavors. The longer you leave it on the ice, the more flavors it will lose.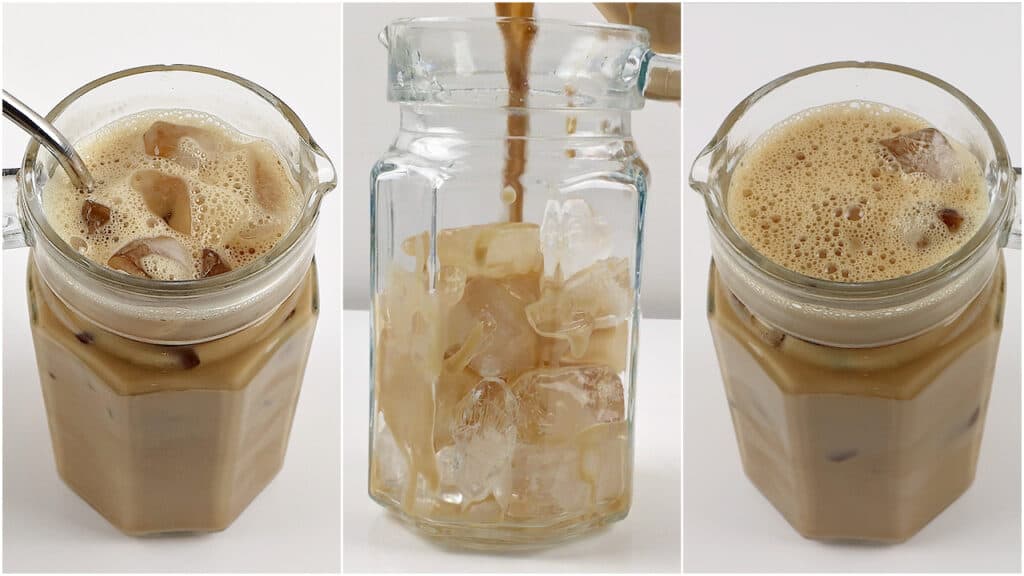 Frequently Asked Questions
How is iced coffee made?
Homemade iced coffee is all about discovering the right ingredients for you. Use whichever coffee granules, milk, and sweeteners to make it your recipe. Feel free to add other ingredients like whipped cream and even ice cream!
Is iced coffee healthy for you?
Yes, it's good for you if you drink it in moderation. Houston Methodist recommends consuming 400 to 16,000 milligrams or one to four cups of this drink every day.
Whether therefore ye eat, or drink, or whatsoever ye do, do all to the glory of God.

1 Corinthians 10:31
Is iced coffee just coffee and ice?
It depends on your preferences. Some people may like their coffee black, but there is no harm in adding sweeteners and milk for added consistency and flavor.
Iced Coffee
Achieve the perfect iced coffee of your dreams using this recipe! What better way to cool down in hot weather? It's as easy as taking your cool in hot summer!
Ingredients
1

tbsp

coffee granules

2

tbsp

water

(warm)

2

tbsp

honey

½

cup

evaporated milk

1

cup

water

(chilled)

1

cup

ice cubes
Instructions
Prepare the coffee base.

Add a bit of warm water into a glass and mix the coffee granules until fully dissolved.

Incorporate the other ingredients.

Drizzle the honey, add chilled water, and pour the evaporated milk. Stir them together until well incorporated.

Add the ice.

Put your desired amount of ice in a glass and pour the coffee mixture. Allow the ice to set for a creamy, cold, and delicious iced coffee!
Video
Notes
Use instant coffee as an alternative to coffee granules.

Milk substitutes include coconut milk, almond milk, and oat milk.

Incorporate sweetening agents such as maple syrups and sauces.
Nutrition
Serving:
1
(of 2)
Calories:
318
kcal
Carbohydrates:
51
g
Protein:
9
g
Fat:
10
g
Saturated Fat:
6
g
Polyunsaturated Fat:
0.3
g
Monounsaturated Fat:
3
g
Cholesterol:
37
mg
Sodium:
164
mg
Potassium:
587
mg
Fiber:
0.1
g
Sugar:
47
g
Vitamin A:
306
IU
Vitamin C:
3
mg
Calcium:
359
mg
Iron:
1
mg